4 Widely-used Ways to Send Fake Live Location on WhatsApp for Android/iOS
Communication platforms like WhatsApp play a pivotal role in letting us stay in contact with friends and family, especially when distance separates us. While WhatsApp's live location-sharing feature is a useful tool for getting connected, you may need to send a fake location to gain more benefits or just to protect yourself. (Can't send & receive WhatsApp messages?)
So, here's a question - how to send fake live location on WhatsApp - deserves your interest. OK, this page is dedicated to exploring four quick methods to get the job done effortlessly.
Part 1: Common Situations of Sending Fake Live Locations on WhatsApp
There are various instances where users may want to use fake locations on WhatsApp for amusement or other purposes. Below are some common scenarios in which faking a live location might be required:
Avoid disclosing your real-time location to friends and family while you're out.
Keep away from being tracked by someone who has access to your location.
You contemplate surprising your dear ones.
Play a harmless trick on your family or friends.
Protect your privacy or safety from unwanted people.
Click to Visit:
Part 2: How to Share Fake Live Location on WhatsApp via Fake GPS Location (Android)
When seeking an Android spoofing app to send fake live locations on WhatsApp, numerous options can be found on Google Play. However, not all are reliable. Factors such as location accuracy and ease of use should be considered. And the Fake GPS Location is one of the most typical.
How to send fake live location on WhatsApp with Fake GPS Location?
Open your Android device's Settings and go to "Privacy" > "Location Services".
Enable the location sharing services.
Visit the Play Store and install the Fake GPS Location app.
Return to the "Settings" tab on your Android phone, then choose "About Phone".
Find and tap "Build Number" seven times to activate developer options.
Go back to "Developer Options" and check the "Allow mock locations" checkbox.
Now, under the "Mock location app" option, select the Fake GPS Location app you recently installed on Android.
Launch the Fake GPS Location app and tap the "Search" icon at the top.
Enter the desired fake location you want to share and click the "Set Location" option to fake the GPS location with no root.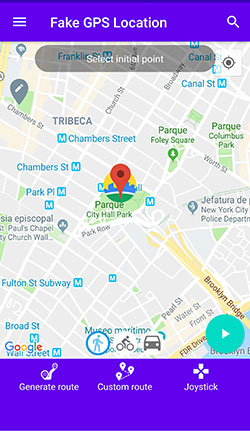 Part 3: How to Send Fake Current Location on WhatsApp with Location Faker (iPhone)
Having a jailbroken device makes it simple to share a fake location with others. Access the Cydia store, available only after jailbreaking your iPhone or iPad. Although finding a suitable app for your device might not be effortless, you can opt for Location Faker, which is compatible with all iOS 13 and later versions.
How to send fake live locations on WhatsApp with Location Faker?
Using your iOS device, go to the App Store and search for "Location Faker".

Download the version labeled "Change my location FREE".
After that, open it and choose a location.
Be prepared for frequent ad interruptions, occurring every 5 seconds, even while zooming in on a specific area.
You can use the search bar at the top to find a specific address and fake your iPhone location without jailbreaking.
This app requires payment when sharing the new location you selected. Moreover, it doesn't actually modify your live GPS location; instead, it only does the job by sharing a different location with the app you choose, like WhatsApp.
Other Pages You Could Potentially Like:
Part 4: How to Send Wrong Live Location on WhatsApp by Pinning a Location (Android/iPhone)
At times, we may casually request our live location on WhatsApp to gauge our whereabouts. However, if we prefer not to disclose our real location, is there a way to send a fake location directly? Definitely! You're allowed to pin a location straightforwardly on your device.
While this avenue may still work, it should be used only when you're not overly concerned about being detected, as it can leave some flaws that may raise suspicion.
How to share fake live location on WhatsApp by pining a location?
Open WhatsApp on your phone and access the chat with the person you want to share your location with.
For iOS devices, tap the plus icon on the left side of the chatbox.
For Android devices, click the paperclip icon at the far end of the text field.
From the options displayed, select "Location".
To share your current location, choose "Send Your Current Location".
To share a different location, select from the places displayed or search for the desired place.
If you wish to show your movement in real time, click the "Share live location" tab.

Choose the duration you want to share your live location, add a caption if desired, and send it. (Can you stop sharing location without them knowing?)
Part 5: How to Send Fake Live Location on WhatsApp without Being Detected (Android/iPhone)
If you're seeking an almost undetectable GPS spoofer, give Virtual Location Tool a try. This robust utility can fulfill your expectations. Using state-of-the-art technology, it changes your current location to any place with simple clicks. Then you can effortlessly send fake live location on WhatsApp.
Kindly be aware that sending fake live locations on WhatsApp could potentially breach their terms of service and may carry legal or ethical consequences. Please exercise caution and use this feature at your own risk and responsibility.
Why pick Virtual Location Tool?
It can fake live locations on WhatsApp without jailbreaking before you send it.
Let you choose to keep or delete previously saved locations within the software that you have visited in the past.
Personalize and simulate various routes by creating different paths.
Seamlessly integrate with location-based applications, including AR games, social platforms, and more.
Get on well with a full range of iPhones, iPad, iPod touch devices, and Android phones/tablets like Samsung, HTC, Xiaomi, Huawei, LG, Motorola, OPPO, Sony, etc.
It values your privacy.
How to send fake current location on WhatsApp after spoofing the device's GPS via the Virtual Location Tool?
Step 1. Run the program and link your phone to a computer
After downloading and installing the product, launch it, and tap "Get Started". A welcome screen will appear. Now, connect your Android or iPhone device to your computer and unlock it.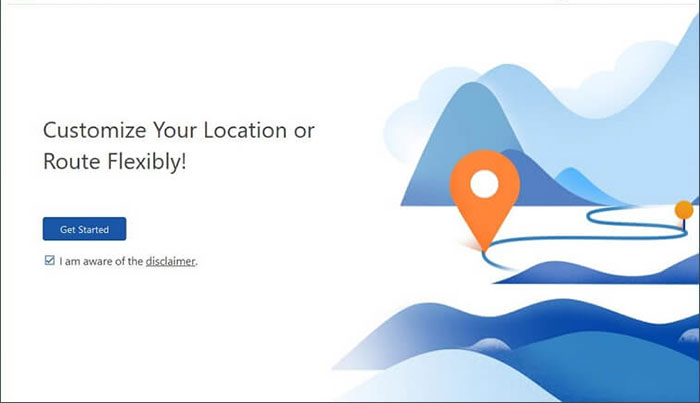 Step 2. Choose your desired location
When the map loads up, locate the "Teleport" icon in the upper-right corner. Decide where you want your phone's location to be, either by entering the coordinates at the top left corner or by selecting a destination using the map's zoom feature.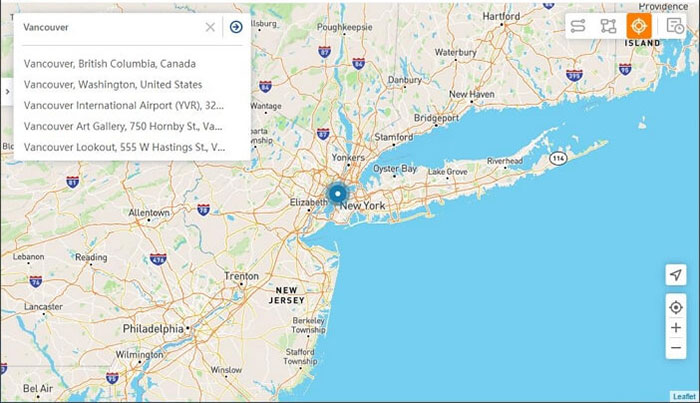 Step 3. Fake live location on WhatsApp
Lastly, click on the "Move" button, and your device GPS will now be set to the chosen location. You can easily send fake live location on WhatsApp to any recipient.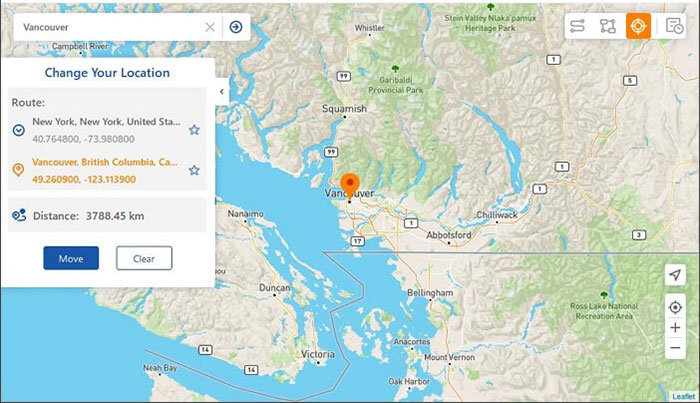 FAQs about Location on WhatsApp
Q1: How to send real live location on WhatsApp
Open WhatsApp on your smartphone and select the chat screen of the desired contact.
Tap on the "share" button situated beside the typing area.
From the options displayed, choose "Send your current location".
Now, your current live GPS location will be sent to the recipient.
Q2: How to send fake location on WhatsApp by taking screenshots
Open a map app like Google Maps and find the desired location to share as a fake. (How to fake Google Maps location on Android/iPhone?)
Take a screenshot of the map with the desired location visible by pressing the "Power" and "Volume down" buttons simultaneously on most smartphones.
Open WhatsApp and navigate to the chat with the person you want to send the fake location to.
Tap the "Attach" icon (paperclip or plus sign) next to the text input field.
Choose "Gallery" and select the screenshot of the fake location (Not the live one) from your photos.
Send the screenshot to the recipient in the WhatsApp chat.
Q3: How does WhatsApp detect a fake location
When someone shares their current location, the map preview in the conversation will be blank. However, if there's a name or description below the map, it means they used the search engine or selected a location from the suggestions.
Q4: How to identify fake locations on WhatsApp
Here's a simple trick to identify them: If you see a red pin with an address text, it's likely fake. A genuine location will have no address text.
Conclusion
There you go! We just figured out how to send the wrong live location on WhatsApp with multiple optimal approaches. Frankly, if you're looking for a reliable and discreet way to send fake live locations on WhatsApp or any other social apps, we unreservedly recommend Virtual Location Tool. By employing this program, you can send fake live locations without the risk of being detected, ensuring your privacy remains intact.
Finally, please always remember technology can be powerful, but its potential should be harnessed responsibly to foster positive interactions and meaningful connections. Any questions? Please let us know below.
Related Articles:
10 Most Brilliant Ways to Reduce WhatsApp Storage on iPhone/Android
4 Ways to Back Up WhatsApp on iPhone 14/13/12/11/X/8 [Step-by-Step-Guide]
8 Useful Tips to Turn off Location on Life360 without Anyone Knowing
4 Straightforward Ways to Move WhatsApp to SD Card [Most People Don't Know]
How to Transfer Data from One Phone to Another? 3 Ways for You!
8 Best Screen Share Apps to Share Screen or Control Your Device Remotely