How to Spoof/Fake Location on iPad Pro/Air/mini/4/3/2? 4 Methods for You
With the increase of diversified demand for people to use Apple devices, the ability to spoof location on iPad has gained significance across various scenarios. There are instances when users wish to alter their device's perceived location, and this guide is here to offer solutions. Whether for personal privacy, exploring location-based apps, or even testing software, the need to manipulate your iPad's location can arise.
Well, this comprehensive guide will walk you through four distinct methods for spoofing location on iPad effectively. Before that, let's take a quick look at what factors have an obvious bearing on this phenomenon.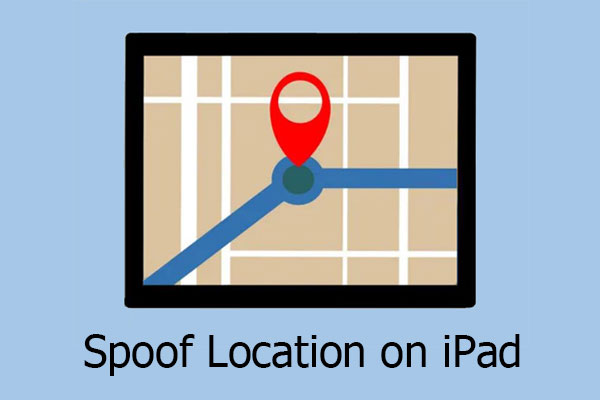 Part 1: Why Would You Spoof iPad Location?
Privacy: Concealing real location for anonymity.
Access: Bypassing region-restricted content.
Gaming Advantages: Gaining benefits in location-based games like Pokemon GO. (How to play Pokemon GO without moving?)
Data Privacy: Avoiding sharing real location due to privacy concerns.
Bypassing Restrictions: Evading location-based limitations.
Testing Apps: Simulating different locations for app development.
Pranks: Jokes or appearing elsewhere on social media.
Deals: Grabbing location-specific discounts.
Click to Access:
Part 2: How to Spoof Location on iPad via Virtual Location Tool
Faking your iPad's location on a computer is a simple way to change GPS coordinates, especially without jailbreaking. Using a third-party location-faking tool - Virtual Location Tool for Windows and Mac, you can easily make GPS spoofing on iPad by entering the desired coordinates. One of the best parts of this tool is that it works seamlessly on both Apple and Android devices.
Key highlights of Virtual Location Tool:
Spoof location on iPad without needing to jailbreak.
Change GPS location on Android flexibly.
Choose or remove previously saved locations within this software.
Personalize and simulate routes, crafting diverse pathways.
Seamlessly compatible with location-based apps, encompassing AR games, social networks, and more.
Three Modes: Jump Teleport Mode, Two-spot Mode, and Multi-spot Mode.
Import or export GPX, adjustable moving speed, and cooling timer function.
Get along well with a whole range of Apple and Android devices, including iPad Pro, iPad Air, iPad mini, iPad 4, the new iPad (iPad 3), iPad 2, iPhone, iPod touch, Samsung, Huawei, Xiaomi, HTC, OnePlus, Motorola, Google, LG, Sony, etc.
It won't divulge your privacy.
How to fake location on iPad with Virtual Location Tool?
Step 1. Install and open the program post-download. Tap "Get Started". When a welcome screen appears, connect your iPad to the computer via USB.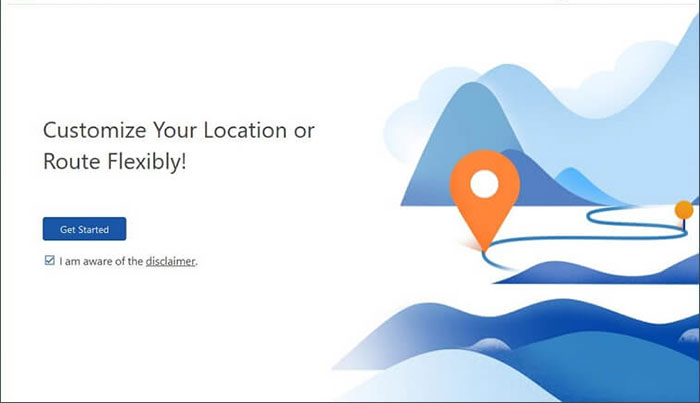 Step 2. Once the map loads up, select the "Teleport" icon situated in the upper-right corner.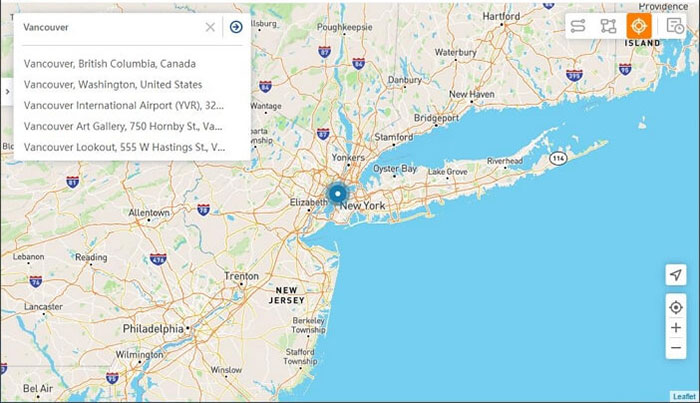 Step 3. Decide on your desired iPad location at the top left corner or by zooming in/out on the map. To complete the process, locate and click the "Move" button. Your iPad's GPS location will now reflect your chosen setting.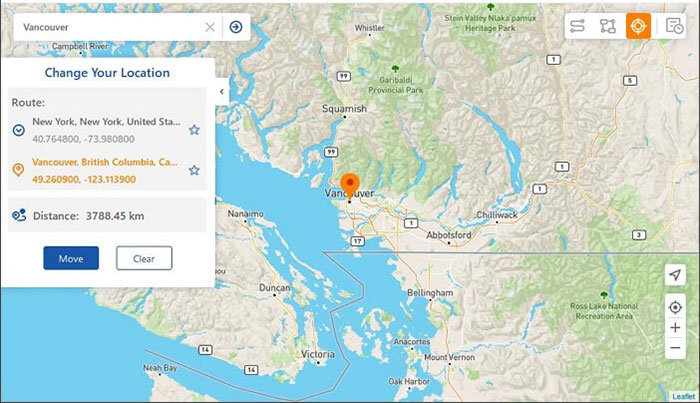 Part 3: How to Spoof iPad Location Using NordVPN
NordVPN is a well-known VPN service prioritizing security and privacy. While it can alter your online location by routing traffic through its servers, it's not designed solely for iPad location spoofing. It can indirectly affect your perceived location on some apps but might not offer precise location spoofing like dedicated fake GPS apps. Learn how to mock location on iPad with NordVPN?
Download and install NordVPN on your iPad.
Launch the NordVPN app and log in to your account.
Connect to a VPN server in your desired virtual location.

Access your iPad's "Settings" app and go to the "Privacy" section.
Tap on "Location Services" and enable it.
Scroll and locate the specific app for which you wish to alter the location. Tap it.
Select "While Using the App" for location access.
Open the chosen app, and it will adopt the location of the NordVPN server you connected to.
Further Reading:
Part 4: How to Fake Location on iPad Using Xcode
Xcode serves as Apple's Integrated Development Environment tailored for programmers. With its capabilities, it's possible to reconfigure your device to fake its location. Nevertheless, this approach encompasses numerous intricate steps and can prove challenging, especially for individuals unfamiliar with coding or related domains. Know how to spoof iPad location with Xcode:
Download Xcode from the App Store. Run the software and connect your iPad to the Mac where Xcode is installed.
Begin by clicking "Create new Xcode project", then choose "Single View Application".

Enter the "Product Name" and click "Next". Designate the project's location and access a screen with various options.
In the menu, go to "Xcode" > "Preferences" > "Accounts" > "+" > "Apple ID". Log in to your account.
Choose the team option and click ">", initiating the building process. Once built, open the Maps app.
You can manually alter your iOS device's current location from the provided drop-down list.
Part 5: How to Spoof Location on iPad via iSpoofer
iSpoofer is a tool known for its capacity to simulate location changes on iPad Pro/Air/mini/4/3/2. This software empowers users to manipulate their iPad's perceived geographical location, allowing them to virtually explore different areas without physically being there. While primarily utilized for entertainment or exploration, it's important to use such tools responsibly and within legal boundaries. Here's the manual for how to change iPad location with iSpoofer:
Download and install iSpoofer.
Connect your iPad to your computer using a USB cable. Remember to tap "Trust" on your iPad.
Utilize the "Single Point Simulation Mode" to pinpoint your desired map location.
Alternatively, employ the top search bar to find a specific place.
Upon clicking "Move", your iPad will promptly relocate to the chosen spot. (iSpoofer shuts down? Try iSpoofer alternatives)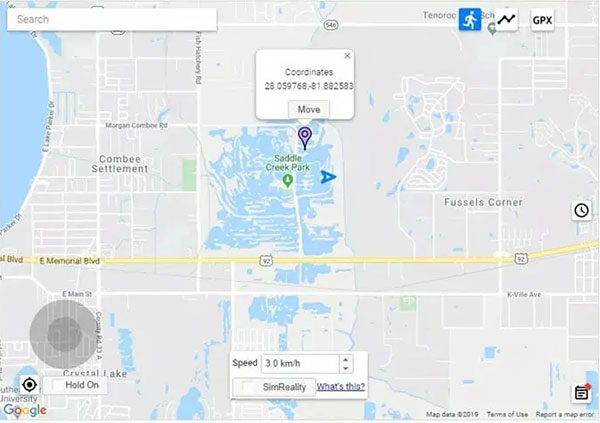 People Also Ask about iPad GPS Location
Q1: What are the consequences of spoofing location on iPad?
As you've learned, your iPad lacks a built-in option for GPS location spoofing without jailbreaking. While Virtual Location Tool simplifies faking your location, be cautious with apps needing accurate GPS data, like weather, navigation, and ride-sharing. To avoid issues, set a reminder to disable the spoofer after use. For instance, set a timer while gaming, attaching a note to it for later. This ensures your true location is available when needed.
Q2: What risks might you take when spoofing iPad location?
App Issues: Disrupts apps relying on real locations.
Misleading: Navigation apps may give wrong directions.
Account Trouble: Suspensions for suspicious activity.
Legal Problems: Breach of terms or laws.
Security Vulnerabilities: Unreliable apps could expose you.
Privacy Exposure: Unintended sharing of data.
Inaccurate Services: Some recommendations won't work.
Trust Damage: Can harm relationships.
Q3: How to turn GPS location on or off on iPad?
Open iPad "Settings" and access "Privacy & Security".
Tap "Location Services" and toggle the "Location Services" switch on/off.
For active location services like Maps, adjust access preferences (Never, While Using the App, Always) and enable/disable "Precise Location".
Return using the "Back" icon and open "System Services".
Toggle desired system service switches on/off.
Key Points
After understanding this article about GPS spoofing on iPad, we can now come to a short conclusion as follows:
Xcode offers advanced control for precise location changes and customization, and route simulation. But it requires coding knowledge and is limited to macOS and Mac devices.
Coming with a user-friendly interface, iSpoofer is popular for location-based gaming, yet it has legal and security concerns and delivers variable effectiveness across apps.
Although NordVPN emphasizes on privacy and security and provides a wide server network, it may lack precision and require heavy subscription costs.
Virtual Location Tool comes packed with accurate location spoofing and is shipped with various simulation modes for diverse needs, along with its other unique advanced features. So, just give it a shot after the free download.
Related Articles:
4 Easy Ways to Sync Contacts from iPhone to iPad Pro/Air/mini/4/3/2
How to Bypass Remote Management on iPhone/iPad? 4 Ways You'd Better Know
Spoof GPS Locations with the 8 Best iTools Virtual Location Alternatives
How to Spoof Pokemon Go on iOS/Android? 5 Methods You Should Know
Fake GPS Tinder: How to Fake GPS for Tinder to Expand Your Horizons
6 Easy Ways to Transfer Music from PC to iPad without iTunes