Best Way to Back Up Android Phone to PC/Mac before Rooting
Before delving into how to back up Android phone before rooting, let's first take a quick look at two FAQs.
* Q1. "Does rooting your phone delete/erase everything?"
* A1. Well, it depends. Rooting itself may not erase anything (except for temporary files created during the root, maybe). Yet, on some devices, the root requires to unlock the bootloader first, and that often includes a factory reset. Thus, theoretically, it's possible that you'll lose some or all of your Android data after root.
* Q2. "Does KingRoot wipe data?"
* A2. Not exactly! Users utilize KingRoot to gain access and get more control over their Android devices. And in many cases, it would delete a lot of system data from your phone. It's a cumbersome tool, and you cannot install or uninstall it sometimes. (see the complete guide of KingRoot)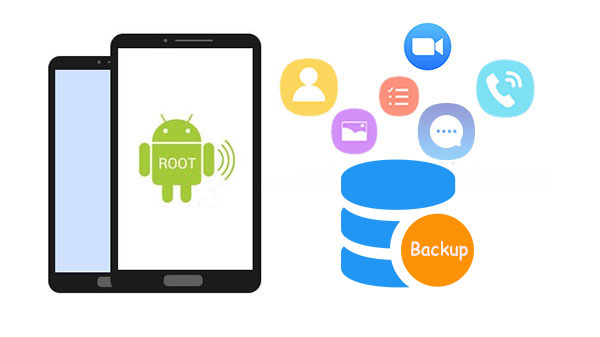 Part 1: What to Do before Rooting Your Phone?
Next, to offer you a comprehensive understanding of the root, we'll let you know what to do before rooting your Android phones in brief:
Back up your files.
Know the risks of the root.
Ensure enough battery power.
Find a reliable root app for Android.
Know your device's info.
Read and watch rooting guide.
Get how to unroot.
Know how to get into stock Android recovery.
Make sure to download the necessary drivers.
Learn how to flash phone's firmware.
Ways for recovery if your Android phone gets bricked.
Disable Antivirus and Firewall on your PC.
Part 2: How to Back Up Android before Root Over USB
To do Android backup before root via USB, you should first connect your Android phone to a computer, choose USB for, and then:
* Find your files on your device:
Camera photos & videos are in the DCIM folder.
Download files are stored in the Downloads folder.
Screenshots are saved in the Picture folder.
Files received through Bluetooth are in the Bluetooth folder.
App's specific pictures are in its own folders like the WhatsApp folder.
Next, let's see how to back up phone data before rooting over USB?
Link your Android phone to a computer via a USB cable.
Connect as a media device (or select the "MTP" option).
After the connection, you can see your phone's name in My Computer/This PC.
Double-click your device's name to access file folders on your phone.
Right-click the folder to choose and copy the files to the local file folder.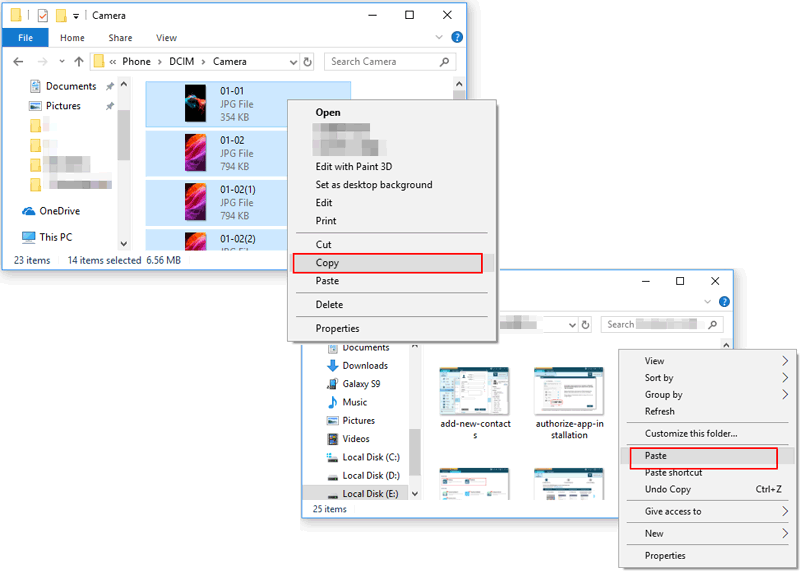 People Also Like:
Part 3: How to Back Up Phone Data before Rooting with Google Account
Google account delivers services of syncing your Android contacts, calendar, app data, and some device settings to Google servers. It's easy to operate, and please ensure that your phone is connected with mobile data or WiFi in advance.
How to back up Android before root via Google account?
On your Android phone, tap "Settings" > "Backup & reset".
Switch on "Backup my data" and "Automatic restore".
Hit "Backup Account" and "Add account" to add a Google account. (If you don't have one, just create a new one following the screen.)
Go back to the "Settings" menu.
Press the data option > "Google" and turn on the sync button of each data type available you want to sync.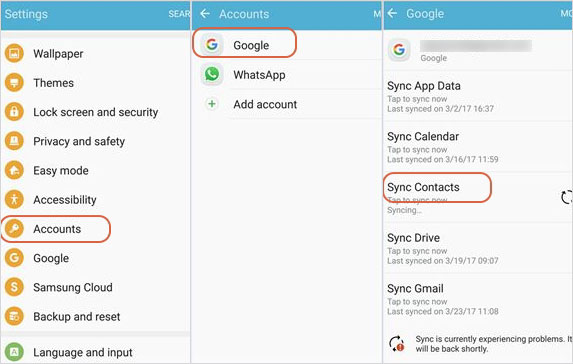 Part 4: How to Back Up Android Tablet/Phone before Rooting with Google Photos
If you only need to back up your media files like photos, videos, etc., on Android before the root, Google Photos can be a good option. (Google Photos backup not working? Click here)
You can get an unlimited number of standard-resolution files onto the Photos. Yet, if you need to upload your pictures at their full size, it would be harmful to your Google storage limit.
How to back up Android OS before rooting with Google Photos?
Download Google Photos before you install and open it on Android.
Sign in to Google Photos with your Gmail account.
Open "Menu" by clicking the top left 3-line button.
Select "Settings".
Choose the "Backup and Sync" section.
Swipe the toggle to "On".
All your photos and videos on Android will then be synced to Google Photos.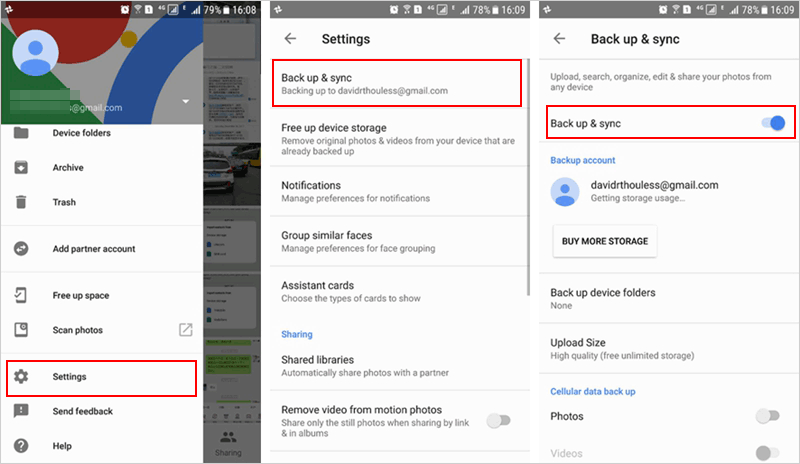 Can't Miss:
Part 5: How to Back Up Android OS before Rooting Using SMS Backup+
Assuming you intend to back up text messages and call logs before rooting, you can simply choose a lightweight app like SMS Backup+. By default, it lets you copy your data to your Gmail.
How to back up Android tablet/phone before rooting via SMS Backup+?
Install and open SMS Backup+ on your Android phone after the download.
Check "Connect" on the main screen and then choose your Gmail account.
Select to begin a full backup of all the messages on this device or skip it.
If you choose the former, the app will start to back up all the SMS.
If you select the latter, you have to continue following the step below.
Go to Advanced Settings > Backup Settings > choose the message/call log types you'd like to back up > Backup.
Once done, the chosen SMS/call history should be copied to your Gmail.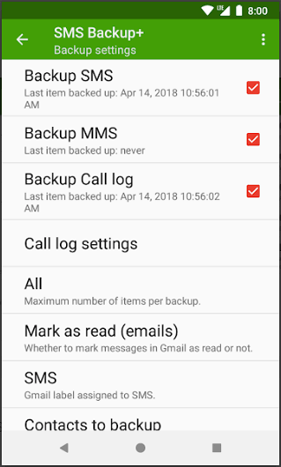 Part 6: How to Back Up Android Phone before Rooting via Assistant for Android
Want to make a backup of all the content in your Android phone before rooting? Just try MobiKin Assistant for Android (Win and Mac)! You can complete the backup with a single click.
This program allows you to back up any data type(s) from contacts, text messages, call logs, apps, photos, videos, music, movie, books, etc. to PC or Mac. You can selectively back up the specified files you want to back up, or back up all your phone data with one click. Restoring data from the backup to your phone, and downloading files from computer to Android is also supported.
Some highlights of MobiKin Assistant for Android:
Bulk or selectively back up various Android files to PC/Mac before rooting.
Restore any items on your Android phone in one tap.
Transfer and manage (view, add, delete, edit, etc.) Android data on your computer directly.
Easy to operate, ads-free, quick processing, keeping original file quality, etc.
Compatible with various Android devices, covering Samsung, Huawei, Sony, Motorola, Xiaomi, LG, DELL, Google, Vivo, HTC, OPPO, etc.
Two connection modes: USB and WiFi.
It never tracks any of your privacy.
How to back up Android phone to PC/Mac before rooting via MobiKin Assistant for Android? (Mac users can also do the task as the following steps go.)
Step 1. Run the utility on your computer after you download and install it. Then you should choose to create a connection via a USB cable or WiFi (Now, let's take the USB connection as an example).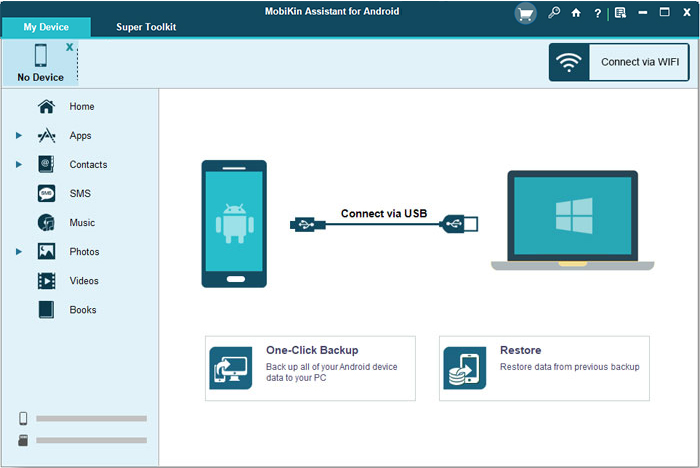 Step 2. Connect Android to your computer and follow the prompts on the screen to get the device recognized by this tool. Once identified, you will find the device's icon on the interface.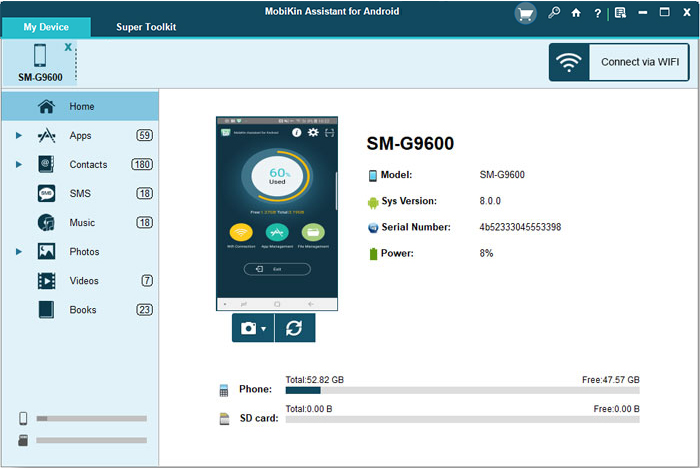 Step 3. Choose your wanted data types from the left menu, and the tool will detect the specific items, listing them on the right. Now, preview the files, mark what you want, and press "Export" from the top to copy the data to your computer.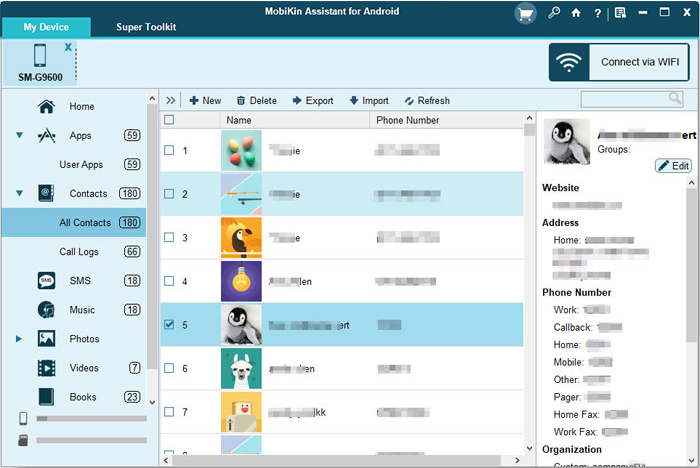 Alternatively, you can bulk back up your Android data onto your computer: go to Super Toolkit > Backup > mark your wanted data types > browse for a location > Back Up. And this program also enables you to restore your Android device easily (Super Toolkit > Restore > tick on the file types you want to regain > Restore).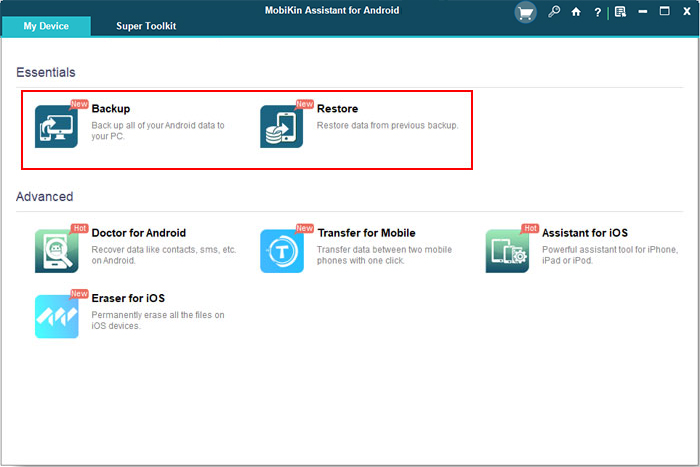 Part 7: How to Back Up Android before Root via Android Backup and Restore
The last method is to use MobiKin Backup Manager for Android (Win and Mac). This sleek software also gives you the ability to back up all your Android contacts to your computer anywhere, anytime, covering contacts, messages, call history, photos, videos, music, movie, books, apps, etc. After the root, you can restore what you desire from your computer to your Android device.
How to back up Android phone before rooting with Android Backup and Restore?
Step 1. After installing this software on a computer, run it and have Android plugged into the computer via a USB cord. Follow the on-screen direction to let the tool identify your phone. Next, click on "Backup".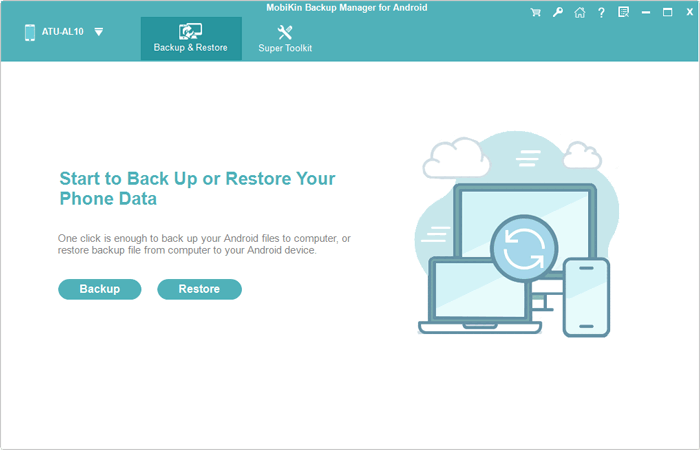 Step 2. All the transferable data types will be on the next screen. Pick what you wish to back up and tap "Browse" to specify a folder on this computer to save the stuff.
Step 3. Hit "Back Up" to transfer the chosen files from your Android phone to this computer.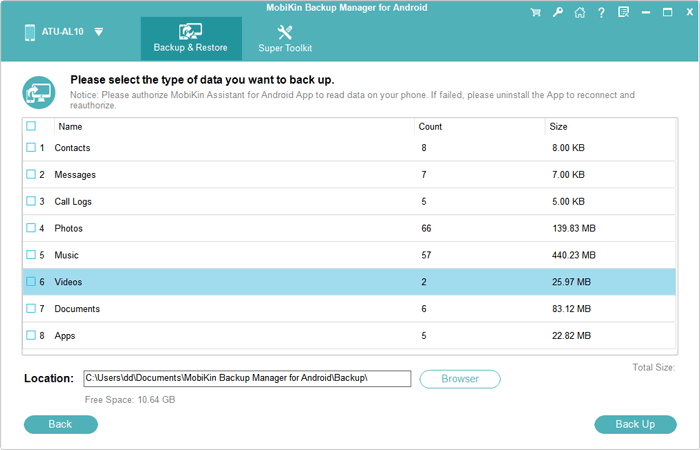 In a Nutshell
OK, we are sure that you now get the answer to the question "Does rooting delete/wipe files?" or "will rooting wipe my phone?". Anyway, before rooting your Android device, it is suggested that you attach great importance to the tips mentioned in section 1 above. And then take MobiKin Assistant for Android or MobiKin Backup Manager for Android if you want to perform a full pre-rooting backup of your entire Android data.
Related Articles:
How to Backup Android to Mac? (5 Free Ways)
[6 Ways] How to Backup Android Contacts?
Ultimate Guide to Back Up WhatsApp Photos/Videos on Android & iPhone
How to Check Whether Your Android Device is Rooted or Not?
How to Back up Your Android Devices without Rooting