Best Booster App for Android Devices
Over the past two decades, there have been numerous advances in the mobile and smartphone industry. With massive improvements in Android technology, there have also been numerous developments in the number of Play Store apps. Most of these apps claim to boost smartphone performance. However, it has to be careful because some of these apps actually do not work. Below I analyze a number of android boosters and task killers and then finally select the one with the best features as An android booster.
List of the Best Android Booster Apps
Clean master
Clean master is a powerful app that has been designed to clean out your Android device. It improves performance of your devices RAM, removes junk, and keeps the data safe from harm. The app has a device cooler that cools down your device in case it tends to overheat while in use. What's more, the app works by killing apps that are using too much of your Central Processing Unit and thus draining your battery. The junk file cleaner option will easily clean your cache and wipe away files that are not being used any longer. The clean master also has an app manager that can help you detect and uninstall the necessary bloatware.
The memory and CPU boost features are more situational in functionality. However, if you find them useful, then you can always use them to boost your device's memory or CPU performance. Lastly, the Clean Master's Antivirus scans your device regularly for vulnerabilities and malware-infected files.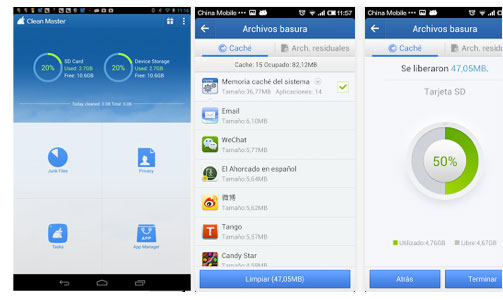 MobiKin Cleaner for Android (Mac/Windows)
MobiKin Cleaner for Android is a system cleaning program, that allows users to clean all kinds of files like junk files, caches, crash files, temp files, browsing history, etc. from Android devices with one simple click, which can greatly improve your phone's running speed and protect your privacy info. And this program is a desktop application, which will never occupy the storage space on your Android devices and it can support almost all Android devices on the market.
Can't Miss:
How to Optimize Android Phones on Windows/Mac OS X
How to Permanently Erase Everything from Android
How to Clear Call History on Android Phone
Startup Manager
If you often reboot your phone, you may notice the booting process takes longer than usual even if you have an advanced phone with superior hardware power. This is generally because of programs that attach themselves to the start up process without your knowledge. Thus, Startup Manager removes these programs from your start up list thus increasing your phone's speed. And it can detects all programs that run at startup whether system or user-installed apps. Using the app, you can easily remove all programs that you do not want to run at startup. The app works with both rooted and non-rooted devices.
DU Speed Booster
This app works by searching and cleaning apps that are embedded on your phone's background processes. The Speed Booster also manages apps that auto start as well as system processes and then dumps the unnecessary data that go with them. To increase storage space in your device, you can easily delete the residual data and cache. The app is easily navigable and tells you every time that you need to boost your phone. By looking at the suggested actions, you can choose the files you want to clean or not, and it can also be used to secure the device, run diagnostics, save your battery, manage your apps, and accelerate the speed of the device.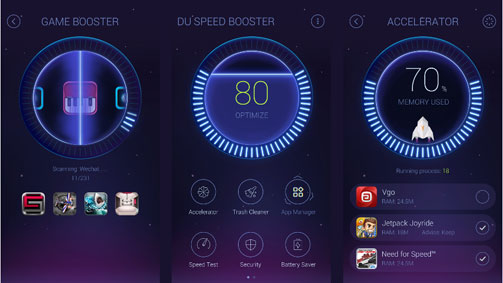 Greenify
Greenify works by putting user's apps in a state of hibernation with the intention of reducing the number of background processes. This usually halts certain services, periodic tasks, push messages, widget updates, and alarms. It is easy to use but it requires a great degree of responsibility because if not careful you can hibernate important apps such as alarms and notifications. Another strong point of the app is that it can play the role of Android Marshmallow's Doze feature. However, this is applicable if the user device is running older versions of the software.
Conclusion
What most people do not realize is that full RAM usage on android devices is actually not a bad thing. Thus, using task killers and RAM boosters can actually cause harm to your device. Android is designed in a way that it knows when to adjust for optimal performance. With this said and done then it is not hard to decide that the Master Cleaner and MobiKin Cleaner for Android are the best booster for android. This is because they are not intended to boost the RAM or attempt to perform the work of task killers.
Related:
How to Clean Cookies on Android Devices