How to Delete Photos from Google Photos?
Do you like to take photos with your Android phone? If you do, how do you back them up? I think most Android users would select Google Photos as their pictures backup tool due to its convenience and powerful functions. However, the storage space of this application is limited and these pictures would take up a lot of space of the device as well. So a lot of users want to delete photos from Google Photos as well. But how to complete that? Just read on- this is a full guide for you.
Delete All Pictures from Google Photos
If you want to delete all the pictures in Google Photos, you need to make sure that no any photo you wanted is saved inside or they will be deleted from the device as well. That's because this operation will remove your device copies at the same time. Thus, for the users who have saved desired pictures on the device but want to remove all the images in Google Photos, you are advised to backup them to computer.
Then, you can start to delete all photos from Google Photos now.
Step 1. Launch Google Photos on your phone and then turn off the feature back up and sync.
Step 2. Next, you need to go to photos.google.com to select the first image of your Google backup and then hold the Shift key and scroll down to select the last photos. This will pitch on all the photos in the Google Photos.
Step 3. At last, click Delete icon at the top to remove all the pictures at once.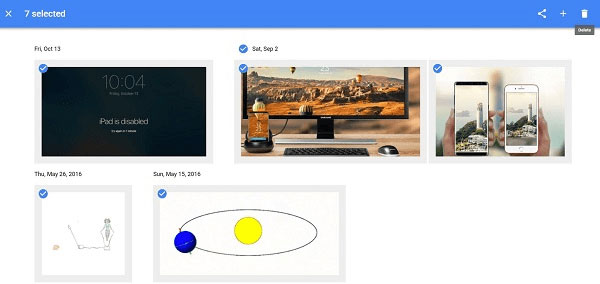 See also:
How to Backup Android Photos to Cloud?
Download Google Photos to Android Phone/Computer
Remove Images from Device Only
Since the local copy of the picture will be deleted as well while users remove the image from Google Photos, users are suggested to delete the photos from the device only- it won't delete the pictures in Google Photos and is able to free up the device meanwhile. To remove the images from device only, you have 3 methods:
Method 1. Omit the photos from device
Step 1. Open Google Photos on your mobile phone and then elect a photo.
Step 2. Now you can tap on the three dots icon on the top to open the menu.
Step 3. Tap on Delete from device to remove the picture from your phone. But it will remain in Google Photos.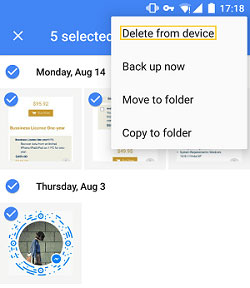 Method 2. Remove all the device copy at once
Step 1. Go to Google Photos> Settings> Free up device storage.
Step 2. After that, the application will find out the photos that have been backed up to Google.
Step 3. Finally, you can click Remove to delete all the device copy on the device.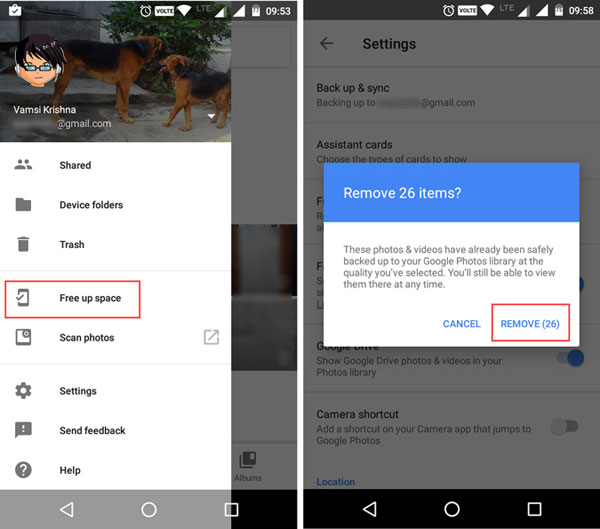 Method 3. Delete Pictures from Gallery
Step 1. Open the Photos App on your phone.
Step 2. Select the photo you want to remove and then tap on the trash bin icon to delete it. If you want to delete multiple pictures at a time, you can long press one picture and then check all the images that you want to remove.
Omit Duplicate Photos in Google Photos
Although Google Photos can automatically detect the same images and avoid uploading duplicate pictures if users enable the back up & sync feature. But you may still get the duplicate pictures in Google Photos due to manual uploading or Google Drive backup. And what's worse, Google Photos does not support the feature of removing duplicate photos. Hence, if you want to avoid this situation, you need to keep 2 tips in your mind:
* Pay attention not to upload the same photo to Google Photos twice.
* Disable Google Drive backup feature when you turn on the back up & sync feature on Google Photos.
These two tips will prevent you from getting duplicate pictures in Google Photos, which would help you to manage the photos on the device more easily.
Related Articles:
3 Ways to Hide Photos on Android
How to Share Photos in Dropbox on Android?
Useful Tips to Delete Call History/Logs on Android in Different Cases
4 Useful Ways to Transfer Contacts to SIM Cards (Android & iPhone)
Any Tips to Fix the No SIM Card Error on Android? 16 Fabulous Ways for You
Ultimate Guide on How to Transfer Contacts from Android to Android in 2023