3 Ways to Hide Photos on Android Phone/Tablet
Why we need to hide photos on Android? That's because it can secure our personal privacy and protect the pictures from exploiters/criminals. However, although it is so important but less phones have the feature to conceal images. Hence, you need to find some methods to help you complete the hiding process. And to enhance the process, we will provide 3 ways to hide the pictures here.
Backup the Pictures Before Hiding Them
Before hiding the pictures, you'd better back them up or they might be deleted or lost unexpectedly. This could be an easy task cause there are many ways available for you to complete the backup. But here, we would like to show you a simple but effective way to sync Android photos to computer- making use of MobiKin Assistant for Android (Win & Mac).
The recommended software is a program to backup Android files to computer. The file types that it supports are various, including contacts, messages, photos, videos, music and so on. Besides, you can transfer them in bulk or partly as you like. What's more important, the whole process is secure and clean so you do not need to worry about virus attack at all.
Here is how to backup images with the tool:
Step 1. Build a connection between Android phone and computer
To begin with, you need to use a USB cable to connection your phone to computer and then launch the installed program.
Step 2. Make the device be recognized
After running the tool, you will be asked to open USB debugging on your phone and install the USB driver on the computer. Just go with the instructions to accomplish the recognition.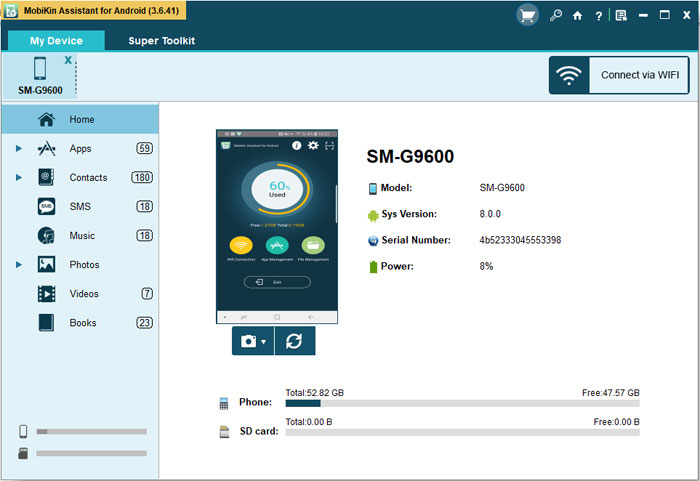 Step 3. Transfer the desired pictures to PC
After the detection, you can begin to move the photos to computer now. Here, you have two options:
- Sync the pictures selectively: You can tap on the Photos folder in the left panel to locate and view its contents. Then just tick the files that you want to backup and hit Export to move them to computer.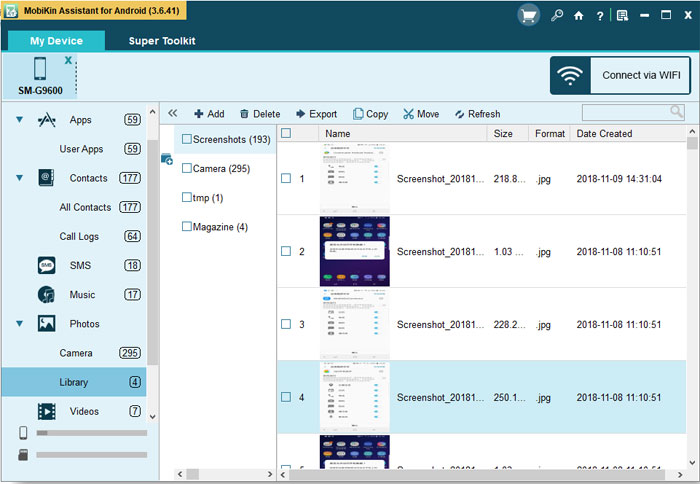 - Backup all the photos on your phone: If you want to backup all the pictures on your phone, you can tap on Super Toolkit on the top menu and then choose Backup. After that, a list of categories that can be backed up will appear. Just check the Photos folder and click on Back Up to easily transmit them to computer.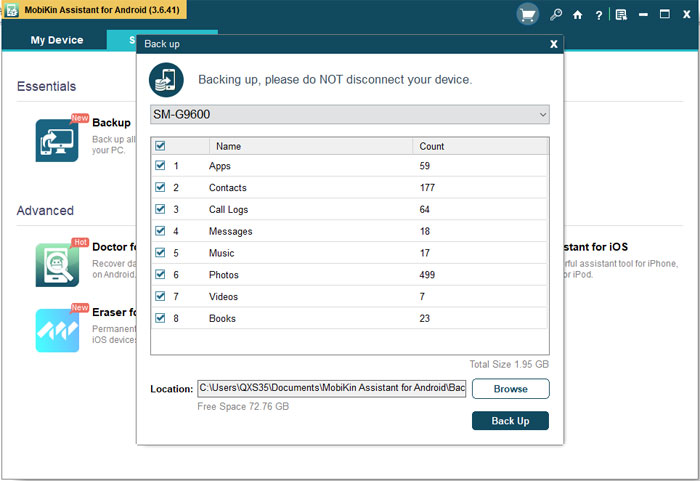 You might also want to know:
How to Backup Android Photos to Cloud?
Transfer & Backup Photos to An SD Card
How to Hide Photos on Android?
After backing up the photos, you can begin to hide them without additional worries. Here are 3 means of hiding images for you to select. You can go with the detailed process below to complete the hiding process.
Method 1. Create a hidden folder
To conceal the pictures, you can create a hidden folder on your phone and then move the images to the folder. After that, no one but you can find out and view the files saved in the folder. However, to establish such a folder, you need to ask ES File Explorer File Manager for help. Now let's take a look at the details of this means.
Step 1. Download and install the file management App
Go to Google Play Store to download the ES File Explorer File Manager or other applications to your phone. Then you can follow the prompts to install it.
Step 2. Create a hidden folder
Just go to the folder that you want to hide pictures in and then tap on it until the menu appears. Next, select New to create a new folder. Then you need to put a period at the front of the folder name to make it hidden.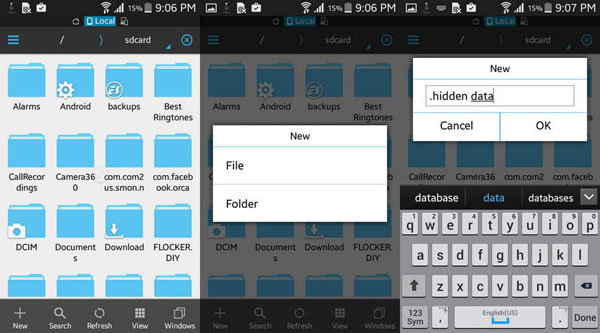 Step 3. Add the pictures to the hidden folder
Now you need to open the folder containing the pictures you want to hide and long press an image and tap each additional picture you want to select. After finishing the selection, you can tap on Move or Cut form the menu. Then go back to your newly-created hidden folder and choose Move or Paste to copy the selected photos.
Method 2. Hide photos in folder
This means is a little bit different from the first means. Instead of create a new folder, you can add the pictures to an existing folder on your phone directly. That is to say, you can:
Step 1. Add the pictures to a folder
Just open a folder that you want to save the pictures and then tap on New at bottom of screen. Then tap on file while prompting.
Step 2. Save the files
After moving the images to the folder, you need to name it with period. And then save them.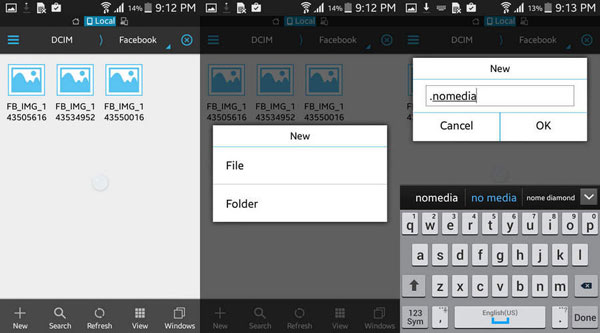 Now this file will act as command to hide images or even videos which can be viewed via file manager but will remain hidden in main interface od Android. And if you want to show the file, you can delete the created file and the photos will no more hide.
Method 3. Set password for the pictures
Another way to protect the photos is to set PIN code for them. This can only be completed with the help of third-party tools. Here Hide Pictures & Videos Vaulty- a simple, free but reliable application is our suggestion.
Step 1. Download and install the tool
The first step is to download and install the application on your phone.
Step 2. Set PIN code for the pictures
Just open the software and enter the PIN code or password which you will use to access files. Then tap on hide videos & photos and you will be asked to select the files you want to hide. Just tap on the pictures that you wish to conceal and click on pad lock to protect them.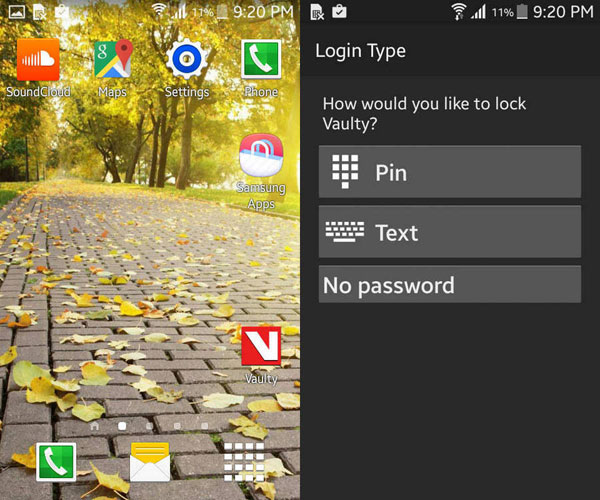 Related Articles:
Things about Facebook Messages Encryption on Android
Ultimate Guide about Outlook to Google Calendar Sync
Detailed Reviews of 10 Best Android Backup Software for PC [Updated]
Tutorial to Sync iCloud (Contacts, Calendar) with Android Smart Phones