Tutorial on How to Get A Refund from Google Play
Google Play Store provides a platform for Android users to purchase or freely install their wanted applications or games on their devices. However, after purchasing the products, buyers would meet a problem sometimes- they have bought an undesired application or the purchased software performs badly so they want to get a refund from Google Play. Then what can they do in this case?
Just take it easy! You have two methods to gain the refund:
Method 1. Get A Refund from Google Play within 2 Hours
Fortunately, Android's Google Play Store offers a two-hour no-questions-asked refund period to its purchasers. That means your refund request will be agreed and the money will be returned to you instantly only if you delete the software after buying it within 2 hours. But if you fail to receive the refund, you need to:
- Enter Google Play Store on your Android phone and click on the menu button to get a list. Then tap on My account in the list.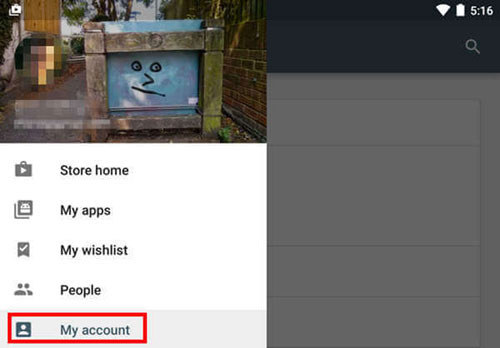 - Scroll down the page to find the option My orders and then look for the application that you want to refund.
- Here you can see a Refund button after buying the App within 2 hours. Just click the Refund button and Play Store will return the money to you. Meanwhile, the application will be uninstalled automatically from your device.

Method 2. Refund An Application on Google Play over 2 Hours
Then, some people may ask:" Is it possible to get the refund after buying it over 2 hours?" Certainly yes! You can initiate a refund request as well but the process would not be as easy as the first method. Just go with the steps below to get back your money.
- Open Google Play and navigate to Menu> My account> My orders to find out the application that you want to refund.
- Then you can get the contact information of the application developer on another page.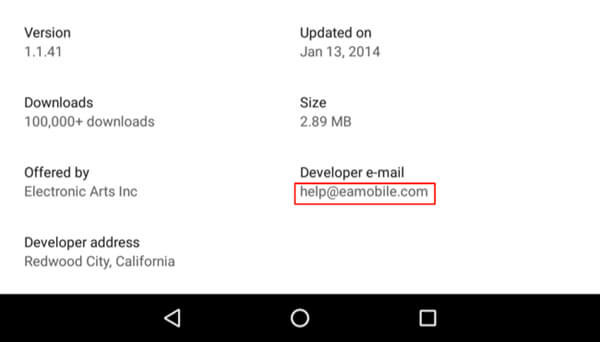 - Just contact the developer for a refund directly via email or calls. But here you should give the developer a valid reasons or he/she can refuse your refund request.
If you fail to get the contact information of the developer, you can ask Google for help. To do that, you can:
- Go to the official website of Google Play Store.
- Tap on Contact Us at the right top corner and click on Android apps & games.
- Next, hit Request a refund and then you will be able to contact support by phone, text chat or email.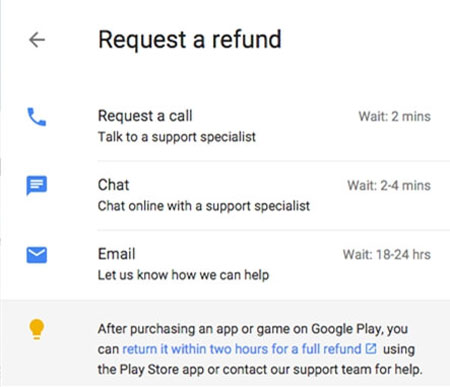 Notice: It is not certain that you can get the refund from Google Play all the time so you'd better think twice before purchasing the applications.
Related Articles:
How to Transfer Text Messages from Samsung Phone to Computer Effectively?
How to Recover Samsung Data from Normal & Crack Samsung Galaxy [4 Methods]
[Solved] How to Backup Call Logs on Android Phone?
Xiaomi File Transfer Tutorial - 5 Easy Ways to Transfer Xiaomi Files
How to Send Large Videos on Android: The Complete Guide
Can't Miss: 6 High-rated Phone Cloning Apps/Software of 2023