Everything You Need to Do Before Getting A New Samsung S8
Are you dreaming of a brand-new device for a long time? For a fan of Samsung phones, there is a big news for you. The newest Samsung Galaxy S8/S8 Plus is finally rolling out on 29th, March, 2017, a big hit in the Android mobile market.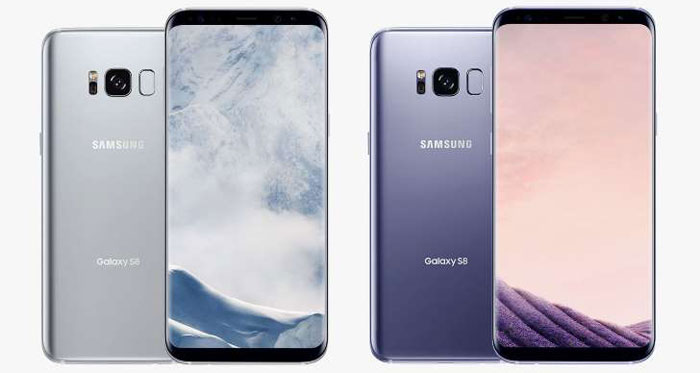 Part 1. New Features on Samsung Galaxy S8
Aiming at providing seamless and friendly user experience, the new devices improve its security as is evidenced by the fact that it offers you a quicker response in registering retina information with less time. The speed and performance of the new device also marked new progress. In particular, Samsung has manufactured new AMOLED display which greatly improve color saturation, 4k resolution, light in size and will take less power to operate.You are free to enjoy a 4k resolution display on the newest Samsung phone. Below are more detailed features of this device, just take a look:
| | |
| --- | --- |
| Specifications | Samsung Galaxy S8 Features |
| Screen Display | 5.1" and 5.5" 4K display with a 4096 x 2160 screen resolution |
| Colors | Black, blue, gold, and white |
| RAM | 6 GB RAM |
| Operating System | Current Android operating system 2017 |
| Memory | 64 and 128 GB internal memory and expandable with dual micro SD cards |
| Front Camera | 8 Megapixels |
| Rear Camera | 30 Megapixels |
| Camera Features | Optical image stabilization, geo tagging, facial recognition, HDR, auto laser focus |
| Battery | 4200 mAh |
Now, you possibly can't wait to update to the latest Samsung Galaxy S8. But there are several things you need to do before switching to Samsung Galaxy S8/S8 Plus. For example, have you ever considered how to dispose of your old device or how to deal with data saved on your old device?
Things to Do before/after Switching to New Samsung Galaxy S8/S8 Plus
1. Backup Important Data on Old Phone
After getting the new device as wanted, how will you deal with the old device, especially the saved data? And how will you secure the saved data on the newly-bought device? Actually, no matter you want to sell it out or give it away, the best solution to keep your important data safe is to make a phone backup.
In this case, you can simply rely on this all-in-one MobiKin Assistant for Android or Assistant for Android (Mac Version) software, which allows you to backup Android within simple clicks. Also, this software could be the best data manager for your newest Samsung S8, enabling you to manage Samsung files at ease.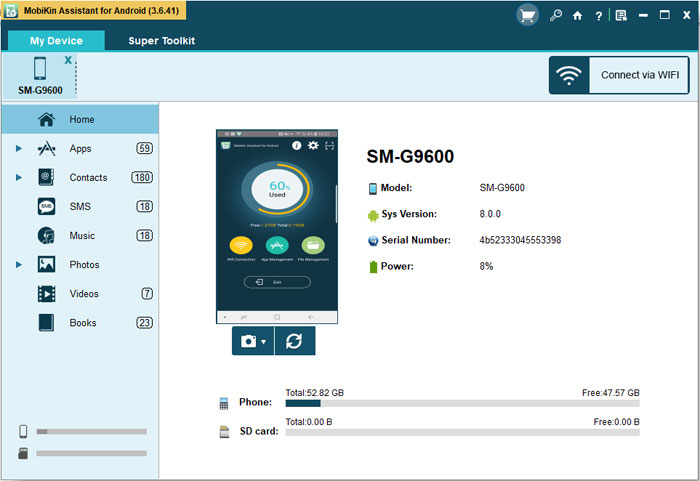 For an user who previously had an iPhone, you can rely on this Mobikin iOS Assistant to easily transfer files from your old iPhone to computer as a backup, or back up them to iTunes or iCloud.
2. Sync Data to New Samsung S8
You can also choose to directly transfer files from your old phone to the newest Samsung Galaxy S8/S8 Plus. And with this MobiKin Transfer for Mobile (with its Mac version) software, you can easily transfer anything from one device to the new Samsung phone. Even if the two devices are running completely different operating systems, you can always freely share files between two phones. Now, you may want to:
Transfer Files from Old Samsung to New Samsung S8
Easily Sync Data from iPhone to Samsung Galaxy S8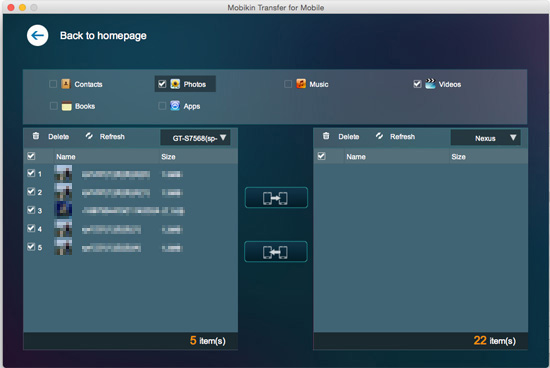 3. Erase Private Data on Old Phone
Till now, you might have backed up everything on your old device or synced all important data to your new Samsung Galaxy S8, then there is the last thing you need to do with your old device - erase all personal files so as to ensure that no privacy will be leaked under any circumstances. This MobiKin Eraser for Android (Windows/Mac) software allows you to effortlessly wipe out any unwanted data from any Android device, including contacts, messages, photos, apps, other useless junk files. Also, this handy data eraser could be your trustworthy erasing tool for you newly-bought Samsung S8, enabling you to permanently wipe out all data from the new device whenever you want.
Note: If you need to erase files from an iOS device, just turn to this Mobikin iOS Data Eraser to permanently erase everything from iPhone, iPad or iPod.
4. Recover Lost Data from Mobile Phone
Yet not so familiar with your new phone and mistakenly delete important files? It is no big deal, let this Mobikin Doctor for Android help you! It can easily recover any lost files including contacts, messages, photos, videos, apps and many more from all Android devices, including your newest Samsung Galaxy S8 or S8 Plus.
Related Articles:
Easily Recover Lost Files from Android SD Card