Alternative Tool to Carbon for Android: Manage Android in A Better Way
Shortcomings of Carbon Backup for Android:
Carbon Backup was the first choice when it came to backing up Android devices, as it was a useful enough tool. But it also comes with some shortcomings that urge users to find an alternative tool to replace the Carbon Backup:
1. It only works on rooted Android devices (see how to root Android devices here);
2. It also doesn't seem to remember setting such as it always comes up with "App Data Only" checked. This is irritating; as I want it to come up with the settings I chose and stored previously to save time;
3. Once you get past all these pitfalls. It will back up your smartphone. Times, however, seem prolonged, this is the 21st century, and the age of the Cloud and you would expect a little optimization for speed;
4. Finally, it finished and I had a copy of my data. To get my Apps, however, I had to manually select them by hand. This was annoying as most programs today have a select all option.
Best alternative tool to Carbon Backup - MobiKin Assistant for Android
So, by using the Carbon backup tool, while you were able to finally get a backup completed, it was more work than expected or alluded to in the advertising. If you are looking to get the Android data managing work done quicker without any worries, going free isn't the solution. Instead, we bring to you a solution that can do everything you want, from backing up your data to transferring it easily across devices, and more! It is MobiKin Assistant for Android or Assistant for Android (Mac Version). This allows better control of where and when your Android data is backed up. Let's give a detailed functions introduction about it:
1. Using Assistant for Android you can create backups with one click and also use them to restore your device;
2. It is completely safe and gets your job done in a short time;
3. Supported devices: Samsung, HTC, LG, Sony, Motorola, Huawei, ZTE, Google, etc..
4. Supported file types: Contacts, SMS, photos, videos, music, apps, etc..
5. It can also be used to send SMS, add or manage contacts, install and uninstall apps and many other things.
6. You can even transfer songs and movies from your computer to Android device through this platform.
Next, we are going to show you how to use the MobiKin Assistant for Android to transfer and manage your Android device on computer. First of all, you should click the following button to get the program downloaded and installed.
How to Use the Alternative Tool to Carbon for Android?
Step 1. Set up your Android phone
Launch the MobiKin Assistant for Android on your computer and connect your Android phone/tablet to the computer with USB cable. Open USB debugging on your Android device, then it can be detected by the program and you will see the main interface of the program like below: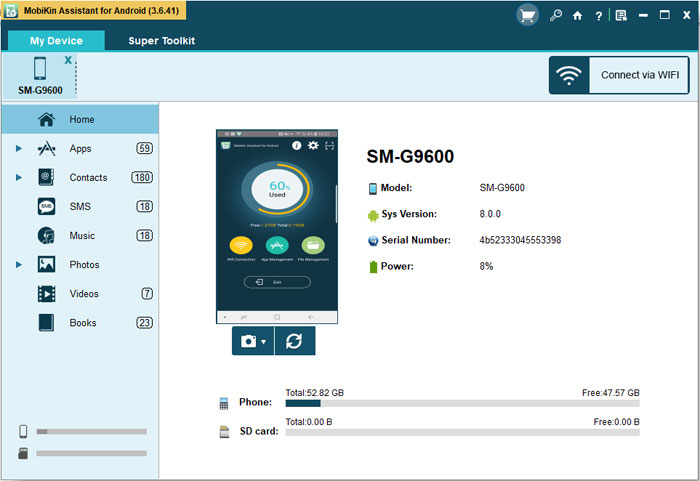 Step 2. Manage your Android device on computer
All the manageable file types are displayed on the left side bar, including Contacts, SMS, Photos, Videos, Music, Apps, etc. And all the operating options are displayed on the top menu. Just choose the files you want to manage, and click "Export", "Import", "Edit", "Delete", "Restore", etc. to manage them.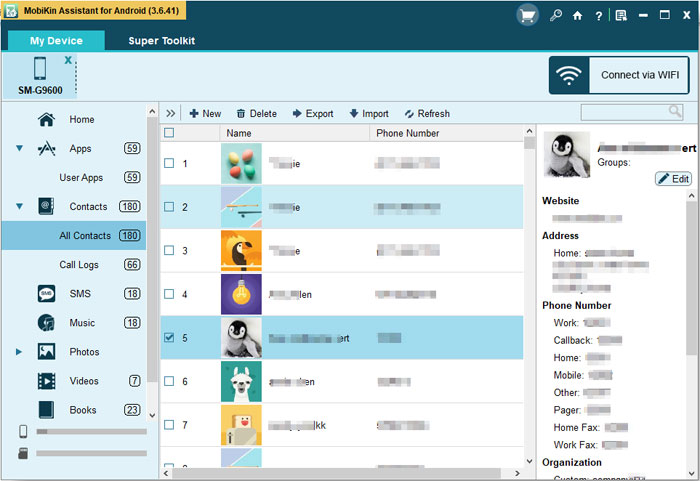 The Bottom Line
As you can see, it is quite easier to manage your Android data with MobiKin Assistant for Android than using the Carbon Backup for Android. Just give a try on the best alternative tool to Carbon for Android to make your digital life more convenient.
Related Articles
Alternative to Titanium Backup
Best Android Contacts Manager Software
Best 10 Android Desktop Managers to Manage Your Android Devices on PC/Mac in 2023
Top 6 File Manager for Android to Keep Your Device Organized (2023)
Top 5 Android PC Suites - Help You Manage Your Android Phone with Ease