[5 Easy Options] How to Transfer Photos from Computer to Android?
Maybe you have some meaningful pictures on your computer. And now you want to transfer them to your phone as wallpaper or share them on your mobile social app. Well, iPhone users may be able to do this officially through iTunes. But if you have an Android phone, you may need to turn to an iTunes alternative for Android or other services.
Today's quick tutorial covers how to transfer photos from computer to Android in 5 unique approaches, whether you use a PC, Mac, or Chromebook.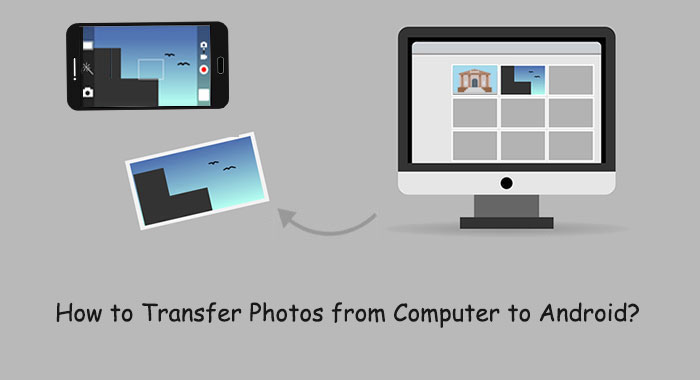 Way 1: How to Transfer Photos from Computer to Android with One Click
Is it amazing to move photos from a PC/Mac to an Android phone in one single click? MobiKin Assistant for Android (Win and Mac) can provide you with a chance to make your idea come true.
This well-designed tool categorizes various photos on its interface, including images from Screenshots, Camera, tmp, and Magazine. And all the items are arranged according to Name, Size, Format, and Data Created, through which you can easily preview and select the specific photos for transfer.
Some features of MobiKin Assistant for Android:
One tap to transfer various photos from computer to Android.
Copy tons of pictures from Android to computer without a hitch.
Besides photos, it also plays functions on contacts, text messages, call logs, movies, videos, books, and more.
Keep photos in original quality after the transfer.
Manage Android devices on a PC/Mac directly.
Work for 8000+ Android phones and tablets, covering Samsung, Xiaomi, LG, Sony, Huawei, OPPO, Vivo, Dell, HTC, OnePlus, etc.
It comes packed with a free trial.
It values your privacy.
How to send photos from computer to Android phone via Assistant for Android?
Step 1. Connect your Android phone to your computer
Download and install the Assistant for Android on a computer. Then open it and connect Android to the computer via USB. Next, please enable USB debugging on the Android phone to have your phone identified.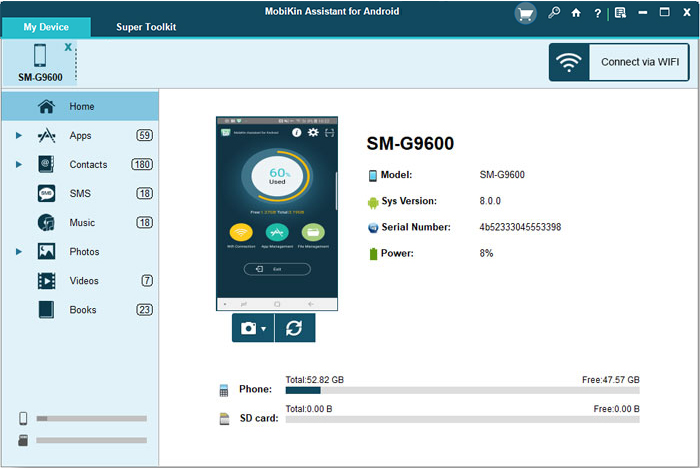 Step 2. Preview and select your desired photos
After the recognition, please choose the "Photos" category from the left menu and tap "Add" from the top. You can then browse your machine and locate the pictures you wish to import to the connected phone.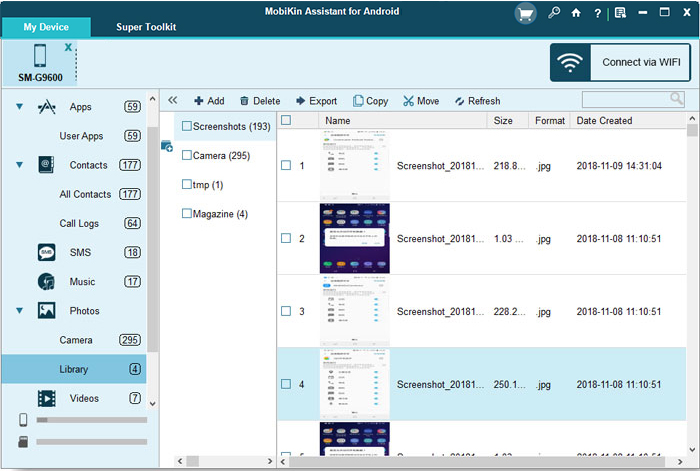 Step 3. Transfer photos from a computer to Android
Select what you want from your computer and click "Open". This will trigger the image migration from your computer to your phone.
Related Guides:
Way 2: How to Transfer Photos from PC to Android Phone via File Explorer
With an original cable that comes with your Android phone, you can try to use File Explorer to transmit. Although it is simple to carry out, it does not provide direct access until you set the transfer mode. In addition, you may have to spend some time in to select from the scattered photos to send to your phone.
How to import photos from a computer to an Android phone through File Explorer?
Attach your Android phone to your computer with a USB cable.
Go to the Notifications panel and select "Connected as a media device" > "Media device" (MTP).

Tap "OK" when your device asks you whether to turn on USB debugging.
Open the "File Explorer" and head to "This PC"/"My Computer".
Click your pictures folder on your computer.
Select the images you want to move before copying them.
Click your phone's icon and get into its DCIM folder.
Right-click the mouse and select "Paste".
Way 3: How to Send Pictures from Mac to Android Phone via Android File Transfer
Designed for data migration between Android and Mac running macOS X 10.7 and up, Android File Transfer makes it simple for you to copy files across devices by drag & drop. Let's see how to transfer photos from a laptop/desktop to an Android phone with Android File Transfer:
Download and install Android File Transfer on your Mac.
Open Android File Transfer. (It should open automatically next time you connect your phone)
Connect Android to this Mac via a USB cable.
Click "Open", and you will see a window with your Android files on the computer.
Proceed to "Options" > "Show in Finder".
You will get the options - "Android File Transfer" and "Applications".
Double-click the latter to open the local folder.
Drag the pictures from the folder and paste them into the window with your phone files.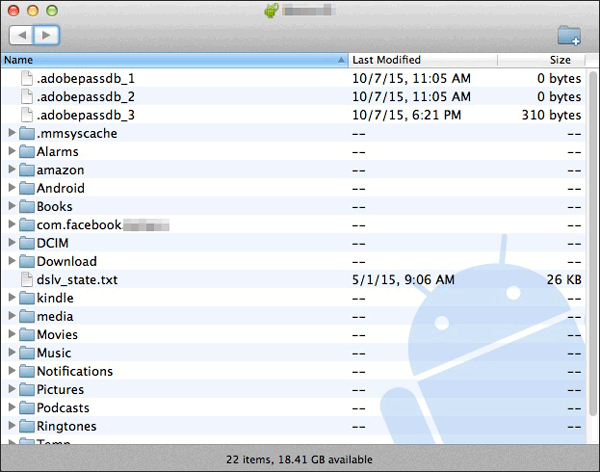 Read Also:
Way 4: How to Transfer Pictures from Computer to Android on Chromebook
This method applies to laptops and tablets powered by Chrome OS. You just need to link your phone to Chromebook and create a simple connection before copying and pasting your desired book to the destination folder. Here's how to download pictures from a Chromebook to an Android phone:
Use a USB cable to connect your phone to your Chromebook.

Keep your phone unlocked.
Click the "Charging this device via USB" prompt from this phone.
Choose "File Transfer" under "Use USB for".
Open the "Files" app from your Chromebook.
Locate the files you want to transfer from the Chromebook and paste them onto the location of your Android phone.
Disconnect the USB cable after the completion.
Way 5: How to Move Pictures from Computer to Android Phone via Google Photos
After uploading media files from your computer to your Google Photos account, you can then easily sync the pictures to your Android phone with the "Back up & sync" feature. (There's not enough space on this service? You can choose to delete useless pictures on Google Photos.)
Now, read on to learn how to send pictures from computer to Android phone through Google Photos:
Visit the Google Photos website on a computer.
Log in to your Google Account if required.
Tap "UPLOAD" from the top-right side of the page.
Click a folder with pictures from the left of the "File Explorer".
Select the photos you want and click "CONTINUE".
Your images will be uploaded to the Google Photos account.
Open Google Photos on your phone.
Tap the 3 bars sign at the top-left corner of the screen.
Go to "Settings" > enable "Back up & sync".

In doing so, the photos you uploaded just now will be synced to Google Photos on your Android phone.
Quick Summary
In this guide, we put MobiKin Assistant for Android in the first part, partly because it can quickly complete the transmission from computer to Android with one tap. It also offers a fast preview and simple selection, which are far more convenient than other tools or services.
In addition to transferring a large number of photos in a short time, this tool can further manage the photos and other Android data on a computer directly. So, just free download it and enjoy its trial version now.
Related Articles:
5 Easy Ways to Get Pictures off a Broken Phone that Won't Turn on
How to Transfer Photos from iPhone to Android? - Top 5 Ways
[4 Methods] How to Transfer Photos from Android to Android
All My Photos Disappeared from My Android? 5 Fixes Here!
Top 8 Alternatives to Google Photos: Better Manage and Save Your Photos
4 Methods to Delete Photos/Videos from Android Phone Singly, Multiply, or Entirely