[5 Ways] How Do I Back Up Contacts on Vivo V9/V9 Youth/Pro?
With the completion of 7 global R & D centers for Vivo mobile, Vivo is paving its way to more countries. Nowadays, more and more people are becoming the owners of Vivo phones. Take Vivo V9 as an example, it features innovative designs as eye protection mode, night self-timer, multitasking sharing one screen, etc. which deliver better experience to its users. As we all know, "Contacts" is one of the most vital data on mobile. And to keep it available invariably, Vivo V9 contacts backup is of great concern for many of us.
Well, how do I export contacts from Vivo to a separate and secure storage like computer? Just move on to explore the proven solutions now!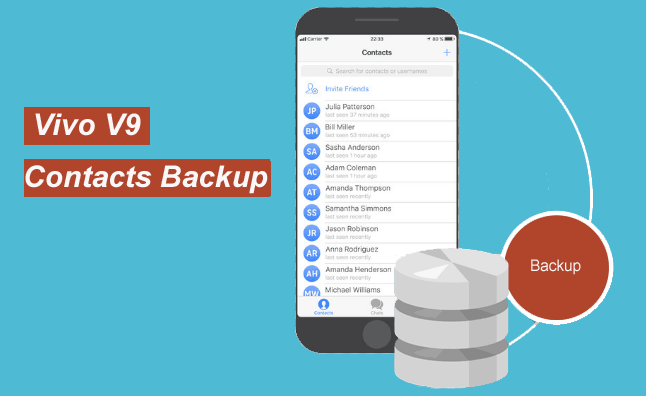 Solution 1: How to Back Up Contacts on Vivo V9 via Android Backup & Restore
In terms of Vivo contacts backup, many people who pay attention to the quality of life will think of using a professional 3rd-party software, because such program does not simply perform some task, but puts the needs of users first by focusing on the design, function, UE and other metrics. Those would certainly improve people's quality of life. Well, MobiKin Backup Manager for Android is something that you deserve. It can back up the whole Vivo phone to computer, and thereby restore them at any time.
Some essential features of Android Backup & Restore program:
Take a full backup for Android phone/tablet, including contacts, call logs, text messages, photos, videos, music, documents, apps and others.
Restore backup files from computer to Android phone, retaining its original quality.
Allow you to preview the data types and choose any of them for backup.
Two connection options: USB & WiFi.
Easy to use, green interface & quick transfer.
This software never tampers with your privacy.
Compatible with various Android devices, containing Vivo V9/V9 Youth/Pro, V8/V7/V6/V5, X20/X20 Plus, X9/X9 Plus, Xplay 6, Y67/Y66, Xshot, Vivo NEX 3S, iQOO Z1, iQOO Neo3, etc.
How do I export contacts from Vivo phone to computer with Android Backup & Restore?
Step 1. Download this Vivo backup utility on computer. Go with the installation wizard to install it, and then launch it. Now you should enable USB debugging on Vivo phone, and follow the on-screen direction to let the tool recognize your mobile.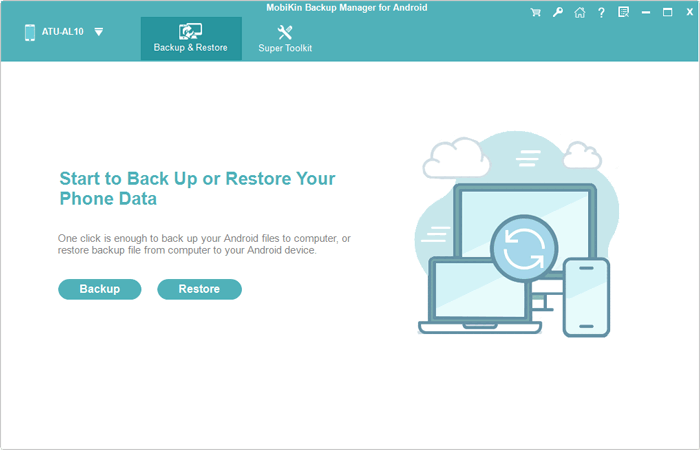 Step 2. Once connected, the main interface will come up. You need to choose "Backup" from the screen, and all types of data on Vivo will be listed on the next page. Please tick off "Contacts", and press "Browser" to specify a location on computer to store the items.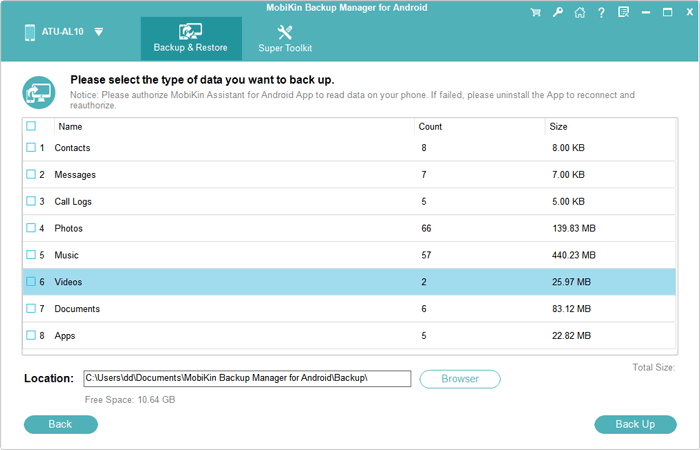 Step 3. After that, click on "Back Up" button from the lower right to start copying contacts from Vivo phone to your computer.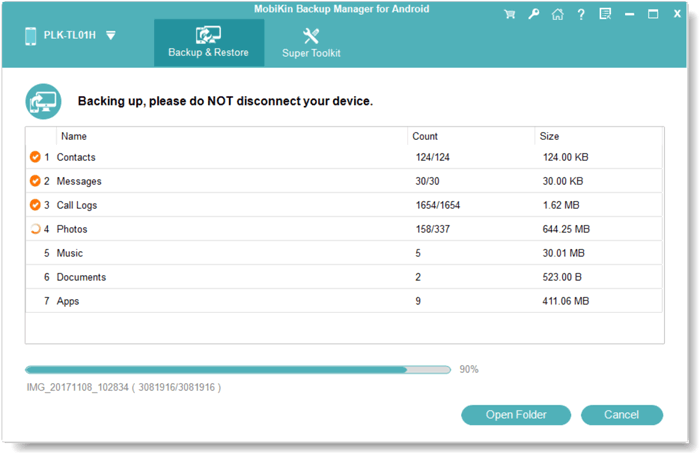 Note: It's also easy to restore contacts to Vivo phone from the backups. To do this, simply tap "Restore" option from the main interface of the program. Then select the backup files, and click "Restore" button again.
Check if You Need:
Solution 2: How Do I Export Contacts from Vivo to Computer with Assistant for Android
Some users may need to add, edit, delete contacts on computer besides Vivo contacts backup. Or want to export/import some contacts as specific formats like BAK, XML, Outlook, VCF, etc. for future use. If so, just pick MobiKin Assistant for Android (for both Win and Mac). This top-notch software gives you full control over Vivo data like contacts, music, SMS, photos, and more, making it the true sense of the omnipotent Android phone keeper.
It gets along well with a variety of Android devices, as well as runs smoothly on both PC and Mac computer.
How do I back up my contacts on Vivo to computer via MobiKin Assistant for Android?
Step 1. After installing the proper version of the program on your computer, open it and plug your Vivo phone to this computer via a USB cable. Here, you should have your phone recognized by the tool, according to the brief instruction on the screen.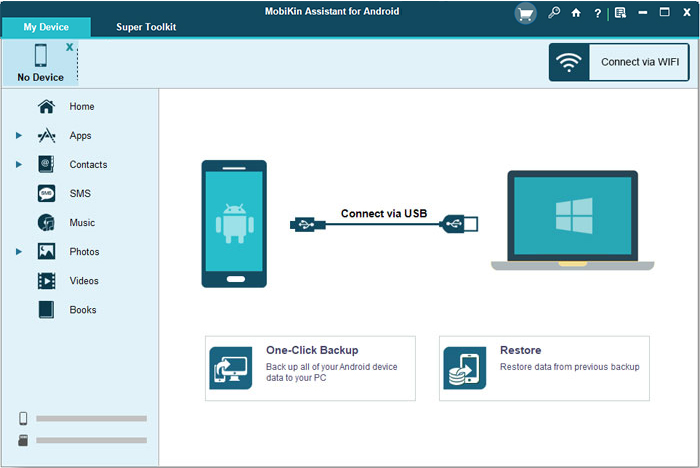 Step 2. After the detection, data on Vivo phone will be listed on the main screen. Just choose "Contacts" from the left panel and click "All Contacts". Next, preview and select your desired contacts for transfer.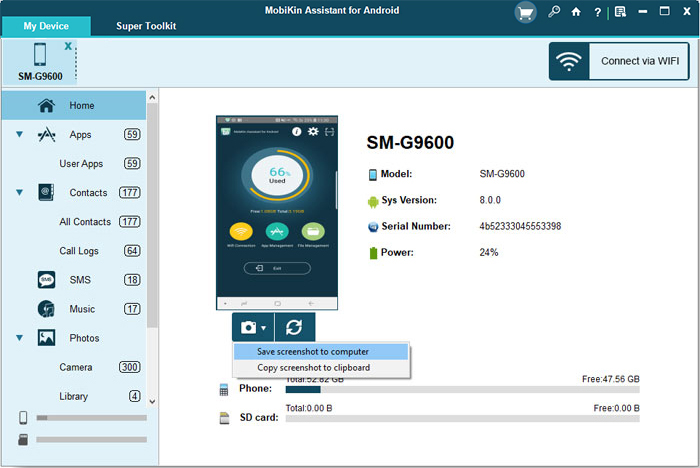 Step 3. Click on the "Export" button from the top menu to transfer them from Vivo to the computer. You can save them as HTML, VCF, CSV, XML, Outlook or BAK format as required.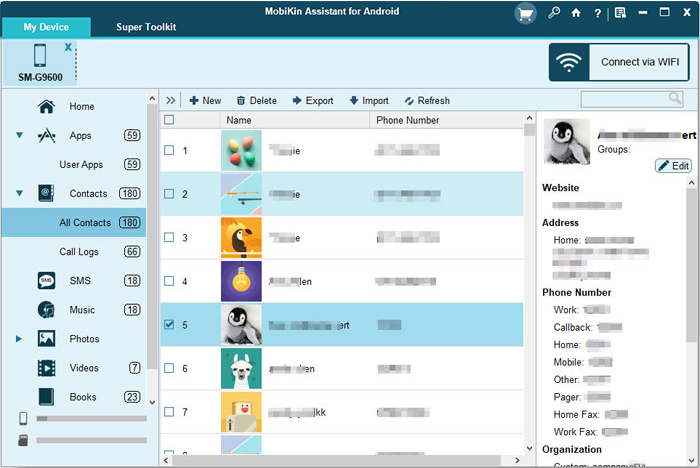 Notice: If you need to add contacts to another Android phone, you can save the file as VCF format. And assume you plan to print off the contacts, CSV format should be the better option.
Solution 3: How Do I Back Up My Contacts on Vivo V9 via Google Backup
Suppose you have a Google account, you can choose to move Vivo data to Google servers. It lets you sync data as contacts, calendar, chrome, movies, music, app data and more wirelessly with a designated account. And it works for most Android phones with various OSes.
Guide on how to copy contacts from Vivo phone via Google backup:
Step 1. Open "Setting" app from your Vivo device, then scroll down to find and tap "Accounts & sync" from the Personal section.
Step 2. Touch "Google" from the incoming screen, and choose your Gmail account before backup.
Tips: Here, you can hit the "Add account" button to enter a new account, if you don't want to sync contacts with other accounts listed on the screen. (you can get into the post: Tutorial on How to Add Google Account on Android for help as needed.)
Step 3. You'll see all the types of data that can be synced to the Google services. Please select "Sync Contacts" tab now.
Step 4. Finally, click "Sync now" at the bottom to back up Vivo contacts to the cloud storage.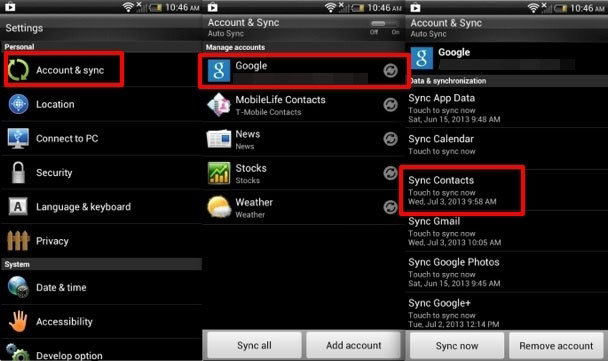 See Also:
Solution 4: How to Copy Contacts from Vivo Phone to an SD Card
Some users believe that cloud storage can be risky, and want to transfer Vivo phone contacts to an SD card, then this approach might be just the thing. But, to be honest, it's safer to back up your contacts on your computer. Again, you can also export Vivo contacts to any USB storage as you like in the similar way.
Let's go over how to import/export contacts in Vivo V5/V6/V7/V8/V9 to an SD card:
Step 1. Unlock your Vivo phone, and click on the "Contacts" or "People" app.
Step 2. Choose the "Import/Export" option from the menu bar, and then go for "Export to SD Card" from the next window.
Tips: If you are to upgrade a new Vivo phone, and intend to keep the same SIM card, here you can opt for "Export to SIM card" instead to back up contacts to this card.
Step 3. Soon, all the contacts on your Vivo device will then be saved as a vCard file, and moved to the SD card.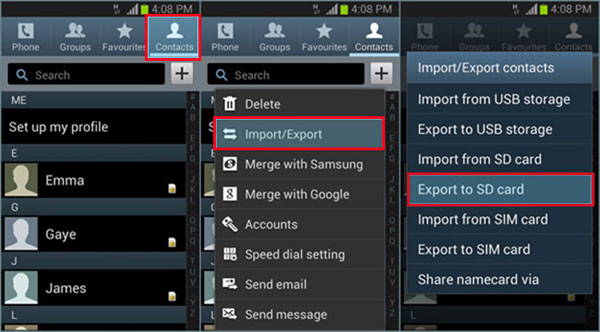 The Bottom Line
As for Vivo contacts backup, the above solutions can complete the task on the whole. However, it is the safest way to back up contacts to computer via a USB cable. And frankly, there are certain risks in syncing them to the cloud using WiFi, or exporting to an SD card/USB flash drive directly.
Finally, by the way, let's introduce Vivo phones with impeccable sound quality. It is Vivo Xplay series. The next time you are meant to switch to a new Vivo, and want a better call experience, just take this series into account.
Related Articles:
How to Edit Contacts on Android with the Best Android Contacts Manager?
Top 5 Contacts Recovery Apps for Android (2020)
2 Ways to Transfer Contacts from Android to Outlook
How to Transfer Contacts from Android to Computer? (4 Ways Included)
3 Ways to Backup Android Contacts to Google/Gmail Easily
3 Ways to Recover Deleted Contacts from Android (#1 is Awesome)