How to Merge and Remove Duplicate Contacts in Android Phones?
It is common for many folks to delete duplicate or redundant contacts, photos, videos, etc., on Android devices to let them stay organized and free Android memory. The same contacts may appear multiple times in the phone when you switch from your Android phone to the newer version or change SIM and accidentally sync all contacts. OK, here's the question: how to remove duplicate contacts in Android phone?
Well, today, we will outline three ways to help you delete or merge duplicate contacts in Android. You can choose any of them to remove your unwanted Android contacts on your mobile phone or computer. And at the end of this page, you'll come to know a great Android desktop manager.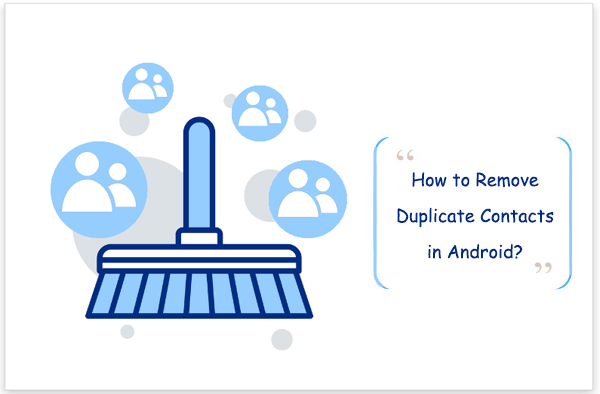 Method 1: How to Merge Duplicate Contacts in Android from Phone Contacts
Some Android phones like Samsung, Sony, OnePlus come with a built-in contact merge feature. When you open the contacts app, your phone will scan all the duplicate contacts. And you'll then be allowed to delete unnecessary items along with phone numbers, email addresses, and more.
How to remove duplicate contacts in Android from Phone Contacts?
Open the Contacts app from your Android phone and tap the menu button.
At the top right, tap Settings > Contacts Manager > Merge contacts.

If you need to merge a single duplicate contact, tap "Merge".
If you wish to merge all duplicate contacts or select which contacts to merge, tap "Quick Merge".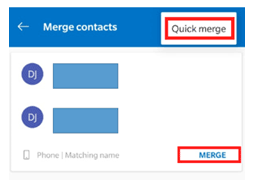 Check if You Need:
Method 2: How to Merge Contacts in Google Contacts/Gmail
Completing Android merge contacts is possible as well if you have enabled contact syncing with your Google account. Google Contacts gives you the freedom to merge all the contacts in your Android device that is linked with your Gmail.
How to delete duplicate contacts in Gmail on your computer?
Log in to your Gmail account from your computer.
Click "Gmail" from the left page.
From the drop-down menu, click "Contacts".
All your contacts will then be displayed.
Now, click "More" at the top of the screen and then "Find & Merge Duplicates...".

After a short delay, you should see all the duplicate contacts.
Uncheck any contacts you want to keep or just hit "Merge" to delete duplicate contacts in Android.
Method 3: How to Remove Duplicate Contacts from Android Phone with Dedicated App
A dedicated app like Duplicate Contacts Fixer and Remover, an excellent contact duplicate remover, is light on device resources and is battery-friendly. This app can be used to remove duplicate contacts in Android and eliminate similar contacts, too. Before the scanning, you can take advantage of it to make a backup of all your Android contacts.
How to delete duplicate/double contacts in Android phone via Duplicate Contacts Fixer and Remover?
Download Duplicate Contacts Fixer and Remover and install it on your Android phone.
Open the app on your Android phone.
Select the account you wish to delete the duplicate contacts of.
Tap the "Find Duplicates" tab within the application.
After the scan completes, this app will show your all the duplicate contacts in the list.
Tap "Delete Duplicates" to remove the duplicates it found.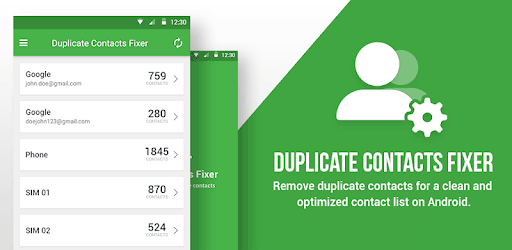 Other applications like "Duplicate Contacts Remover" may also be able to remove duplicate contacts in Android phones. Yet, this app is not as feature-rich as Duplicate Contacts Fixer and Remover.
Further Reading:
Bonus: How to Manage Contacts in Android Conveniently on a Computer?
Many Android users prefer to manage contacts, text messages, photos, videos, and other content on a larger screen like a computer other than on a mobile phone. MobiKin Assistant for Android (Win and Mac), an outstanding Android phone management tool, is fully eligible to do that.
It enables you to manage (delete, create, move, transfer, back up, restore...) your data on your computer directly. You can control your Android device on a PC/Mac more accurately and conveniently, thus saving your precious time and energy.
What can MobiKin Assistant for Android do for you?
Add new contacts, delete and edit existing contacts on computer.
Back up Android contacts to computer, and import contacts from computer to Android.
Back up and restore various Android data in one click.
Manage overall Android data types, such as contacts, SMS, call logs, photos, videos, music, apps, etc.
Easy to use, ad-free, quick processing, no data loss, etc.
Run smoothly on overall Android devices, containing Samsung, Huawei, Sony, Motorola, LG, Xiaomi, Google, Vivo, HTC, OnePlus, OPPO, ZTE, etc.
It never stores any of users' info in any form whatsoever.
Go to the page of Android contacts manager to see how to use Assistant for Android to manage your Android phone contacts.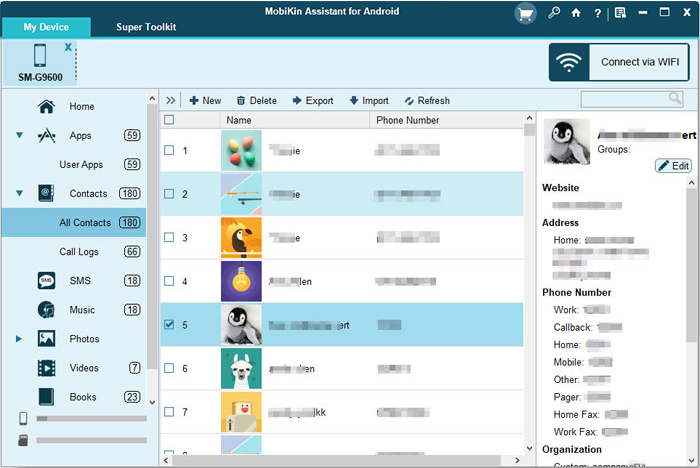 Words in the End
As for how to remove duplicate contacts in Android, you can try methods 1 or 3 if you wish to find the contact duplicates and clear them on your handset directly. Yet, the former is not available for all Android devices. Assuming you want to delete Android duplicate contacts without even touching your phone, you can opt for method 2 to get the job done on your computer with ease.
In addition, it is suggested to pick MobiKin Assistant for Android if you would like to manage your Android contacts and other content on your phone.
Now, do you find this article helpful? Welcome to share your feedback and advice in the comment section below.
Related Articles:
Easily Delete Duplicate Apps on Android Phone
How to Delete Android Photos in One Click
How to Delete Duplicate Files from iCloud Effectively?
[4 Great Ways] How to Transfer Contacts from Computer to Android Phone?
Ultimate Guide on How to Transfer Contacts from Android to Android in 2021