How to Delete Android Duplicate Contacts?
The contacts application is rarely used and some people do not give it much attention as compared to other apps. In most cases people look at the app when things get hard. There are some contacts in the phone that are listed more than once. At some point one may have five hundred contacts yet only fifty contacts have phone numbers. These contacts may sneak from your back up accounts, for instance, most of the android phones Google accounts. With this in mind, one should look for a setting that allows only those contacts with phone numbers to be visible. Another instance when you may have duplicate contacts is when the contacts sneak from your SIM card, this even worsens when one have more than one SIM card as you are likely to have a contact listed five or more times.
It is no doubt that too many duplicate contacts make the contacts management difficult and take up your limited phone memory. Then, how to delete duplicate contacts from your Android mobile phone? MobiKin Assistant for Android or Assistant for Android (Mac Version) has all the necessary features that may be required in the management of the android devices. It enables you to export your contacts or media from your android phone to a computer or other devices where you wish to store them so as to free your android phone memory for other files. The managing software also enables you to send and reply to group messages on your computer thus saving a lot of time. And most of all, Assistant for Android can help you delete duplicate contacts from Android phone with one click.
You may also want to know:
Print out Text Messages from Samsung Galaxy
Transfer Text Messages from HTC to Computer
There are so many ways of deleting duplicate contacts but Mobikin Assistant for Android happens to be the best as it gives a quick and safe way to free the memory. With this software you are able to delete all or specific contacts from your android whether Samsung, Sony, LG, Motorola, HTC, or any other in one batch. Read the following guide to see how to use this software to wipe out Android duplicate contacts.
Solution to Delete Duplicate Contacts on Android Phones
Step 1. Connect your Android phone to the computer
Run the program and connect your android phone to your computer; this will enable you to install the program and launch it. The entire process takes few minutes and you should also connect the phone with your computer using the USB cable or WiFi.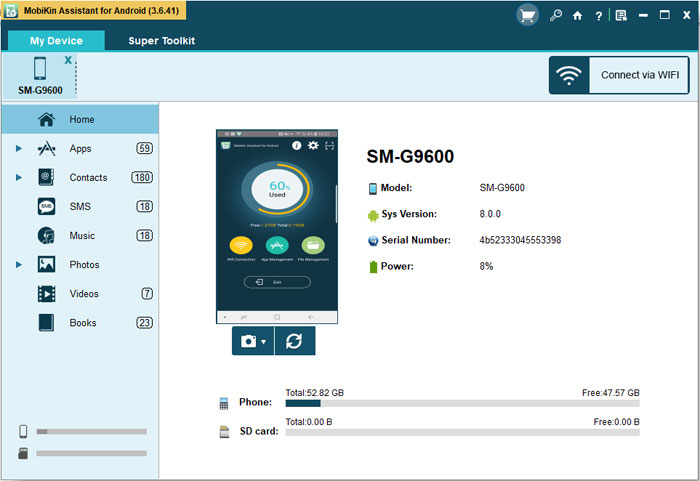 Tips: if you haven't enabled the USB debugging on your phone, the Android data managing tool will be failed to detect your phone. Therefore, you have to follow the instructions below to open USB debugging on your phone.
For Android 2.3 or older, Go: "Settings" < Click "Applications" < Click "Development" < Check "USB debugging".
For Android 3.0 to 4.1: Enter "Settings" < Click "Developer options" < Check "USB debugging".
For Android 4.2 or newer: Enter "Settings" < Click "About Phone" < Tap "Build number" for several times until getting a note "You are under developer mode" < Back to "Settings" < Click "Developer options" < Check "USB debugging"
Step 2. Scan for Android duplicate contacts
Once your phone's USB debugging is enabled, Assistant for Android can detect the connected phone and pop a new window with a display of all file types on your phone. Choose the "Contacts" category on the left sidebar and all contacts, including duplicate ones are all shown on the right.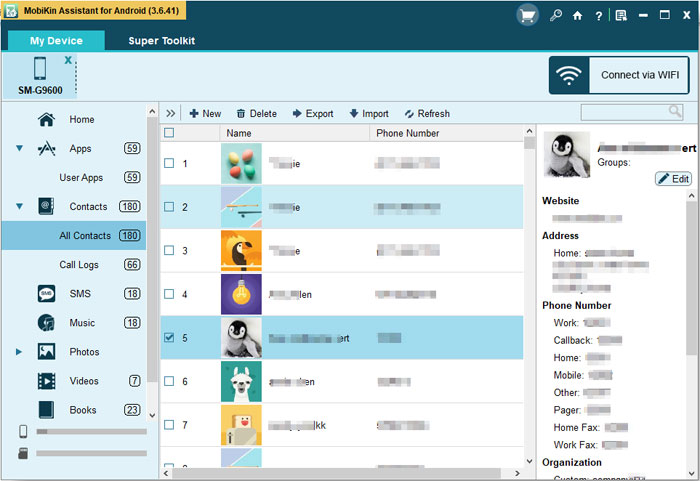 Step 3. Select and delete the Android duplicate contacts
Now you can preview all the duplicate contacts one by one and select them all. Then, you can delete these multiple duplicate contacts at once by clicking the "Delete" button on the top menu.
Related Articles
How to Edit Samsung Contacts on PC or Mac
How to Export Android Phone Contacts to Excel