Forget Android Lock Screen Pattern? Here is What You Can Do
In such a time when there are a lot of developments in the phone technology, the security of your phone is well taken care of. Android secures your phone's content through passwords, screen locks, security locks and patterns and the thumbprints and sensor. When this is the case, it is not a wonder to forget the lock screen pattern, especially when operating more than one phone. This makes your phone irrelevant and you may need to complete a number of functions to solve the problem. This article will help you understand when you should set up the android lock screen pattern, what to do when you forget it and an alternative application of securing your apps.
When you have a lot of things to handle, you may forget the Android lock screen pattern of your phone. This is the worst thing that can happen to you. It may also be hard for you to complete calls and other important functions of your phone. Then, how to access the phone when you forget your Android lock screen pattern?
What To Do If You Forget The Lock Pattern of Your Android Phone?
More related: Disable Android Lock Screen, Save HTC contacts in CSV.
Solution 1: Using your Google account
If you have the screen locked but can access your Google recovery account, click on forgot the password. This will take you to the screen and you will only use the Google account username and password. Through this, you will not lose any data.
Solution 2: Restore to Factory Settings
If you do not have the Google account connected to your phone probably because you bought the android phone as a second hand or you did not have interest, you can only solve this by resetting factory. This requires you to have a backup of the files by connecting your phone to the PC and conducting a backup.
Solution 3: Flash the Android Phone
You can also flash the phone after the backup and have the phone freed from the lock security pattern.
Importance: Protect Your Android Data by Backing up Android to Computer
In case of losing data from your Android phone, we kindly suggest you backup your Android phone to computer from time to time. That's where the MobiKin Assistant for Android or Assistant for Android (Mac Version) come in. This is by far the best program used in managing Android devices. It allows you to backup all the content of your Android phone, including contacts, text messages, photos, videos, music, apps, etc. to the PC and Mac and manages the files from one point. It makes the functions of your phone simple when can be able to manage the text messages and given the provisions of group texting on the computer.
First of all, take a look at the screenshot of the program: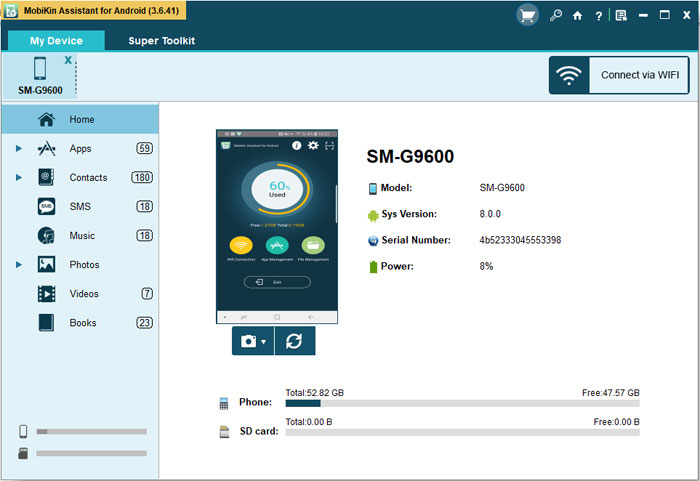 Free trial version of the Assistant for Android is provided as below:
Related Articles:
3 Ways to Delete Photos from Samsung Galaxy Permanently in 2023
All My Photos Disappeared from My Android? 5 Fixes Here!
How to Permanently Delete Text Messages from My Android Phone?
How to Transfer Photos from iPhone to Android? - Top 5 Ways
7 Ways to Transfer Photos/Pictures from Computer to Phone
How to Transfer Pictures from Android to Mac Wirelessly [4 Tested Ways]