[2023 Update] How to Recover Deleted Camera Photos from Android?
Overview: After visiting many Android forums, I found that many Android users encountered this problem: They accidentally deleted or lost important camera photos on Android phone. Therefore, I decided to write this article to provide some of my own successful experiences to help everyone recover deleted camera photos from Android.
I believe everyone has experienced the accidental deletion of camera pictures on Android phones. Are you looking for a viable way to rescue these lost photos? If this is the problem you want to solve urgently, then this article can definitely help you. However, rather than considering how to recover deleted camera photos from Android, we would be more willing to suggest that you backup Android camera photos to other places, whether it is cloud storage or a computer. That way, we can keep those photos even if we accidentally lose our device.
Closer to home, now we start to introduce these five different methods one by one for Android camera photo recovery.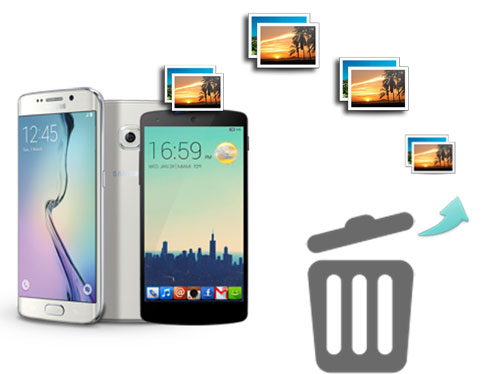 Method 1. How to Recover Deleted Camera Photos from Android with Doctor for Android
[1-Click Way]
In order to improve the success rate of camera photo recovery, we remind you to stop using your Android phone for the first time when photos are lost to prevent lost photos from being overwritten by new data. Then, pick up MobiKin Doctor for Android (with its Mac version) to restore lost camera pictures directly from your Android device without any backup. It is regarded as the best Android photos recovery tool, comes to help, and below are its features on Android camera photos recovery.
Why Choose MobiKin Doctor for Android?
It helps over millions of Android users recover deleted or lost data, including lost camera photos, with highest success rate.
It allows you to preview and select your wanted photos before recovering.
Supports various file types, including photos, videos, music, call logs, contacts, SMS and many more.
Supports 6000+ Android device models, various Android OS, including Samsung, HTC, LG, Sony, Motorola, Huawei, Xiaomi, etc.
It guarantees 100% safe, clean and virus-free.
How to Retrieve Lost Camera Photos on Andorid by Using Doctor for Android?
Step 1. Free download Doctor for Android on your PC or Mac and then connect your Android device with the same computer through a USB cable. The program will automatically detect the connected device once it is launched. And then you'll see an interface like below.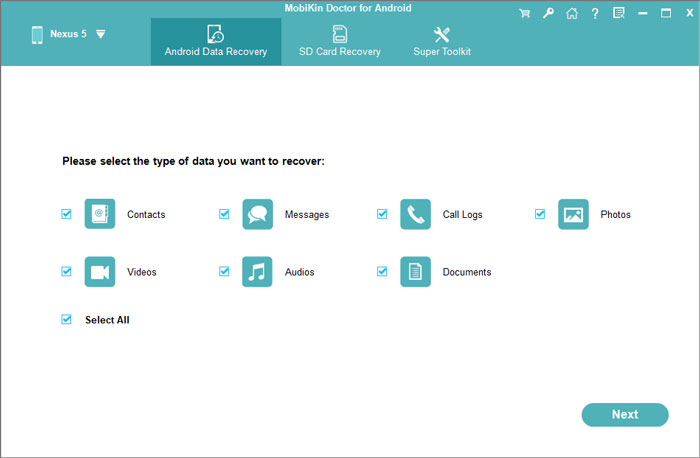 Here, please ensure you have enabled USB debugging on your Android device to make the program can get access to the device smoothly.
Step 2. All phone data is categorized clearly and displayed on the left side panel. If you only want to recover the deleted camera photos, you should choose Photos option from the left and the program will start scanning for all the lost photos on your device. Preview and select the photos you want to restore.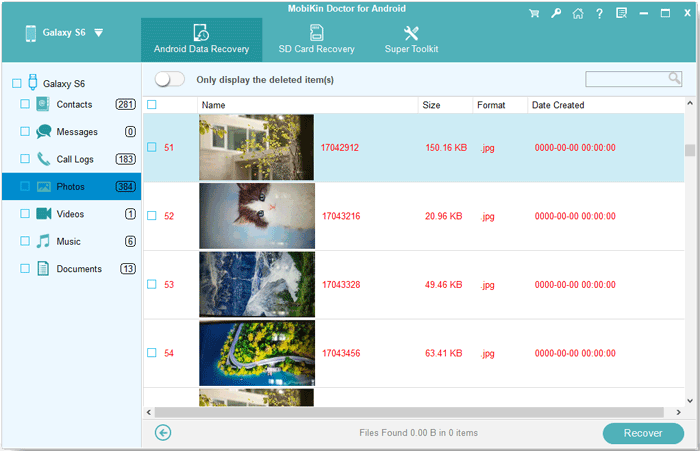 Step 3. After you have chosen all the camera photos that you need, you can click "Recover" button to retrieve the selected camera photos completely in full size. We kindly suggest you save the recovered camera photos on your computer for a safe backup.
Can't Miss:
Method 2. Camera Photo Recovery on Android from Google Photos App
If you have ever synced your camera photos on Google photos app, then you can easily restore deleted camera pictures back to your Android phone from Google photos app backup. The biggest convenience of this method is that you do not need to use a computer. Follow the steps below to recover camera photos from Google Photos app backup:
Step 1: Open the "Google Photos" app on your Android phone.
Step 2: Click the "Menu" button on the top left of the screen, which is a pattern of three horizontal lines. Then select "Trash".
Step 3: All your recently deleted photos are displayed in the trash folder. Now, you can preview and select the camera photos that you want to restore.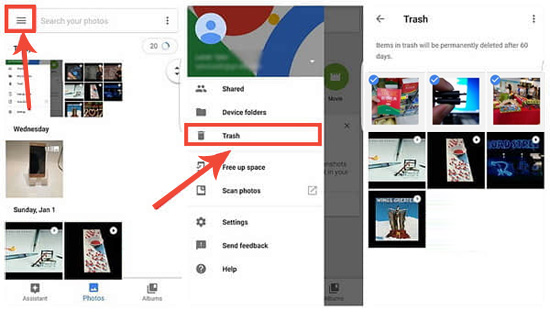 Step 4: At last, you can click the button of "Restore" to recover these photos from Google Photos app to their original location on your Android phone.
Method 3. Recover Deleted Android Camera Pictures from Google Drive Backup
If you haven been backing up your camera pictures from your Android device to Google Drive app, then, you can directly download these backed up camera pictures from your Google Drive account to your Android device. Below are the detailed steps to do so:
Step 1: Open Google Drive on your Android phone or computer in a web browser, and sign in with the same Google account that you use for camera photos backup.
Step 2: Once you have logged in to your Google Drive, you will see all the backed up photos are here.
Step 3: Select the camera pictures that you want back and then download them from Google Drive.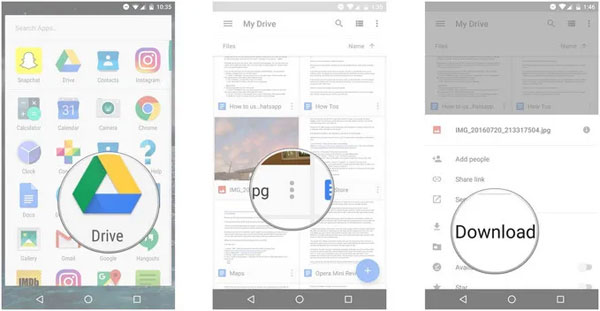 Can't Miss:
Method 4. Recover Deleted Camera Photos from Android via Dropbox
Dropbox provides a trash folder, which can save your lost and deleted photos for 30 days. Therefore, you can retrieve your desired camera photos from Dropbox within 30 days. Just follow these steps:
Step 1: First of all, log in to your Dropbox account on your desktop.
Step 2: From the Dropbox window, click "File" option and choose "Deleted Files".
Step 3: Select the photos you want to restore and click the recovery icon on the top right corner to start the recovery process.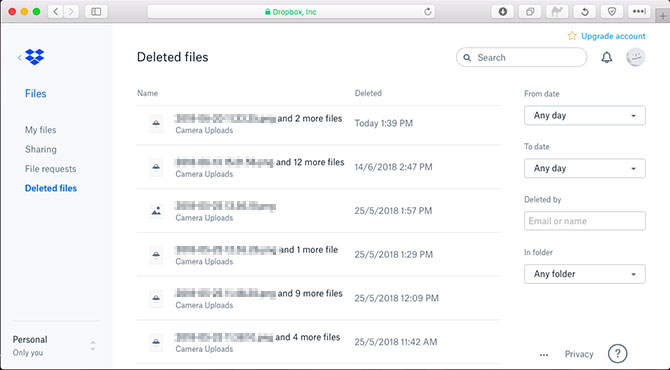 Method 5. Retrieve Deleted Android Camera Photos via DiskDigger
We can also use DiskDigger to retrieve deleted Android camera pictures. DiskDigger can recover lost files from various storage drives, including hard disk, USB flash disks, memory cards (SD, CF card, memory stick), etc. But you should be noted that you need to install .NET Framework V2.0 redistributable package because DiskDigger can only run in DOTNET encironment.
Step 1. Install and launch DiskDigger app on your Android device. Click "Allow" when this program prompts you if you allow it to access photos, media and ...
Step 2. You can choose START BASIC PHOTO SCAN or FULL SCAN. If you choose the latter, you need to root your phone beforehand.
Step 3. After the scan, all deleted camera photos are scanned out and displayed. Choose your needed pictures and tap RECOVER button. Then a pop up message "how would you like to recover the files" shows up and you can choose an option to save the recovered photos.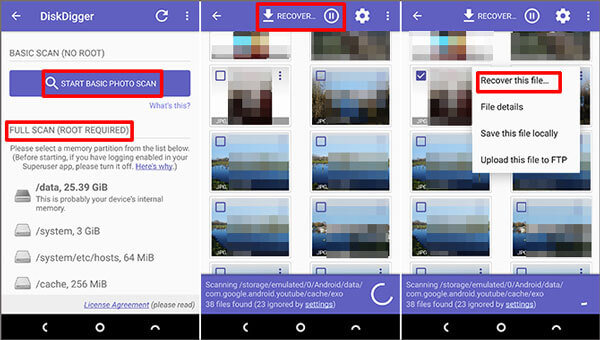 Conclusion:
Yes, the above are the five camera photos recovery methods you can follow for your Android phones/tablets. If you have backed up these lost camera photos, then you can try to restore these camera photos using Google Photos, Google Drive and Dropbox from backup to your Android device. But if you don't have a backup, then don't worry, we have excellent MobiKin Doctor for Android software to help you recover deleted camera photos directly from your Android device without backup. Compared with DiskDigger, Doctor for Android is simpler, especially suitable for users without too much computer skills.
Related Articles
Ultimate Solution to Recover Deleted Contacts from Android
How to Transfer, Copy Text Messages from Samsung Galaxy to PC/Mac
How to Recover Data from Water Damaged Android Phone or Tablet?
How to Access Phone with Broken Screen with PC Easily & Safely?