How to Recover Deleted Photos on Android Internal Memory Easily & Safely?
Photos are a way to record our good life. We can store beautiful memories as photos and save in our phones. But if you accidentally delete these photos from your Android device, then your good mood immediately becomes a bubble. Have you encountered such a disaster? If yes, you have come to the right place. In this informative article, we will introduce you to how to recover deleted photos from Android internal storage by using the best Android photos recovery software. In addition, we also provide some additional information about Android phone pictures deletion and recovery. I hope to help you.
(For iPhone users, you can go to this page to learn how to recover deleted photos from iPhone easily.)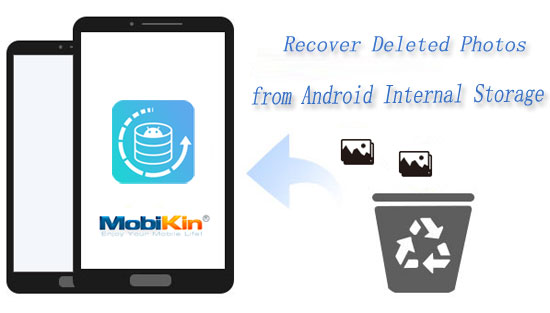 Part 1. Warnings for Recovering Deleted Photos from Android Internal Storage
Yes, photos that were accidentally deleted on an Android phone can be successfully recovered. Not only that, other reasons for Android data loss, such as corrupted firmware, incorrect update, malware attack or virus, etc., all have the chance to be recovered. However, in order to ensure a successful recovery, here are some things you must know. Please follow the tips below to keep your Android phone in the best condition so that deleted photos can be recovered with the greatest probability.
1. The first and most important thing is to stop using your phone. Don't open any applications, don't click pictures, don't open videos or play games. This is because when you accidentally delete a content, the content is not immediately deleted from the phone storage. Instead, the content will be marked as blank by the system and can be overwritten by new data. Once overwritten, the deleted content will be permanently deleted and you will not be able to recover it.
2. Quickly find a reliable app to help you recover deleted phone content as quickly as possible. The sooner the better, to prevent deleted content from being overwritten by new data. Therefore, you'd better do your homework beforehand and have the software for mobile phone data recovery ready. If you are still looking for ways to recover deleted photos on Android internal memory, you can try MobiKin Doctor for Android to help you solve the problem easily.
3. Do not restart the phone multiple times. If the data is lost due to the failure of the mobile phone, users will mistakenly think that restarting the mobile phone can solve the problem and recover the lost data. In fact, this approach is wrong, restarting the phone multiple times may lead to undesirable and unexpected consequences.
4. Never reset the device. Because after the factory reset, all data on the phone will be erased.
5. The last point is that you must choose a trusted software that can help you recover pictures from phone memory. If you choose a poor quality software that hurts your phone, then regret will not help.
Related Posts:
Part 2. How to Recover Deleted Photos from Android Internal Storage
To easily and efficiently recover deleted photos from Android phone internal storage, here is a great program, namely MobiKin Doctor for Android, which enables you to retrieve not only photos, but also contacts, messages, videos, etc. from both internal memory storage and external storage in all kinds of Android phones & tablets. This is one of the best Android data recovery software in the world.
Unique features of this Android Photo Recovery software:
Recover photos, music, videos, contacts, SMS, etc. from Android phone or tablet directly.
Recover photos or other media files from Android SD card without connecting Android to PC.
You can preview and then selectively restore the data that you want from your Android phone.
Compatible with almost all popular Android devices on the market, such as Huawei, Samsung, LG, HTC, Sony, Xiaomi, etc.
It is available for both Windows and Mac computer operating platforms.
Now, let's look at the detailed steps on how to recover photos from Android phone internal storage.
Step 1. Connect your Android phone to computer
Connect your Android phone to the computer where you have the Android photo recovery software installed via a USB cable. Launch the recovery tool and let it detect your Android phone.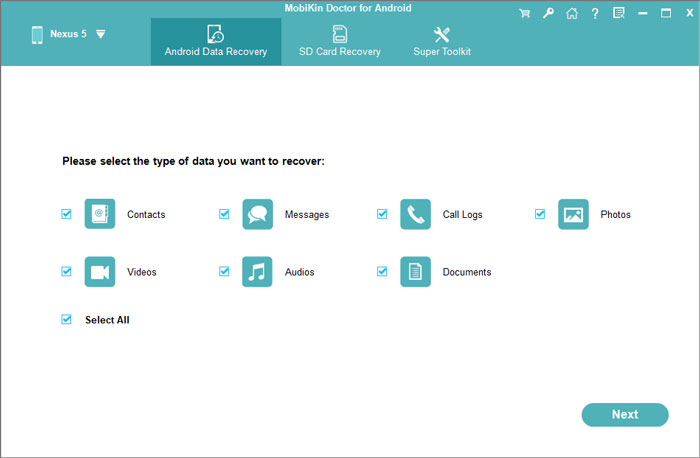 Step 2. Select the photos you want to recover
Once the phone is detected by the program, all the phone data will be categorized on the left side menu. Just choose "Photos" to preview your deleted pictures, and select those you want back by ticking them one by one.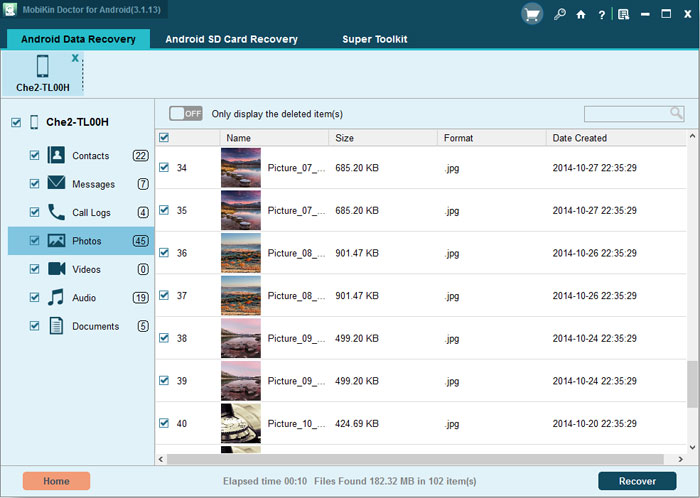 Step 3. Recover deleted photos from Android phone internal memory
Click on the "Recover" button on the bottom of the panel, choose a location to save the restored photos on your computer, and then the photos recovery process will begin immediately.
Here is also a video guide on how to use the Doctor for Android program:
Part 3. Android App to Recover Deleted Photos from Android Internal Memory
In addition to professional desktop tools, such as the Doctor for Android program mentioned above, there are many free Android applications in the Google Play Store that can help you recover deleted photos from Android phone internal memory. You can search for "recycle bin" or "recycle bin" in the search bar to find such programs.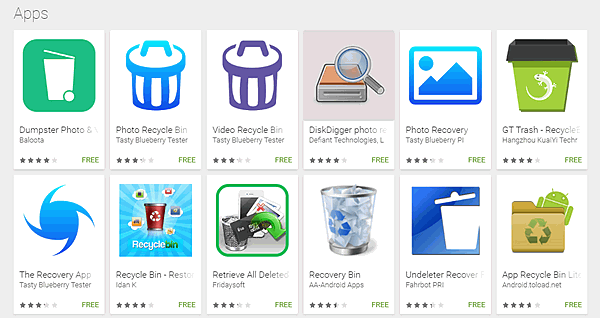 Here are a few features about using Android app to recover deleted photos from internal memory of Android phones.
1. Unlike desktop programs, these applications do not restore deleted data (such as photos, videos, and audio) to the computer, but all remain in the application.
2. Most Recycle Bin applications do not support recovering text files such as contacts, messages and notes.
3. Most applications only provide a very limited space to store recovered mobile phone content. If users want to expand the storage space, they have to pay a certain amount to make a purchase.
4. Basically, the Recycle Bin application does not support recovery of application data, such as WhatsApp, Viber, Kik and Line.
Related Posts:
Bonus: Difference between Android Internal Memory and External Memory
I think it is necessary to understand the difference between Android internal storage and external storage. In fact, in recent years, with the continuous introduction of new mobile phones, the memory of Android mobile phones is getting larger and larger, and many mobile phone manufacturers have given up using external SD cards on mobile phones.
The so-called internal storage of an Android phone refers to the built-in storage capacity that can be used to store data in an Android smartphone, while the external storage is an additional storage capacity expanded using a micro SD card. Therefore, the amount of internal storage is fixed, and it cannot be expanded by physical movement, while external storage is relatively more flexible in terms of storage capacity, because you can expand the external storage capacity by using SD cards of different capacities.
When the remaining free space in the internal storage is insufficient, your Android phone will face problems such as sluggish operation and crashes. We recommend that you move and store large applications in external storage to reduce the pressure on internal storage and make your phone easier to run.
Words in the End:
The above is all about how to recover deleted photos from android internal memory. Now, do you know what to do? If so, please try MobiKin Doctor for Android now and recover the deleted files in your Android internal storage now. Without a backup file, using Doctor for Android is your smartest choice. It can quickly and accurately retrieve deleted photos from Android internal storage and restore them with one click. If you encounter any setbacks while using this software, please feel free to let us know.
Related Articles:
Pixel Contacts Disappeared? How to Recover Deleted Google Pixel Contacts
How Can I Fix "My Text Messages Disappeared on My Android?"
Best Samsung Galaxy Recovery in 2019 - Recover Deleted Files on Samsung Galaxy
How to Recover Lost Contacts from Samsung Galaxy
Recover Files from Android SD Card
How to Recover Data from Water Damaged Android Phone or Tablet?