How to Recover Deleted PDF Files in Android: A Short Guide in 2023
"I made a mistake and cleared the recent PDF files in Adobe. I did not know that the files on my cloud would get deleted when I cleared the recent files. Is there any way that I can recover deleted PDF files in Android?" - Question from an Adobe user
An Android phone or tablet is a good choice for viewing and reading PDF files. Whether you're in transit or on vacation, your Android device allows you to read e-books or work-related materials in PDF format anytime, anywhere. But what if you accidentally delete a PDF file that is vital to you from your Android device?
This guide will come in handy if you want to know how to recover deleted PDF files on Android. We will provide three solutions on how to restore deleted PDF files in mobile.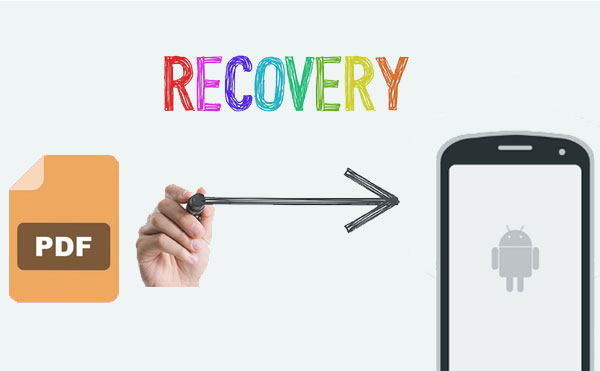 Part 1: Common Reasons for Deletion of PDF Files from Android
Some of the reasons why PDF files may be deleted from your Android device are highlighted below:
Accidental deletion: You may have accidentally pressed the delete button while viewing or transferring a PDF file. Therefore, when faced with some important documents, we must be cautious.
Virus attack: Harmful viruses can enter your Android device through the Internet, and then damage the files in the system. Malware can attack your phone through unsafe Android apps or data. These viruses have the ability to multiply, destroy data and thus delete files such as PDFs.
Untrusted antivirus software: Antivirus software is used to scan Android devices for malware. If the antivirus software detects any infected PDF files during scanning, it deletes them without user confirmation.
Other Scenarios: improper ejection of the android device during transfer, sudden power failure of the Android device while you are reading the PDF, installation of unreliable third-party tools, accidental execution of factory reset, etc., may cause PDF file loss.
There are many other possibilities that can lead to the deletion of PDF files. Now the most concern of users is, how to recover PDF file in Android mobile? Next, we get to the topic.
Related Pages:
Part 2: How to Restore Deleted PDF Files on Android from Google Drive
If you've synced data from Android phone to Google account, the deleted PDF files may still be in Google Drive. You can use the cloud storage system it relies on to get deleted PDF files back on Android.
How to recover deleted PDF files on Android from Google Drive:
Visit the web page google.com/drive/ on your computer, and log in to your Google Drive account.
Once you log in, you will be able to see all of your backed-up files.
Find the deleted PDF files and restore them by downloading files from Google Drive.
How to restore deleted PDF files in Android from Google Drive Trash:
Launch the Google Drive app on your Android phone.
Go to the "Menu" option from the upper left panel.
Choose the "Trash" option.
On the trash, locate the PDF files you want to restore and click the "Restore" button to get them back.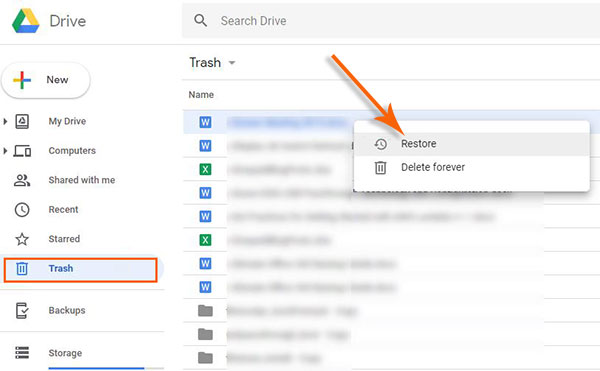 Part 3: How to Recover Deleted PDF Files in Android from Dropbox
Similar to Google Drive, Dropbox is another well-known cloud storage platform. If you have backed up your PDF files in Dropbox, you can easily recover deleted Adobe acrobat files through Dropbox.
Steps of PDF file recovery for Android from Dropbox:
Visit dropbox.com from any browser on your computer, and log in to your Dropbox account.
Click the "Events"/"Deleted files" option from the left side menu.

The deleted PDF files will be displayed on the list.
Preview and select the PDF files you want back, and then tap on the "Restore this file" option from the top left.
Further Reading:
Part 4: How to Recover Deleted PDF Files on Android with Doctor for Android
If you haven't made a backup, you can also use a professional PDF recovery app for Android to recover lost PDF files. However, this measure must be taken as soon as possible. Because when you delete data from an Android phone, the data is temporarily saved in its internal memory and then overwritten by the newly generated data. So you have to use the Android recovery tool to rescue them before they get overwritten. Here we recommend you to use the most trusted MobiKin Doctor for Android.
What Can MobiKin Doctor for Android Do:
Be able to recover PDF files, contacts, SMS, photos, music, videos, documents, etc. from Android phones and tablets.
Recovers data from Android SD card, including documents and other media files.
Performs deep data analysis so that all the recoverable PDF is extracted.
Allows you to preview deleted/lost and existing PDF files freely.
High chance of success, totally safe, user-friendly interface and attentive technical support.
Works well with various Android phones and tablets, such as Samsung, Motorola, Huawei, Sony, LG, Google, ASUS, OnePlus, HTC, Vivo, OPPO, ZTE, Meizu, etc.
Follow the steps below to recover deleted PDF files on Android with Doctor for Android
Step 1. Install MobiKin Doctor for Android on your computer and launch it. Link your Android phone to the computer via a USB cable. Once connected, it will be detected by the program automatically. You may need to enable USB debugging on your Android to make a virtual connection.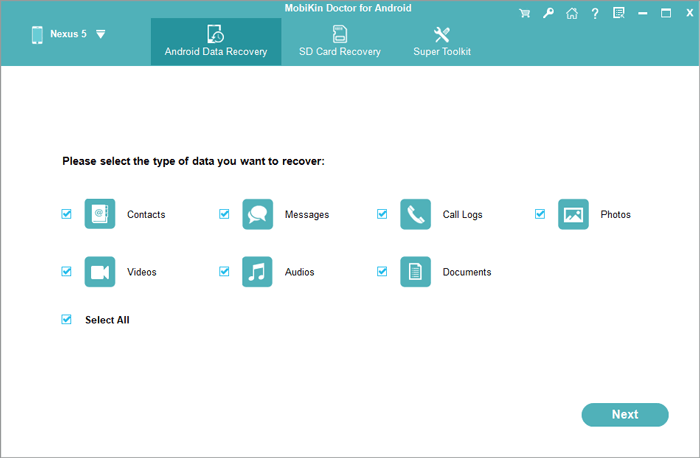 Step 2. The recoverable file types on your Android device will be displayed. Since you want to recover only the PDF files, you can choose the "Documents" type only, and click the "Next" button.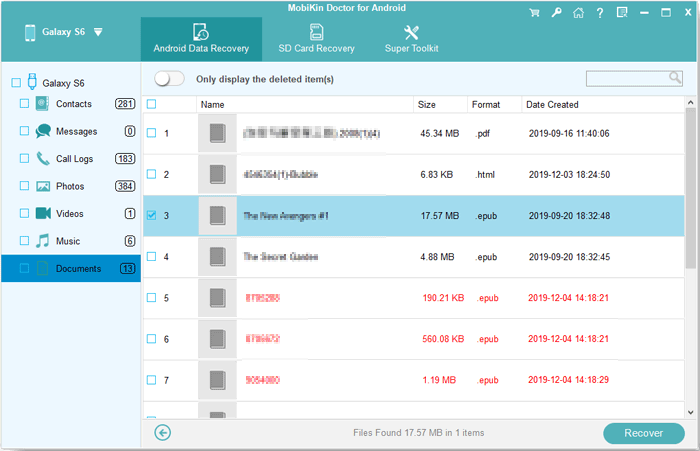 Step 3. The software will show you all the document files that you can restore to your computer. Preview and select the PDF files you need and click the "Recover" button.
This way, your selected PDF files will be recovered back and stored in your computer's specified directory.
Video guide:
Part 5. Frequently Asked Questions on PDF Files on Android Phone
Q1. Where Are My PDF Downloads on Android?
Where are my downloaded PDF files saved on my Android phone? By default, PDF downloads are stored in the Downloads folder in the internal memory. You can find them by the following paths:
Swipe up at the bottom of the phone screen to open the Android app drawer.
Click the "My Files" (or "File Manager") icon.
In the My Files app, tap "Downloads".
Here, you will see all your downloaded files, including PDF files, listed here in chronological order.
Q2. How to Delete PDF Downloads on Android?
How to delete unwanted PDF files from Android phone? First, you need to open the "Files" app on your phone and select the Download category, then tap and hold the PDF file you want to delete, and tap the Trash icon.
Words in the End
No matter what causes the loss of PDF on your Android phone, MobiKin Doctor for Android can provide you with an excellent data recovery service, allowing you to easily restore deleted PDF files on Android phones and tablets. Also, we have recommended Top 7 Free PDF Reader Apps for Android Phone, helping you better read PDF materials on Android devices.
Related Articles:
3 Methods to Export Text Messages from Android to PDF
4 Easy Approaches to Export Text Messages from iPhone to PDF
How to Transfer Books from iPhone to Computer or PC
3 Ways to Recover Deleted Contacts from Android (#1 is Awesome)
Top 6 File Manager for Android to Keep Your Device Organized