[Fixed] How to Recover Deleted Screenshots on Android Phone/Tablet?
Screenshots are important tools of evidence. Conversations can now be saved by saving the screen as it is so as to keep all details intact onto the device memory. Losing screenshots is like losing a part of your body today. As we deal with image backlog and flooded memory on our phones, retaining screenshots isn't always feasible. Formats, storage clearance, and viruses, for instance, makes it challenging to retain all screenshots. Then, is it possible to recover deleted screenshots on Android?
It is easy for Android users to capture screenshots, but recovering deleted screenshots from Android device is not an easy task. Don't worry. You can get different solutions in this article.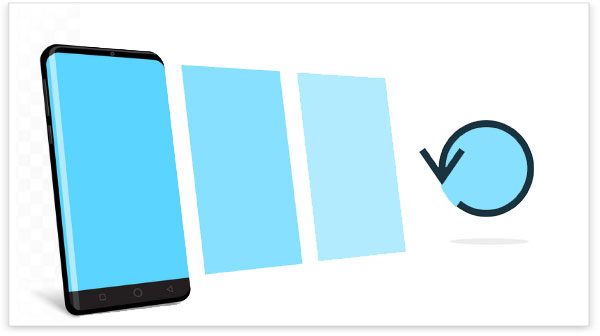 Part 1. Reasons Behind Deletion or Loss of Screenshots from Android Phone
Screenshots are the same as normal photos, which can be deleted accidentally. Of course, like Android photos recovery, deleted screenshots can also be recovered. But before introducing the screenshot recovery method, we need to understand several typical factors that lead to the loss or deletion of the screenshot.
Accidental deletion
When cleaning the Android phone memory, we usually delete some files in batches, or delete the entire folder directly. This may cause some important, including some very precious screenshots to be lost. Or, after you take a screenshot, there will be a delete button on the screen, and you accidentally clicked this button.
Format the Android memory card
Most Android phones will provide a quick format for the memory card, so that you can delete all the data in the memory card at once and restore the card to a brand new state. This method of deleting data through formatting is rude, it does not consider the importance of certain files. If you have set up to store screenshots in a memory card, formatting the memory card will delete them.
Formatting of Android devices
Similar of formatting the memory card above, this refers to the formatting of your Android device on the computer. That's to say, when you connect your Android device to the computer via a data cable, an error message such as "Drive F: is not formatted, do you want to format it now." may pop up on the computer screen. When you click "Yes", the device will be formatted and all data will be cleared.
Memory card is damaged
Except for some physical damages, such as memory card cracking, if you use the same memory card on other devices, such as Android phones, Android tablets, laptops, and digital cameras, the memory card may also be damaged and cause data loss.
Malware or virus attack
When you install some unknown applications or browse some unsafe websites, you may not know that these programs and websites contain malicious files or carry viruses. These will change the standard functions of the device, resulting in data loss.
Factory reset Android device
When your Android device's memory is saturated and running slowly, restoring factory settings is undoubtedly a quick and effective solution. But once you reset your device to factory settings, it means that the data and settings in your phone will be erased, which is one reason why your screenshots are lost.
Other Reasons:
There are other reasons why screenshots are lost on Android devices, such as file system corruption, upgrading Android OS, and some junk cleaning apps often mistakenly judge screenshots as junk files and clean them up.
Can't Miss:
Part 2. How to Retrieve Screenshots on Android from Google Photos
If you enable the synchronization of the pictures in the screenshots folder with Google Photos service, when you accidentally delete the screenshots on your Android device, the deleted pictures will automatically enter the Google Photos trash and be saved there for 60 days. Now, you can easily undelete screenshots from Google Photos trash by following the steps below.
Step 1: Open "Google Photos" app on your Android phone.
Step 2: Click the menu icon from the top left corner to choose "Trash" option.
Step 3: Preview and select the photos you want to recover in the opened list.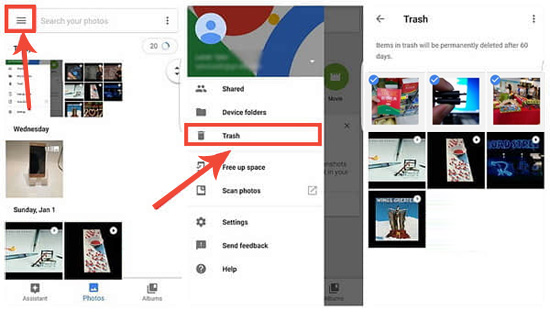 Step 4: Go to the top right corner, tap on the Undo icon to restore those selected photos into the Google Photos app.
Step 5: Now, you can click "Restore" to recover screenshots from Google Photos to your Android phone.
Note: Google Photos only saves deleted screenshots for 60 days. Therefore, if your screenshots are deleted for more than 60 days, they will disappear permanently. You cannot restore them via Google Photos Trash.
Part 3. How to Recover Deleted Screenshots on Android with Doctor for Android
If you can't retrieve screenshot from Android via Google Photos trash, don't panic! MobiKin Doctor for Android (with its Mac version) is all what you need to accomplish the screenshots recovery for your Android phones or tablets. With it,
Benefits of Using MobiKin Doctor for Android
In addition to screenshots, contacts, text messages, call history, photos, videos, audio files, documents, among other lost files can be recovered back for all Android devices.
It supports overall Android devices, including Samsung, HTC, LG, Motorola, Huawei, Sony, ZTE, Google, etc..
Data stored in both the internal inbuilt memory of Android devices as well as the external memory cards can be easily scanned and retrieved
The process of recovering lost/deleted screenshots on Android device is simpler than you can think of.
Totally safe recovery, no need to worry about any data leakage or virus infections.
This task of screenshots recovery is accomplished in 3 easy steps by using Doctor for Android, which will be explained as follows. By the way, we kindly suggest you backup Android data on computer from time to time, and if you find data lost on your Android and you want to recover them back, you must stop using the Android device to prevent data overwritten problem.
Step 1: Run the Doctor for Android program
Download the Doctor for Android software on your computer, then connect your Android device to your computer using a USB cable. Activate the USB debugging mode on your Android device so that the device can be detected by the program.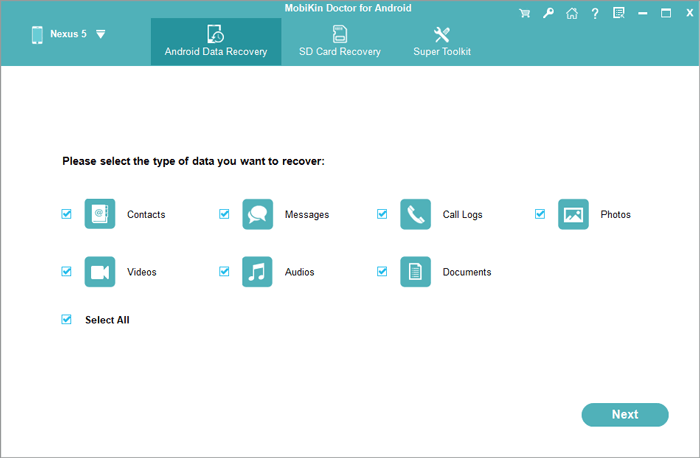 Step 2: Scan for lost screenshots on your Android
Select the category of files you want to be retrieved, in this case, Photos. The program starts to scan out all the lost screenshots and you can preview and select the ones you want to be retrieved. The lost ones are marked in red.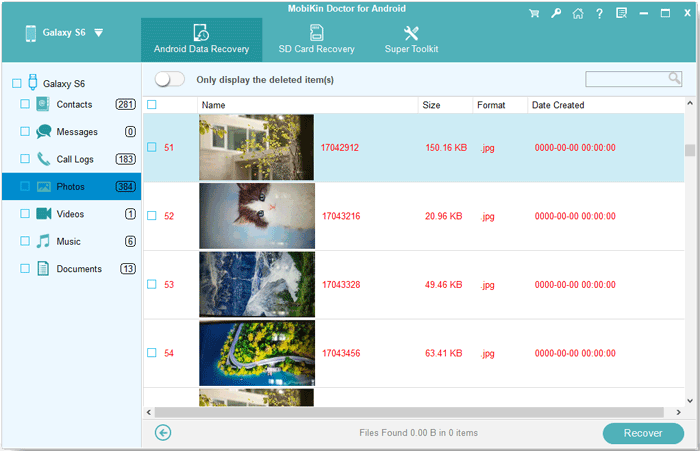 Step 3: Recover screenshots on Android
Click on the Recover button after you've selected the desired files, select the file destination where you want them saved.
Can't Miss:
Part 4. Tips to Avoid Such Deletion Or Loss of Screenshots on Android Phone
Here are some useful tips to protect your screenshots from losing on your Android devices:
Backup is very important. You'd better regularly back up important files on the phone, such as contacts, photos, messages, etc. You can back them up to your computer or to cloud services, such as Google Drive, Dropbox, etc.
Do not install unknown applications on your mobile phone. Some mobile phone cleaning apps may judge the screenshot as a junk file and clear it. It also prevents some unsafe programs from damaging mobile phone system.
It is recommended to install a high-quality anti-virus application on your phone to protect your Android system from virus infection.
When cleaning the phone and deleting some unnecessary files, please confirm again and again before you click the "Delete" button.
To prevent accidental data loss caused by formatting, it is recommended that you use the memory card function "Write Protect". There are several applications on the Internet that can provide write protect feature for memory cards.
When unplugging the Android phone from the system, follow the correct steps to disconnect it safely.
Summary
No one wants to face data loss problems, including the loss of screenshots. We tend to capture a once-in-a-lifetime picture, and losing this type of screenshot will make you sad. But don't worry, this article shows you two different methods about how to recover deleted screenshots from Android. And MobiKin Doctor for Android can indeed be called the best Android photos recovery software, right? If you have any other questions or have a better way to provide, please let us know through the comments below.
Related Articles
How to Recover Data from Android Phone with Broken Screen?
3 Ways to Recover Deleted Contacts from Android (#1 is Awesome)
How to Retrieve Deleted Texts on Samsung (98% Success Rate)
How to Recover Deleted Photos on Samsung [Way 1 Is Incredible]
How to Recover Lost Videos from HTC Phones?