How to Retrieve Deleted Text Messages on Android without Computer Freely?
Accidentally deleting all or some of your Android text messages is nothing new. While not a particularly difficult issue to solve, recovering those deleted text messages without a computer might seem problematic to most. The purpose of this article is to explore a couple of ways to do exactly that: Recover Deleted Text Messages without Using A Computer.
Part 1. Is It Possible to Recover the Deleted Text Messages on My Android Phone?
It's natural to ask if the supposed solution is even possible. After all, when we delete a certain data, we do it from the device itself and not from another secondary storage. However, there's a fundamental difference between "delete" and "erase".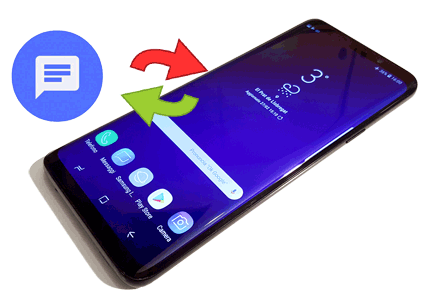 When you delete a certain text message, if not all of them, the combination of memory bits that message occupied are scattered to make room for new data. However, their previous pattern is not erased immediately. It means if you can put all the memory bits together again, you'll have your text message back.
Problem is that anything you do after deleting the text message, installing a new app or starting a new conversation, poses the risk of permanently erasing the combination ID on each now-scattered bit. If that happens, you won't be able to recover the deleted message. So it's mandatory that you recover your text before doing anything else.
Something Important You Should Know After Losing Data:
(1) Stop using your phone. You shouldn't make a call, take a photo, or search the internet, for that would bring new data on your Android phone and rewrite the internal memory. which cuts down the possibility to retrieve the deleted SMS and other files.
(2) Turn off the network. This is to avoid system upgrading automatically.
(3) Retrieve the lost data ASAP.
(4) From above, you may have guessed it - there is no 100% success rate for data recovery. Since no one is able to confirm a 100% data recovery, it is time to back up your Android device from now on.
Read Also:
Part 2. How to Recover Deleted SMS on Your Android Device without Backup? - Using GT File Recovery App
If you don't use an app to keep your text messages backed up then you need an app, like GT File Recovery, that can restructure the scattered memory bits. Problem is, as mentioned earlier, any new activity poses the risk of erasing the text data. Given that you don't already have the app installed, it's best that you select one of small size.
To recover text messages with GT File Recovery, you have to:
Download and install the app on your Android device.
Choose the "Recover SMS" option.
Scan your phone.
Recover the deleted text messages.
Here is a step-by-step guide to recover deleted texts on Android without PC .
You are required to root your Android device at first to make the program access the internal memory. After that, you can do as follows.
Step 1: Launch GT Recovery app on your Android phone.
Download and run the app on your phone. From its main interface, you can see its whole features. Just click the "Recover SMS" option.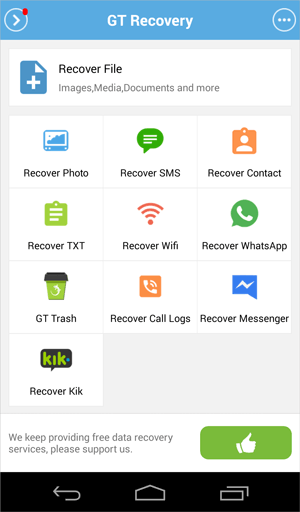 Step 2. Proceed to scan for the deleted text messages.
If you haven't saved any recovered files, click on the "Start New Scan" button. This will activate the data scanning process. You need to wait for it to finish.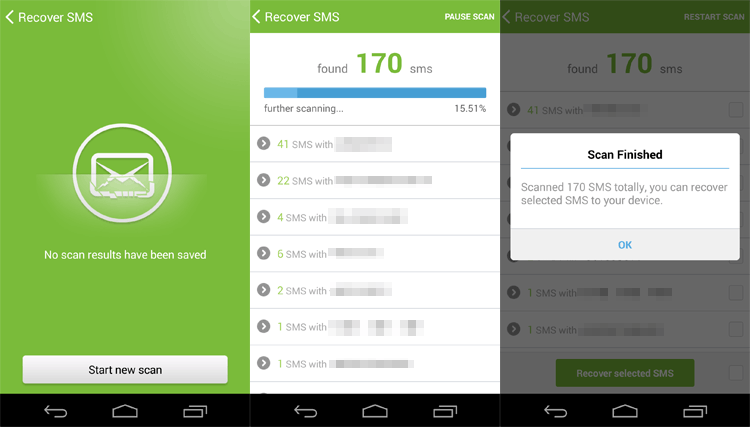 Step 3: Select and recover the deleted SMS.
After the scanning process, you can now select the texts from the given out list. You can preview the phone number and tick on your wanted messages. Click "Recover Selected SMS" to get them back on your phone.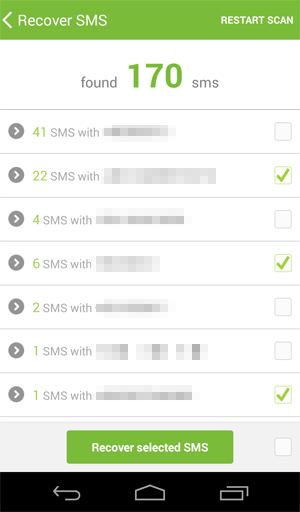 Step 4: Check the recovered text messages on your Android device.
After that, you can tap on "View the Result" to check the retrieved text messages on your Android phone.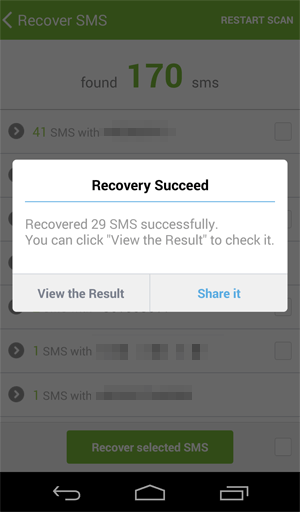 Do You Know?
GT Recovery (Version 2.8.7) has a size of 5.26 MB. As mentioned above, if you haven't installed this app before you mistakenly deleted SMS on your Android, it has a risk to overwrite the phone memory once you download it. If you have to download a 3rd-party program for data recovery, it is best to install a smaller one.
MobiKin Doctor for Android is another program to retrieve deleted files from Android device. Yet it works differently on the computer desktop. To use it, you just need to download a mobile app with 4.0 MB, a lot fewer bytes than GT Recovery.
It would be better to recover files with a computer!
Check if You Need:
Part 3. Can I Restore Text Messages on My Android from Google Backup? [without Root & Free]
Unfortunately, while most Android devices do have an automatic built-in backup and recovery features to sync data to a Google account, the list of upload files excludes text messages. However, you can use an app like SMS Backup+ or SMS Backup & Restore to recover the text messages backed up in your Gmail account without a computer.
To do that:
We take SMS Backup+ as an example. You need to back up text messages to Google account with the app beforehand. The process is a bit complex, but you can follow the detailed guide by opening this link. Then you are able to recover deleted SMS to your Android device.
From your device, go to "Settings" and find "Accounts" under "Personal".
Tap on "Google". If you're not signed in then do so using the account you've used for backing up SMS.
Go to the Play Store, install and run SMS Backup+ app.
Check the "Connect" box and sign in using the same Gmail account. If a "First Backup" box pops up then skip it.
Tap on "Restore" from the app's main window and all the stored text messages, including the deleted one(s), will be restored.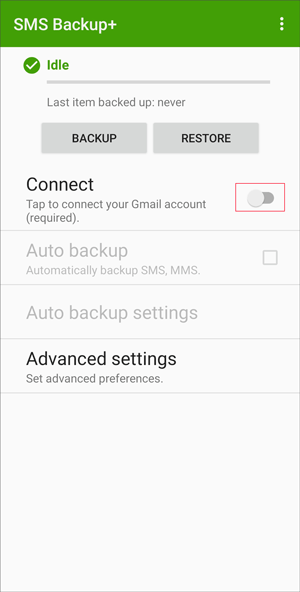 Pros:
Cons:
Complex procedure.
Require the previous backup.
Tutorials for More Tips:
Part 4. Avoid Data Loss by Backing Up Android Device [Important!]
Text or not, it's never nice to lose data accidentally. To avoid that without much hassle, it's best to keep your Android device backed up. MobiKin Assistant for Android is an all-around desktop manager for almost all Android devices.
Key Features of MobiKin Assitant for Android:
(1) Transfer contacts, SMS, call logs, photos, videos, music, apps, and documents between a computer and an Android phone.
(2) Manage all kinds of Android files on a computer desktop easily.
(3) Send/receive a text message on your PC/Mac.
(4) Back up and restore Android device with 1 click.
(5) Almost all Android devices are supported, including Samsung Galaxy, LG, HUAWEI, Xiaomi, OPPO, OnePlus, Motorola, Sony, HTC, etc. What's more, tablets running Android OS from 2 to 9 are also supported.
Free download it and backup your Android files to PC/Mac easily.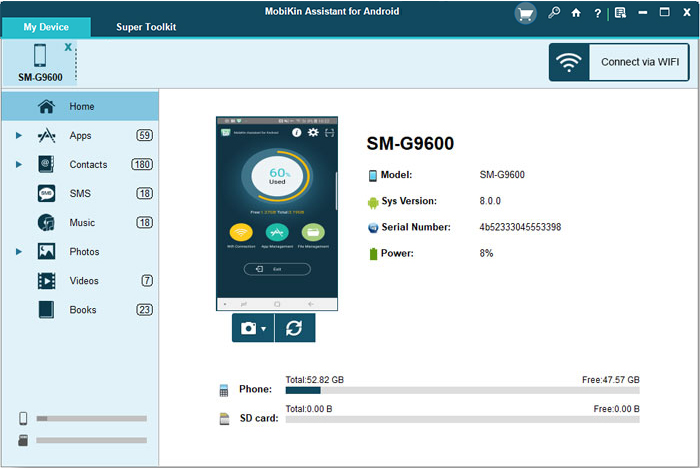 Write in The End:
Many users don't want to pay for data recovery software. From the Google search, some of them want to get free recovery tools, while some of them search for data recoveries without root. However, as you can see above, tricks to retrieve deleted texts on Android without a computer/without root have their own limits.
It would be much more reliable and higher success rate to ask help to a professional Android data recovery tool. Differ from many mobile apps, professional programs require rooting on your Android devices and work on a computer. You need to pay for them.
However, a fee you paid off gets your deleted files back safely. MobiKin Doctor for Android is ready for you.
Related Articles:
How to Recover Data from Android Phone with Broken Screen?
Top 5 Quick & Safe Xiaomi Data Recovery Software
3 Easy Ways to Recover Deleted Files from Android
3 Ways on How to Backup Text Messages on Android?
How to Transfer SMS (Text Messages) from Android to iPhone Xs/Xs Max/XR/X/8 Plus/8