How to Fix Samsung Black Screen of Death? 12 Solutions Here
Recently, a thread on "Samsung sudden death fix" from the Samsung Community has grabbed much attention. Many Samsung users claimed they had been in the same situation. Indeed, Samsung black screen of death is not unusual in daily use, even for Galaxy S21/S20/S10, the newer version of Samsung.
To help more Samsung users get out of trouble as soon as possible, we introduce twelve ways to resolve Samsung Galaxy sudden death. Before the fixes, let's first discuss what is accountable for this issue.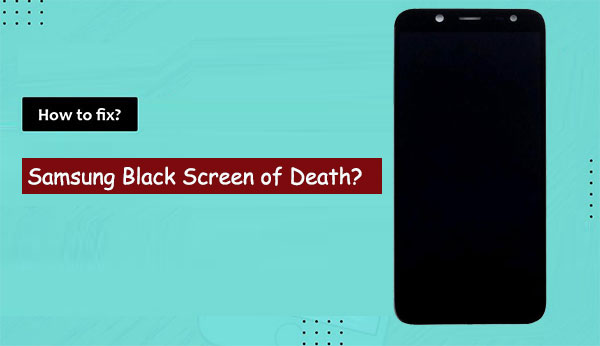 Part 1: What Causes Samsung Galaxy Black Screen or Sudden Death?
Reasons/symptoms for the black screen of death on Android/Samsung:
Battery drains faster: the phone begins rebooting and crashing with very sudden battery drains.
Greenlight blinking: your green light keeps on flickering, but the Samsung phone becomes unresponsive.
Latency or slowness: the phone/tablet freezes or running slowly many times.
Restarting automatically: your phone behaves weirdly and restarts occasionally.
System crashing: you may receive pop-up prompts like "launcher not responding" or "XXX not responding, would you like to close it" occasionally.
...
Now, how do I fix my Samsung black screen of death efficiently? Let's move on to quick solutions.
Click to Learn:
Part 2: 11 Quick Solutions to Fix Samsung Black Screen of Death
Solution 1: Charge Your Device
When it comes to "Samsung sudden death fix", first charge your Samsung phone or tablet with the supplied charger for at least 1 hour. The charging indicator might take around 10 minutes to appear on display.
Solution 2: Remove the Battery
For some Samsung devices with removable batteries, you can try to remove the battery for about 1 minute and then reinsert it.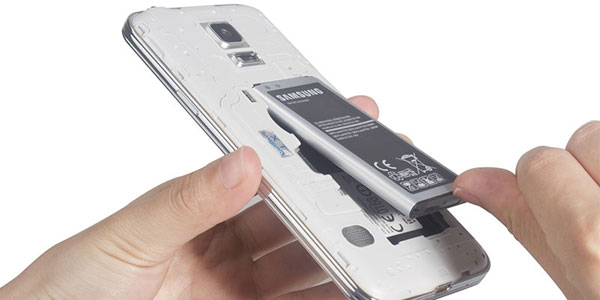 Solution 3: Take out SD Card
An incompatible SD card on Samsung could lead to Samsung black screen. To fix it, power off your device and remove the card from it. After that, reboot the phone. (see how to fix Android SD card unexpected removal?)
Solution 4: Soft Reset Your Device
Doing a soft reset on your Samsung phone can be a desirable option if it is charged. To do it, remove the cover of the device, take the battery out and let it rest for around 30 seconds. After the "break", put all back, be sure to do it carefully, and then restart the device.
Solution 5: Disable or Uninstall Apps
If soft reset your Samsung works, and you want to keep Galaxy S6/S8/A20/Note 2 black screen from coming up next time, try to disable or uninstall apps on it. (want to uninstall Android apps from a computer? Click here>> )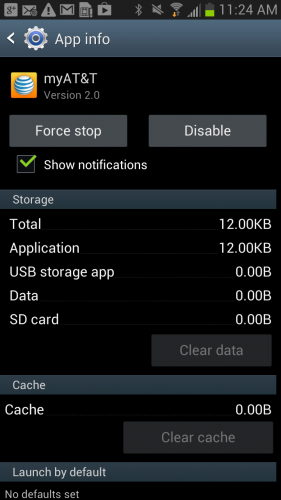 Solution 6: Disable Dark Screen Mode on Samsung
If you have the chance to access your Samsung phone, please check whether the dark screen mode is on. Quick look: head to Settings > Accessibility > Vision > Dark Screen > be sure to disable the dark screen mode.
Solution 7: Boot Device to Safe Mode
Entering Android safe mode may be an effective solution to fix Samsung Galaxy sudden death. Here are the steps:
Turn off your device.
Press & hold the Power key for up to 10 seconds and power on your Galaxy device.
When the Samsung logo appears on the screen, please press and hold the Volume down unless "Lock Screen" shows up.
Your device will then enter Safe Mode, and you can see it on its screen.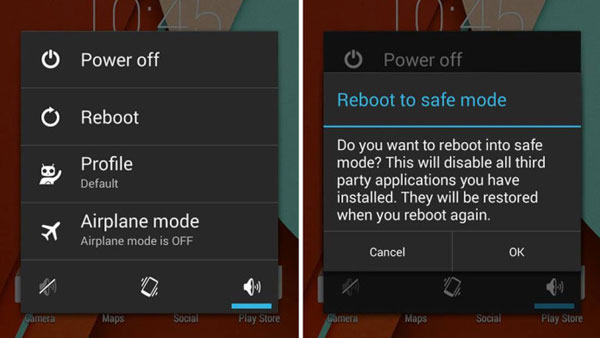 Solution 8: Boot Device to Recovery Mode
Samsung Galaxy black screen of death can be fixed by getting your device into recovery mode to a great degree. Follow the drill below to see how:
Press and hold the Volume Up and the Bixby key.
Press and hold the Power key.
When the Samsung logo displays, release all keys.
Now, "Installing system update" will show up for over 30 seconds before the Android system recovery menu options appear).
Press the Volume down button several times to pick "wipe cache partition".

Press the Power key to confirm.
Press Volume down to highlight "yes" and use the Power key to select.
After the completion, "Reboot system now" is highlighted automatically.
Press the Power button to reboot your device.
Solution 9: Do a Hard Reset on Samsung
Samsung phone went black? Doing a hard reset on your device might help. Yet, after the reset, your phone will lose its existing data. Here's the direction of hard resetting Samsung:
Power off your Samsung phone.
Press and hold the Home, Volume, and Power key simultaneously till you see Android log on the screen.
Go to "wipe data/factory reset" by using the Volume button and use the "Power" button to select it.

Choose "yes" to confirm the action.
Wait for the procedure to complete.
After that, select "reboot system now" > press the Power button to restart your device.
Solution 10: Restart Your Samsung Phone/Tablet
Attempt to power on your Samsung device by holding the Power/Side key and Volume down key for 15 seconds. The Samsung Galaxy logo should appear. If the Samsung black screen of death is fixed, your phone needed to be charged. Now, turn it off and reconnect it to the supplied charger until it is fully charged.
Solution 11: Go to Samsung Store for Help
If the screen still fails to turn on after performing the steps above, your device needs service. You can then contact the Samsung Support Center for assistance.
Learn More:
Part 3: Fix Samsung Black Screen of Death with Professional Tool
Are you looking for the most efficient way to settle Samsung phone/tablet black screen of death? Android Repair is just one worthy of taking into account. As the best Android phone repair software, it works to resolve various phone issues for a whole range of Android devices. It comes with an easy-to-use interface, enabling you to fix Samsung's sudden death without even checking the directions for use.
Key highlights of Android Repair:
Fix various issues like Android stuck in boot screen, Android won't turn on or off, dead screen, app/system crashing, Android OTA update failure, Android device bricked, etc.
Fix Android system to normal with a high success rate.
Support AT&T, Verizon, Sprint, T-Mobile, Vodafone, Orange, etc.
Run smoothly almost all Android phones/tablets, containing Samsung, Huawei, Sony, Motorola, LG, Xiaomi, OPPO, Vivo, Google, DELL, and many others.
It won't reveal your privacy.

How to fix Samsung black screen of death with Android Repair?
Since the task would wipe all your device data, you'd better first back up your Samsung phone if it is possible.
Step 1. Run the installed program on your computer and choose the "Repair" section from the main interface.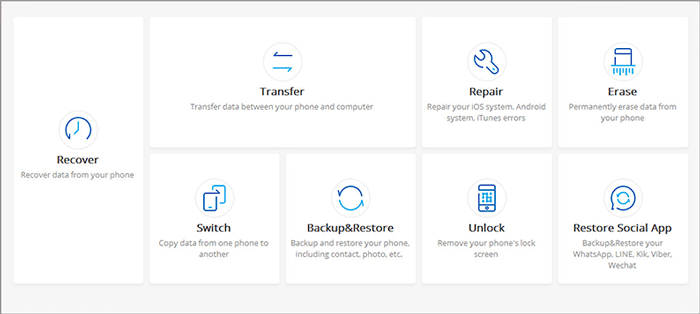 Step 2. Use a USB cable to plug Samsung into the computer and choose "Android Repair" from the left panel. The tool will show you the Android problems it could fix. You can browse it and click "Start".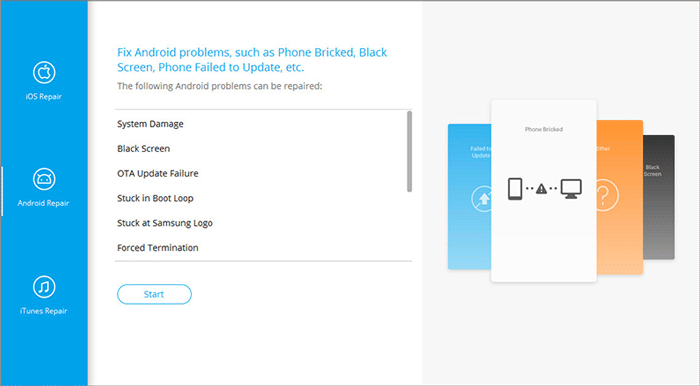 Step 3. Fill in your device info in the incoming window and tap "Next" to get into the next screen.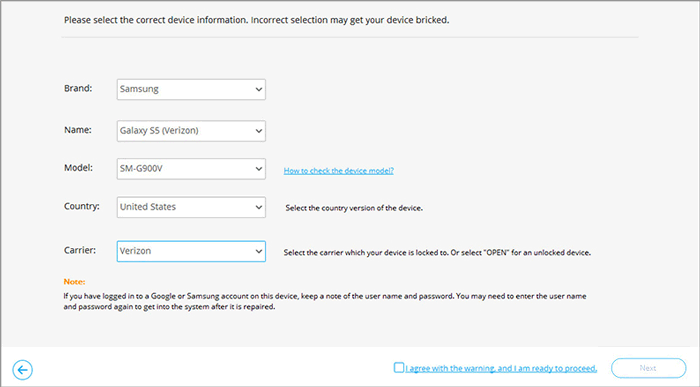 Step 4. Manually type in "000000" to the blank field and click "Confirm" to continue. Then confirm that the Android system repair may erase all the data on Samsung.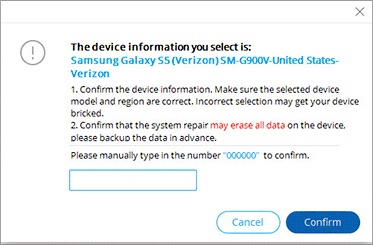 Step 5. Boot your Samsung device to the download mode as follows:
For Samsung with a "Home" button, power off your device, press the Sprint, Home, Power, and Volume Down keys for 10 seconds. Release all and hold the Volume Up key to get into the download mode.

For Samsung without a "Home" button, power off your device, press the Power, Bixby, and Volume Down keys for around 10s, and then release. Next, press Volume Up to enter the download mode.
Step 6. After the phone is in this mode, click on "Next" to download firmware for your phone.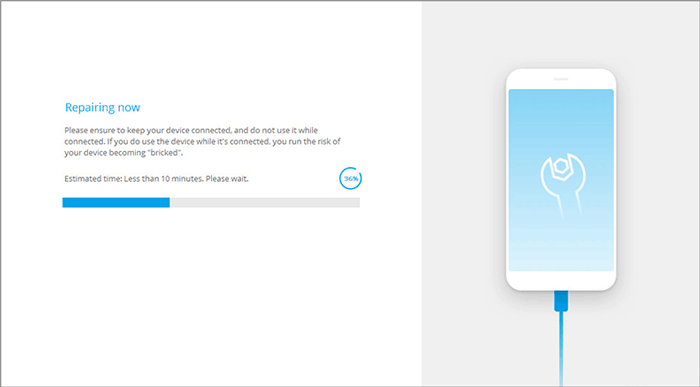 Step 7. Once done, the software will begin repairing your Samsung system automatically.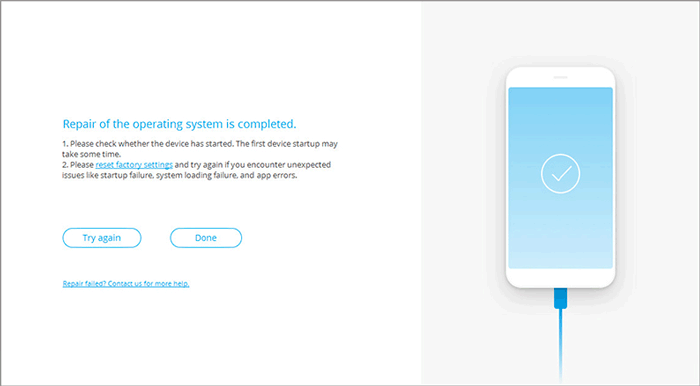 Bonus: Tips to Avoid Samsung Black Screen of Death
Follow the tips below to take good care of your device and avert Samsung black screen of death/sudden death:
Protect your phone from viruses with some trusted app.
Back up your Samsung phone regularly in case of need.
Update your device with the proper firmware.
Don't install apps from unknown sources.
Disconnect your phone as soon as it's fully charged.
Replace your battery if it isn't working properly.
The End
We explored twelve solutions in this passage, helping fix the Samsung black screen of death/sudden death. Well, what was the method that got you out of the woods? Feel free to leave a comment below. And if you find this page helpful, please spread the word by sharing it with your family, friends, or simply post it on social media like FB, Twitter, Reddit, etc.
Related Articles:
How to Fix Android/Samsung Tablet White Screen of Death?
Getting Android Blue Screen of Death on My Device, How Do I Fix It?
Android Recovery: How to Fix A Bricked Android Phone
Getting the Unsuccessful Installation Error on Android? Solutions Are Here!
6 Methods to Backup and Restore Your Samsung Galaxy/Galaxy Note