Where's the Samsung Galaxy Recycle Bin? How to Recover Deleted Data on It?
Oops, you might accidentally touch the deleted button on the precious files when free up space on Samsung. And where have they all gone?
It's know to all that a Windows or Mac computer carries a Recycle Bin/Trash with the system. So, does Samsung come with a bin? Where can I find the Samsung Galaxy recycle bin? Any idea on how to recover deleted files on Samsung Galaxy S21/S20/S10/S9/S8/S7/S6 mini/A71/A51/A32 if there's no way to retrieve them directly from the phone? Well, with these questions in mind, let's explore the answers to them now.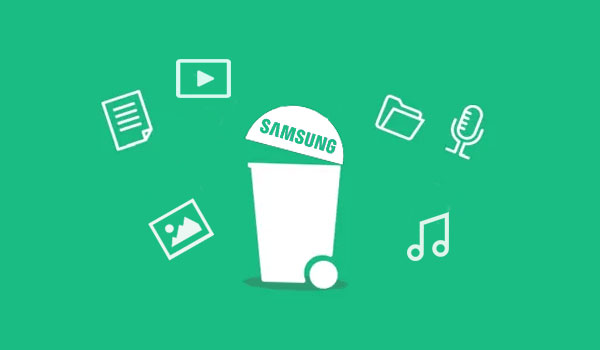 Part 1: Where Is the Recycle Bin on a Samsung Galaxy?
Does Samsung Gallery have Trash? Yeah! Samsung Galaxy phones with Android Pie 9.0, Android 10, and Android 11 based on One UI 3.0 indeed come packed with recycle bins. So, where to find recycle bin in Samsung? That's to say, how to get to Trash in Gallery on Galaxy?
To simply put, it is located in Gallery Settings. (B.T.W., for some models, you can also find the bin on Samsung's Contacts app). Once you delete photos or videos on your device, they will temporarily go somewhere in the Gallery. Please note that the recycle bin in your Samsung Galaxy phone only keeps files for 15 days before wiping them permanently.
Read Also:
Part 2: How to Recover Photos/Videos/Contacts from Samsung Galaxy Recycle Bin
If you deleted pictures and videos from your Samsung phone recently (within 15 days), you could try to trace them from the recycle bin. Besides, some Samsung models allow their users to recover deleted contacts from the Contacts' recycle bin as well.
Well, how do I find it when something was deleted on my Samsung phone trash bin? Now, let's check it out in the following:
- Retrieve photos and videos from Samsung Galaxy recycle bin:
On your Samsung phone, tap on the Gallery app.
On the top right corner, tap MORE > Settings.
From the pull-down menu, tap Recycle bin.

Now you will see all the photos and videos in the Samsung recently deleted folder. (how to recover photos from recently deleted album on iPhone?)
Handpick what you want and hit the restore icon.
- Recover contacts from Samsung Galaxy recycle bin:
On your Samsung Galaxy, go to its Contact app.
Tap the Menu option.
After it shows All Contacts, roll down to get the Recycle bin for recently deleted contacts.
Select the one(s) you need to regain from the bin.
Part 3: How to Restore Deleted Files from Samsung Cloud Recycle Bin
You might have backed up Samsung data to Samsung Cloud, cloud storage that offers 5 GB of free space to all its new users. Once Samsung Cloud backup is enabled (Samsung Cloud backup failed?), all the photos and videos in the Gallery are automatically transferred to the cloud servers, from which you can restore the deleted ones in the next 15 days after the deletion.
How to access Samsung cloud recycle bin and restore deleted files?
Go to Samsung's Gallery > GALLERY SETTINGS > Cloud Recycle bin.

After your deleted files are all displayed, press and hold your desired items for 2 to 3 seconds.
Or you can tap Select All at the left of the screen to retrieve everything.
Choose "Restore" on the top right to download the photos or videos to your device.
You May Also Need:
Part 4: What if You Can't Find Deleted Data on Samsung Galaxy Recycle Bin
Some Samsung users may not be able to find the deleted stuff in Samsung Galaxy recycle bin. And perhaps there's even no recycle/trash bin in most older Samsung phones. Given the situations above, you can get help from MobiKin Doctor for Android (Win and Mac). This software gives you the ability to recover overall Samsung/Android data without backup.
Main features of Doctor for Android:
Directly recover deleted data from both Samsung Galaxy phone memory and SD card.
The recoverable data types: contacts, text messages, call logs, pictures, videos, audio, music, documents, and more.
Let you view and restore any files before the quick recovery.
Run smoothly on various Android devices, including Samsung Galaxy S21/S20/S10/S10+/S10e/S9/S8/S7/S6/S5, Galaxy Note 20/Note 10/Note 9/Note 8/Note 7/Note 6/Note 5, Galaxy A71/A51, Galaxy Tab series, etc.
It won't interfere with your privacy.
How to restore deleted files on Samsung Galaxy with MobiKin Doctor for Android?
Step 1. Run the program on your computer
Attach Samsung to a computer via a USB cable. Launch the software after the download and installation. Subsequently, you may need to enabled USB debugging on your Samsung device to let the tool recognize your smartphone.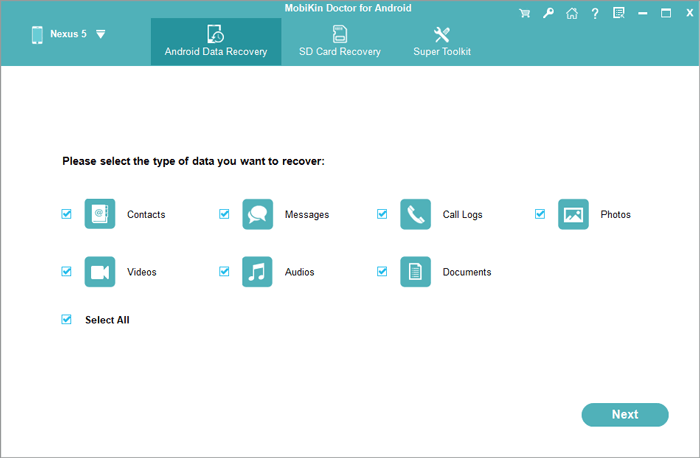 Step 2. Check and select deleted files from the recovery
Once identified, all recoverable data categories will be listed on the interface. Just tick on your wanted file types and click "Next". Then, the program will start scanning for the Samsung data.
Note: If you cannot find the data you desire, please follow the on-screen directions to root your phone before running a deep scan.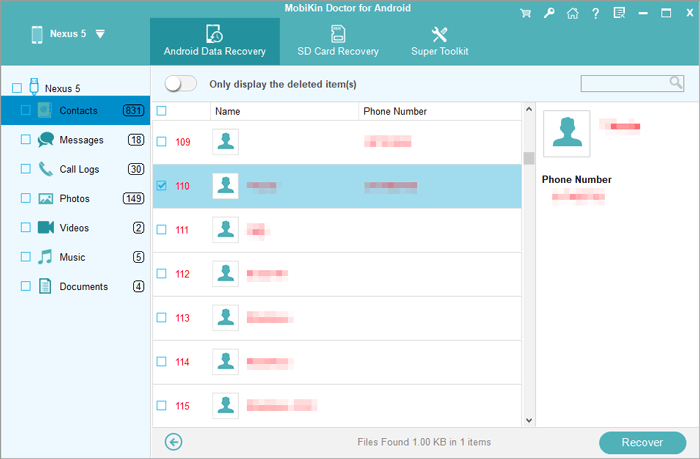 Step 3. Recover deleted files on Samsung
After scanning, you can view and check the deleted/lost files you need and then click on "Recover" to save the chosen items onto your computer.
Video guide on how to recover deleted data from Android phone/tablet:
Additional Tip: How to Enable & Disable Recycle Bin on Android 11 (Samsung)?
Follow the directions below to turn on or off the Samsung recycle bin as per your requirements:
* Enable recycle bin on Samsung with Android 11:
Open the Gallery app.
Tap the three dots at the upper right-hand corner or the hamburger menu at the bottom.
Hit Trash > Turn on Trash.
* Disable recycle bin on Samsung running Android 11:
Open the Gallery app.
Tap on the hamburger menu.
Select Settings > Turn off.
Verdict
After reading over this article, we believe that you now have a further understanding of the Samsung Galaxy recycle bin. And you don't need to be confused if any of the following are bothering you:
You deleted some videos, photos, and contacts from a Samsung phone with no trash/recycle bin.
You cannot find the deleted items from the recycle bin, for they are permanently wiped off by the bin.
You want to recover data like text messages, call logs, contacts, apps, media files, etc., without any backup.
Apparently, MobiKin Doctor for Android is especially helpful if you come up against the situations above. So, just download and give it a go?
Related Articles:
Android Recycle Bin Recovery: Recover Data from Android Recycle Bin
How to Easily Empty Trash on iPhone/iPad/iPod
Where is Recycle Bin on Android? How to Find Deleted Android Files?
Samsung Tablet Recovery - How to Recover Deleted Files from Samsung Tablet?
Top 5 Ways to Recover Deleted Videos from Samsung Galaxy