Screen Mirroring Samsung: 5 Tricks to Mirror Samsung Screen to TV/PC/Mac
Screen mirroring is a feature that allows you to display your Samsung phone screen on a bigger screen. With this functionality, you can cast your favorite videos, photos, and games to enjoy them on a better-quality display. Plus, it can also be used for mirroring wireless presentations and effortless collaboration with your colleagues or clients. It's easy to set up and utilize with your Samsung device.
Well, this post is about screen mirroring Samsung to a TV, PC, or Mac. You can discover some tips and tricks to optimize your screencasting experience.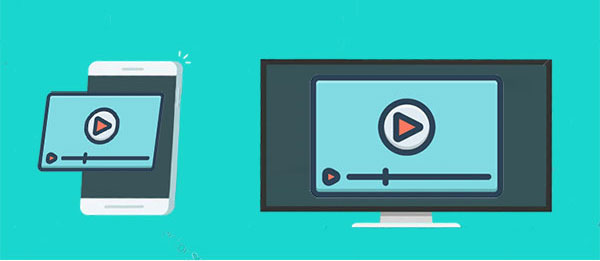 Part 1: How to Do Screen Mirroring Samsung to TV
1.1 How to Screen Mirror Samsung to Samsung TV via Smart View
Smart View is a feature that connects data sources to Office applications. You can view, import, manipulate, and share data in Word, Excel, PowerPoint, and Outlook. You can also mirror your Samsung device screen to a Samsung TV or gaming screen. (Does the video play poorly on Samsung? You may need to speed up your Samsung Galaxy now.)
This tool is useful for data analysis and presentation, but it may have compatibility issues, require additional software or consume more power or bandwidth.
Next, let's see how to mirror Samsung screen to Samsung TV with Smart View:
Open the "Quick panel" by swiping down from the top screen.
Tap on the "Smart View" icon and choose your TV from the list of devices.
When you see a pop-up message that says "Start casting with Smart View?", select "Start now".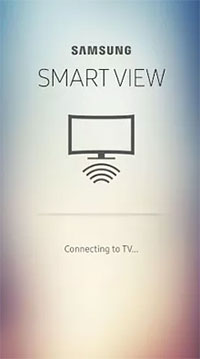 Note: If the mirroring image is small on the screen, change the aspect ratio by going to "Smart View" > "More Options" (three vertical dots) > "Settings" > "Phone aspect ratio" > selecting "Full screen on connected device".
You Might Also Like:
1.2 How to Screen Mirror Samsung Device on TV via Screen Beam Mini2
Allowing you to wirelessly display your Samsung content on your HDTV, ScreenBeam Mini2 works with Windows and Android devices that support Miracast. It is small and portable without being compatible with Apple or Chromecast-enabled apps. It supports Samsung screen mirroring, which lets you mirror your Samsung phone's screen on your TV. Before the job, you need an HDMI port and a power source on your TV.
Easy steps for screen mirroring Samsung to TV with Screen Beam Mini2:
Plug in a ScreenBeam Mini2 Wireless Display Receiver into an open HDMI port on your TV.

Power on your TV and switch it to show input from that HDMI port.
Make sure you see a "Ready to Connect" message on your TV screen.
Swipe down from the top of your screen and open up the notifications bar.
Choose "Screen Mirroring", "Smart View", or "Quick Connect".
Your device will look for Receiver devices that it can connect with. Pick the receiver from the list of devices.
You might need to type in a PIN, which will show up on your TV screen. Put in the PIN in the box for a PIN, then hit "Connect".
Hang tight while your device connects with the receiver. When they're connected, you'll see your device's screen on your TV.
Part 2: How to Do Samsung Screen Mirroring on PC
2.1 How to Screen Mirror Samsung to PC via Screen Mirror
Controlling a Samsung phone on a computer can be very exciting with the right tool. Screen Mirror is a professional app/software that lets you mirror your phone to your PC easily. You can use it to share Android/iOS screens on PC smoothly for different purposes. Overall, it is one of the most popular software in the market and worth every penny, giving you more power and convenience than other tools.
Incredible features of Screen Mirror:
Use a PC to access and mirror a Samsung screen and control it on a bigger display.
Run and manage Android games and apps on PC easily.
Mirror iPhone screen to PC fluently.
Share app screens and sounds with meeting software.
Easy to handle, excellent quality, and reasonable price, etc.
Play functions on virtually all Android/iOS devices, including Samsung Galaxy S23/S22/S21/S20/S10/S10+/S10e/S9/S8/S7/S6, Galaxy Note 20/Note 10/Note 9/Note 8/Note 7, Galaxy Tab series, and more.
It won't divulge your privacy.

Here is a simple guide to help you screen mirror Samsung to PC via Screen Mirror:
Step 1. download and launch this program on a computer and connect your Android phone via a USB cable. Then, choose "Transfer files" when your device is detected by the program.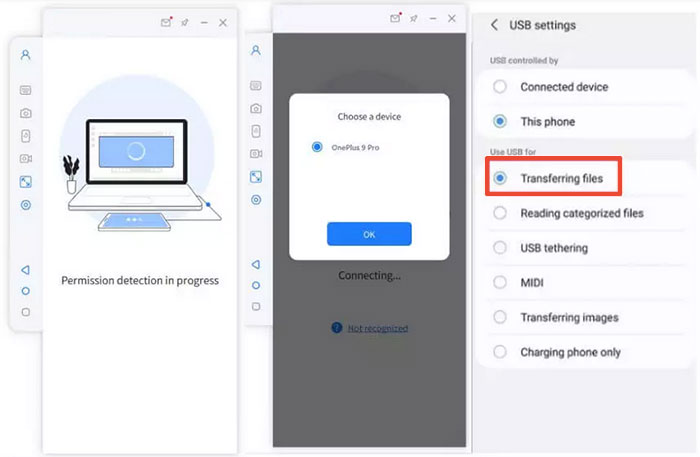 Step 2. Next, enable USB debugging on your Samsung phone by following these steps: go to "Setting" > "About phone" > "Software information", tap "Build number" 7 times until you see a message saying you are a developer, then go back to "Settings" and turn on USB debugging.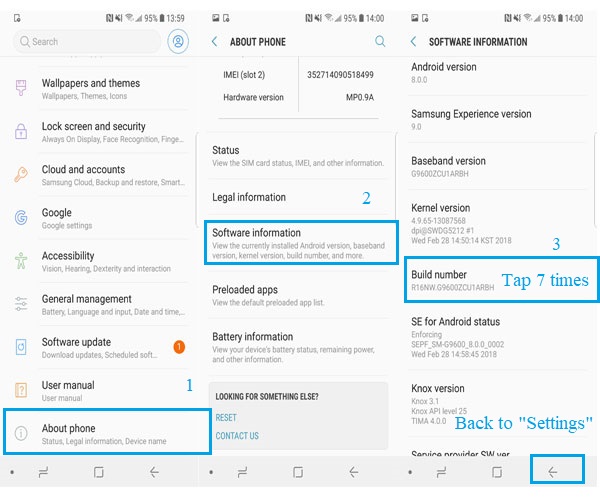 Step 3. After that, allow the program to display its interface on your PC screen and click "Turn on" to install the Screen Mirror .apk on your phone.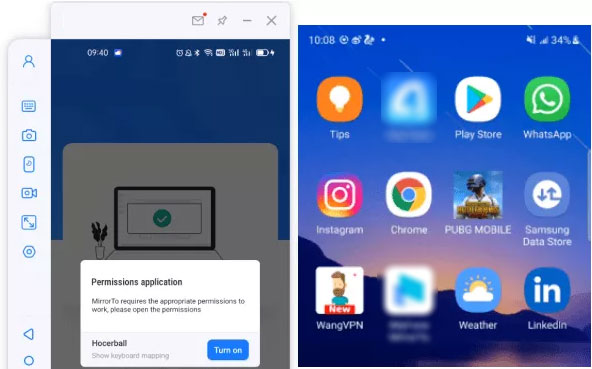 Step 4. Finally, enjoy mirroring your Android screen on your PC and using Android apps with a keyboard and mouse.
Know More:
2.2 How to Mirror Samsung Screen to PC via AirDroid
AirDroid offers a variety of Android features that let you sync your Samsung phone with your PC seamlessly. You can easily capture screenshots and manage your files, calls/messages on your PC with this tool. However, it delivers no WhatsApp mirroring and has limitations in file transfer.
How to screen mirror Samsung on PC via AirDroid?
Get the AirDroid Cast app for your Samsung devices and Mac from its official website or Google Play store.
Launch them simultaneously, type in the cast code, or use your Samsung phone to scan the QR code on the PC.
Next, press "START CASTING". You might have to accept some requests to proceed.
After that, on your Samsung, hit "Enable" to turn on screen casting permission.
On your computer, select "Start Now".
Finally, you'll be able to see your Samsung screen on your PC. You can pause the process anytime by clicking the "Pause" button. (Try AirDroid alternatives if it doesn't work.)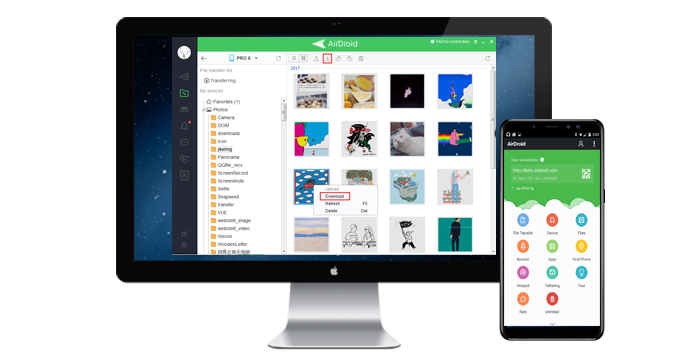 Part 3: How to Screen Mirror on Samsung to Mac
How to Screen Mirror Samsung Device to Mac via X-Mirage
X-Mirage is a software that allows you to mirror your iOS or Android device screen to your Mac or Windows PC via AirPlay or Google Cast. You can leverage it to mirror multiple devices simultaneously, choose different resolutions and quality for mirroring, and add voiceover to your recordings with a microphone.
To start with, you have to connect both devices to the same Wi-Fi network. And you need to pay for a license after a 15-day free trial. Next, we will cover how to screen mirror Samsung to Mac using X-Mirage:
Install X-Mirage on your Mac and connect it to the same Wi-Fi network as your phone.
Swipe down the "Notification" panel on your phone home screen and tap "Smart View".

Select your Mac from the list of Chromecast devices on the network.
When your phone screen shows up on the computer, you can screen mirror Samsung to it without trouble.
Round Off
Well, upon going through this article, you may find different programs suit diverse needs and preferences. OK, which tool should you choose from? Based on the passage, some possible factors to consider are:
The type of screen you want to mirror to TV, PC, or Mac.
The compatibility of the tool with your device and screen.
Main features of the program.
The cost and requirements of the tool.
For instance, if you want to mirror your Samsung phone to a PC for gaming, you may prefer Screen Mirror. And it will surely live up to your expectations in all respects of performance.

Related Articles:
Everything You Must Know about Screen Mirroring Huawei [2023]
How to Mirror iPad Pro/Air/mini/4/3/2 to PC in 6 Ways [2023 Latest]
How to Fix Touch Screen Not Working/Responding on Samsung? [9 Ways]
Samsung Recovery Mode: Tips to Boot into, Exit, and Fix Recovery Mode on Samsung
How to Export Samsung Calendar? 4 Methods for Samsung Calendar Export & Import
How to Send Video from Samsung to iPhone 14/13/12/11/Xs Max/8 with Ease?