Top 7 Samsung Device Managers to Streamline Your Digital Life
Are you fed up with data exchange and management between your Samsung phone/tablet and PC/Mac? Do you want a seamless way to have better control of Samsung from your computer or the device itself? Look no further than the Samsung device managers here! In this quick guide, we shall explore the 7 best Samsung phone manager programs for PC Windows/Mac to end up with a tool that is hard to follow or even fails to work. Now, go through this passage and get the best program to please yourself.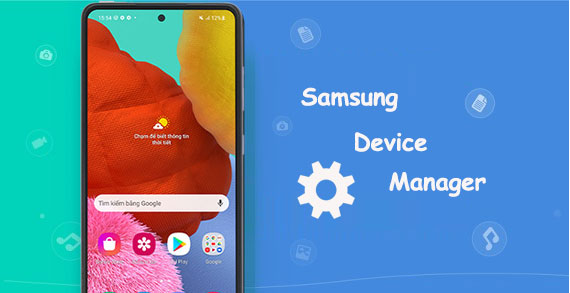 Top 1: Best Samsung Device Manager - Assistant for Android
As a top-rated computer-based Samsung device manager, MobiKin Assistant for Android (Win and Mac) is powerful enough to manipulate all aspects of Samsung from your Windows/macOS computer. With the aid of it, you can transfer files, back up/restore data, and control a whole range of your device on its user-friendly interface. Besides, the software is optimized for fast data transfer. All in all, it is ideal for anyone who wants a reliable and feature-rich Samsung device manager.
Key features of Android for Android:
Best Samsung device manager for PC/Mac to manage various Android files with great ease.
An impeccable Samsung transfer tool to transfer data between Samsung and computer fleetly.
Back up and restore Samsung/Android in one click.
Apply to such files as contacts, call logs, SMS, photos, music, videos, apps, books, etc.
Get along well with virtually all Android devices, including Samsung, Google, Huawei, LG, OnePlus, Sony, OPPO, Xiaomi, Vivo, Motorola, etc.
It won't let out your privacy.
Next, let's have a simple visual introduction to some of its main features:
To start with, run the program and link your Samsung device to your computer:
Start Assistant for Android on a computer after having it downloaded and installed.
Connect the Samsung device to the computer via USB or Wi-Fi. (How to transfer Samsung files over Wi-Fi?)
Follow the easy prompts to get the device recognized.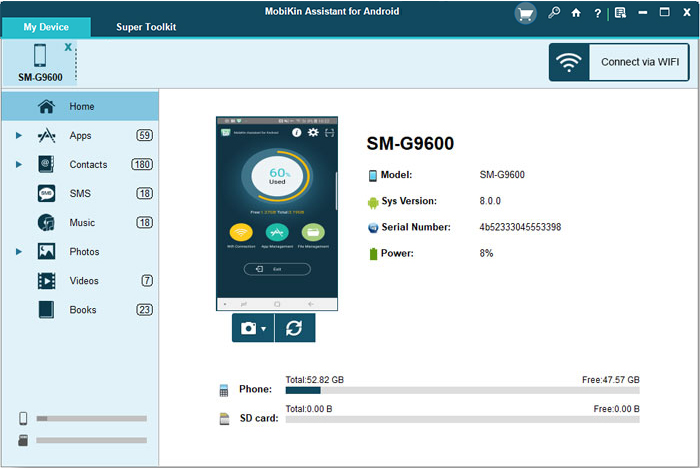 Tip 1: Transfer data between Samsung and PC/Mac:
Select the data types and pick the specific items you want to transfer.
Then click "Export" and save the files on your computer.
Click "Import", "Add", or "New" from the top screen to import data from the computer to Samsung.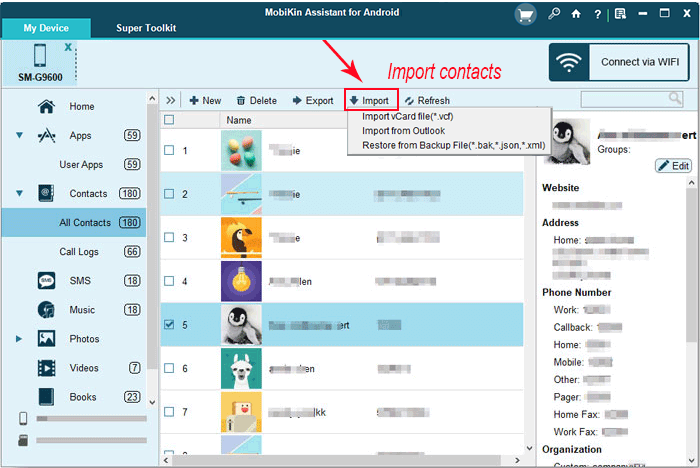 Tip 2: Edit and manage Samsung data on your computer:
Click data types from the left menu bar.
Edit, remove, and control Samsung items by clicking "Edit", "Move", or "Delete".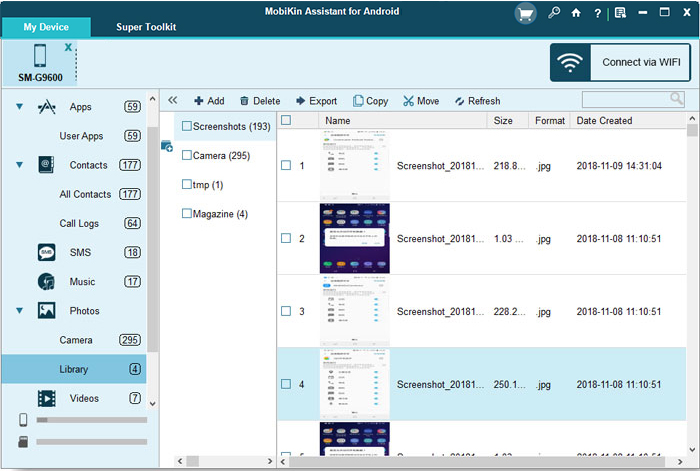 Tip 3: Manage Samsung apps remotely:
Tap "Apps" and tap "Install" to install your wanted applications on Samsung from your computer.
Remove unnecessary Samsung apps by tapping "Uninstall".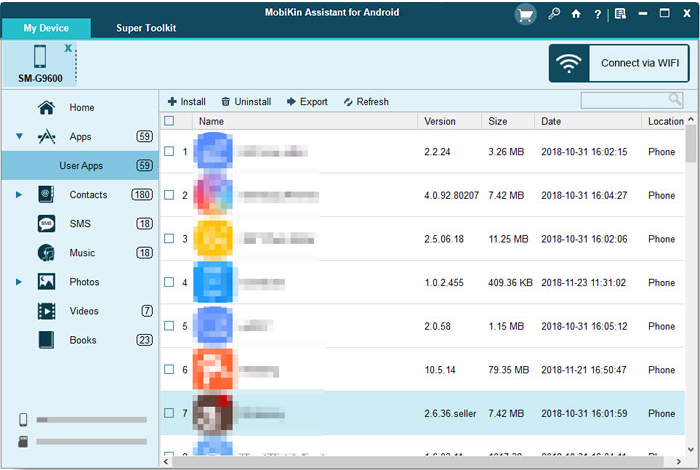 Tip 4: Bulk back up Samsung for restore:
Click "Super Toolkit" to reveal "Backup" and "Restore".
Hit "Back Up" to save all Samsung files on your computer.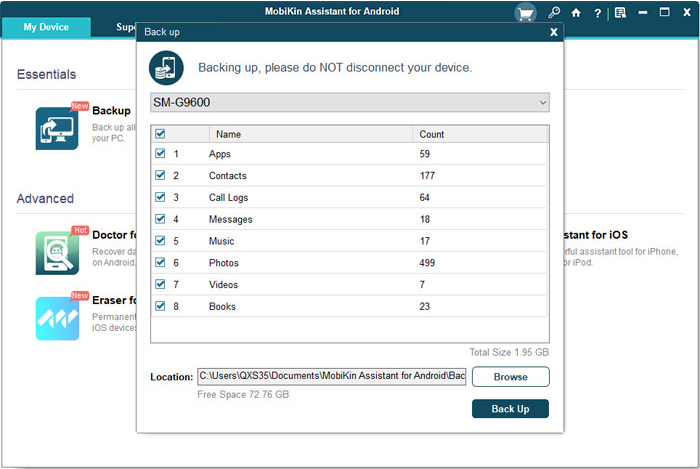 Click to See:
Top 2: Samsung Kies
Being the second full-fledged Samsung Android desktop software, Samsung Kies is popular among Windows and Mac users. This software facilitates you to sync your Samsung phone with your computer, allowing you to transfer files, back up data, and manage content like media. Aside from great synchronization capabilities, it also comes with a video conversion feature and supports various multimedia formats.
The software is designed for Samsung phones and tablets so that you can expect a smooth and hassle-free experience. Plus, it is free to use, making it an affordable option for anyone on a budget.
Cons:
Slow at times, especially when transferring large files.
It is not compatible with all Samsung devices.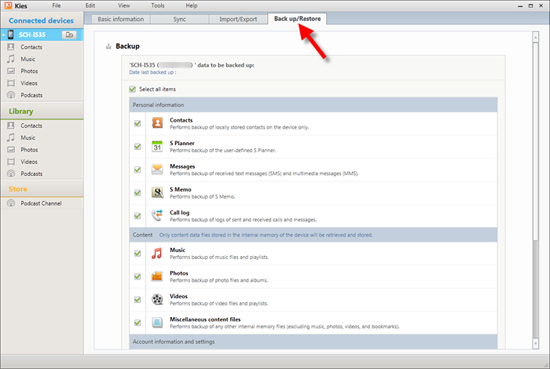 Top 3: MyPhoneExplorer
My Phone Explorer gives your Samsung direct sync to Outlook (Express), Lotus Notes, and Thunderbird. This software lets you monitor Samsung from your home computer, accessing and managing your organizer, alarms, messages, contacts, media files, and phone settings. (How to manage accessibility settings on Samsung?)
With this smart software, you can sync your Samsung phone with multiple devices, including computers, tablets, and phones. Again, My Phone Explorer is highly customizable, letting you configure the software to meet your specific needs.
Cons:
eBay toolbar is included.
It can be complicated to set up.
It isn't compatible with all Samsung devices.
Top 4: Find My Device
Find My Device, available as a web app, is a decent Samsung device manager for PC, enabling you to locate your lost or stolen Samsung phone. Then you can wipe phone data remotely and perform a host of other security functions. This program uses GPS tracking to pinpoint the location of your device and protect your private info.
Also, it is simple to set up and can be accessed from any device with an Internet connection. Yet, you must link your Google account with your Samsung device, and the fetching will start automatically thereafter.
Cons:
Require your phone to be connected to the Internet before it works properly.
It doesn't offer features like file transfer or backup/restore.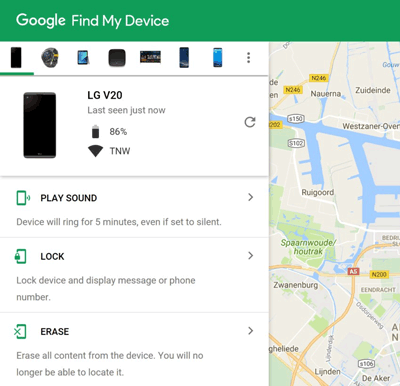 Further Reading:
Top 5: MobiLedit
Communicating via infrared, Bluetooth, or cable, MobiLedit is an outstanding Samsung device manager. With it, you can manage multimedia files, send SMS from your PC, and archive auto-backup. In addition, MobiLedit offers advanced features like app management and root access. Specifically, you can install, uninstall, and update apps on your Samsung phone from your computer.
Beyond that, it also lets you play games on your computer from Samsung. (Can I play Android games on a PC?)
Cons:
It isn't easy to set up, especially if you're strange to advanced Samsung management techniques.
It's not free to use.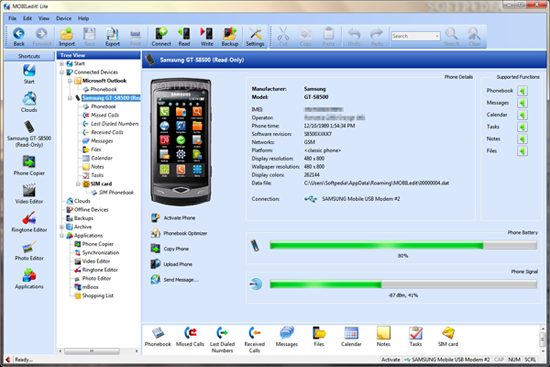 Top 6: doubleTwist
doubleTwist is a Samsung phone manager for Windows 10/11/8/7/Mac. When getting it installed, you can sync the media files of your portable devices, including mobile phones, PDAs, PSP, cameras, and even MP3 players. With this smart tool, you can browse and manage media files on your computer as well as play music without switching to a third-party app.
Further, it offers advanced features like podcast management and metadata editing. And you can utilize it to share media files with your friends.
Cons:
Some devices are not supported.
Paid program.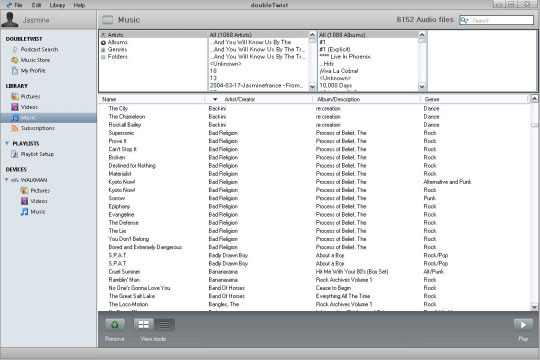 Top 7: Files by Google
Files by Google is the cleanest, no-nonsense, no-bloat Samsung Android manager app, making it easy for you to manage and free up space on Samsung whenever needed. It offers advanced features like file compression and media streaming. One of the benefits of Files by Google is its simplicity which can be accessed from any device with a network connection.
Cons:
Potential security risks.
File size limits.
Won't work properly with a slow Internet connection.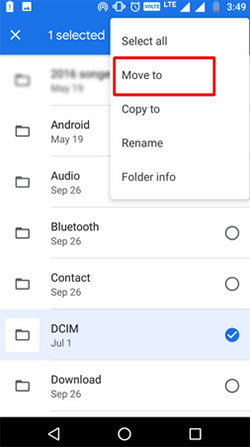 Ending Words
It would be brief to conclude that all the top 7 Samsung device managers have their unique skills. Overall, whether you have to copy files across platforms, back up or restore items, or manage your personal info, there's a Samsung phone manager that can do you a big favor. Here, MobiKin Assistant for Android (Win and Mac) is the most recommendable, partly because it can simplify your life with ease and efficiency while meeting your basic and advanced management needs.
Related Articles:
How to Run Android/Samsung Apps on PC Windows 11/10/8/7? Top 6 Methods for You
[2023] 6 Best SD Card Managers for Android You'd Better Know
Android/Samsung File Transfer for Windows: 7 Best Tools to Sync and Backup Android
Download the Top 6 Samsung FRP Bypass Tools to Unlock Samsung Devices
How to Export Samsung Calendar? 4 Methods for Samsung Calendar Export & Import
iPhone File Manager: 10 Best File Managers for iPhone You'd Better Know