ZTE Recovery Software - Recover Deleted Contacts/Messages/Photos on ZTE Phones
"Yesterday, when I was about to delete some useless files on my ZTE phone, I accidentally touched the "Select All" button. As a result, all my precious photos and important contact information were conceivable. deleted. I spent a day looking for ways to recover these deleted files online, but I was skeptical of these methods. Now, I am very worried, who can recommend to me an Android recovery tool that is 100% successful in recovering deleted data from ZTE phones? thank you very much!"
ZTE Android phone is an Android phone invented by the well-known Zhongxing Telecommunication Equipment Corporation telecom company in China. Like other mobile phones, you can not only use it for daily communication, but also browse the web, download pictures, watch videos, play games and more on your mobile phone. You'll also save personal files on your phone to access them anytime, anywhere. However, phones are not a safe place to store data because all electronic gadgets are prone to failure at some point of time. Then, the demand for ZTE data recovery was created.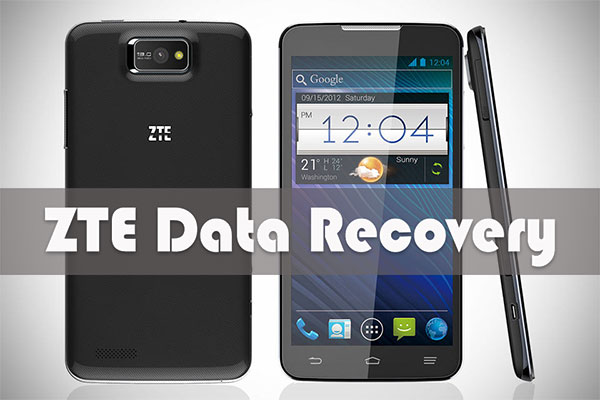 The good news is that files lost from ZTE Android smartphones can be recovered. As long as you use safe and reliable ZTE recovery software to retrieve your deleted or lost files and then restore them back to your phone.
Part 1. Some Scenarios Where ZTE Data Loss will Occur
Here are some events that may cause you to lose your ZTE phone data:
Accidental deletion: Just like the experience of the helper at the beginning of the article, when you want to delete some unwanted data, you accidentally clicked wrong, causing some important files to be deleted.
Formatting the phone: Some Android phones, such as ZTE, often require users to format the phone for various reasons. And many users do not remember to back up the phone before formatting the phone, which will inevitably lead to the loss of files in the phone. In addition, if the ZTE phone is formatted incorrectly, data may be lost.
Reset ZTE smartphone: If you encounter some difficult problems when using ZTE phone, what would you do? I believe most people will choose to reset their phone to solve the problem. This operation will return the phone to the state it was in when you purchased it, and all settings will return to the original settings. At the same time, all the files you saved on your phone will also be erased.
Virus attack: Because of the open nature of the Android system, Android smartphones are vulnerable to virus attacks. When you download infected files or connect your phone to a virus-infected system, malicious software can invade your phone, damage your system, and cause data loss.
After knowing the causes of ZTE data loss, let's move on to the point: How to recover deleted and lost data from ZTE device?
Before you start, there is an important note: When you find that there is data loss, please stop using your ZTE phone immediately to prevent the lost data from being overwritten by the new data. That is, you will have the opportunity to recover lost data only if it has not been overwritten.
Can't Miss:
Part 2. The Best ZTE Recovery Tool: Doctor for Android
[HOT!]
If you have encountered any of such situations above and lost your files from ZTE Android phone, then, pick up the best ZTE recovery tool - MobiKin Doctor for Android (with its Mac version). This program comes with a simple interface that any people even without professional technical knowledge can handle it easily. Moreover, this program is compatible with all Android versions and can scan both internal and SD card memory and then retrieve all lost or deleted files. The main features make it the right choice for you include:
Why Choose MobiKin Doctor for Android?
- Scan your ZTE devices deeply and quickly to locate the files you need.
- It allows you to preview and selectively recover you wanted ZTE data.
- Supports various file types, including music, photos, videos, call logs, contacts, SMS and many more.
- Compatible with 6000+ Android device models, not only ZTE ZMax 2/PRO/Blade V8 Pro/Z MAX/X Max/Max 3/Axon 7/7 Mini/Grand X4/Nubia Z17, and more ZTE devices, but also other Android phones from Samsung, HTC, LG, Sony, Motorola, Huawei, Xiaomi, etc.
- Easy to use and does not require professional computer knowledge.
- It guarantees 100% safe, clean and virus-free.
How to Use Doctor for Android to Recover Deleted/Lost Data from ZTE Phones?
With MobiKin Doctor for Android, you can recover deleted files from ZTE phone memory and SD card. Please continue reading to understand how the data recovery of these two parts is operated.
Step 1. Launch the program and connect your ZTE phone
Launch the installed ZTE data recovery software - Doctor for Android program and connect your ZTE device to your computer using USB cable. The software starts detecting the phone and you can see the following screenshot of the program interface.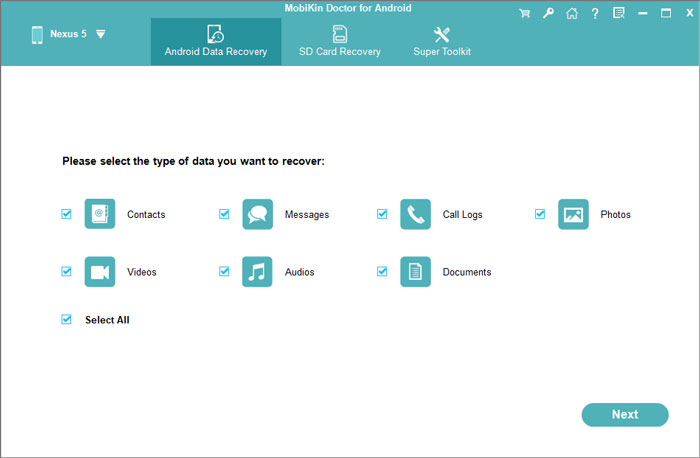 Here, please ensure you have enabled USB debugging on your ZTE device to make the program can get access to the device smoothly.
Step 2. Scan for the lost ZTE files
You will see all the files types on the page. Just tick the types of data you want to recover and click the "Next" button. For example, if you want to retrieve deleted text messages on ZTE Zmax, tick the checkbox before "Messages" and then this program will begin to scan your Android device to find all lost text messages.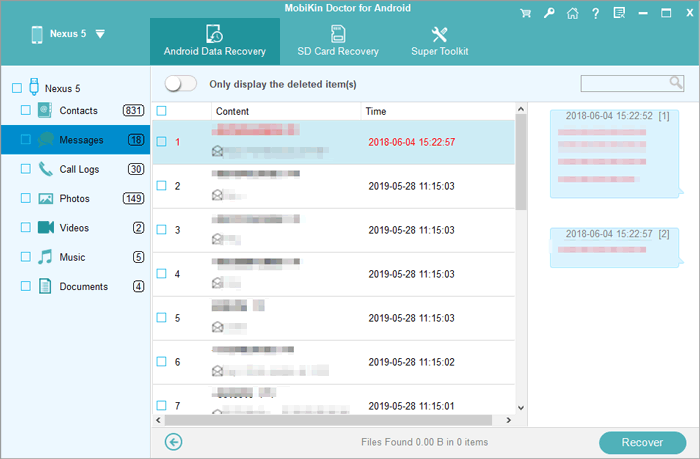 Step 3. Start the ZTE recovery process
Preview and select the files you want to recover and then click "Recover" button to save them to your computer.
The following steps show you how to recover deleted files on SD card on your ZTE phone.
Step 1. Insert the ZTE SD card to computer
Run the ZTE recovery tool again and choose "SD Card Recovery" mode from the top menu. Connect the SD card to the computer using a card reader and click "Next" button to go to the next step.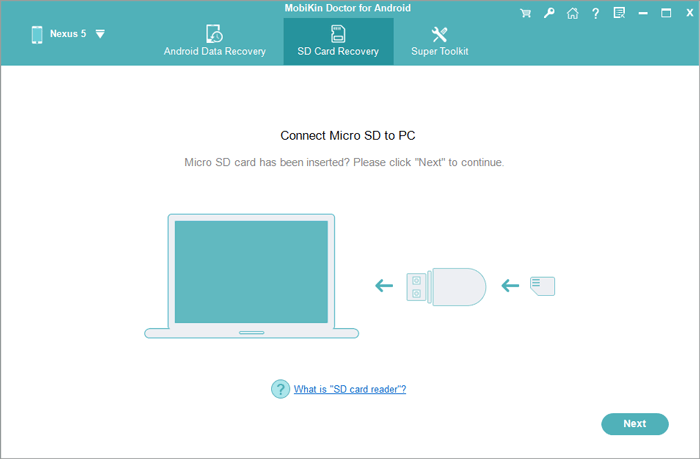 Step 2. Scan files on SD card.
The program should detect the SD card. Select it and click "Next", then the program will start to scan the SD card.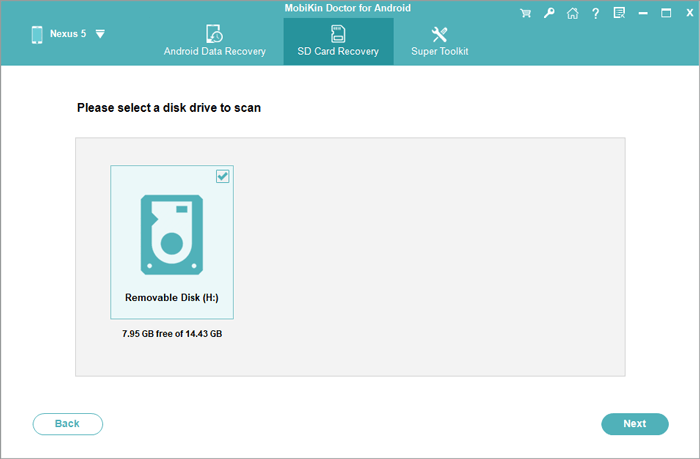 Step 3. How to recover deleted data from ZTE SD card
When the scanning is finished, you can preview and select the files you would like to recover. For example, for ZTE photo recovery, you should choose "Photos" category, select the pictures you need and then click on "Recover" button to have them all back to your computer.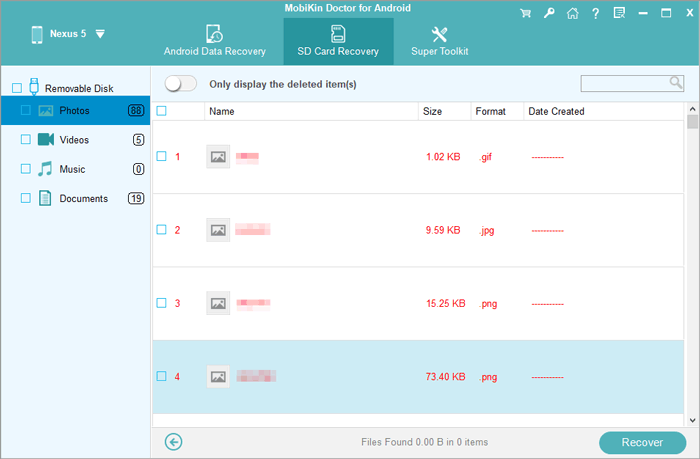 Part 3. ZTE Data Recovery from Google Drive Backup
We all know that Android phones have limited memory, so many users have turned their attention to cloud storage. Google Drive is an ideal cloud storage, providing 15GB of storage space for users to save mobile phone data (see how to back up your Android phone to Google account). If you have the habit of backing up your ZTE phone to Google Drive, then congratulations, you can now easily restore the lost data from Google Drive backup to your ZTE phone by following the steps below.
Steps of ZTE data recovery from Google Drive backup:
Connect your ZTE phone to a stable WiFi network and launch Google Drive app.
Search to find the lost files that you want to recover in the Drive storage.
You can click and hold the files to select multiple files at once.
After you have selected all the files you need, you can go to the right side of the screen to click the menu button (the three vertical dot icon), and then select the "Make Available Offline" option or "Download" option to save the recovered files to your ZTE device.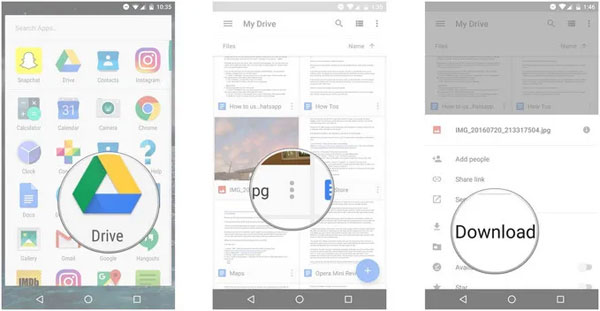 Can't Miss:
Part 4. ZTE Data Backup & Restore on Computer
Backing up your phone is an essential method to ensure that you do not lose important ZTE data. In addition to the above method of backing up ZTE phones to cloud storage, we can also use a third-party backup and restore tool - MobiKin Assistant for Android, to back up ZTE phone to a computer, and then easily restore to the phone when needed. This kind of backup method does not take up your phone's memory and does not require a network connection.
OK, now let's start the second backup method-backup ZTE phone to computer by using Assistant for Android. This software supports selective backup and also supports one-click backup of the entire ZTE phone, depending on your choice. With a few simple clicks, you can back up messages, contacts, photos, videos, call logs, apps, and everything else on your ZTE phone to your PC or Mac. Then, you can also use this tool to restore these backup data to your phone with one click.
How to backup and restore ZTE phone data with the help of Assistant for Android?
Step 1. Install and launch Assistant for Android on your computer. Use a USB cable to connect your ZTE phone to the computer and the program will instantly detect the connected ZTE phone.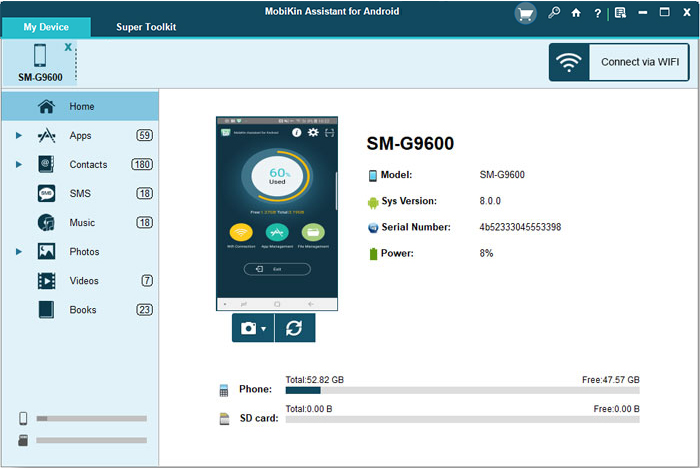 Step 2. Backup ZTE phone to computer by choosing "Super Toolkit" > "Backup". Select the file types you want to backup and click "Back Up" button.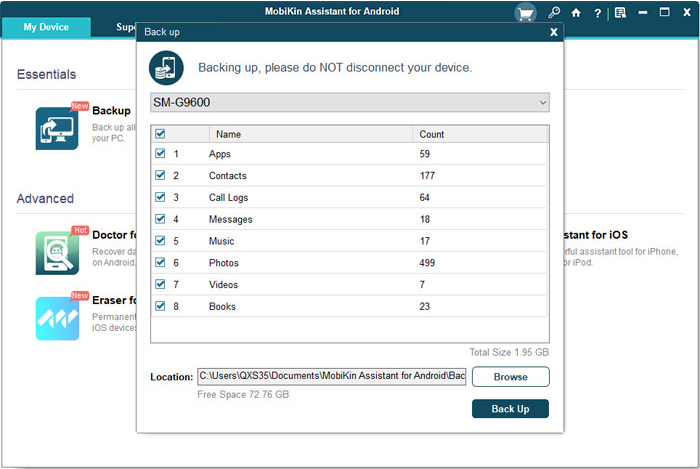 Step 3. Restore ZTE phone from backup by choosing "Super Toolkit" > "Restore". Select the file types you want to restore and click "Restore" button.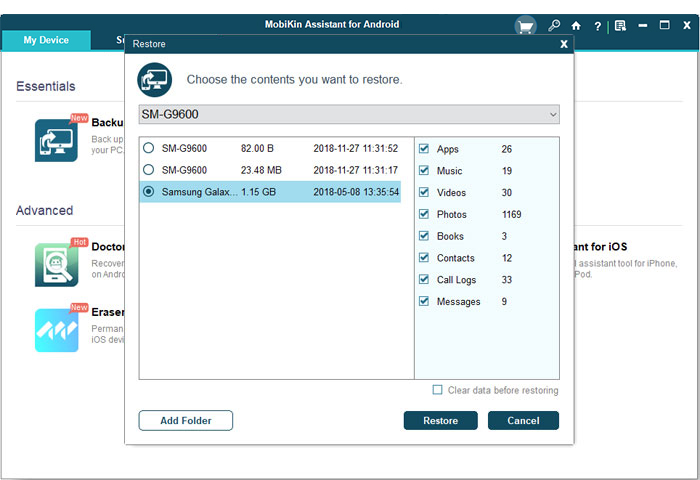 Conclusion
Above, we not only explained how to recover deleted data from ZTE phones, recommended the most reliable ZTE data recovery software, but also introduced two of the most typical methods of backup ZTE phone. I believe that just reading this article can solve all your doubts. Of course, if you have any other questions or suggestions, just let us know in the comments below.
Related Articles
How to Fix Samsung Black Screen of Death? 12 Solutions Here
[2021 Update] How to Recover Deleted Camera Photos from Android
Top 9 Video Recovery Apps/Software for Android [Free & Paid]
How to Recover Data from Water Damaged Android Phone or Tablet?
How to Access Phone with Broken Screen with PC Easily & Safely?