5 Ways on How to Read/See WhatsApp Messages from Another Device
Accessing and managing WhatsApp chats from multiple devices has become increasingly common. Whether it's for the convenience of switching iPhones/Android phones, monitoring your child's activity, or ensuring important chats are never missed, you might need to see WhatsApp chats from another phone/tablet instantly.
Well, we shall outline five smart and effective ways tailored to figure out how to read WhatsApp messages from another device, ensuring you're always in control of your conversations. But before proceeding, let's see what makes this matter urgent.
Part 1: Why Read WhatsApp Messages from Another Device?
People may want to read WhatsApp messages from another device for various reasons, including:
Backup: Reading messages on another device can serve as a backup, ensuring that important conversations are not lost if one device is lost or damaged. (How to reduce WhatsApp storage on iPhone/Android?)
Convenience: Having access to messages on multiple devices can be more convenient, especially when switching between a smartphone, tablet, or computer.
Privacy and Security: Some individuals may want to monitor their own messages or the messages of their children or loved ones to ensure their safety and security.
Work and Personal Life Separation: Reading messages on a separate device can help individuals maintain a clear boundary between their work and personal life.
Accessibility: Using a larger screen or a device with accessibility features can make it easier for some people to read and respond to messages.
Pertinent Articles:
Part 2: How to Read WhatsApp Messages from Another Device by Linking the Account to It
When you have physical access to the target phone, you can open WhatsApp on the web or desktop using your own device and scan the displayed QR code. This action links the WhatsApp account from the specific device to yours, granting you the ability to remotely view WhatsApp data.
How to read others WhatsApp messages on Android/iPhone by linking your account to the device?
Start by opening the WhatsApp app on the second device and tap on "More".
Choose "Link a Device", and a QR code will appear on the screen.
Now, on your main phone, open the WhatsApp app, tap the three-dot menu, and select "Linked Devices".
Select "Link a Device" to scan the QR code displayed on the other screen.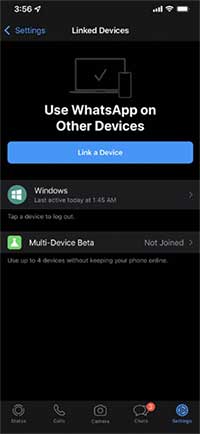 Part 3: How to See Others' WhatsApp Chats in Your Phone via WhatsApp Web
WhatsApp Web is a service offered by WhatsApp developers for users who want to access their WhatsApp accounts via a web browser. This method allows you to effortlessly access the WhatsApp account of your target user, enabling you to review messages, audio, videos, status updates, and even listen to calls. Plus, it also lets you view WhatsApp chat history on your PC.
How to see someone's WhatsApp chats using WhatsApp Web?
Launch WhatsApp on your device and access the Desktop version via the settings.
A QR code will be displayed on your screen.

Take the target user's mobile phone and open WhatsApp.
Navigate to settings and select the "QR code" option.
Choose "Scan Code" and scan the code displayed on your own device.
This will grant you automatic access to the target user's WhatsApp account, allowing you to read messages and view status updates without any issues.
You Might Also Enjoy:
Part 4: How to See Others' WhatsApp Messages in Your Phone via a WhatsApp Monitoring App
As a robust monitoring application, mSpy includes built-in WhatsApp monitoring features. Primarily created for parents to supervise their children under the age of 18, this tool offers a convenient way to access and review their private conversations. Here's how to read WhatsApp messages from another device via this app:
Without your awareness, someone installs mSpy on your mobile device.
Whenever they wish to access your messages, they can effortlessly log in to their personal mSpy account.
By selecting WhatsApp from the left navigation bar, they gain access to all your WhatsApp conversations, including text and images.
To use mSpy for monitoring, the individual seeking access must install it on your device. Therefore, physical access to your phone is required unless you own an iPhone. In that case, if they possess your iCloud credentials, they can access your data without needing physical access to your device.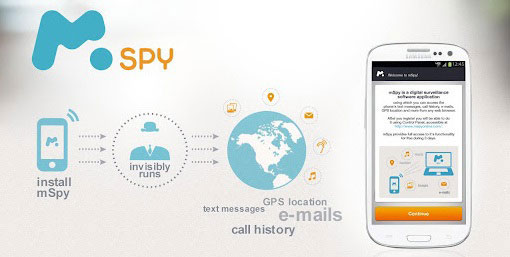 Part 5: How to See Someone's WhatsApp Chats by Restoring from a Backup
WhatsApp users on Android can utilize services like Google Drive to store their backup data, which can be used to access another user's WhatsApp data or read their messages. To successfully employ this method, you will require the target cell phone, a SIM card, and the device's unlock password. Additionally, you may need the Google account details of the person you intend to monitor.
How to see others' WhatsApp chats in your phone by restoring them from a Google backup?
Begin by creating a Google backup of the targeted person's WhatsApp account. (Can I transfer WhatsApp backup from Google Drive to iCloud?)
Sign in to that same account on your device.
Remove WhatsApp from the device, then proceed to download and reinstall it.
Accept the Terms and Conditions and provide the mobile phone number.
When prompted by WhatsApp to restore chats from a backup, enable this option and adhere to the on-screen guide to complete the restoration.

You can now access and review the deleted WhatsApp messages of the target person, carefully examining them for any potential risks or concerns.
Part 6: How to Read WhatsApp Messages from Another Device by Copying Them Across
Certain methods for accessing WhatsApp may not be effective, especially when dealing with old and new phones that use different operating systems. To effortlessly read WhatsApp messages from another device, you can seamlessly transfer them under any circumstances using a specialized tool like WhatsApp Transfer. This program is compatible with a wide range of computers and mobile devices, ensuring you can comfortably view others' WhatsApp chats with complete satisfaction.
What benefits can you derive from WhatsApp Transfer:
Let you easily read WhatsApp messages from another device powered by Android/iOS.
Swiftly transfer WhatsApp chats to a different phone or tablet.
Seamlessly copy WhatsApp conversations between Android to Android, Android to iPhone, iPhone to Android, and iPhone to iPhone.
Efficiently back up LINE, Viber, WeChat, and Kik chats.
Work well with almost Android and iPhone devices, including iPhone 14/14 Plus/14 Pro (Max), iPhone 13/13 Pro (Max)/13 mini/12/12 Pro (Max)/12 mini, iPhone 11/11 Pro/11 Pro Max, iPhone X/XR/Xs/Xs Max, iPhone 8/8 Plus, iPhone 7/7 Plus, iPhone 6/6S/6 Plus, iPod touch, iPad, Samsung Galaxy, Motorola Moto, Google Pixel, Sony Xperia, Huawei, LG, Xiaomi/Redmi, HTC, etc.
It won't let out your privacy.
As we mentioned earlier, WhatsApp Transfer works seamlessly on both Apple and Android devices. Below, we will introduce how to transfer WhatsApp chats between iPhones with this tool before you can effortlessly read WhatsApp messages from another device:
Step 1. Start by downloading and installing the software. Launch the program and select the "WhatsApp Transfer" module from the main interface.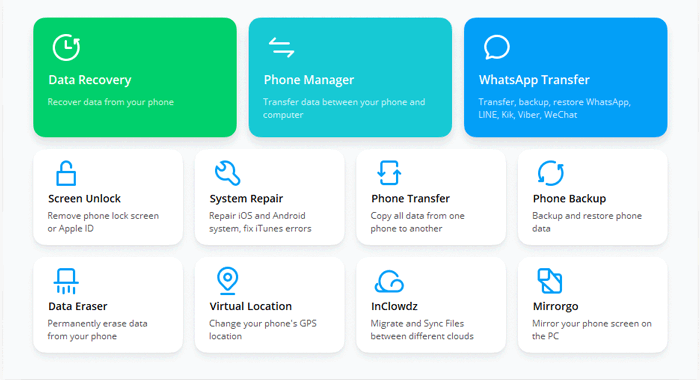 Step 2. On the left sidebar, go to the "WhatsApp" tab and choose the "Transfer WhatsApp messages" option. Following this, connect both of your iPhones to the computer via USB, and the software will detect them automatically.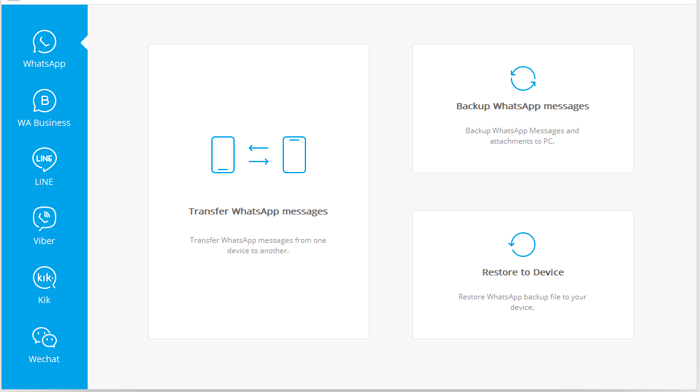 Step 3. Ensure the devices are correctly positioned: the old iPhone should be the source device, and the new iPhone should be the destination one. If they are not in the right order, click the "Flip" button in the middle of the interface.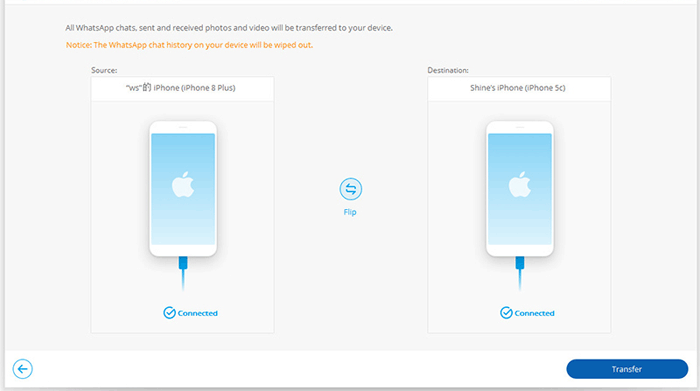 Step 4. Click "Transfer" to begin the transfer of WhatsApp messages from one iPhone to another. Once finished, disconnect both iPhones from the computer and access the transferred WhatsApp data on the recipient.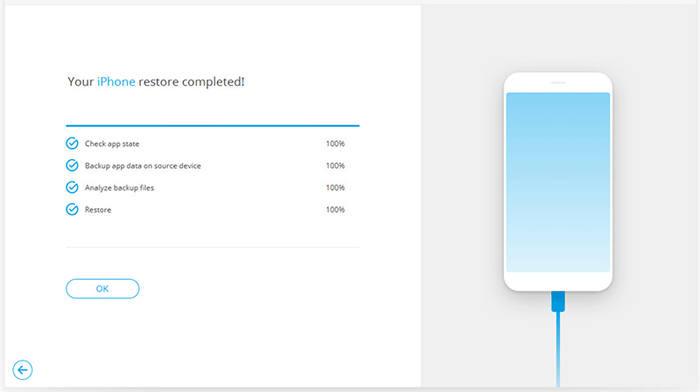 Extra Tips for Reading WhatsApp Messages from Another Device
Tip 1: How to read WhatsApp messages of others secretly?
To discreetly read WhatsApp data, you can wait for a message notification to appear on your smartphone. (WhatsApp notification not working?) Instead of swiping the notification away, you can long-press it to view the message directly from the notification.
Tip 2: How to tell if someone saw my WhatsApp messages from another device?
Determining if someone has read your WhatsApp message from another device can be a bit challenging. Some key indicators include:
Blue Ticks: Two blue ticks indicate the message was read.
Last Seen: A recent "Last Seen" update suggests activity.
Online Status: If they're online after your message, they might have read it.
Delivered Status: One gray tick turns into two blue ticks when read.
Typing Indicator: "Typing..." means they're composing a response.
Chat Wallpaper Changes: A switch in wallpaper could signal device change.
Tip 3: How to see WhatsApp chats by spoofing the phone's MAC address technically?
For advanced internet users seeking a challenge, it's possible to access someone's WhatsApp by spoofing their phone's MAC (Media Access Control) address. This involves copying the address from the target device's settings to your own phone, installing WhatsApp, and configuring it with the target person's number. You'll receive an authentication code to verify your WhatsApp account, granting you access to the target user's messages on another device.
Tip 4: How to secure my WhatsApp messages?
Use WhatsApp's App Lock: Enable PIN, fingerprint, or facial recognition for added security.
Enable Two-Step Verification: Add an extra layer of protection.
Try Disappearing Messages: Automatically delete messages after a specific time.
Use Security Code Notifications: Get alerted if someone scans your QR code to link another device.
Log Out after Use: Prevent unauthorized access by logging out.
Set Strong, Unique Passwords: Avoid common phrases for better security.
Avoid Public Wi-Fi: Protect your messages by not using public Wi-Fi networks.
Keep the App Updated: Regularly update for the latest security patches and fixes.
Tip 5: Can anyone see my deleted WhatsApp chats?
It's possible! When you delete a message, it is erased from both your device and the recipient's device. Nevertheless, it's crucial to keep in mind that if someone has captured a screenshot or created a backup of the conversation, they could still retain access to it.
In Closing
Hopefully, we helped you set the stage for an informative and engaging guide on reading WhatsApp messages from another device! Now, viewing WhatsApp chats remotely is no longer a challenge, all thanks to these smart methods.
Most notably, if you can keep both devices in hand at the same time, we would recommend you pick WhatsApp Transfer to copy the chats first. Then, you'll enjoy the convenience of accessing conversations wherever and whenever needed. Finally, please let us know below if there's anything else we can assist you with.
Related Articles:
How to Access WhatsApp Backup on Local, Google Drive, iCloud, etc.?
Where Is WhatsApp Backup Stored on Different Platforms? [Exact Locations]
How to Recover 1-year-old WhatsApp Messages without Backup? (iOS & Android)
A Complete Guide on WhatsApp Local Backup [Several Tricks Most People Don't Know]
6 Quick Ways to Restore WhatsApp Backup with/without Uninstalling [2023]