6 Quick Ways to Restore WhatsApp Backup with/without Uninstalling [2023]
WhatsApp has become an indispensable part of our lives, serving as a repository for countless conversations and memories. However, there are instances where we might need to restore WhatsApp backups without going through the hassle of offloading the app. So, wonder how to restore WhatsApp backup without uninstalling? Thankfully, we can achieve this in the absence of uninstalling through three effective methods. Beyond that, this page also covers how to get WhatsApp backup after uninstalling.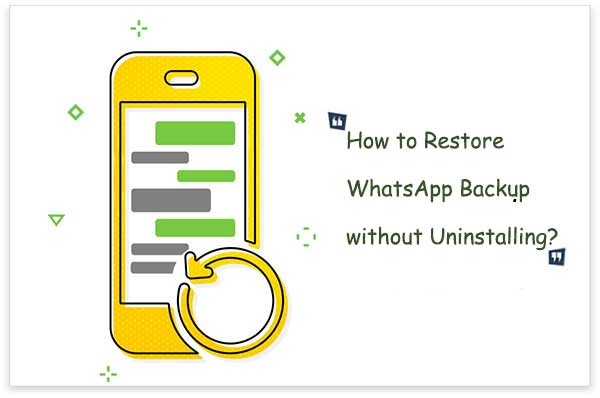 Part 1: Can I Restore WhatsApp Backup without Uninstalling?
Yes, it's possible to restore WhatsApp backups without uninstalling, though not officially. Typically, there are three ways to restore WhatsApp backups: WhatsApp Local Backup, Google Drive Backup for Android, and iCloud Backup for iPhone. Unfortunately, all these methods require uninstalling and reinstalling WhatsApp, which can be a tedious process. However, there are alternative methods to figure out how to get backup on WhatsApp without technical hassle, as explained in the following. So, please move on to find out more!
You Could Also Discover Satisfaction in:
Part 2: How to Restore WhatsApp Backup without Uninstalling on Android
Do you require a method to restore WhatsApp backup on your computer without uninstalling? Or perhaps you're seeking a way to recover WhatsApp data from an Android device even without a backup? Well, here's a solution for you. Utilizing MobiKin Recovery for WhatsApp, you can effortlessly recover WhatsApp messages and attachments whether you have a backup or not. Before delving into restoring WhatsApp chat backups, let's take a brief overview of this tool.
What makes MobiKin Recovery for WhatsApp stand out:
Restore messages and attachments from WhatsApp backups.
Recover WhatsApp chats directly without any backup.
Retrieve content from the Android phone's internal memory, SIM card, and SD card.
Process and restore WhatsApp messages, images, videos, audio, stickers, documents, links, and more.
Allow you to view and pick specific items for recovery.
Get along well with almost all Android devices, covering Samsung, Huawei, Sony, DELL, Motorola, Xiaomi, LG, Google, OPPO, OnePlus, etc.
It won't let out your privacy.
How to get WhatsApp backup without uninstalling via Recovery for WhatsApp?
Step 1. Start the software and link Android to a computer
Install and launch Recovery for WhatsApp on your computer. Connect your Android device to the system via USB. The program will detect the connected phone automatically. Next, choose "Recover from Android Device" mode.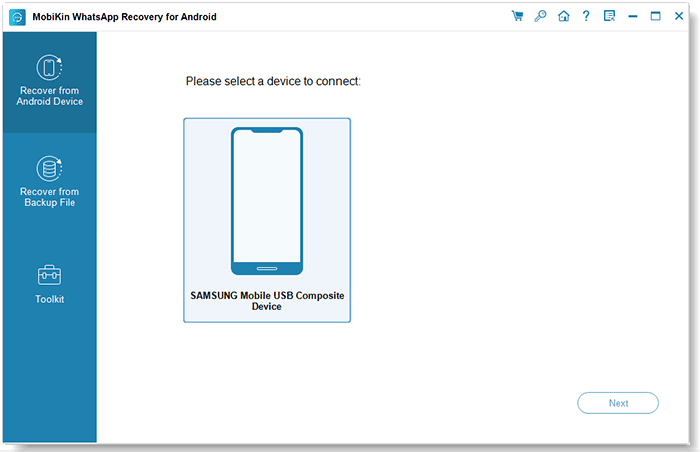 Step 2. Back up WhatsApp conversations on your computer
When prompted, enable USB Debugging on your Android device. A window will appear asking you to activate end-to-end encryption for your WhatsApp backup.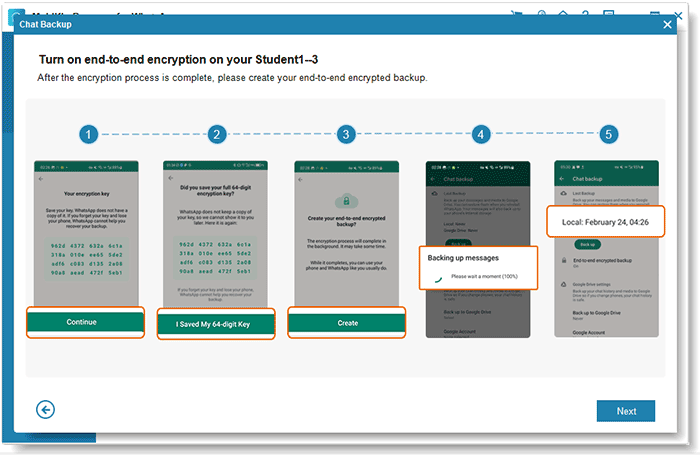 Step 3. Check WhatsApp data for a scan
After backing up, pick the data types you want to restore. Subsequently, Check "WhatsApp"/"WhatsApp Attachments" to scan all WhatsApp and its attachments.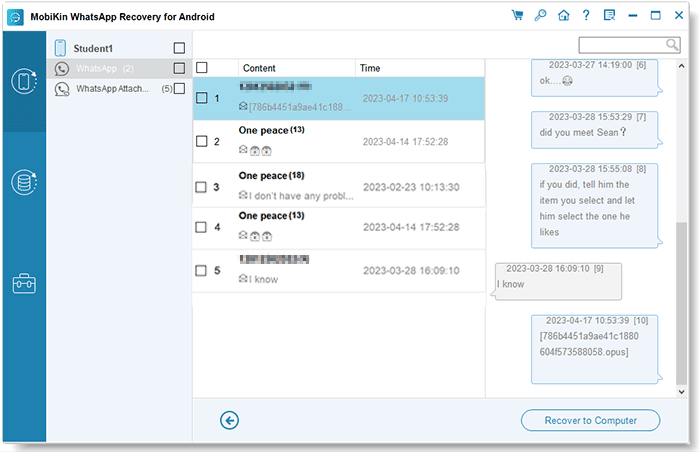 Step 4. Restore content from WhatsApp backup
Preview and choose the WhatsApp files you want to recover. Finally, click "Recover to Computer" to save them on your computer.
Part 3: How to Restore WhatsApp Chat Backup without Uninstalling on iPhone
Utilizing MobiKin Doctor for iOS becomes advantageous when you possess an earlier iTunes backup and seek to recover selectively deleted or lost WhatsApp data. This intelligent tool empowers you to preview and recover deleted data from iPhone with/without backups, all without the need to uninstall WhatsApp.
It offers three recovery modes, encompassing the retrieval of data from iCloud backup files as well. Plus, it efficiently handles various data types such as WhatsApp, WhatsApp attachments, contacts, messages, notes, Safari data, books, calendars, voice memos, camera roll content, photos, music, and much more.
How to restore WhatsApp chat history without uninstalling using MobiKin Doctor for iOS?
Step 1. Begin by downloading and installing the software on your computer. Launch it and choose the "Recover from iTunes Backup File" option on the left. The program will detect all iTunes backup files present on your computer.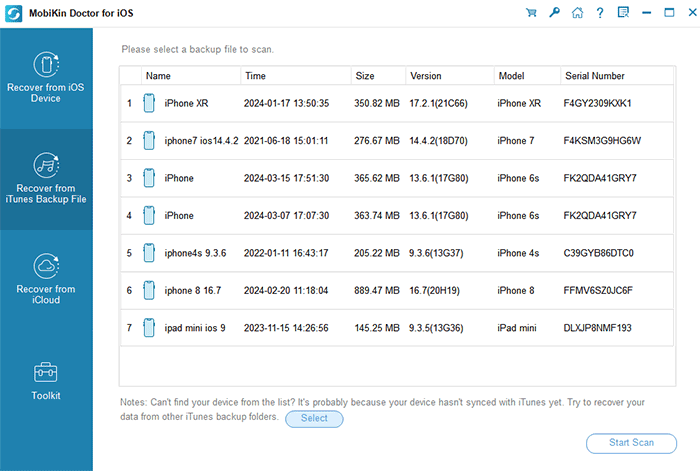 Step 2. Choose the specific iTunes backup file that contains your missing data. Click "Start Scan" to display all recoverable file types. Then, select "WhatsApp" or "WhatsApp Attachments" and hit "Start Scan" to search for the lost chats.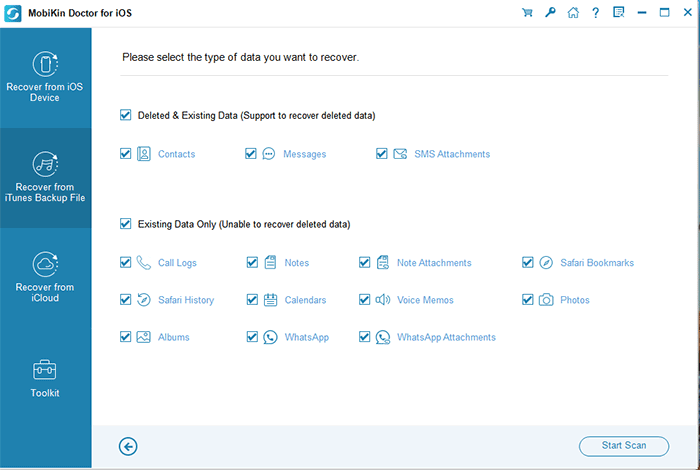 Step 3. Preview the WhatsApp data that's been found and select the items you wish to recover. Finally, click "Recover to Computer" to store them on your computer. That's it!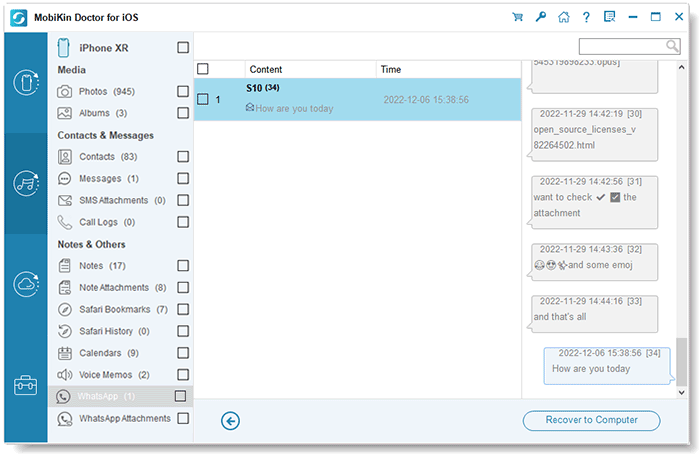 In-depth Exploration:
Part 4: How to Restore WhatsApp Chat without Uninstalling via iTunes
This approach assumes you have a backup in iTunes. But please note that iTunes takes a while as it involves restoring the complete backup, not just WhatsApp. Further, the backup overwrites prior device data, possibly resulting in the loss of non-backed-up files.
How to download WhatsApp backup without uninstalling by iTunes?
Link your iPhone to the computer using USB cables, and if it doesn't open automatically, launch iTunes.
Click on the "Summary" tab on the left side, then opt for "Restore Backup". (How to check WhatsApp backup on iTunes?)

Select the most recent backup you've made, and proceed by clicking "Restore".
The restoration will commence, and once it's finished, your WhatsApp data will be restored on your device.
Part 5: How to Restore WhatsApp Backup in Other 3 Ways (Need Uninstalling)
Way 1: Use Local Backup (Android)
Once you've created a local backup in WhatsApp, restoring media files and chat history becomes straightforward. For local backup restore, just copy media files to a new device using a file explorer, computer, or SD card.
How to download backup of WhatsApp on Android via local backup?
Back up WhatsApp to local storage and access it through a File Manager app.
Navigate to your device's storage and find the WhatsApp folder.
Go to "Databases" or "SD card" > "WhatsApp Databases". This is where the backup is stored.
Optionally, rename the backup file for easier identification.
Change from "msgstore.db.crypt12" to "msgstore-YYYY-MM-DD.1.db.crypt12".
Uninstall WhatsApp if it's already installed, and reinstall it from the Google Play Store.
After reinstalling, verify your contact details.
The app will check for existing backups. Then click "RESTORE" to retrieve data as prompted.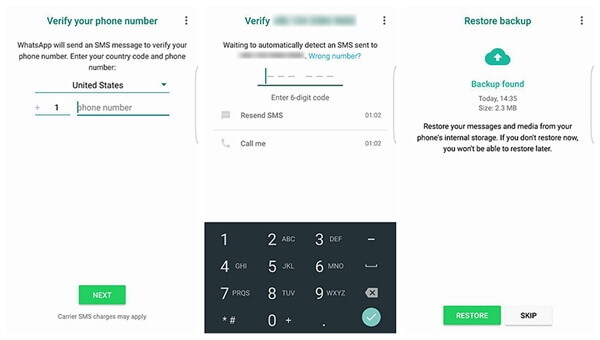 Way 2: Use Google Drive Backup (Android)
Wonder how to restore WhatsApp backup from Google Drive without uninstalling it? Unfortunately, you cannot fulfill this directly. That is, you have to reinstall WhatsApp before regaining the WhatsApp backup. Similar to iTunes, this method requires your device to be backed up on Google Drive for it to function.
How to get WhatsApp backup restored on Android with Google Drive?
Remove WhatsApp from your device and then reinstall it.
Open WhatsApp and confirm your phone number by entering the 6-digit code received via text.
WhatsApp will alert you about existing backups on Google Drive.
Just tap "RESTORE" to recover your WhatsApp backup from Google Drive onto your Android device. (How to restore WhatsApp backup from Google Drive to iPhone?)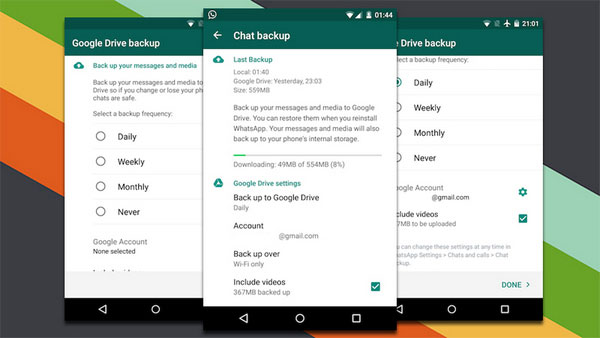 Way 3: Use iCloud Backup (iPhone)
To employ iCloud backup for restoring WhatsApp data on an iPhone, it's essential to confirm the presence of an existing iCloud backup. Subsequently, adhere to the requirements prior to restoring chats through iCloud:
Ensure you're logged into iCloud using your Apple ID and activate iCloud Drive.
Confirm that your iPhone possesses ample storage space, preferably around double or more than your iCloud account's storage size.
It's imperative to employ the same account for both restoring and backing up WhatsApp chats.
How can I restore my WhatsApp chat on iPhone from iCloud backup?
Check by navigating to "WhatsApp" > "Settings" > "Chats" > "Chat Backup".

If the backup is confirmed, uninstall and then reinstall WhatsApp from the App Store.
After logging in and verifying your account, follow the on-screen prompts to restore your chat records.
Part 6: FAQs on WhatsApp Chat Backup Restore
Q1: Where are the WhatsApp backups stored?
WhatsApp backups for Android devices are kept within Google Drive, while iPhones store their backups in iCloud. Additionally, on Android devices, local backups are stored in the directory /sdcard/WhatsApp/. (Where are WhatsApp messages stored?)
Q2: Why can't I restore my WhatsApp from Google Drive?
Utilizing a different phone number or Google account than what was used during backup creation.
Insufficient storage space on your Android device.
Low battery level on your phone.
Poor Internet connection leads to WhatsApp's inability to restore messages.
A missing WhatsApp backup or accidental deletion of chat history.
Q3: How long will the deleted WhatsApp messages stored?
WhatsApp does not retain messages on its servers; once a message is delivered, it's removed from the servers. If a message remains undelivered, WhatsApp stores it for up to 30 days. When the recipient reconnects to WhatsApp, the pending message is then delivered to them.
Round Off
Well, it's time to wrap up this passage. Knowing how to employ 6 ways to restore WhatsApp backup with or without uninstalling, you may grasp the main idea of the post:
MobiKin Recovery for WhatsApp presents a direct and flexible avenue to get your WhatsApp conversations back on Android without uninstalling.
A local backup or Google Drive backup lets you download Android WhatsApp backup from within. But you have to uninstall and reinstall the app.
iCloud empowers you to get WhatsApp backup by reinstalling the tool with ease. However, you may lose other vital files saved on your iPhone previously.
If you have a backup of your iPhone in iTunes, you can just restore WhatsApp backup without uninstalling it directly. But you have to recover the entire backup, and it'll overwrite the existing data on your device. On the contrary, MobiKin Doctor for iOS can effectively overcome these limitations to make you comfortable.
Related Articles:
4 Widely-used Ways to Send Fake Live Locations on WhatsApp for Android/iOS
10 Most Brilliant Ways to Reduce WhatsApp Storage on iPhone/Android
4 Straightforward Ways to Move WhatsApp to SD Card [Most People Don't Know]
How to Restore WhatsApp Backup from iCloud to Android [3 Easy Methods]
How to Transfer WhatsApp Stickers to New Phone (Android/iOS)?
WhatsApp Downloaded Failed? Here Are 20 Solutions to Fix It!