How to Import CSV Contacts to Android Devices with Clicks?
What is a CSV file? CSV is short for comma-separated values as well as character-separated values. A CSV file stores tabular data containing numbers and text in plain-text form. And plain text means that the file is a sequence of characters, with no data that has to be interpreted as binary numbers. A CSV file consists of any number of records, separated by line breaks of some kind; each record consists of fields, separated by some other character or string, most commonly a literal comma or tab. And CSV is a common file format that is widely supported by consumer, business, and other applications. Among its most common uses is moving tabular data between programs that natively operate on incompatible which are often proprietary or undocumented formats. This works because many programs support some variation of CSV at least as an alternative import/export format. How to import CSV contacts to Andriod phone or export Android contacts to CSV format files?
In fact, once you have a CSV formatted file containing your contacts, you can import it into your Gmail on your Android phone, right? So we will show you the way to transfer CSV contacts to Android phone in the next chapter. As for exporting the contacts to CSV file, the powerful MobiKin Android Contacts Transfer (Windows & Mac) can perfectly meet your need. With it, you can export Android contacts to CSV format and save the CSV files on your computer as backup. In addition, you also can manage the contacts on your computer in this software. Apart from contacts list, other data including apps, music, videos, photos and files can be transferred from Android devices to the computer. Both the Windows version and Mac version are available now and you can download the right one to install it on your computer and start to export Android contacts and other data to the computer.
How to Transfer CSV Contacts from Computer to Android Device?
Here are the steps to import CSV contacts to Android phone:
Step 1. Get a Gmail account and then sign in to Gmail.
Steo 2. Click Contacts (located below your list of views, usually on the bottom, left) on any Gmail page.
Step 3. Click Import in the top portion of the Contact Manager.
Step 4. Click the Browse or Choose File button and locate the CSV file you'd like to upload.
Step 5. Select the file and click the Import button.
Note: Once you've successfully uploaded the document, Gmail will display the number of contacts imported, as well as any duplicates or contacts that could not be imported.
Extra: How to Export Android Contacts to CSV File?
You can download a free trial version of the software we mentioned above on you computer and follow the instructions below to export Android contacts to CSV format file and save them on PC.
Step 1. Enable USB Debugging of Your Android Device
For different Android operating systems, you can enable USB debugging by following the next steps.
1) For Android 2.3 or earlier: Enter "Settings" < Click "Applications" < Click "Development" < Check "USB debugging".
2) For Android 3.0 to 4.1: Enter "Settings" < Click "Developer options" < Check "USB debugging".
3) For Android 4.2 or newer: Enter "Settings" < Click "About Phone" < Tap "Build number" for several times until getting a note "You are under developer mode" < Back to "Settings" < Click "Developer options" < Check "USB debugging".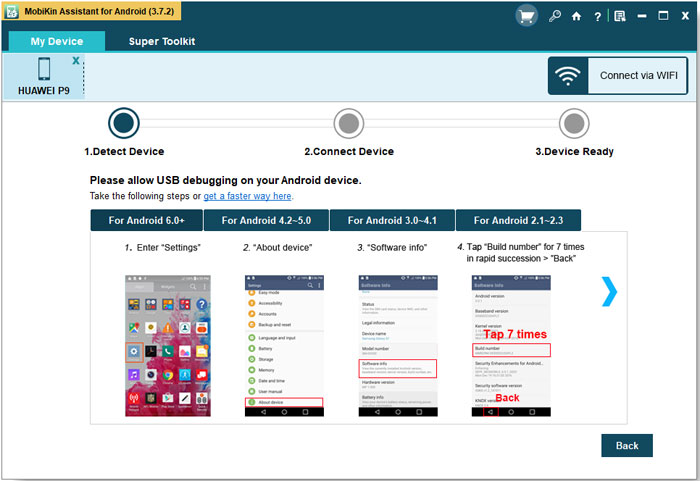 Then, you can tick "USB debugging opened" and click "Next" to install USB driver on your computer.
Step 2. Go Through the Data on Android Phone
When the program finishes detecting and scanning your Android phone, you'll see a window like this. Then you can go through the data on the main interface.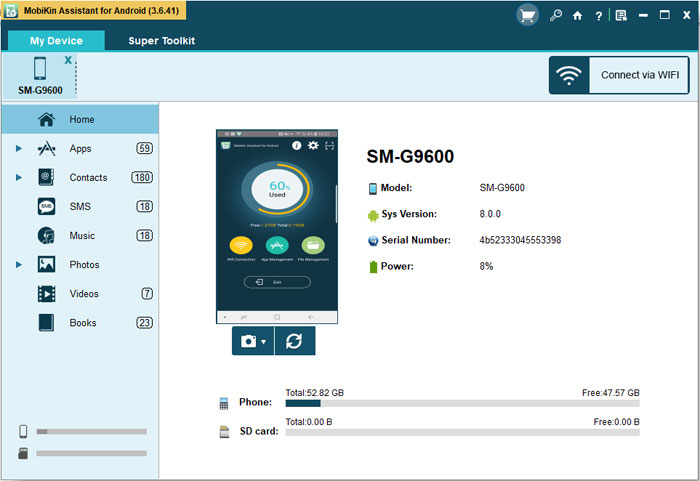 Step 3. Import CSV Contacts to Android Phone
Then you can choose the "Contacts" and click "All Contacts" on the right panel. Then you can mark the contacts and click "Backup contacts" to export Android contacts to CSV format and save them on the computer as you wish. You can also add new contacts and delete the duplicate ones on the main interface.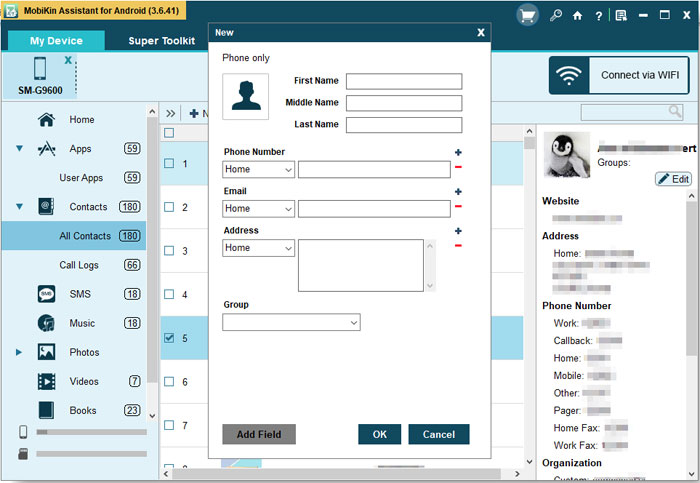 Note: Besides, the software allows you to transfer other Android data to computer such as apps, music, photos, videos and files, etc. Click the blue icons below to try this program.
Related Articles

Tips to Transfer Text Messages from Android to Computer
How to Manage Motorola Cell Phone Data with Motorola PC Suite Alternative
How to Transfer Contacts from Android to Computer