How to Import CSV Contacts to Android Phones with Simple Clicks?
CSV offers an intuitive and simple graphical user interface, so many enterprises and individual users choose this file to save important info like contacts in case of local file incompatibility. Namely, it is able to conduct the movement of table data between two programs, for it can be easily viewed and edited in Excel, Notepad, word or other text editor (by the way, you can save a new file first and then open it on Excel).
To this end, how to import CSV contacts to Android phone is a question that many people want to know. The following will decrypt for you. But before that, let's get to know what a CSV file is.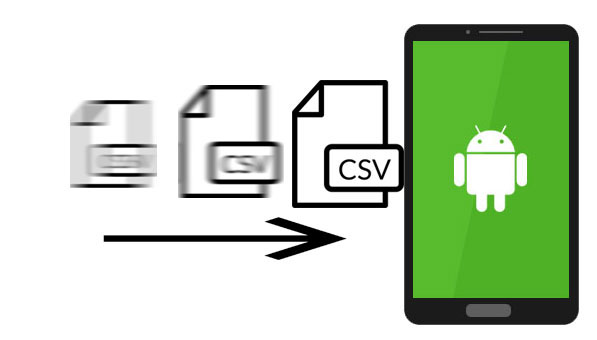 Part 1: Get to Know CSV File before We Import Contacts to Android from CSV
What is a CSV file? It is an abbreviation for comma and character separated values, which contains numbers and text data in a plain text table. That means the file is a sequence of characters (thousands of lines, entries, or long text strings) that are stored in binary form. CSV file consists of many records separated by line breaks and each record includes fields separated by characters or strings such as text commas or tabs. Many programs support some variants of CSV, at least as an alternative "import/export" format. That is, the database program can export the data as "CSV", and then these exported files can be imported by the spreadsheet program.
In general, the beginning of CSV file is not left blank with "line" as the unit. Often, multiple data of the picture are recorded in each line, and each file is separated by comma. On the whole, the format of the ".CSV file" used for set graph is as follows: file name, file size (in bytes), CRC check value, comment (can be omitted).
Part 2: How to Import Contacts to Android from CSV File Using Gmail Account
Many people will take Gmail account to backup and restore mobile files (it has expanded its space from 5GB to 15GB in recent years). Of course, with its backup function, you can transfer CSV contacts to your Android phone effortlessly. To try this method, you must first have a Gmail account before hand and need to upload the CSV file to your Gmail account. Then synchronize these accounts to your Android phone.
Let's see the steps to import contacts to android from csv with Gmail Account:
Step 1. Open the browser on PC to log in Gmail account from Gmail page. Then click "Gmail" icon to select "Contacts" to choose your need contacts from its pull-down menu.
Step 2. Tap "More" > "Import" > "File" from a pop-up window to find SCV file. Choose the files to hit "Open" > "Import" to upload CSV to Gmail account.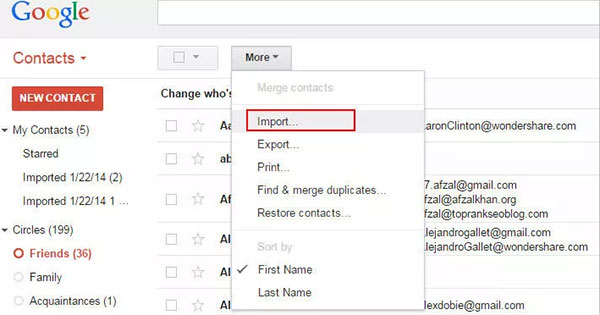 Step 3. Sign in Google account on your Android and navigate to "Settings" > "Accounts & sync". Next, choose "Sync
Contacts" > "Sync now" to import CSV contacts to your Android device. After that, all the contacts will be sent to your Android phone.
Tips: "How do I open a CSV file on Android device?" If you have this problem, go to "Play Store" app from your Android to search for "CSV Viewer". Then, install it on your Android phone and open it to get to your device storage directory that houses all of the CSV files.
Can't Miss:
Part 3: How to Import Contacts from CSV File to Android Directly
At last, you can import an excel CSV file with comma separated values into the phone book by creating it first, and then change its format to import to Android. But this process needs help from Google Drive. The advantage of this way is that it can store a large number of contacts. However, its disadvantage is also obvious - it is probably troublesome and takes up a lot of your time, coupled with requiring file format conversion and multiple import and export process.
This process generally involves the following steps: create an Excel CSV file if you've no file with this file format > change into a vCard file > upload it to Google Drive > download to Android device > add to contacts app or Phone Directory:
Now, how do I import contacts from Excel to Android?
Step 1. Open an Excel document on your computer and click blank workbook to create a new sheet. Then, you should type your contact table as below.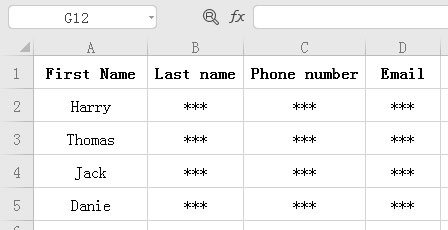 Note: On Windows PC, select CSV UTF-8 (Comma delimited) (*.csv) in drop-down list from the Save as type. While on your Mac computer, choose "CSV" under "Format".
Step 2. Tap "More" > "Import" on the left to select "CSV" or vCard file. Then, choose your selected files to click the "Open" button. Later, click "Import" according to the hint. After selecting files, tap "Import" and check the contacts list whether the files are imported successfully. Later, click "Export" to change Excel CSV file to vCard file that is available for Android.
Step 3. Download, install and start Google Drive on your Android. Then log in Google account to choose "+" > "File upload" to see the vCard you've uploaded. Tap "vCard file" to select "Download" to see the menu list. Soon, these data will be in the download folder on your Android.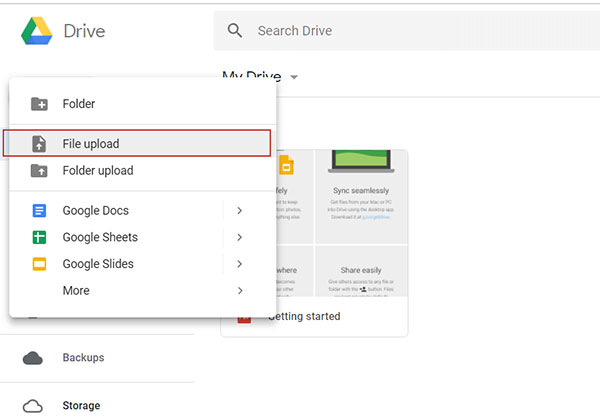 Step 4. Open "Contacts" app on your Android and press "More" with three dots icon. Then choose "Settings" > "Import/Export contacts" > "IMPORT" and choose "Internal storage" > "Phone" to opt for the vCard files. Next, click "Import" again to import CSV to Android device.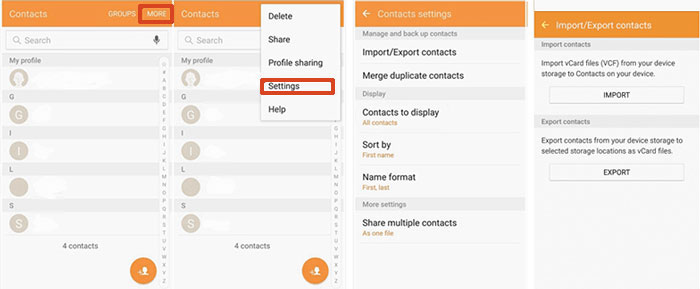 Notice: With different versions of android phones, there are subtle differences in operating details. For instance, for Samsung Galaxy or Note series, "vCard file" (in "step 4") can be selected automatically after "Internal storage" is chosen.
Part 4: How to Import Contacts to Android with MobiKin Assistant for Android
(VCF, Outlook, etc.)
Apart from CSV, your contacts may be saved in other file formats like vCard file (.vcf), Outlook, etc. Then, the first method I would like to recommend is using MobiKin Assistant for Android (for Windows & Mac). Being the leader of Android management software, it can easily help to import contacts to Android phone. In addition to the data export and import feature, it can also back up and restore your Android phone data without quality loss.
Specifically, what are the key merits of this program that deserve your trust? Here they are:
Move all your Android contacts to computer and save them as HTML, VCF, CSV, BAK, Outlook or XML format.
Export phone data like contacts, text messages, call logs, apps, photos, music, movie, books, etc. from Android phones or tablets to computer, and import them back to your phone easily.
Mass resend, forward, copy, delete and send text messages on your computer.
Capture phone screen and save the screenshot on your computer within 1 click.
Install or uninstall APK files on Android mobile through desktop computer in a breeze.
Can be connected to your computer via both USB cable and WiFi, and offer quick, clean and safe file transfer.
Get along well with practically all Android phone with the latest version, covering Samsung A51/S20/S10, LG G8/G7/G6/G5, Huawei P40/P40 Pro/P30, OPPO Ace 2/Find X2/Reno 3, Motorola P50/P30/Z2, Sony Xperia 5/4/XZ, etc.
Here's how to import contacts to Android with MobiKin Assistant for Android on Windows PC. If you have a Mac user, download the Mac version and follow similar steps.
Step 1. Download a free trial version of MobiKin Assistant for Android and install it on your computer. Then launch it and connect your Android phone to computer to see the primary window. Now, enable USB debugging on your phone and install USB driver as prompted.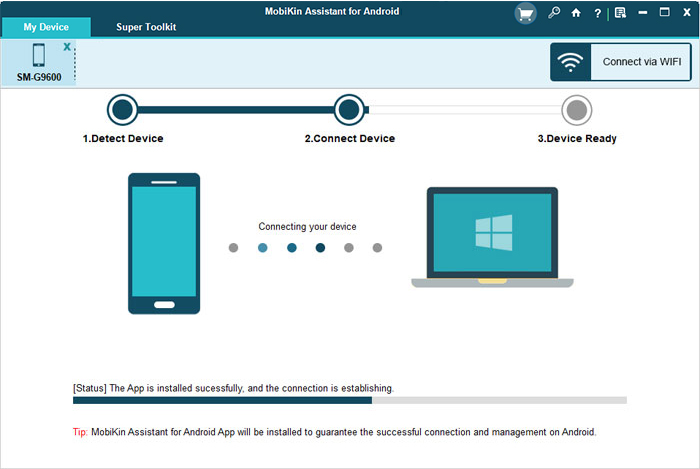 Step 2. As the detection and scanning on your Android is complete, you'll see the main interface. Then, skim over your phone info and all phone data is categorized on the left side menu.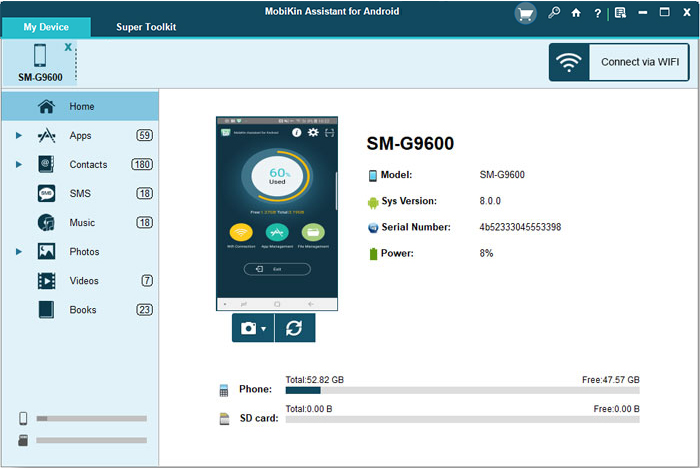 Step 3. Select "Contacts" > "All Contacts" from the left panel. Then, tap "Import" from the top menu to choose the contact files that you need to import to your Android. Next, confirm the operation to import contacts from VCF, Outlook or other backup files.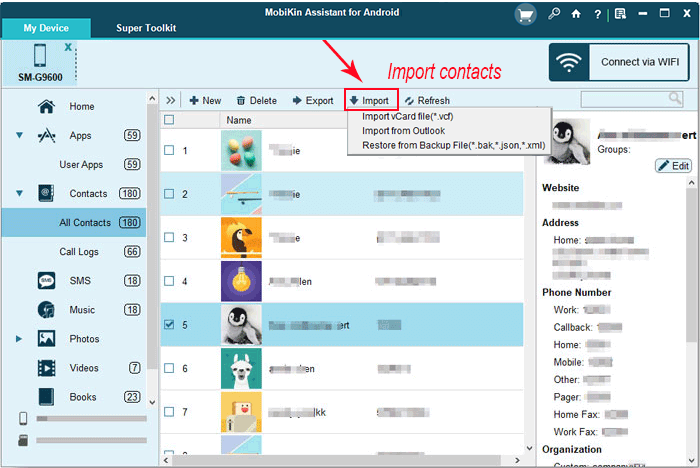 Want to know how to export Android contacts to CSV file? Click here >>. Besides, this program is also able to add contacts by clicking "New" button on the window of "step 3". Of course, it also enables you to tap "Delete" button to cross out unnecessary contacts, and hit "Edit" to modify existing contacts.
The Bottom Line
That's all for how to import CSV contacts to Android. The first solution is more practical, but it can only be used with its import feature, which is not conducive to the management of CSV files. When it comes to the second means, you need perform import and export several times with it, which consumes more time and attention, and may bring you a bad experience.
Objectively speaking, if your contacts are not in CSV format, but in other formats such as VCF or Outlook, MobiKin Assistant for Android is your wise choice. When using it, after the connection between your Android phone and computer is established, you can simply import the VCF or Outlook file to the phone only once. It also provides you with useful additional functions (or value-added services), such as editing, creating or deleting contacts on your computer.
Anyway, if you are undergoing other problems on contacts or other phone data management, please let us know your plight.
Related Articles:
How to Sync Contacts from iPhone to iPad? 4 Ways for You!
3 Ways to Recover Deleted Contacts from Android (#1 is Awesome)
How to View iPhone Contacts on Computer/Mac?
How to Transfer Contacts from Android to iPhone?
How to Transfer Music from Computer to Android?
How to Edit Contacts on Android with the Best Android Contacts Manager?