How to Edit Contacts on Android with the Best Android Contacts Manager?
Nowadays people almost cannot live without a cell phone, not exaggerated at all. To meet the constant increasing demands of consumers, all manufacturers are taking every pain to innovate and promote various high-end phones, among which Android phones have been proved to be a big success, occupying a great share of the market. These high-tech devices make it possible to contact enormous number of people at the same time. However, with time going on, the contacts list is growing exponentially, which jams and messes up our phone storage, which makes it difficult to manage and edit contacts on Android.
Are you planning to deal with the vast data manually on the Android smart phone? Obviously, it will be an awful and time-wasting work. Let's imagine that, you type words on the crammed and tiny keyboard, and convert input method constantly between words and numbers, Troublesome, right? Now, you are fortunately told that you don't have to suffer such pains to manage your contacts but do it through some professional Android contacts manager tools on computer, whose comparatively large screen and keyboard are favorable to manage plenty of data.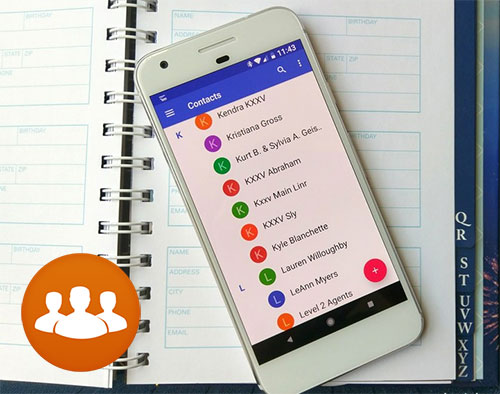 Part 1. Best Android Contacts Manager - MobiKin Assistant for Android
To ease the Android phone contacts managing work and realize the contacts management on computer, you need the help of MobiKin Assistant for Android (with its Mac version), which is one of the most powerful Android data processor in the market. It is considered to be the best tool to manage data on your Android phones and tablets, such as Samsung, HTC, LG, Sony, Motorola, Huawei, Xiaomi, Oppo and so on. With the help of it, you can manage and edit Android phone contacts through PC and Mac computer with ease.
Below is the detailed features of this powerful program:
It is able to transfer contacts, text messages, call logs, apps, music, videos, photos and more between Android devices and PC or Mac.
It is user friendly and allows you to backup and restore Android data with one click.
You can preview data before backing up and restoring.
It supports to export Android contacts to VCF, HTML, CSV, XML, Outlook or BAK format as you like.
It enables you to create new contacts, delete and edit existing contacts, export and import contacts.
Supports almost all Android phones and tablets, such as Samsung, HTC, LG, Sony, Motorola, Huawei, Xiaomi, Oppo, and more.
It allows you to manage contacts through the desktop. Besides, you can also send and reply messages directly on computer, install and remove apps as well as multimedia files on your device by using the program. There is also a backup feature, which enables you to copy data to computer from your phone freely. As the best contacts manager for Android tool, it works perfectly on any Android device.
Don't be hesitated now to get the program properly on your computer. Both two versions can be performed by the following step-by-step guide.
1.1 How to Access Android Contacts from PC/Mac
Accessing your mobile contacts on your computer will make it easier for users to manage their mobile contacts. Assistant for Android allows you to easily access contacts on Android from PC or Mac. Here are the specific steps:
Step 1. Launch Assistant for Android on your computer and connect your Android phone to the same computer.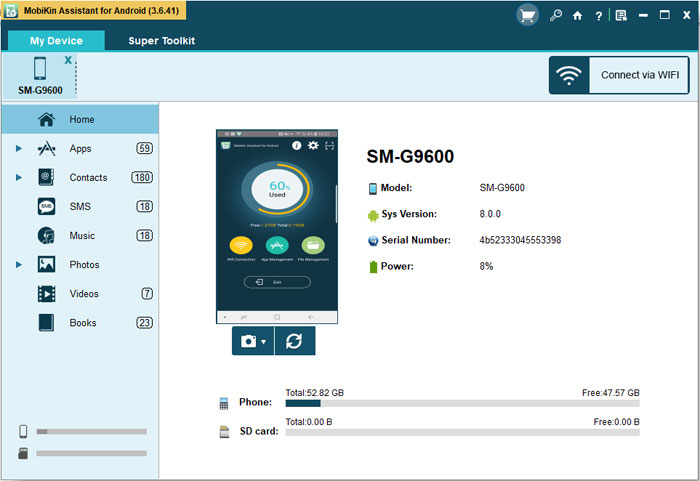 Step 2. From the main interface of the program, navigate to Contacts tab from the left sidebar and all contacts on your Android phone will be scanned out and displayed on the right side window.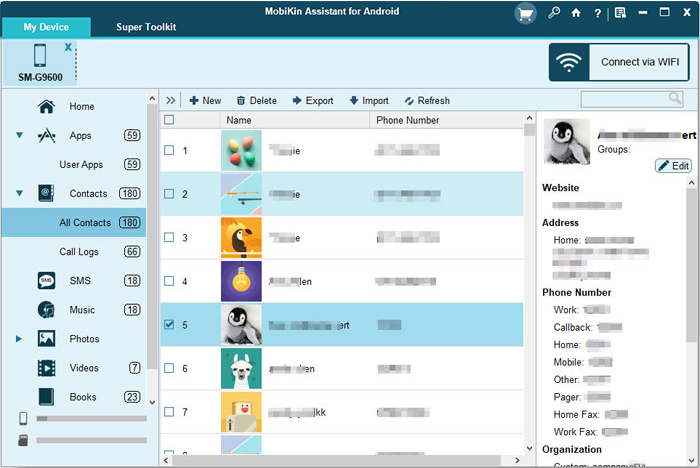 Now, you can manage your phone contacts using this Android contact manager for PC by referring to the following instructions.
1.2 How to Add New Contacts to Android through Computer
To create new contacts to your Android phone through the computer, you can click the "New" button from the top menu to bring out the contacts adding window. Just input the contact information to corresponding blank boxes and then click "OK" to save it.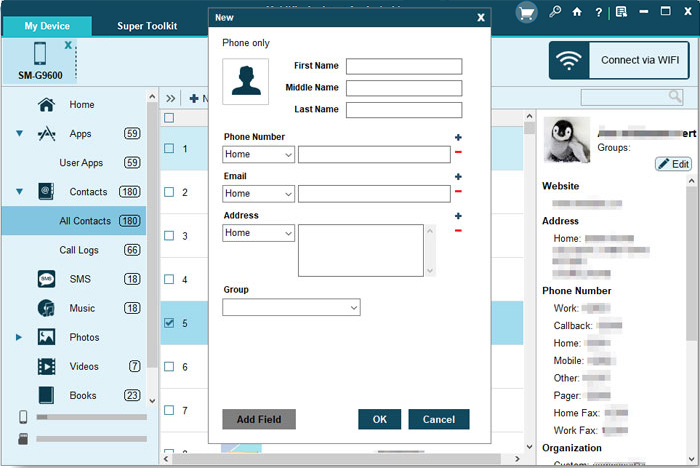 1.3 How to Delete Android Phone Contacts through Computer
It is convenient to delete duplicate contacts or useless contacts on your Android phone through your computer because it is easy to mistakenly delete important contacts since the phone screen is small. With Assistant for Android, you can delete contacts in batches correctly. Just select the contacts you don't want any more and then click "Delete" button from the top menu.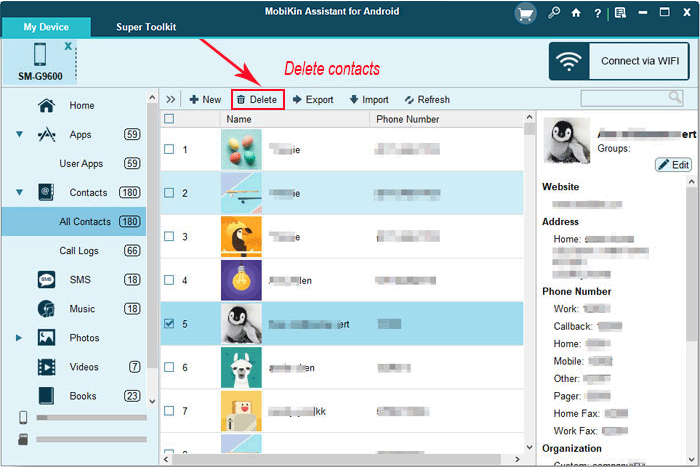 1.4 How to Export Android Phone Contacts to PC for Backup
If you have many contacts on your Android phone that are so important that you wish to back them up safely, then the contacts exporting feature of the program enables you to transfer contacts from Android phone to PC for backup or further use. All what you need to do is giving a click on the "Export" button from the top menu and then choose an output format like CSV, HTML, VCF, Outlook, BAK and XML.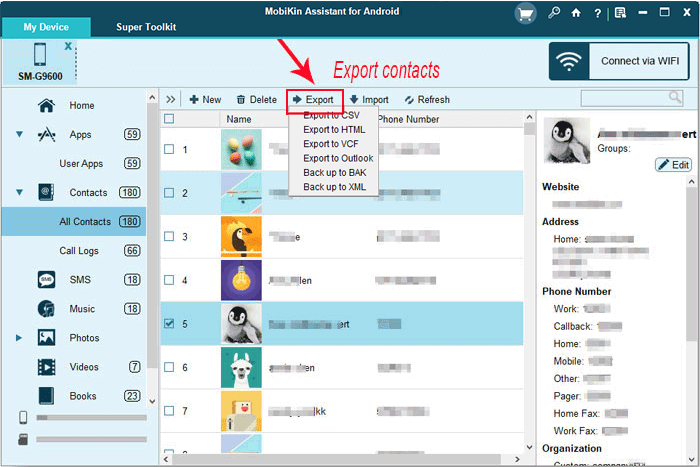 1.5 How to Import Contacts from Computer to Android Phone
This Android Contacts Manager also empowers you with the ability to import contacts from computer to your Android phone. Just click the "Import" button from the top menu to load contacts in Outlook, VCF, XML or BAK format from PC to your Android device.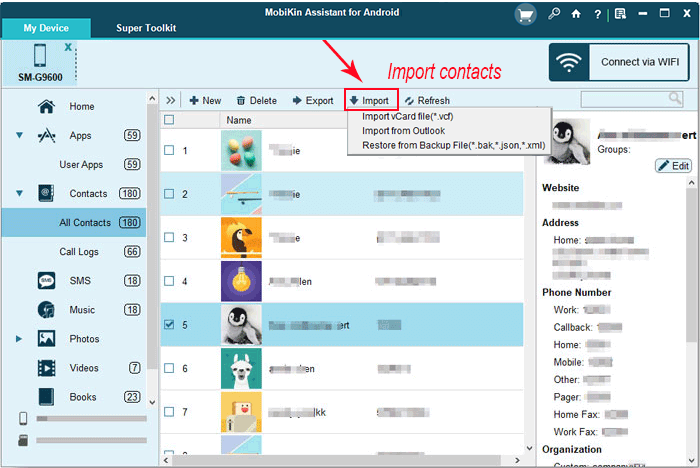 1.6 How to Edit Contacts on Android through PC
Assistant for Android also is a excellent Android Contacts Editor for Windows and Mac. Clicking on the "Edit" button, you can edit the detailed information of the contacts. Then, confirm the editing by clicking on the "OK" button.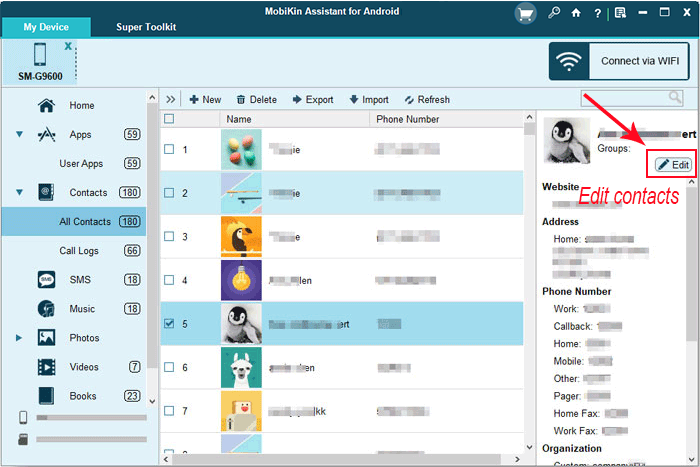 Can't Miss:
Part 2. Other Excellent 5 Android Contacts Manager Apps
#1 Contacts+
Contacts+ is a powerful contact management application that allows you to enjoy convenient Android smartphone contacts management. It integrates with major social sites, such as Facebook, Twitter, Linkedln, WhatsApp, and more. You can use this app to automatically sync photos to your Facebook contacts. You can also send text messages via this Android contact manager app. Dialers and spam blocking are also available for free. It can also permanently back up contacts, view contact information and message history directly on the contact's profile.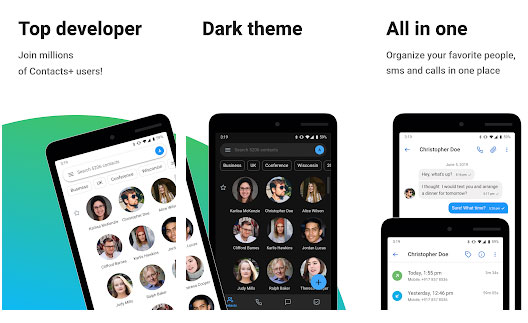 Rating: 4.0
Price: Free
#2 Drupe
Drupe is an excellent contact manager application that you can use for caller ID, spam blocking, dialer, call recorder and ID tracking, and reverse number lookup. Not only can you enjoy extraordinary product features, Drupe also comes with a cool new contact interface, allowing you to enjoy a high level of contact management work.
Rating: 4.3
Price: Free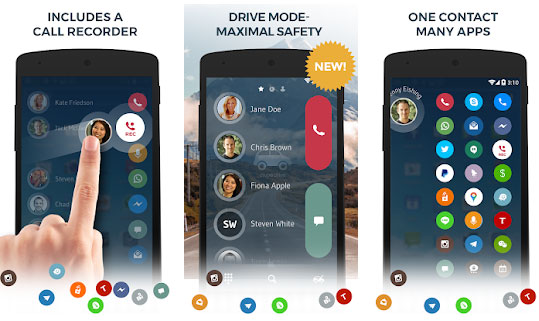 Google Phones and Android phones have Google Contacts pre-installed as a contact management application, so you don't need to install additional third party programs to manage and edit Android phone contacts. Google Contacts can automatically sync your contacts to your Gmail contacts, and you can also add tags to your contacts and personalize your directory if you need to.
Rating: 4.3
Price: Free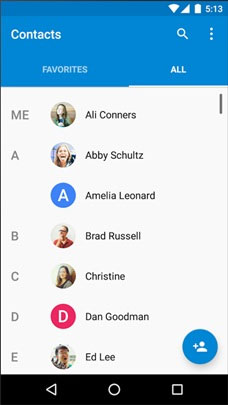 #4 Contact Optimizer
Many people prefer Contact Optimizer, another Contacts Manager app for Android, because it provides a lot of useful functions. For example, it can easily transfer all contact information from your contacts to other accounts, and it also allows you to find and easily delete duplicate contacts on your phone. In addition, it allows you to restore contacts saved in your Google account. Is it very practical? This application has an intuitive and friendly interface, making it easy for users to use.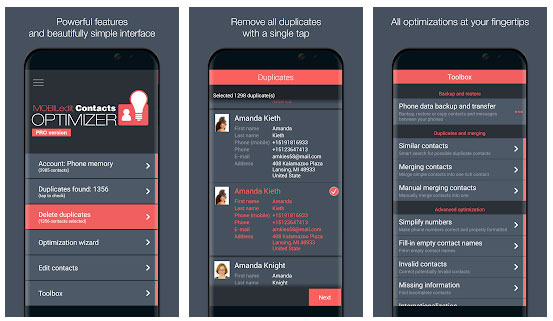 Rating: 4.3
Price: Free
As the name of the app says, Simple Contacts's intuitive interface and simple operation method make it highly rated. It is an open source application that guarantees the security and privacy of your contact information. It also provides users with a series of customization options, such as adding different colors to the text, changing the color of the dialer, customizing contact fields, and more. What's more, the program supports 15 different languages and can help you filter out harassing calls.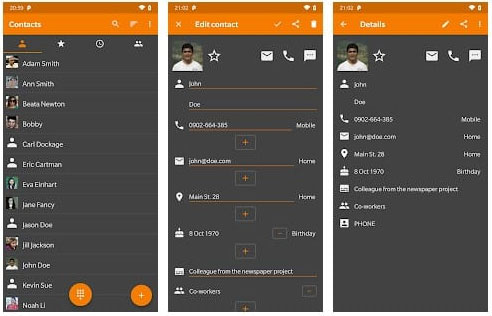 Rating: 4.3
Price: Free
Conclusion
Above we recommend the best desktop Android Contacts Manager software - MobiKin Assistant for Android and 5 excellent Android Contacts Manager apps. These tools have been tested to be safe and effective, and you can download and try them for free. By using Android contact management tools, we can save a lot of time and energy when managing our mobile phones. I hope this article was helpful to you, and don't forget to share it with your friends.
Related Articles
Tips to Transfer Text Messages from Android to Computer
How to Transfer or Copy Contacts from HTC to Computer
How to Transfer Contacts from Android to Computer
How to Import Contacts from Outlook to Android Phone? [Make Tech Easier]
Samsung Contacts Backup - How to Backup Contacts on Samsung? (4 Ways)