How to Remove Documents and Data from iPhone to Free Up Space?
iPhone owners use handsets to surf the internet, check or reply the instant info on apps almost every day, as well as take photos or download contents sometimes. All these are contributing to the increase of mobile data. When a polite message cuing you the phone cannot cram any content on itself, you may realize that your iPhone has lots of documents & data, and is running at full capacity.
So, how to delete documents and data on iPhone efficiently is what many iPhone users want to know. Yet before that, what is "Documents and Data" on iPhone? If you don't know it yet, please do not miss the first part below.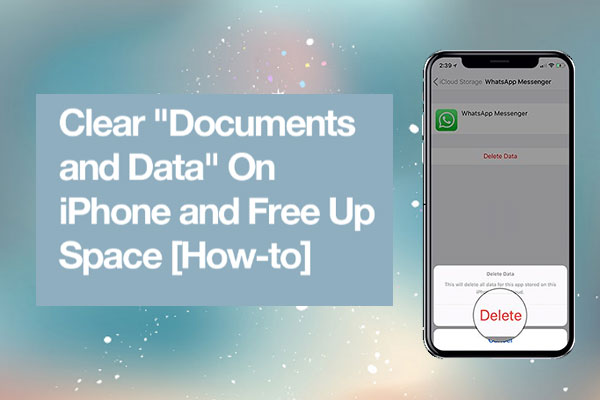 Part 1: Things You Need to Know about "iPhone Documents and Data"
1. What Are Documents and Data on iPhone?
"Documents & Data" on iPhone and iPad refers to specific caching in applications and other related data, as well as iCloud files of apps.
Specifically, first, documents and data associated with iOS apps include caching, app data, preferences, login details, and a variety of other info. (you can see documents and data from Settings > General > iPhone storage.) In most cases, for many applications that eat up a deal of storage, they often occupy a considerable part of the cache.
Second, iPhone storage documents and data related to iCloud are usually files from the application itself, but they are stored in iCloud. These are the same data types that you might see when browsing iCloud Drive.
2. Why Doesn't the Storage Shown on iPhone Add up?
When checking iPhone storage, you might see a lot of free storage space left. This will make you think the phone can still store additional items. But in fact, some contents may be temporarily stored in the storage marked as free. And this illusion might let you ignore the actual storage for further exploration of the phone. Such space can be viewed through free tools like Diskspace 3, which supports devices with iOS 13 and above.
While finding that there is not much storage available, you should clean up documents and data. As even if the iPhone or iPad is close to full load, it won't delete the files automatically by and large.
3. Reasons for Removing Documents and Data from iPhone
There is little memory left on iPhone, and some files cannot be saved.
iPhone runs slowly, and you should speed up your iPhone in time.
Some 3rd-party apps are jammed or even cannot be opened.
Your iPhone was infected with a virus.
After having a general idea of the reasons above, let's move on to learn how to get rid of documents and data from iPhone scientifically.
Read Also:
Part 2: How to Delete Documents and Data on iPhone (10 Fixes)
Fix 1. Clean up Document & Data Folder
It may be hard to clean the Document & Data by going to Setting > General > Usage > Manage Storage (Storage) > App Name.
But you can try to sign in related apps and clear their downloaded files, chatting history, media files, recording, etc. to get the "Document & Data" items out of iPhone. For instance, it's easy to navigate to Facebook to delete browsing data, or log in YouTube to remove watch history and search history.

Fix 2. Clear Safari Cache
Safari cache could be partly blamed for the increasing amounts of iPhone documents and data. You're allowed to clear data brought by the search history from website, or remove website data only to keep the search history. Suppose both of them are deleted, AutoFill info would stay still.
You can head over to Settings > Safari > Clear History and Website Data to clear both history and website data. Whereas if you only need to delete the latter, just go to Settings > Safari > Advanced > Website Data > Remove All Website Data.
Fix 3. Uninstall the App on iPhone
There are several ways to offload apps from iPhone 14/13/12/11/XR/XS/X/8. Firstly, you can go to Settings > iTunes & App Stores to switch on Offload Unused Apps. Yet this will still keep iPhone documents and data for these apps, but enables you to download apps again without data loss.
Next, your iPhone gives you the ability to remove some apps by pressing and holding the items before touching the cross icon.
Besides, want to learn more means to uninstall app on iPhone/iPad? Just click here.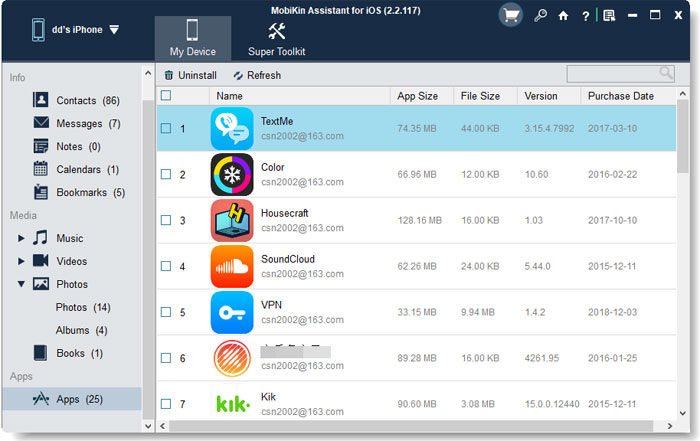 Fix 4. Remove Played and Downloaded Podcasts
Provided that you haven't used the Podcasts app, but have subscribed to some shows, and toggle on automatic download of new episodes, then it would be occupying an amount of space before you know it. Thus, it's necessary to delete Podcasts from iPhone to get more space for your device.
Fix 5. Clean up iPhone Photos
To learn how to clean up documents and data on iPhone by clearing iPhone photos, just run Photos app on iPhone, tap on Select from the top right corner, choose the pictures you're to delete, touch the Delete icon, and then tap the icon again. This will remove redundant photos from your phone.
Fix 6. Organize Mail App
All the synced email you access via the app is housed on iPhone for quick access. And here's an easy way to clear the documents and data from it.
Head to Settings app > tap on Passwords & Accounts > choose an Email account. Touch Delete Account > Delete from My iPhone. Next, reboot your iPhone, follow the same drill as above, and then hit Add Account instead to readd the account.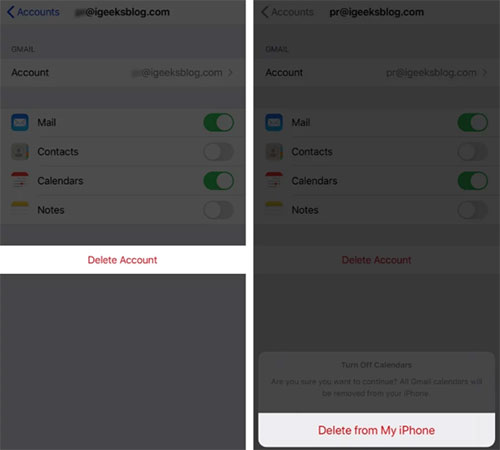 Fix 7. Clear from Files App
First of all, navigate to Files app > Browse > Recently Deleted > tap three dot icon. Then press Select > Delete All > Done to empty the trash of the Files app.
Next, hit On My iPhone under Locations, choose the useless files and select Delete. After that, do remember to remove them from the Recently Deleted folder again.
Fix 8. Clear from Voicemail Data
In the first place, open Phone app > Voicemail > Select the Voicemail. Then swipe the Voicemail button from right to left to reveal the Delete option. And finally press the option to delete voicemails data on iPhone.
To remove multiple voicemails, go to Phone app > Voicemails > Edit > choose unnecessary voicemails > hit Delete.
Fix 9. Remove Data from iCloud
Go to Settings > [your Apple ID] > iCloud > Manage Storage. Hit any of the apps from the coming list, and press Delete Data respectively as you like. By doing so, you'll clear the data of apps from your iPhone synced with the same iCloud account.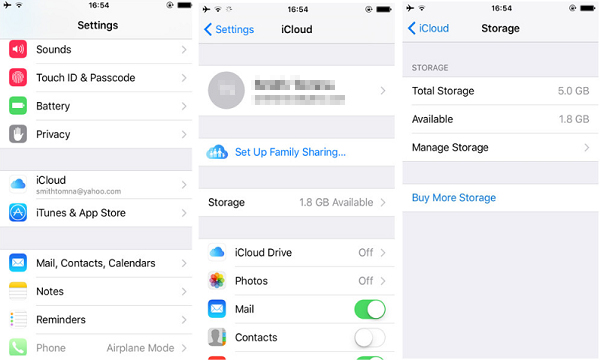 Plus, here's an easy post on how to delete duplicate files from iCloud. You can get into it as needed.
Fix 10. Restart your iPhone
To fix how to clear documents and data on iPhone, you might have to reboot your iPhone to let the above fixes take effect.
To do this, press and hold the power button until slide to power off turns up. If your iPhone has no Home button, just hold down both power and volume up until you see the slider. Next, swipe the power off slider, wait until your iPhone has powered off, then press & hold the power button to restart iPhone again.
Can't Miss:
Bonus: How to Clear iPhone Storage with the Ultimate Tool
After clearing documents and data from iPhone, you may find the problem cannot be resolved substantively. At this point, simply try MobiKin Eraser for iOS. You can take assistance of it to erase iDevice data in an easy manner.
This smart software enables you to wipe out all the data on iPhone, including contacts, messages, call logs, notes, reminder, calendars, Safari bookmarks, browsing data, music, videos, photos, apps, etc. You're free to choose different security levels to erase iPhone as required.
This utility never spies on user's privacy, and perform well in managing various iOS devices, such as iPhone 14/14 Pro/14 Pro Max/14 Plus, iPhone 13/13 Pro (Max)/13 mini, iPhone 12/12 mini/12 Pro/12 Pro Max, iPhone 11/11 Pro/11 Pro Max, iPhone X/XR/XS/XS Max, iPhone 8/8 Plus, iPhone 7/7 Plus, iPhone 6/6S/6 Plus, iPod, iPad, etc.
Simply do as the following steps to erase your iPhone after the backup by using Eraser for iOS:
Quick Look:
Install and launch the program after the download. Then link iPhone to computer via a USB cable. Wait until the device is identified by the software, and hit Erase from the main interface of the program.
You'll see 3 security levels as Low & Medium & High for erasing. Just choose one of them in line with your situation, and click OK to confirm.
Input delete in the blank box, and hit Erase to start wiping away your iPhone data.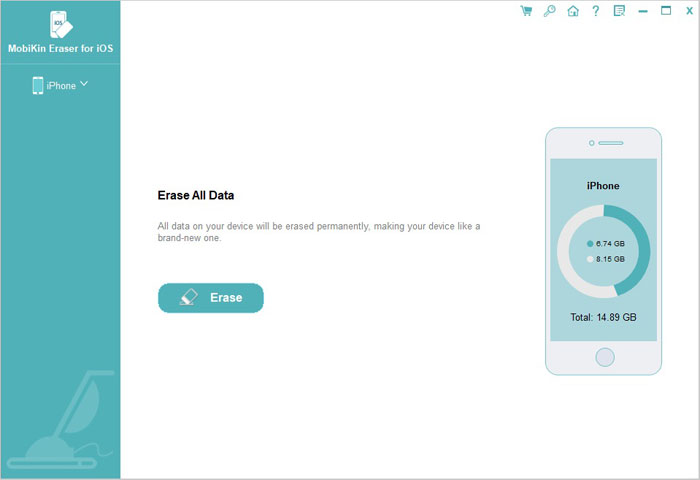 Final Words
This passage addresses 3 questions - what are the documents and data on my iPhone, how to see documents and data on iPhone, and how to clean them up.
In terms of deleting documents and data on iPhone, 10 quick fixes above can be tried in turn or selectively, depending on your situation. For example, there are not many photos on your iPhone, and you rarely use the Mail app, then you can skip the fifth and sixth solutions. If you've tried all of them, but the phone doesn't get better, just try the ultimate solution - MobiKin Eraser for iOS after taking a backup of your iPhone.
Related Articles:
6 Ways - How to Delete Photos from iPhone but Not iCloud?
Multiple Ways to Delete Kindle Books on iPhone
How to Remove Playlist from iPhone 14/13/12/11/XR/XS/x in 3 Methods?
Simple Ways to Clean Junk Files on iPhone XS/XS Max/XR
How to Recover Lost Data from iPhone 14/13/12/11/XS/XR/8/7/6?
[2020 Updated] How to Transfer Files from Android to iPhone?