How to Track and Wipe Android Phone without Tracking Apps (Can't Miss)
There are various tracking apps in the market today that can be used to locate and even erase your Android device. However, it is common to realize that you did not install any effective anti-theft tracking app on your android phone or tablet when it gets lost. This might make you to feel depressed, especially if you had stored a lot of sensitive data on the missing device or if you had spent a fortune to purchase the missing gadget. This informative article on how to track and wipe android phone without tracking apps is a must read for you if you have lost your smartphone without any recovery program installed on it.
In this article, we have listed 3 differnt ways for you to track and wipe lost Android data. You can compare them and decide which one is better according to your own needs.
See Also: How to Optimize Android Phone with Android Optimizer
How Can I Track and Wipe Lost Android without Tracking Apps?
Method One. Using "Android Device Manager (ADM)"
Android Device Manager is a special Google management service that can be used to locate and even wipe your lost Android smartphone or tablet. You can either choose to access the cloud-based service from an Internet browser or download its Android app on another Android gadget. For you to benefit from this crucial service, the missing device should be connected to the Internet.
- Using the ADM web service
You can sign into the official Android Device Manager website using your lost smartphone's Google account credentials on any computer internet browser of your choice. Once successfully signed in, the current location of your missing phone will be displayed along with the last time it was used. You can make the lost device to ring if it happens to be near you. Alternatively, you can also decide to either lock it or erase all the data on it to secure your personal information.
- Using the ADM Android App
This method can be used whenever you don't have access to a computer. Just proceed to the official Google PlayStore where you can download the Android Device Manager app on any smartphone or tablet of your choice. Once the app has been successfully installed, go to the gadget's default settings and activate the Android Device Manager service which can be located simply by tapping on Security and selecting Device Administrators.
Return to the installed ADM app and sign in using your missing device's Google account credentials on the Guest Mode section. Once you have been successfully logged in, tap on the "Location" icon found on the right side of your phone's screen. Congratulations, you can now proceed to carry out any of these functions as you have successfully traced the actual location of your missing device.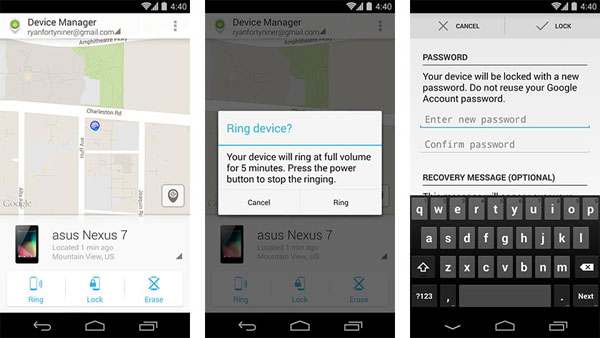 1. Call your lost device: Activating the ADM "Ring" feature will force your missing phone to ring uncontrollably for up to five minutes. The lost smartphone will ring loudly even if it has been set to silent mode.
2. Deactivate the missing phone: You can lock your missing phone to prevent any unauthorized access to your personal information. Activating the "Lock" ADM feature will also block all incoming calls and text messages. You are also required to set up a secret password that can be used to secure your missing device as well as your contact information. This will make it easier for someone to return your android smartphone.
3. Remotely wipe your device: It is wise to only proceed to remotely wipe your device after you have traced it and realized that it may be impossible to locate it. Carrying out a remote factory reset of your missing device will erase all the private information on it, hence; will secure you against data identity theft among other vulnerabilities.
Method Two. Using the Google Timeline service
"Timeline" which was previously called "Location History" on the Google Maps app is another beneficial service that can be used to track your missing android device even if it is offline or has been switched off. It is important to note that the Timeline Google Map feature is a multifunctional service, hence; does not entirely focus on phone tracking alone. To locate your missing device using this feature, simply launch the Google Map application and sign in using your lost phone's Google credentials.
Once there, you can easily select the device you are looking for. Selecting your lost device will actively provide you with the various locations where the device has been making it a lot easier to track it. It is necessary that the "Location History and Reporting" feature was enabled on the missing device for you to locate it.
Mehtod Three. Ask Help from Dropbox
Dropbox can also be used to trace your missing device provided the app's "Camera Upload" feature was activated on the missing device. You can easily catch the person who stole or kept your android phone as any pictures he or she takes with your device will be automatically uploaded to your Dropbox account. You can either post the thief's pictures on social media to have your friends help you identify him or her or just take the obtained pictures to the police who will help you track the person involved.
Write in the end
Even though you can use the above methods to track and wipe lost Android data to avoid leaking out your personal data, but if you have no habit of backing up Android data in the past times, then you may lose them forever. All your contacts list, text conversations, precious photos, etc. can't be retrieved, so it is really crucial for you to backup and save all your important data in other security places. That's why we could like to recommend MobiKin Assistant for Android for you. It can help you backup and manage your Android data more effectively.
Related Articles
How to Optimize Battery Life Time of Android Phone