How to Convert Photos to JPEG on iPhone [7 Ways in 2023]
The iPhone has become one of the most popular devices on the market. It has simplified the life of millions of people around the globe. However, it is a device that is always undergoing updates. Therefore, it has yet to reflect perfection in every aspect. Taking photos with an iPhone has become a popular action. What happens when you want to convert HEIC/live photos to JPEG on your iPhone? As you know, it can be tricky figuring this out. Do not worry though. There are some ways to convert photo to JPEG on iPhone in a snap. Lucky for you, we know which ways are worth a head turn.
Part 1. How to Convert Photo to JPEG on iPhone with the Files App
You can save iPhone photo as JPEG with the Files app. This is one of the easiest, quickest methods out there. All you have to do is follow the four steps below.
On your iPhone, go to the Photos app and then select the photos that you want to convert to JPEG.
Click on 'Share,' which is located at the bottom of your screen, and then click on 'Copy Photos.'
On the Files app, click on 'Browse' and then choose 'On My iPhone,' followed by selecting the folder that you want to save JPEG photos in.
Press and hold any section of the blank area and then click on 'Paste' in order to then see your photos in JPEG on your iPhone.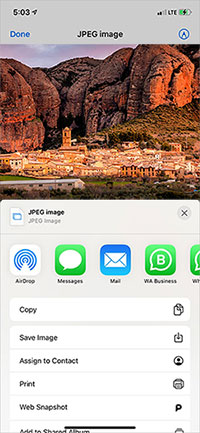 You Might Want to Know:
Part 2. How to Save iPhone Photo as JPEG with an HEIC to JPEG App
Another helpful method is the HEIC to JPEG app. As time goes by, this app keeps acquiring more and more loyal followers. It is not that difficult to realize why. It works well. With this solution, you will learn how to save iPhone photo as JPEG in a flash. Well, not literally in a flash, but you get the idea! (How to Convert HEIC to JPG on Android?)
On the App Store, find and download the HEIC to JPEG app.
Click on 'Select Images' and then select the photos that you want to convert to JPEG.
Click on 'Share as JPEG.' (You will find this option at the top-right corner.)
Click on 'Save Image' to save the converted photos.
From the share sheet, select the file you want to share with a service or another app, if any.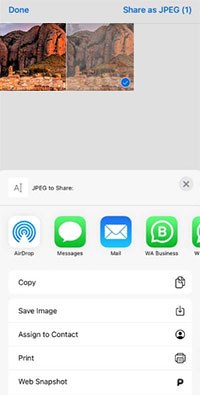 Extended Reading:
Part 3. How to Convert iPhone Pictures to JPEG via a Desktop Converter
Learning how to convert iPhone pictures to JPEG has become a piece of cake for those who have chosen the MobiKin HEIC to JPG Converter. People have been talking about this method left and right. Not only because it works as promised, but because it has a lot of great features that can help in other ways, too. It was developed by some of the most experienced professionals in the industry. Multitaskers come in handy throughout the year, which is why MobiKin's popularity continues to increase around the world. With this method, you will never again have to wonder how to make iPhone photos JPEG. That is a guarantee. Yes, that is how great it is!
Top Key Features of MobiKin HEIC to JPG Converter:
Converts multiple HEIC to JPEG, JPG, and PNG without image quality issues.
Allows the adjusting of photo quality.
Can convert numerous photos at once.
Preserves the quality of every photo.
Easy, effective, safe, and free to download.
Convert HEIC pictures on Mac and PC.
How to make iPhone photos as JPEG via HEIC to JPG Converter?
Step 1. On your computer, download and install the Mobikin HEIC to JPG Converter. Using a USB cord to connect your iPhone to your PC if you want to make a photo a JPEG on iPhone.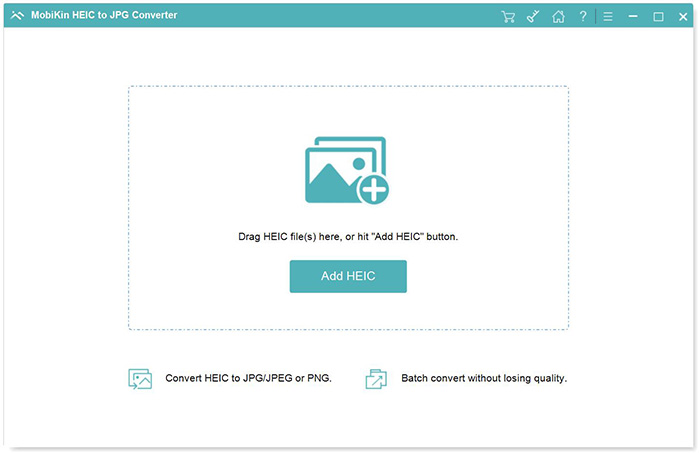 Step 2. Drag HEIF/HEIC files to the specified section or you can opt to click on the 'Add HEIC' option located below.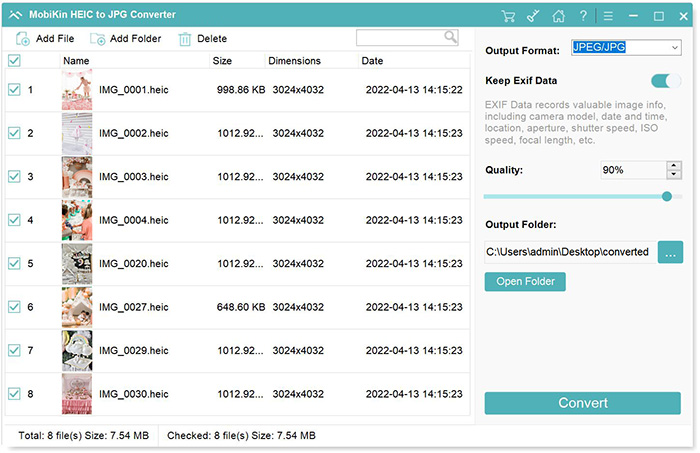 Step 3. Choose the HEIC photos that require conversion and then select 'JPG/JPEG' as the output format. It is up to you to remove or keep the 'Exif Data.' (Remember to set the output path for photos.)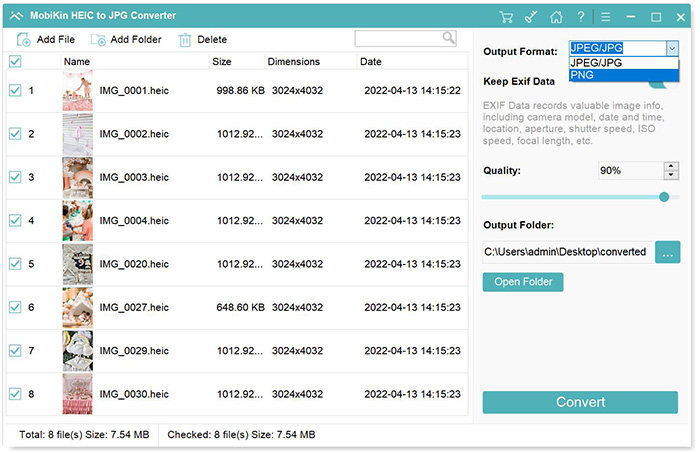 Step 4. Click on 'Convert.' When the process completes, click on 'Show in Folder' to take a look at your converted photos.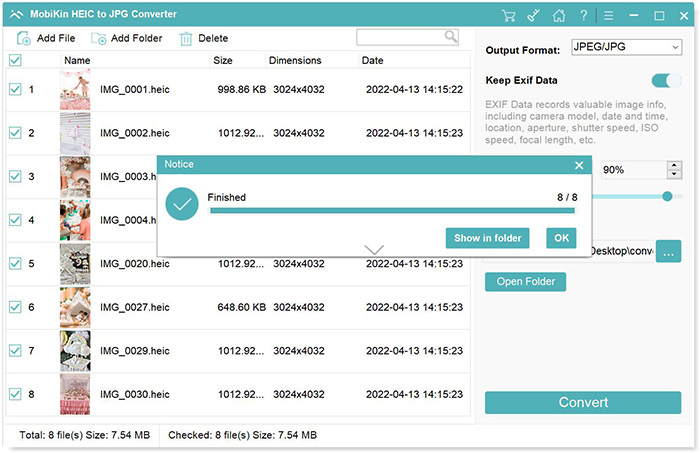 Part 4: Other Methods to Turn a Photo into a JPEG on iPhone
Photo Editing App
There are several iOS editors that can come in handy when figuring out how to turn a photo into a JPEG on iPhone. The Adobe Lightroom CC is among the favorites. On it, you can open files in the HEIC format and then export from such application in JPEG or a different supported file format.
Email the Pictures
How do I convert iPhone photos to JPEG? Email them! Take advantage of the built-in Apple Mail app on your iPhone. When sending, it will instantly convert every attached HEIC image to JPEG. However, if you have a lot of photos that you want to convert and do not have a lot of time on the clock, then this method will be very time consuming for you. Do not worry. As you can see, there are many other effective methods to choose from that can meet your preferences.
Dropbox Camera Upload
Many are not aware of the fact that the Dropbox app allows you to convert your iPhone pictures to JPEG before uploading. All you have to do is go to 'Account' and then 'Camera,' followed by 'Uploads,' 'Save HEIC Photos As,' and 'JPG.'
OneDrive Camera Upload
Before uploading your photos, this app can easily and effectively convert every HEIC file to JPEG. You do not need to configure anything because it will convert each file to JPEG by default.
Bonus: How to Save iPhone Photos as JPG Instead of HEIC?
As you are aware, the photos that you take on your iPhone are saved as HEIC by default. This can be quite frustrating at times when you want your photos to be JPEG. Nevertheless, remember that you do not have to stick with this default option. There are more than a handful of other options available to take advantage of. To save iPhone photos as JPEG, all you have to do is go to 'Settings' in order to modify your camera settings, so as to turn off HEIC on iPhone. Yes, that is all there is to it!
Click on 'Settings' and then click on 'Camera.'
Click on 'Formats' and then select 'Most Compatible.'
Test it out! Take a photo using your iPhone to see that the photo will be automatically saved in JPEG format.
Make Any Photo a JPEG on iPhone
Opting for any of the above methods will result in you no longer wondering how to make a photo a JPEG on iPhone. So many methods, right? It is up to you to choose the one that meets your needs and wants the most. If you have time, test them all. If you do not have time or just prefer to play it safe in every way then the MobiKin HEIC to JPG Converter will do!
Related Articles:
How to Convert HEIC to JPG on PC? 3 Easy Ways You Should Never Miss
CopyTrans HEIC Review: What Is the Best HEIC to JPG Converter?
HEIC Viewer for Windows PC and Android
Don't Miss the Top 9 HEIC to JPG Converters (Offline and Online)
4 Simple Ways to Open HEIC Files in Android without Loss of Quality
Android Picture Recovery - Recover Deleted Photos on Android