How to View Android Text Messages on Computer?
Q: Hello, I heard that it is possible to access and view Android text messages on computer. So, a few days ago, I tried many methods to view messages on my computer but unfortunately I'm failed, please help! I need a way that I can access, read and even reply messages on computer from my Samsung Galaxy S5. Thanks in advance!
If you love to contact with people by sending messages, then you must have the same needs in the daily life and work, right? Let's suppose that when you're sitting in front of the computer and working for a long time, and now a friend text a message to you for something important, you have to find your phone and pick it up, unlock the screen, read the messages, and reply it on the very small keyboard. If the messages are sent constantly, you need to repeat the above series actions constantly. Troublesome and time-consuming, right? Therefore, reading messages on computer directly have become an urgent needs for most mobile phone users, and now the problem is coming: how to reach the goal?
To satisfy the urgent need of many Android users, a great application has been invented - MobiKin Assistant for Android (Windows & Mac), which means a great benefit to all Net worms and workaholics on computer. As long as you run the program, you can read and reply the messages in a moment directly on computer with only a slight interruption on your work. And you can export the text conversation to your computer in a CSV file format, so that you can view the messages on PC without connecting your phone to PC. Furthermore, after owning this program, you will never miss any important messages that you are likely to miss before as you forget to check your mobile phones, gluing at the computer. In addition, the program not only allows you to manage messages on computer, it also can help you manage other data on Android mobile phone easily, such as contacts, apps, music, photos, video, and so on.
Thus, don't hesitate to take a free trial of this powerful program now!
How to Read Android (Samsung, HTC, LG, etc.) Messages on Desktop PC?
To view your messages on the computer, you need to download, install the program on your Windows or Mac computer. Then the Windows and Mac users can both go ahead by following the same steps below.
1st Step: Connect your Android phone (Samsung, HTC, LG, Sony, Huawei, Motorola, etc.) on the computer via its USB cable. And then run the program that you've installed.
2nd Step: Enable USB debugging on your phone by following the below ways. If your phone is detected by this program successfully, skipping this step.
- For Android OS 2.0-2.3, Go to Setting->Application->Development->USB Debugging;
- For Android OS 3.0-4.1, go to Setting->Developer Options-> USB Debugging;
- For Android OS 4.2 or later, go to Setting-> Developer Options, (If you did not find the Developer Options, go to About Device, and tap "Build number" 7 times in rapid succession then back to the Setting page, and then you will find it.), Turn on Developer Options->USB Debugging.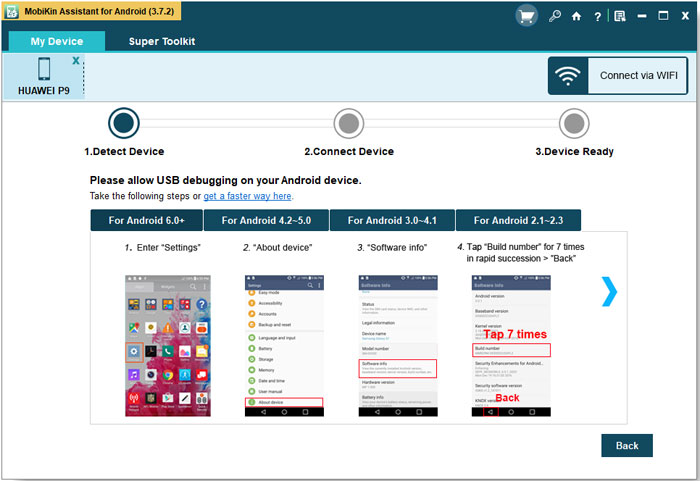 After that, you need to check the option of "USB debugging opened" and click "Next" button to install USB driver on the PC.
3rd Step: Now, you will see a window that shows the detailed information of your phone. And from the top menu, you can click "SMS" option to view all receiving and sending messages on the device. You can view them freely and click "Send" button to reply message to anyone you like.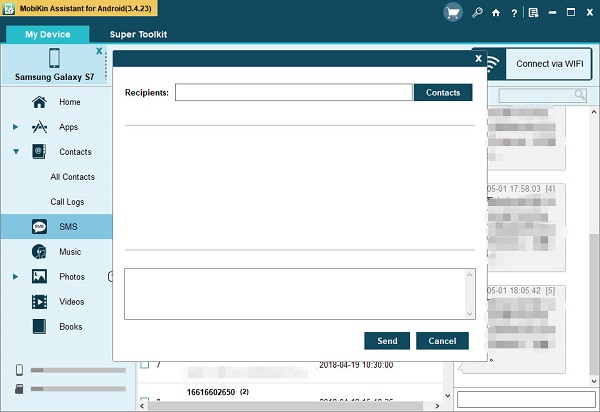 Related Articles
Easy Way to Transfer Contacts List from Android to Computer
How to Transfer Text Messages from Samsung Galaxy to Computer
How to Send Text Messages from PC