Top 7 iCloud Bypass Tools in 2018
Summary: In case you want to bypass the iCloud activation and confused about which tools are the best? So we write this article to recommend the top 7 iCloud bypass tools for your reference. You can compare them and pick up the best one as your personal tool.
iCloud offers 5GB of free storage space to all iOS users, so that you can use it to store photos, videos, contacts, calendar and tasks as you like. Then it is inevitable that you have saved lots of privacy info with your iCloud account. We know that Apple pays great attention to its high-end security, and iCloud Activation Lock is that kind of tool to protect your personal privacy from leaking out. So when you wish to access to iCloud, you need to log in with your own Apple ID and password. However, in some cases, you may need to bypass iCloud activation with a reliable iCloud bypass tool.
See Also: [Fixed] How to Bypass iCloud Activation Lock in Different Ways
We have to admit that it is not easy to bypass iCloud lock, but if you can find some handy yet professional tool, bypassing iCloud activation lock could be simple. You can find various bypass tools on the Internet, but some of them work well, some not. Obviously, it is a time-consuming process to pick up a tool to meet your own demands. Under this situation, we have collected and compared a bunch of tools in the past times, and finally we have decided to offer all of you the top 7 iCloud bypass tools for your reference.
These tools work efficiently to unlock the iCloud activation lock or remove iCloud lock permanently. Some of them are free while others are charged, you can compare their features, cons, and finally get one as your life saver.
iCloudin
iCloudin is one of the most efficient and free iCloud bypass tool, which can help users to get rid of iCloud activation lock at the shortest time. It supports almost all iOS devices on the market, and can deal with various activities. This program have gained lots of positive reviews from its users. So we put this program at the top of the iCloud bypass tools list for your reference.
Download link: https://idevice.eu.pn/icloudin-1-0-free-software/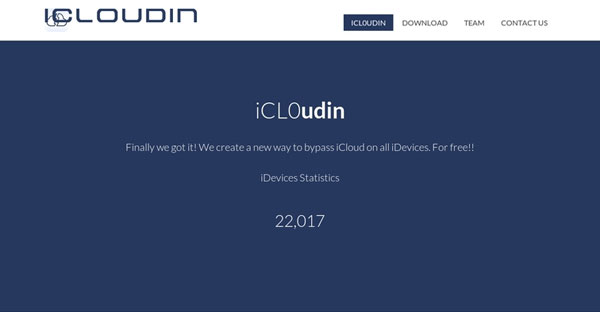 Here's how:
- Download this iCloud Activation Removal software on your computer, then connect your iPhone, iPad or iPod touch to computer.
- Launch the program and it will detect your connected device.
- Hit "Start" and choose the model of your iDevice, then click "Next".
- This program will conduct a scanning on your device and then begin to bypass your iCloud activation lock.
Please be noted that the whole process will take about 20-30 minutes, and once it is done, your device will reboot.
Pros:
- 100% free, easy to use and user-friendly tool.
- Multi functional tool and can help you in different activities.
- Compatible with almost all iOS devices and systems.
Cons:
- It is hard for you to find what you're looking for in the tool's official website.
- No obvious reputation ranking.
Official iPhone Unlock
This is one of the most prominent iCloud Bypass tool in recent years. Generally speaking, Official iPhone Unlock is a service which allows users to remove iCloud activation or unlock iCloud lock easily. Since this tool is a lock removal service, so all bypassing or unlocking process is done by the professional technicians and there is very little chance of something wrong.
However, this service is not free, you need to costs £19.99 for it, but it is really worth for the good service you will be getting. To use it, you only need to provide the IMEI number, then the rest will be done by the service provider. Cool, right?
Download link: https://www.officialiphoneunlock.co.uk/activation-lock-removal.php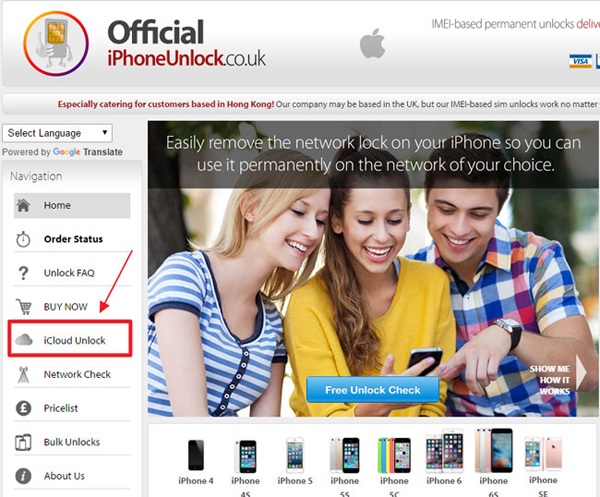 Here's how to use it in details:
- Open the site on your computer and choose the "iCloud Unlock" option in the left side.
- Enter the model and IMEI of the phone you want to unlock. (IMEI number can be found on the backplane of the phone or in the iTunes database of your device)
- Here, you'll be taken to a secure page to complete your payment, then the unlocking process will be started.
Pros:
- Professional unlocking service that is offered by experts, so you don't need to worry about how to use it or something wrong during the process.
- Easy to use.
- Have gained high reputation from its users.
Cons:
- It is not a free service for everyone, you need to cost at least £19.99 for the service if you want to use it.
- The price of the service may be higher than £19.99 and it depends on your device. So the price is a little bit higher for some people.
Open My iCloud
This software is another good option for unlocking iCloud lock. This program is easy to use and comes with a tutorial, so you don't need to worry about how to perform it correctly. Open My iCloud can works on all iOS devices, so your iCloud locking trouble can be solved well.
Download link: https://appleiphoneios.blogspot.it/2015/07/open-my-icloud-easy-unlck-tool.html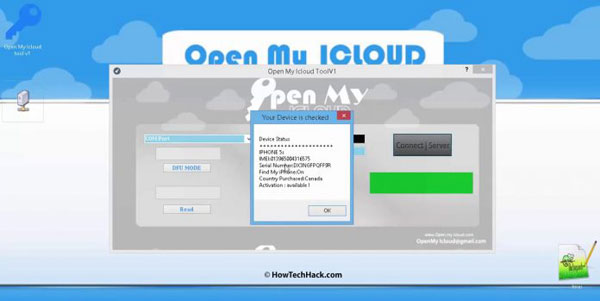 Pros:
- Unlock or bypass iCloud account within 10 minutes, which is really faster than other iCloud bypass tools on the Internet.
- Support all iOS devices and systems.
- Provide users with a simple way to unlock your device with IMEI code.
Cons:
- Only support Windows system, so Mac users need to find other tools to unlock iCloud activation lock.
Doulci iCloud Removal Tool
Doulci Activator is a professional iCloud unlock tool to help you get rid of iCloud lock. It works well on almost all iPhone, iPad and iPod touch, and it is a free application that you can download and use it without any cost. The operation of Doulci is quite easy, you only need to open the program and connect your device to the PC, then follow the official tutorials to unlock iCloud activation lock step by step.
Download link: https://www.doulci-activator.com/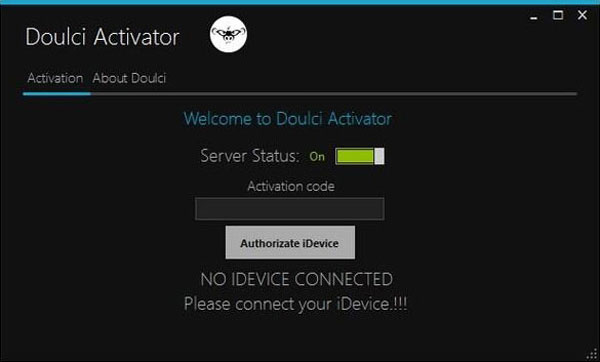 Pros:
- Free program and works on all iOS devices.
- Easy to use and you can find detailed tutorials on its website.
Cons:
- Before downloading, you need to complete a survey, which is a little bit time-consuming and trouble.
iCloud Activation Bypass Tool
By using this iCloud bypass tool, you can easily and quickly unlock the iCloud lock and activate the iCloud soon. To be honest, this program is no different than any other tools, but it is also a nice option while you're looking for a reliable iCloud activation bypass tool on the Internet. And it works on all iPhone models, iPad Air, iPad mini and iPod touch.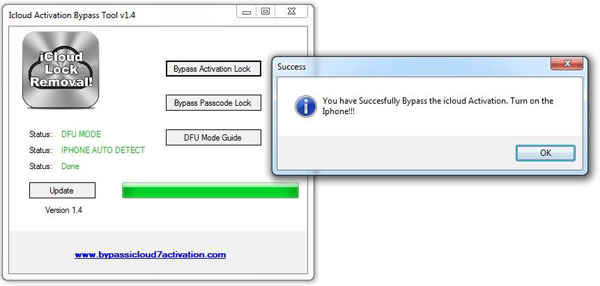 Pros:
- Easy to use and powerful ability to unlock iCloud.
- Free of cost.
- Compatible with all iPhone models, iPad Air, iPad mini and iPod touch.
- Support iOS system from iOS 7 to iOS 11.
Cons:
- Sometimes it may takes a long time to complete the process
Remove iCloud Activation Lock Tool
Remove iCloud Activation lock tool is a well-renowned bypass tool on the market. It provide users with many different options, so you can use this tool to deal with different issues more than bypassing the activation. However, compare to other tools, this program will take more time to unlocking your iCloud account. So if you're focused on the working speed of a tool, this program may not suitable for you.
To perform it, you only need to connect your device to computer with a USB cable, then select the right model number of your device and begin the bypassing process. What's more, this program can works on all iOS systems and devices.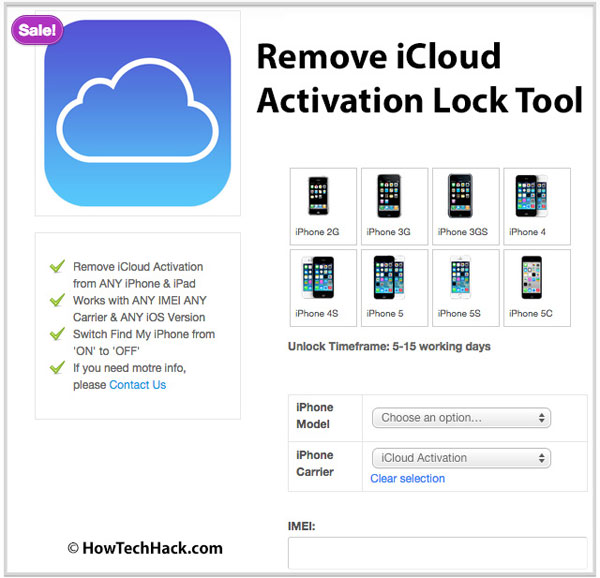 Pros:
- It is completely free and easy to use.
- You can get support and detailed information about this tool from its developers. So that you can use it more effectively.
Cons:
- Its working speed is a little bit slow.
Gadgetwide
Though Gadgetwide has been regarded as one of the best iCloud bypassing tool among users, but actually, it works on the same procedure or theory just as the above tools we have mentioned. You need to download this program on your computer, and then perform it as its tutorial shows. This tool provide users with both online tutorials and help desk, so that all of you can handle it as easy as 1-2-3.
What's more, this program is also a free application, and works on all models of iPhone, iPad and iPod touch.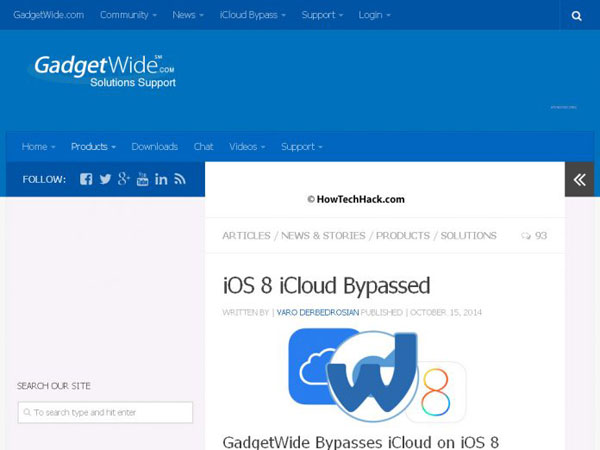 Pros:
- One of the most highly rated tool.
- Free for download and use, easy to handle.
- Provide users with efficient bypassing solution.
Cons:
- Need to be pre-installed on your computer before using it.
Comparison
After viewing 7 different iCloud bypassing tools, which one is the best in your mind? All tools on the top list are all tested by our technicians and they are really useful for unlocking iCloud. But it is hard to say which one is the best because different users have different demands. So we hope you can find a proper iCloud bypassing tool on the above options and never stuck at iCloud lock. By the way, if you have any other recommendations, please leave a comment in the below area.
Related Articles:
Things You Should Know about iCloud Password