5 Best iTunes Alternatives for Mac: Ways You'll Wish You Knew Sooner
In accordance with iTunes official website on October 7, 2019, Apple phased the music management feature out from iTunes with turning to bran-new programs - Apple Music, Apple Podcasts and Apple TV. Again, iTunes also underperforms other data management for iPhone, iPad and iPod. For instance, it does not support the two-way synchronization between computers and iDevices, is unable to synch one device on multiple computers, and is not good at syncing data between two iDevices.
For those reasons, many Mac users may be wondering: is there any iTunes replacements available? Definitely, This article will cover 5 iTunes alternative for Mac in detail. And exactly, we've tested them all, and thus feel free to choose what you think is the best.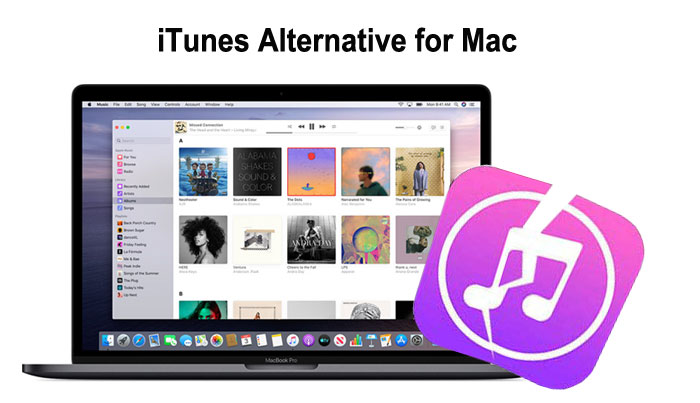 Top 1 iTunes Alternative for Mac - MobiKin Assistant for iOS
As many would agree, I too think that iTunes is not an ideal tool for Apple users. To find the best alternative to iTunes for Mac, the one needs to be easy to operate and painlessly act on your songs, playlist, photos, contacts, SMS, podcasts etc. Here's a piece of software that fits the bill perfectly. It is MobiKin Assistant for iOS (Mac and Windows), having revolutionized how we give an overall management on our iPhone, iPad and iPod. It packs with some stunning characteristics.
Pros:
It is able to transfer data like movies, pictures, voice memos, playlist, ebooks, contacts, messages and more between iDevices and Mac directly.
Back up iPhone to computer and restore from backup to iPhone.
Can be used to preview the data for more details before data processing.
Backup data from iDevice to iTunes default backup location or self-defined folders, and restore iTunes backups to your the linked phone with one touch.
You can perform data management with no prior experience, delivering quickly processing and completely secure outcomes.
Work well with iPhone 11 (Pro)/XS/XR/X, iPhone 8 (Plus)/7 (Plus)/6 (S)(Plus)/5 (S), iPad air, iPad mini, iPod touch, iPod shuffle, etc.
Cons:
It is not a free licensed utility. Yet you can experience its free trial.
After taking a glance at MobiKin Assistant for iOS, now, is it really easy to utilize this best iTunes alternative for Mac? Fear not! Let's take the backup of music from iPhone to computer as an example to explain how it works (with its "Export" feature).
Step 1. Open the software and get iPhone detected
Provided that your iPhone has been connected to Mac via the USB cable, just open the software on Mac after you download and install it. Now the automatic detection will be done at once, and the main interface of the program will then displayed like the picture below.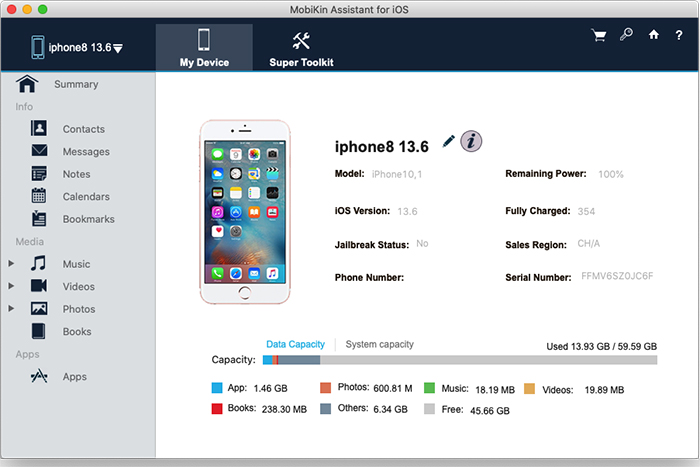 Step 2. Preview the specific music files
Click the "Music" option from the left menu, and you'll see all the clips. Now, you can preview and choose your desired songs by ticking off the corresponding checkboxes one by one, or mark the box on the left of "Name" to select all.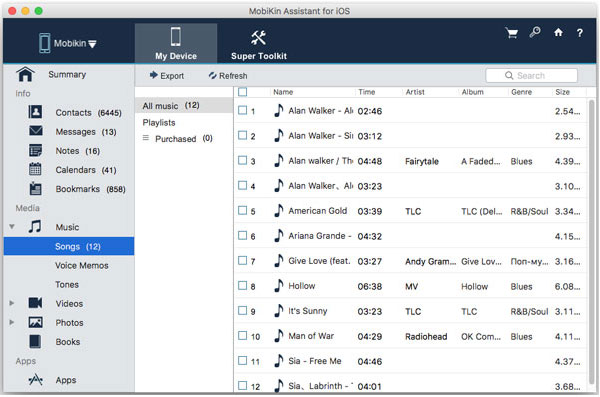 Here, you can also click "Voice Memos" and "Tones" under the "Music" tab to preview and export them to computer respectively.
Step 3. Start to transfer music to Mac
Tap the "Export" button from the top menu to get them stored on Mac. (During this process, you can find a location for saving the songs on Mac and name the folder as you like.)
Top 2 Alternatives to iTunes for Mac - iMazing
As an effective iTunes Alternative for Mac, iMazing is also well worth a look. It is a utility data backup manager, doing actions on music, messages, voicemail, contacts, photos, etc., which makes it prominent actually. The interface is easy to navigate, allowing you to edit, view, and give more control over your iOS devices simply. Further, both USB and WiFi connection are supported before task processing.
Pros:
Can be used to drag and drop files directly.
Fast response and relatively stable operation.
Cons:
Unable to display note images.
Folder's and file's names are not clear.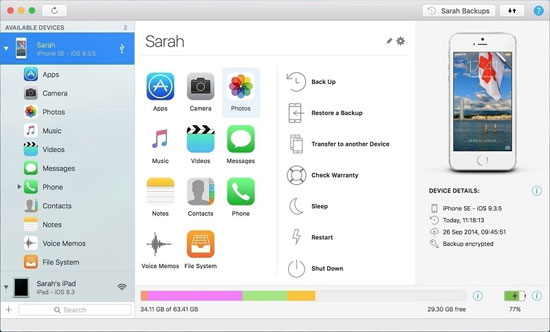 See Also:
Top 3 Mac Alternatives to iTunes - Spotify
Spotify is another alternative to iTunes for Mac, featuring multipurpose search features. You can search for relevant music by typing artist, album, genre, decade, label brand, and create playlists to share with others without restrictions. And for its latest version, it can be used to manage and sync songs on your iPod, iPhone or even Android, or download MP3 as well. The Added seamless playback and the cross push function provide users with more management options.
Pros:
Offer streaming broadcast with a filter.
Share collaboration playlists with friends.
Comes with iPod sync and MP3 Download features.
Cons:
You have to put up with ads in its free trial.
Personal songs can only be paid by credit card.
Some songs cannot be downloaded.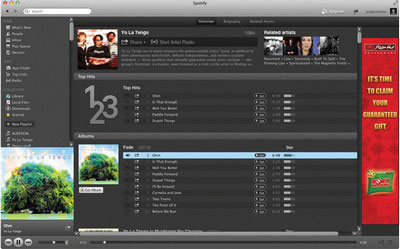 Top 4 Mac iTunes Alternatives - Musique
Musique (the French word for "music"), one of the personalized replacements for iTunes, assists you to drag songs to the play queue, edit them, and choose to clear them as needed. Of course, before that, it lets you to browse and search the music library for whatever songs or albums you are fond of. The Info View shows you what you want to know about the songs. What's more, you can download images of any artists you like from it.
Pros:
Sleek interface, flexible options and fast running.
Show some background about both the artists and albums while performing tasks.
Cons:
The "Version 0.1" doesn't come with album cover feature.
Some bundled program may jump out during installation.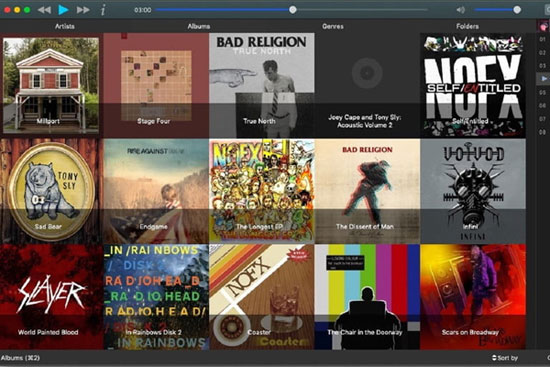 Guess You Like:
Top 5 Alternative to iTunes for Mac - Vox Music Player
Having the capability to play a host of formats covering FLAC, AAC, MP3, OGG and ALAC, APE, M4A, and WAV, etc., and as one the of great Mac iTunes alternatives, Vox Music Player can be a nice choice. It provides with cloud storage service for media files and plays songs from many sources besides from iTunes. Plus, it also allows you to sync the Vox app to YouTube freely.
Pros:
Do full detection for whole albums automatically.
Go well with more file formats than iTunes.
Cons:
Some features are only available for subscribers.
Lack of advanced functions and preferences.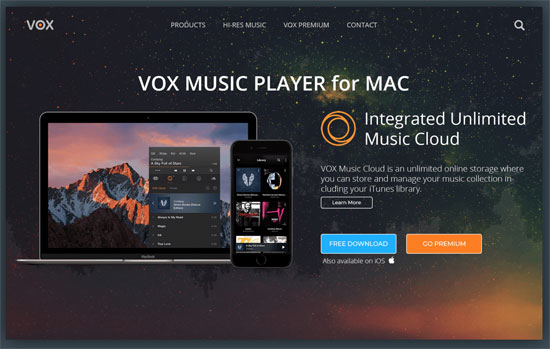 Summary
In short, iTunes, has the ongoing trend of having lost its design predominance. While macOS Catalina, the latest Mac OS X, is characterized by Apple Arcade on Mac and brisk recreational apps with wonderful features like "Sidecar" and "Voice Control".
Well, in view of the present situation, it is imperative to choose any of the above 5 iTunes alternatives for Mac. Yet if you care more about the comprehensive indicators of the tools, simply opt for MobiKin Assistant for iOS (Mac) to do light and easy work on your iPhone, iPad or iPod. Because it lets you enjoy a blissful comprehensive management procedure on up to 14 types of files.
Related Articles:
How to Transfer iBooks from iPad to PC?
How to Restore iTunes Backup to Samsung Galaxy S20/S10?
Best Android File Transfer Alternatives for Mac in 2020
Top 6 iTunes Alternative for Android Phones/Tablets in 2020
4 Useful iExplorer Alternative Software You May Need
4 Effective Ways to Transfer Music from Mac to Android in 2020