4 Ways to Recover Deleted LINE Chat History on iPhone/Android
With its clear functions, simple operations, interesting chartlet, and high call quality, LINE has long been among the top ten most popular social apps. Its fans use it almost every day to send messages, photos, or videos to those around them. Data loss, you know, is unavoidable for various reasons. Although Android phones are shipped with more and more powerful features, they don't come packed with a recycle bin to restore deleted/lost items anytime.
Well, this trusted tutorial is all about LINE chat recovery. Frankly, you will know how to recover deleted LINE chats with or without a backup, as long as you persist in running through this page.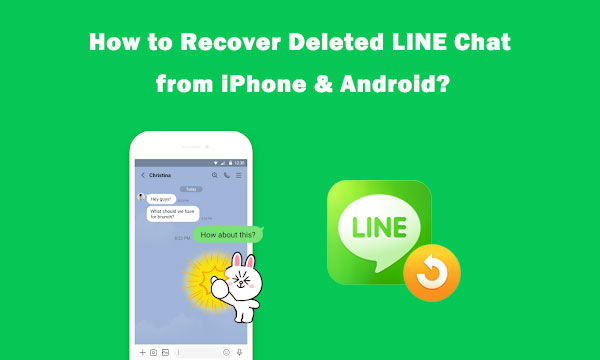 Section 1: How to Restore LINE Chat History on iOS via iCloud
iCloud on an iPhone gives you the freedom to run a backup of your device, including LINE chats, contacts, attachments, etc. To make it smoothly, please ensure there's enough storage space on iCloud. And if you are using LINE on this phone, you may lose your current data when driving LINE to recover deleted chat using iCloud.
How to recover deleted LINE chat history on iPhone with iCloud?
Run LINE on your iPhone and go to its "Settings" > "Chats" > "Chat history backup".
Tap on "Back Up Now". (The iCloud backup taking forever?)

Maintain a good network connection and ensure an active iCloud account is associated with your phone.
Next, reinstall LINE on your device.
Head over to "Settings" > "iCloud" > enable "iCloud Drive".
Log in to the same account for LINE.
When the previous backup is detected, just restore it to your iPhone.
Click to See:
Section 2: How to Restore LINE Chat on Android via Google Drive
Android users can avail of Google Drive to back up and recover LINE chats without trouble. To start with, please link LINE to an active Google account where you can store your conversations. Then ensure there's enough space on the cloud.
How to recover deleted LINE messages with Google Drive?
Start LINE on Android and go to its "Settings" > "Chats".
Go for "Backup and restore chat history".
Pick the Google account you connected with LINE.
Choose "Back up to Google Drive" to keep LINE chats on the Drive.

After the backup, please reinstall LINE or install it on any other Android phone.
Ensure the destination device is associated with the same Google account.
Next, to restore deleted files from Google Drive, please go to "Settings" > "Chats" > "Backup and restore chat history".
Here, click "Restore" instead.
Section 3: How to Recover Deleted LINE Chat History on iPhone/Android from PC
Since a computer is a convenient location to secure your LINE chat history, you can keep chats there and restore them to your iPhone or Android phone whenever you want. The best part of saving chats with a computer is that you don't even have to worry about running out of memory to accommodate the backup. And it's also pretty easy to use the LINE app to restore the chat history from your PC.
* Back up iOS LINE chat history to PC:
Take a plain-text backup of your LINE chats supported by your PC.
Transfer the text file you just created to the computer.
Run the LINE app on your iPhone and click the "Chat" room for backup.
Go to the "Settings" menu and proceed to "V" > "Settings".
Press "Backup Chat History" to copy the LINE backup chat history to this PC.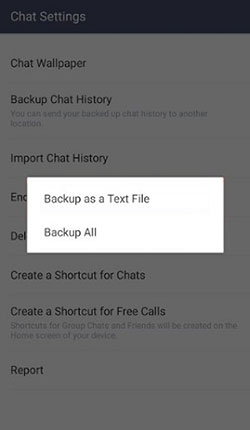 * Back up Android LINE chats to PC:
Firstly, run the LINE app on Android.
Choose the "chat" room you want to keep the backup on your PC.
Click the "V" key > "Settings" to access the menu.
Tap on "Export chat history" and pick the target folder for backup on the PC.
All the LINE chat files will finally be saved on your computer.
Recover deleted LINE chat records on iOS or Android devices from PC:
Connect your smartphone to the PC via a USB cable.
Then click on the "Restore" button and specify your phone as the destination device.
Further Reading:
Section 4: How to Recover Deleted LINE Messages on iPhone with a Smart Program
Those concerned about "LINE restore chat history iOS" may feel hopeless when they didn't run a backup of their iPhones before LINE messages are lost. Well, put down your redundant worries, provided that you download a flexible and all-in-one iOS recovery software - iPhone Data Recovery. Before we expatiate on how to restore free Line calls and messages step by step, let's have a general understanding of it.
What can iPhone Data Recovery do for you?
Make LINE chat recovery without backup as easy as ABC.
It can also restore other data types, such as photos, videos, iMessages, contacts, call history, WhatsApp data, notes, calendars, reminders, voice memos, and more.
Selectively restore iPhone from iCloud/iTunes backup file without reset.
Let you preview and select specific files for recovery.
Work well with overall iOS devices, including iPhone 14/14 Pro/14 Pro Max/14 Plus, iPhone 13/13 Pro (Max)/13 mini/12/12 Pro (Max)/12 mini, iPhone 11/11 Pro/11 Pro Max, iPhone X/XR/Xs/Xs Max, iPhone 8/8 Plus, iPhone 7/7 Plus, iPhone 6/6S/6 Plus, iPod touch, iPad, etc.
It won't disclose your privacy.
How to recover LINE chat history without backup using iPhone Data Recovery?
Step 1. Go to the "Recover from iOS Device" mode
Free download the program and install it on a computer. Then start it and link your iPhone to the computer via USB. Next, get into the "Recover from iOS Device" mode and click "Start Scan".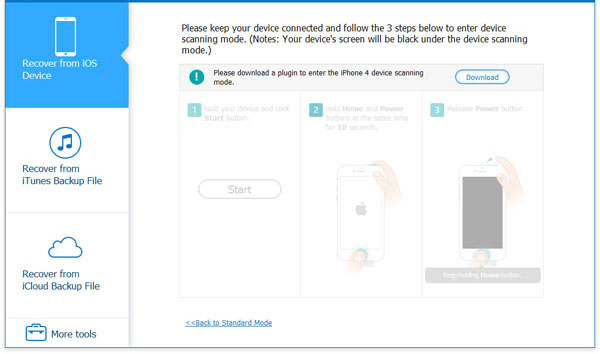 Step 2. Preview all LINE messages
Once down, you can see almost all your iOS data on the screen. Please go for "Messages" from the left menu and view the detailed content, including the free LINE messages, from the right column.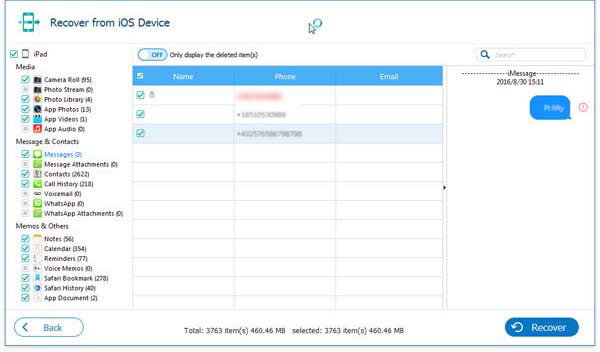 Step 3. Recover deleted LINE messages on iPhone
Choose all the free LINE calls & messages you wish to restore. Finally, just click "Recover" and specify the destination folder on this computer to save the items there.
People Also Ask:
Q1. Can I restore the LINE Chat from PC to Android/iPhone?
You cannot recover deleted chats directly from your computer to either your Android or iPhone. But once you get them onto your computer, you can restore LINE chat messages on Android/iPhone flexibly.
Q2. Why can't I restore LINE chat history?
If you are unable to get back the LINE chat history, "LINE no chat history backup found" is often to blame. And beyond that, there are also some other reasons for this:
The "Import Chat Option" feature is missing.
You misremembered the location of the backup files.
There's not enough storage space on your device.
Ending Words
When you back up your iOS or Android LINE chats on iCloud, Google Drive, or even your computer, you can find what you want almost effortlessly. But things don't always turn out the way you expect; broken or no backups could be a new story. Still, rather than tossing and turning for lost LINE chats without backup, isn't it make more sense to pick a smart program like iPhone Data Recovery for a simple and pleasant journey?
Related Articles:
How to Carry Over LINE Account?
5 Reliable Ways to Back Up LINE Chat History on iPhone/Android
LINE Seems to Crash on Android? How to Fix It?
2 Ways to Recover Deleted Whatsapp Messages on Android/iPhone without Backup
How to Recover Deleted WeChat Messages/Chat History on iPhone?
[4 Tips] How to Recover Deleted Text Messages on iPhone without Computer?