4 Smart Choices to Restore Contacts on iCloud with/without Backup
The importance of having our contacts synced and securely stored on platforms like iCloud cannot be overstated. Our iPhones are at the forefront of communication, facilitating voice calls, SMS, and email exchanges, all of which necessitate a reliable contacts list. This is why syncing iPhone contacts with iCloud and keeping contacts safe and well-organized is vital. We may wonder how to restore contacts from iCloud if it so happens that they disappear from the list for various reasons or contacts do not show up on the iPhone. Well, this article will unravel the mystery for you.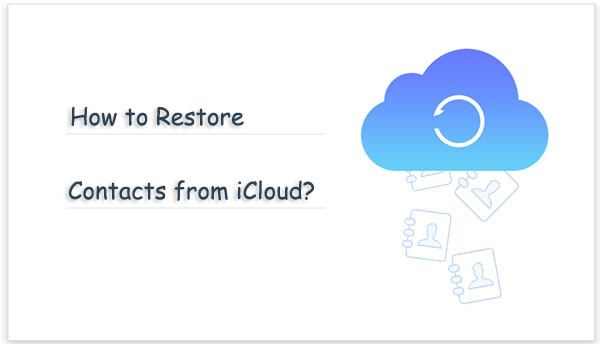 Way 1: How to Restore Contacts on iPhone from iCloud.com
To have iCloud restore contacts smoothly, please check out the following requirements:
Confirm iCloud contact backup or create a backup if necessary.
Recovery may result in incomplete or inaccurate data.
Maintain a stable network to avoid the restore from iCloud paused.
Verify restored data for accuracy; please repeat if errors persist.
Then, how to get my contacts from iCloud.com?
Access iCloud.com and log in with your Apple ID and password.
After successfully signing in, navigate to the "Data Recovery" option.
Scroll down to locate the option for "Restore Contacts".

You will find a list of previously created archives.
Identify the archive containing your complete contacts list by referring to their respective dates and selecting the "Restore" option.
Confirm the restoration by selecting the "Restore" button once more.
You Might Find These Appealing:
Way 2: How to Recover Contacts from iCloud Merge
iCloud is a valuable resource for iPhone users, offering extra storage for files. When you accidentally delete contacts, don't worry. Contacts sync with iCloud by default, and you can re-enable "iCloud Contacts" in "Settings" for iCloud contacts restore with the "Merge" feature it provides.
Once merged, your iCloud contacts will appear alongside your existing ones in your iPhone's contacts list. If you can't find the Contacts toggle immediately, tap "Show All" to access the Apps Using iCloud screen where it should be located.
How to recover contacts from iCloud Merge?
Launch the "Settings" application on your iPhone 15/14/13/12/11/X/8.
Select your name at the top of the "Settings" screen to access the Apple ID page.
Choose "iCloud" and activate or deactivate Contacts under "Apps Using iCloud".
It will change from gray to green when activated. If it's already on, turn it off.
Select "Keep on My iPhone" in the prompt to avoid contact erasure, and then toggle it on again.
When prompted, tap "Merge" to get contacts from iCloud to iPhone.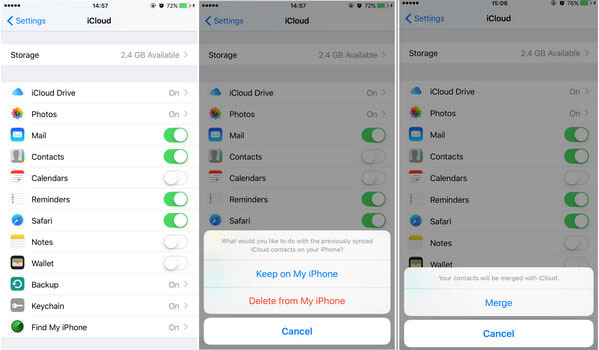 Restoring contacts from iCloud Merge is certainly possible but can be a bit tricky. If you've merged your contacts on iCloud and some of them are missing or not syncing properly, follow these tips to recover and resolve the issue: Merge the contacts again, manually re-enter missing contacts, or contact Apple Support.
Way 3: How to Retrieve Contacts from iCloud Backup
If you have iPhone backup files stored in iCloud, consider this method. Keep in mind that it will completely restore iCloud data, resulting in the deletion of current settings and other data. Consider utilizing trustworthy third-party software if you have concerns regarding the potential loss of data on your iPhone.
How to restore iPhone contacts from iCloud Backup?
Access your iPhone's "Settings".
Go to "General", then choose "Reset", and select "Erase All Contents and Settings".
Confirm by selecting "Erase Now" and follow the on-screen hints until you reach the "Apps & Data" screen.
On that screen, tap "Restore from an iCloud Backup".
Sign in with your iCloud account credentials.
Choose the desired backup from the list and wait for the process to complete.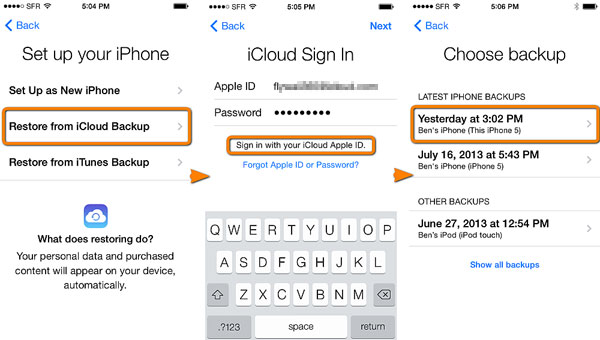 Learn More:
Way 4: How to Selectively Restore Contacts from iCloud [without Erasing Data]
One major limitation associated with the direct restoration of contacts from iCloud to iPhone is the challenge of selectively restoring desired contacts, which may result in the unintentional overwriting of existing data. However, by employing MobiKin Doctor for iOS (Windows and Mac), such concerns can be alleviated. This agile software eliminates the need for connecting the iPhone to a computer and enables the effortless restore of contacts to the computer with a simple interface.
How can MobiKin Doctor for iOS support you?
Recover specific contacts from iCloud backup affecting existing data.
Retrieve iOS files from an iTunes backup without resetting.
Applicable to various file types, including contacts, messages, photos, videos, call logs, Safari history, voice memos, notes, calendars, and more.
Let you preview and pick the files you want to recover before proceeding.
Coexist harmoniously with including iPhone 15/14/13/12/11/X/8/7/6, iPad, and iPod touch.
Protect your privacy without a doubt.
How to restore contacts from iCloud backup with MobiKin Doctor for iOS?
Step 1. Choose "Recover from iCloud"
Download and install the software on your computer. Initiate the utility and choose "Recover from iCloud" after providing your Apple ID and password.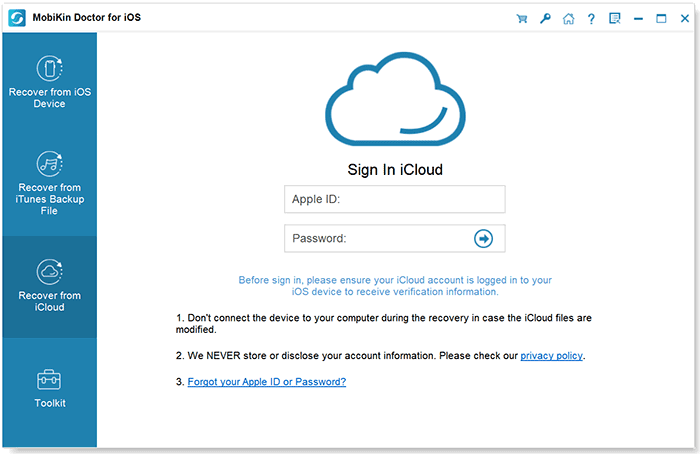 Step 2. Choose the "Contacts" checkbox
Pick the specific file types you wish to access and click "Next". (Here in this drill, you should opt for "Contacts"). The software will display all your synchronized items within its interface.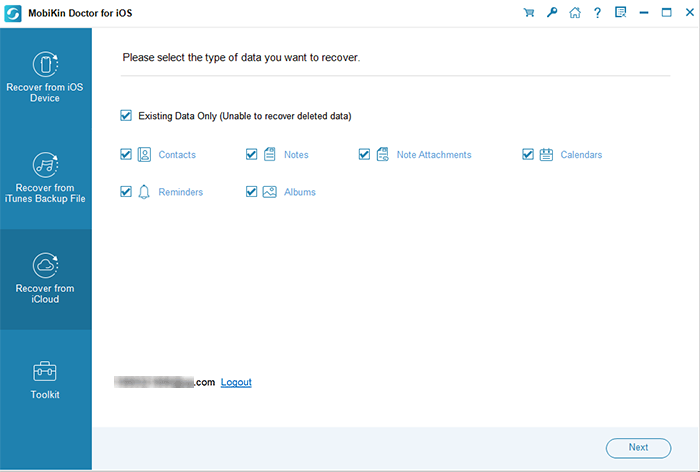 Step 3. Restore contacts from iCloud backup selectively
Now, go to "Contacts" in the left sidebar and review the details on the right. After that, simply go for the iCloud backup files you desire and click "Recover to Computer" to save them to your local storage.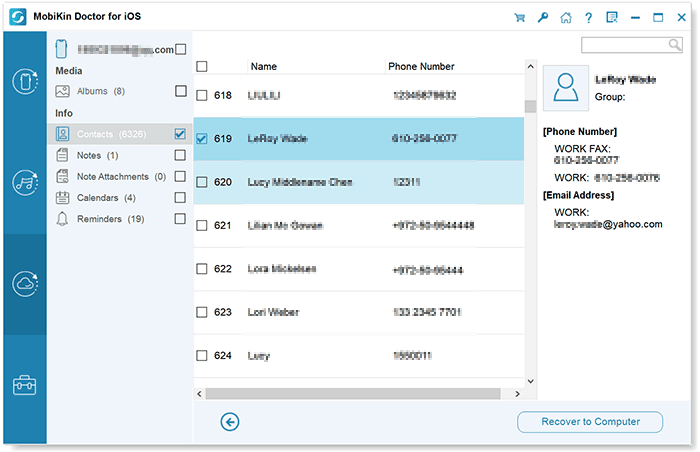 Word in the End
To conclude, we regard MobiKin Doctor for iOS as an efficient tool for selectively restoring contacts from iCloud backup. This could eliminate the need for a full device reset or iCloud restore stuck. Alternatively, this tool allows you to recover your contacts directly from your iPhone, ensuring that your valuable contact info remains intact and easily accessible. Finally, please share this passage on social media if it is to your taste.
Related Articles:
How to Export Contacts from iPhone 15/14/13/12/11/X/8 to Excel/CSV? [4 Methods]
How to Sync iPhone to Mac Wirelessly or with Wires? [Answered]
How to Fix Move to iOS Did Not Transfer Contacts? 5 Solutions You Must Know.
4 Simplest Ways to Sync Outlook Contacts with iPhone 15/14/13/12/11/X/8/7
[6 Ways] How to Restore Deleted WhatsApp Messages/Chat of One Contact
4 Useful Ways to Transfer Contacts to SIM Cards (Android & iPhone)