How to Fix Move to iOS Did Not Transfer Contacts? 5 Solutions You Must Know
In the ever-evolving world of technology, switching from an Android device to an iOS one has become a common occurrence. Apple's "Move to iOS" app has long been hailed as a convenient solution for seamlessly transferring data, including contacts, from Android to iOS devices. However, there are instances where this seemingly efficient tool falls short, leading to "Move to iOS did not transfer contacts".
Obviously, various factors can contribute to this awkward situation. And we shall briefly cover the reasons in the passage. Beyond that, you'll know some quick fixes to this problem, along with a decent alternative to Move to iOS.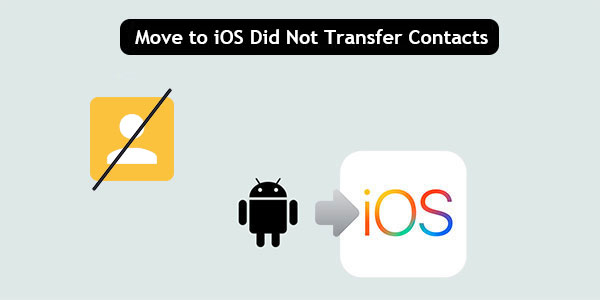 Part 1: Why Move to iOS Did Not Transfer Contacts?
There could be several reasons why the Move to iOS app did not successfully transfer contacts from an Android device to an iOS device. Here are some possible explanations:
Read Also:
Part 2: Fix Move to iOS Contacts Missing with 5 Solutions
Solution 1: Check the iPhone Storage Space
If you discover that the Move to iOS app failed to transfer contacts or only some of them, it's important to investigate whether the issue is due to insufficient space on your iOS device. Verify that the amount of content from your Android does not exceed the available storage capacity on your iPhone.
To do this, navigate to iPhone's "Settings" > "General" > "iPhone Storage" and check whether your storage is full. You can offload unnecessary apps to free up space on your iPhone if needed.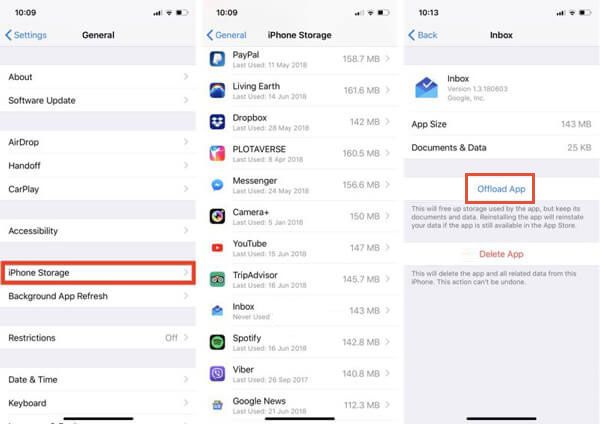 Solution 2: Sync Contacts by Adding an Account on iPhone
Assuming you want to get your Google account contacts from Android onto your iPhone, simply add the account to your iPhone and sync the contacts when Move to iOS did not transfer contacts:
Solution 3: Transfer Contacts by Importing SIM Contacts
Click to Know:
Solution 4: Restart the Contact Transfer
During the transfer process, unexpected issues may occur, such as glitches that result in some contacts not being transferred. To settle the Move to iOS contacts missing issue, you can try restarting the transfer as follows: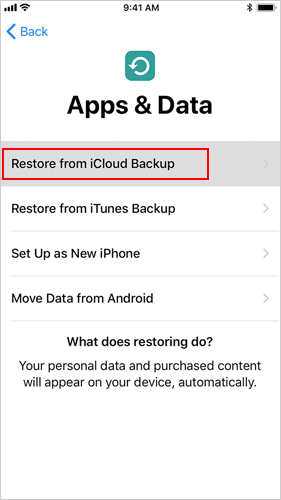 Solution 5: Contact Apple for Assistance
Part 3: Use Move to iOS Alternative to Transfer Contacts between Two Phones [Worth a Short]
The Move to iOS app is a highly effective tool for seamlessly transferring data from Android to iOS. Nonetheless, users might face difficulties when it comes to transferring all contacts from Android to iPhone, and the troubleshooting methods may not always be successful.
Consequently, it is essential to possess a reliable tool that guarantees a successful transition from Android to Apple devices. Let's explore an alternative option called MobiKin Transfer for Mobile (Win and Mac), which is a renowned mobile phone transfer tool trusted by a large user base.
Salient characteristics of MobiKin Transfer for Mobile?
How to transfer data from Android to iPhone with Transfer for Mobile?
Step 1. Connect devices to a computer and run the software
Install and start the software on your computer. Connect both your Android and iPhone devices to the computer using USB cables. Next, follow the on-screen guide to ensure that both phones are recognized.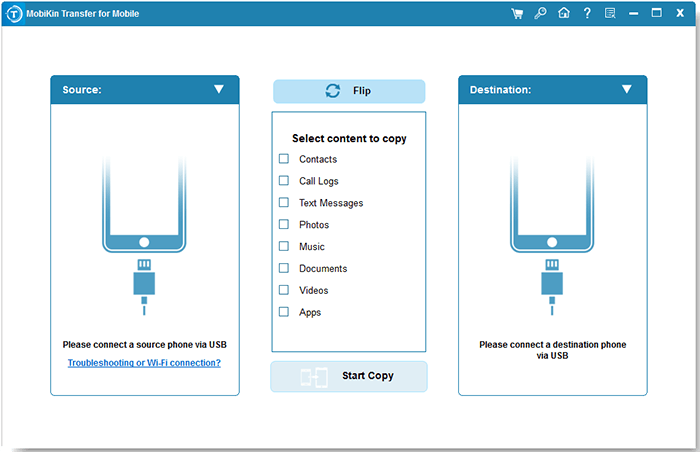 Step 2. Verify the positions of your devices
Once identified, make sure that the Android device is displayed on the left side and the iPhone on the other side of the interface. If the positions are swapped, click on "Flip" in the middle of the interface to switch them.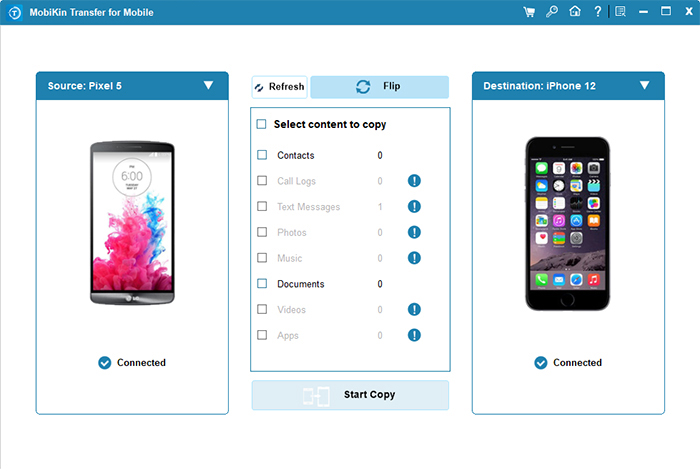 Step 3. Transfer data from Android to iPhone at once
Select the types of data you want to transfer from the options available on the screen. Finally, click on "Start Copy" to initiate the content transfer from Android to iPhone.
Concluding Thoughts
By and large, while Move to iOS is generally a dependable product for moving data from Android to iOS, it may result in issues with transferring all contacts. To ensure a hassle-free migration without contact loss, consider employing the aforementioned steps and exploring reliable alternatives like MobiKin Transfer for Mobile. By taking these precautions and making use of the robust tool, you can confidently complete your Android to Apple journey without any worries about missing contacts.
Related Articles:
How to Fix "Move to iOS Transfer Interrupted"? 7 Common Methods for You
10 Tips to Fix "No iOS Device Detected Move to iOS" Issue [Must-read]
4 Most Efficient Means to Create a Contact Group on iPhone 14/13/12/11/X/8/7
Top 6 iPhone Contacts Backup Apps to Back Up Contacts on iPhone
How to Recover Deleted WhatsApp Contacts on Android with/without Backup?
3 Ways to Recover Deleted Contacts from Android (#1 is Awesome)