Where Is the Recently Deleted Folder on iPhone? [Discover Hidden Secrets Here]
Are you one of those iPhone operators who have ever wondered, "Is there a deleted items folder on iPhone?" or found yourself pondering the question, "Where is the recently deleted folder on iPhone?" If so, you are in the right place.
In this comprehensive guide, we will delve into the intriguing world of the recently deleted folder on your iPhone. We'll illustrate its existence and exact location within your device. Whether you're an avid photographer looking to recover accidentally deleted photos on iPhone or simply curious about where your deleted files go, this post covers all the essential information you need.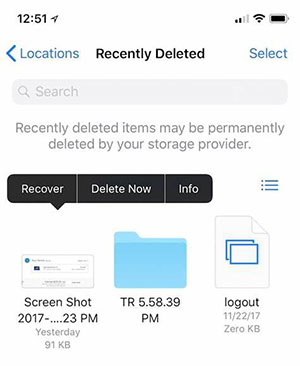 Part 1: Where Is the Recently Deleted Folder on iPhone
On an iPhone, the "Recently Deleted" folder can be found within the Photos app. This folder is specifically for photos and videos that have been deleted from your iDevice but are still recoverable within a certain timeframe. In the Recently Deleted folder, you will see a collection of photos and videos deleted within the last 30 days. This timeframe allows you to recover any accidentally deleted items before they are permanently removed.
You Might Also Want to Know:
Part 2: How to Find Recently Deleted Stuff on iPhone Albums
If you have deleted files on your iPhone recently, there's no need to worry just yet. All deleted files are automatically transferred to the "Recently Deleted" album created on your device. You can now perform the iPhone trash recovery for a period of 30 days before being permanently deleted. Next, let's see how to find deleted files on iPhone albums:
Open the Photos app on your iPhone.
At the bottom of the screen, tap the "Albums" tab.
Scroll down the list of albums until you reach the "Other Albums" section.
Locate and tap on the "Recently Deleted" album within that section.
You will find all the items that have been deleted from your iPhone's Photos app.
Tap "Select" and choose the specific photos you wish to recover.
After that, tap "Recover" to save them to your device.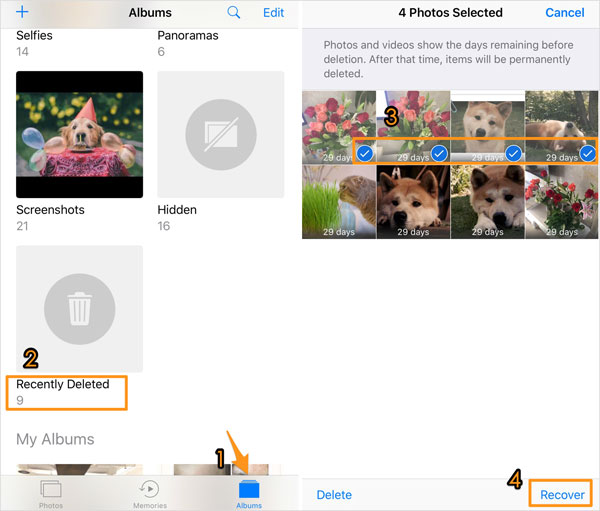 Part 3: How to Find Recently Deleted Items on iPhone Notes
By accessing the "Recently Deleted" folder, you will find the notes that have been recently deleted from your iPhone within 30 days. The following steps will help you retrieve a recently deleted note to the "Notes" section for easy access and thus fix "iPhone notes disappeared". And other folders in this app will contain your active and saved notes. Learn how to see deleted stuff on iPhone notes:
Open the "Notes" app on your iPhone 14/13/12/11/X/8.
Tap the left arrow in the top-left corner to go back to the main view.
Locate the "Folders" menu and tap on it.
From the list of folders, select "Recently Deleted."
Tap "Edit" in the top-right corner of the screen.
Select the note you want to recover by tapping on it.
Press "Move to" at the bottom of the screen.
Choose "Notes" to move the note back to the main list with the rest of your notes.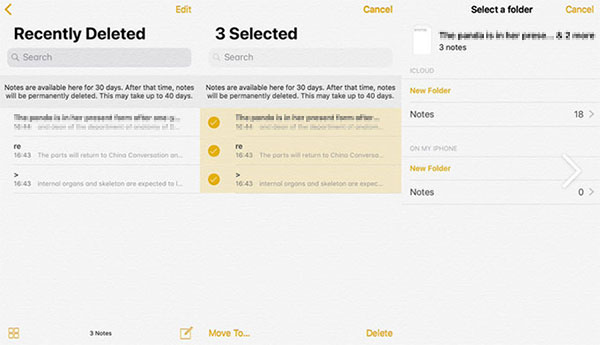 Further Reading:
Part 4: Where Do Temporarily Deleted Files Go on iPhone
On an iPhone, temporarily deleted files, such as documents, PDFs, spreadsheets, and other file types, do not have a specific folder like the "Recently Deleted" folder for photos. But when you delete files from certain apps or the Files app on your iPhone, they are immediately moved to the "Recently Deleted" folder within that specific app.
All in all, not all apps have a "Recently Deleted" folder or similar functionality for temporarily deleted files. It depends on how the app handles deletions and whether it provides a recovery option.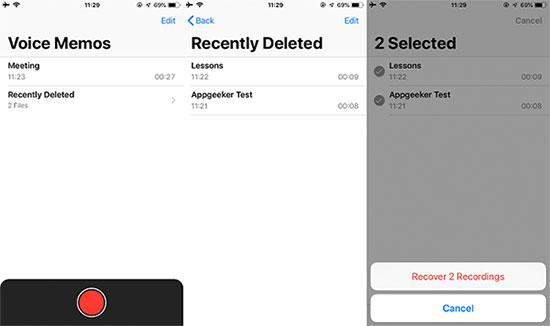 Part 5: Where Do Permanently Deleted Items Go on iPhone
When you remove data from your iPhone, they are initially moved to the "Recently Deleted" folder, if applicable. However, if you go ahead and delete them from the "Recently Deleted" folder or if the items bypass the "Recently Deleted" folder entirely, they are considered permanently deleted.
At this point, they are not stored in a specific folder on your iPhone but removed from its storage and become inaccessible through regular means. These items are typically overwritten by new data over time as you continue using your iPhone.
Part 6: How to Find Deleted Things on iPhone from iCloud Backup
If you kept a recent iCloud backup for your iPhone, you could revert everything to the state it was in at the time of the backup. The availability and location of deleted items within apps or data categories may vary depending on the specific app and how it handles deleted data. Additionally, restoring from an iCloud backup may overwrite any existing data on your iPhone with the backup data, so proceed with caution to avoid potential data loss. Now, let's check out the instructions to restore your iPhone from iCloud backup:
Ensure your iPhone is connected to a stable Wi-Fi network.
On your iPhone, go to the "Settings" app.
Hit your name at the top of "Settings" to access your Apple ID settings.
Tap "iCloud" and select "Manage Storage" or "iCloud Storage", depending on your iOS version.

Touch "Backups" to view the iCloud backups.
Select the backup you believe contains the deleted items you want to restore.
Find the specific app or data category that contains the deleted items you want to retrieve.
If the file type is toggled off, turn it on to include it in the restore process. Otherwise, disable the data options.

Exit "Settings" and go to your iPhone's "Home" screen.
Open the respective app or data category you want to restore the deleted items.
Depending on the app, you may find a "Recently Deleted" folder or a similar option within the app.
Access this folder or option; you may find the deleted items from your iCloud backup.
Select the items you wish to restore, and follow the prompts within the app to complete the restoration.
Part 7: How to Retrieve Permanently Deleted Files on iPhone without Backup
When it comes to permanently deleted files on an iPhone, recovering them proves to be a big headache. That's where MobiKin Doctor for iOS, a reliable iPhone data recovery software, comes in. With its user-friendly interface and comprehensive features, it enables you to easily restore various types of iOS data while securing the current items on your iPhone.
Why choose MobiKin Doctor for iOS?
Recover deleted messages on your iPhone even if you don't have a backup.
Retrieve lost iPhone files from an iTunes or iCloud backup file. (Can I recover iTunes backup to Android?)
Rescue a wide range of data types, including contacts, messages, SMS attachments, photos, videos, call logs, WhatsApp data, notes, calendar events, reminders, voice memos, and more.
Enjoy the ability to preview the data before selectively recovering it.
Highly compatible, wide range of data recovery, selective recovery, and time-efficient.
Work well with practically all iOS devices, including iPhone 14/14 Plus/14 Pro (Max), iPhone 13/13 Pro (Max)/13 mini/12/12 Pro (Max)/12 mini, iPhone 11/11 Pro/11 Pro Max, iPhone X/XR/Xs/Xs Max, iPhone 8/8 Plus, iPhone 7/7 Plus, iPhone 6/6S/6 Plus, iPod touch, iPad, etc.
It won't disclose your privacy.
How to recover recently deleted files on iPhone without a backup using Doctor for iOS?
Step 1. Connect your iPhone to the computer
Once you have downloaded and installed the iPhone data recovery software on your computer, launch it and connect your iPhone to the computer using a USB cable. When the program recognizes your connected iPhone, you can select the "Recover from iOS Device" mode.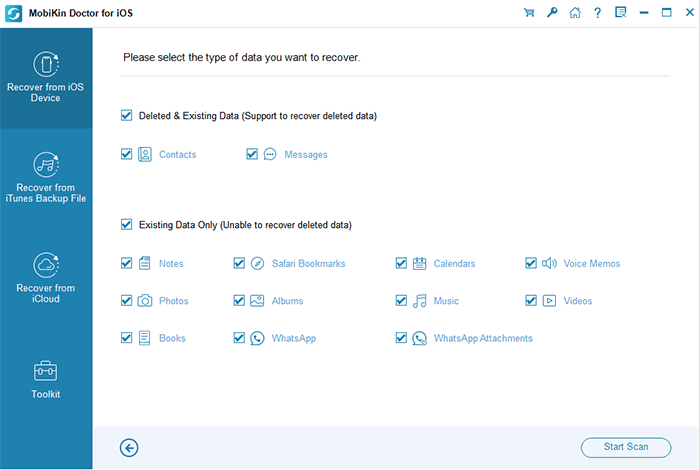 Step 2. Scan existing and deleted data on iPhone
The utility will display all the recoverable file types. Simply choose the data types you want to retrieve and click "Start Scan" to initiate the data scan. After scanning, you'll be allowed to preview the files and select the specific items you wish to recover.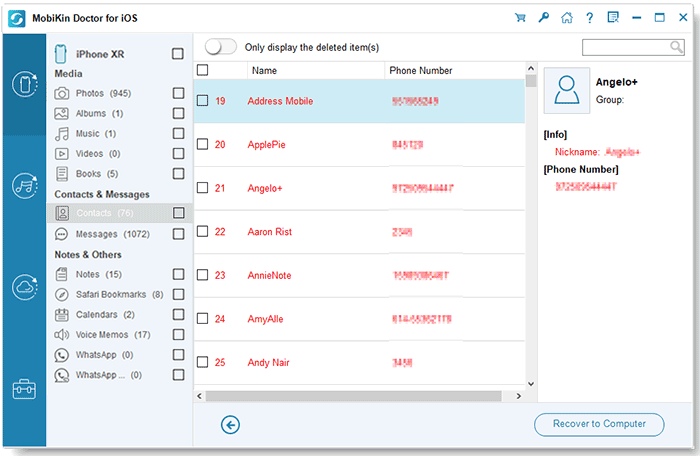 Step 3. Recover recently deleted files on iPhone
After selecting all the desired data, click the "Recover to Computer" button at the bottom right. This will allow you to save all the recovered iPhone data to your computer.
This versatile tool also enjoys the capability to restore your iPhone from an iTunes or iCloud backup file. If you have a previous backup of that kind, just enter the "Recover from iTunes Backup File" or "Recover from iCloud" mode. Then follow the on-screen hints to recover deleted iPhone files selectively without covering the existing iOS content.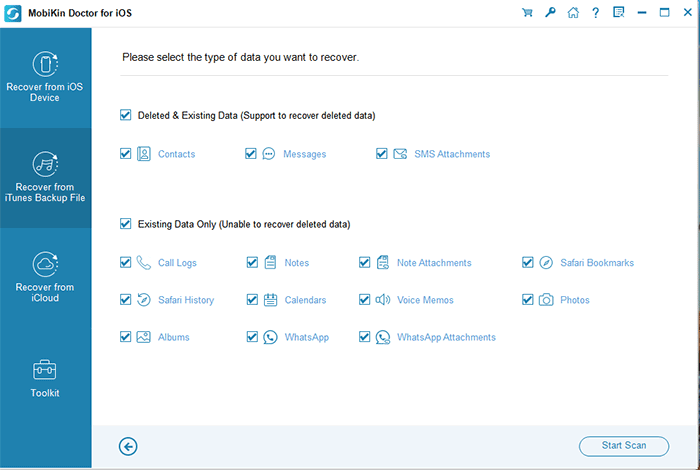 Closing Words
On balance, we just explored the fine points of the recently deleted folder on your iPhone. And we know that the folder serves as a temporary holding place for deleted items, providing a safety net before they are permanently erased from your device.
However, sometimes this folder won't allow you to recover what you want for some reason. What's worse, you deleted iOS files but forgot to maintain a copy of them. Then it is advisable to utilize reliable and efficient software like MobiKin Doctor for iOS to recover permanently deleted files on your iPhone without a backup.
Related Articles:
Where Does iTunes Store Backups & How to Change iTunes Backup Location?
Where Is My iPhone Backup Stored? A Detailed Guide You Should Never Miss
Detailed Tutorial on How to Back Up iPhone to Google Drive
iPhone Touch Screen Not Working/Responding? 10 Troubleshooting Tips for You
5 Brilliant Ways to Recover iCloud Password? [Must-read]
How to Restore iPhone in Recovery Mode with or without iTunes?