Huawei Phone Clone Troubleshooting: Scenes, Solutions & an Alternative
"I just received my new Huawei Mate 10 Pro and I downloaded the Android phone clone app on the new Mate 10 Pro as well as my old Moto X Pure Edition. I seem to be able to scan the code, but I just keep getting error messages that says it failed to connect. I've tried numerous times. Can someone tell me how to do Phone Clone troubleshooting?"
The above problem is from "Androidcentral Forum" posted by a Huawei mobile user. At the time, he had trouble in operating Huawei Phone Clone. Well, when it comes to the Phone Clone, you may know more or less that it is a utility that can migrate data from iOS/Android devices to Huawei devices. Many users have had problems using this app recently. Thus, this Phone Clone troubleshooting guide is to split the problems and propose countermeasures. Hope it helps.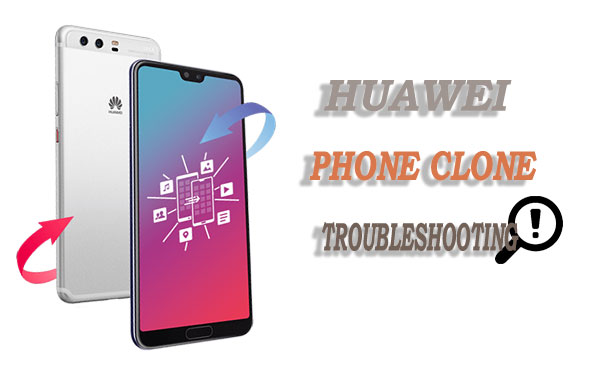 Part 1: How Does Huawei Phone Clone Work?
Huawei Phone Clone supports transferring different files on different OSes. Namely, if your source phone is an Android, it can be used to transfer contacts, photos, videos, music, call records, SMS, documents, apps and more to Huawei mobile, and if your source mobile is an iPhone, you can only send contacts, photos or other multimedia files to the new Huawei handset from the iPhone (For reversed transfer, you can go to how to transfer data from Huawei to iPhone).
Now, before we talking about the Huawei Phone Clone troubleshooting, ideally, let's have a look at how Huawei Phone Clone works at first:
Step 1: Turn on WiFi features on the two devices. Then, download the Huawei Phone Clone app (V5.0.0 or higher) on your source phone (Android phone on Android 4.0 or later or iPhone on 6.0 or above) and the destination Huawei device from Google Play or Apple Store.
Step 2: Start the app on the new Huawei phone and choose "Old Phone" > "Connect old Phone". And you'll see "touch here to generate a QR code". Just tap the link to get a code. Then, run the program on your old Huawei phone and touch "THIS IS THE OLD PHONE". Next, scan the QR code to make a connection.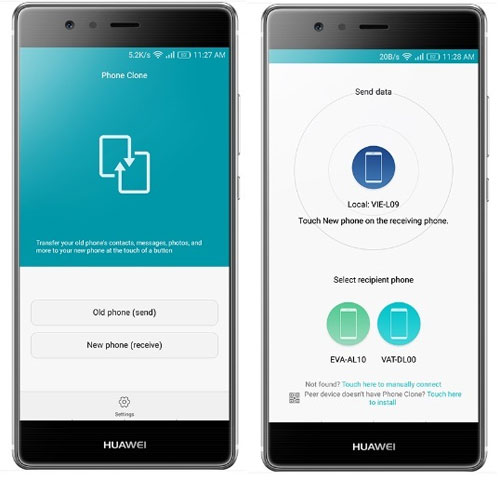 Step 3: After the connection is made, you can see "Select app data" on your old phone. Please choose the data categories like "Contacts", "Photos" or "Videos", etc., and tap the "SEND" button to transfer data from the source phone to Huawei mobile.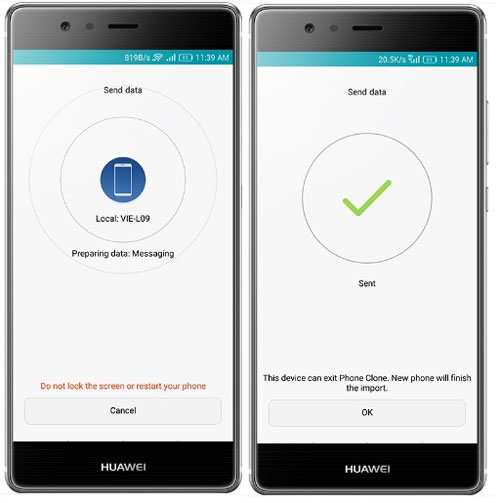 You can manually connect your phones to WiFi network. To do this, go to the window of this app on the Huawei phone (new phone) and check the guide below the QR code (As is shown in the picture of step 2).
Other People are Reading:
Part 2: Phone Clone Troubleshooting: Scenes & Solutions of Phone Clone Not Working
The above is the fine performance of Huawei Phone Clone in file transfer, but in many cases, Phone Clone has some problems, such as unable to download, not connecting, or unstable during the use. After scientific analysis of these matters of Huawei phone clone not working, we provide you with relatively feasible solutions.
Scene 1: Phone Clone Unable to Download from Huawei App Market
The installation of mobile clone app may not be difficult for many users, but there are also some people who fail to do it. Confronted with this case, we should check whether the phones meet the needs of Huawei Clone software, which means whether they are on iOS 6.0 and up or Android 4.0 and higher. If the OSes are below the mark and firmwares are out of date, you need go to the phone settings to update them manually. The way is:
For iDevice users, please navigate to its Settings > General > Software Update to easily update the device to the latest iOS version. While for Android users, please go to its Settings > System Update to update the firmware.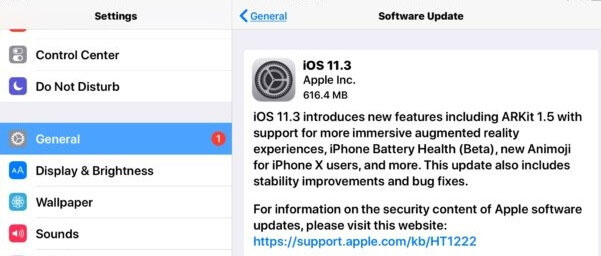 Note: You'd better reserve at least 50% of your phone's battery before upgrading.
Scene 2: Phone Clone Not Connecting
If Huawei phone clone won't connect to your phone, make sure that the WiFi feature of the two devices is on (see how to turn on WiFi on Android here), and the devices are in close vicinity, which are the first two checks you need to do if your Huawei Phone Clone keeps disconnecting. Secondly, it is also very important to check whether the device that needs to be used to receive files is Huawei mobile. Correspondingly, the iDevice or Android cellphone is a receiving device. Well, after that, please disconnect your phones and try it again.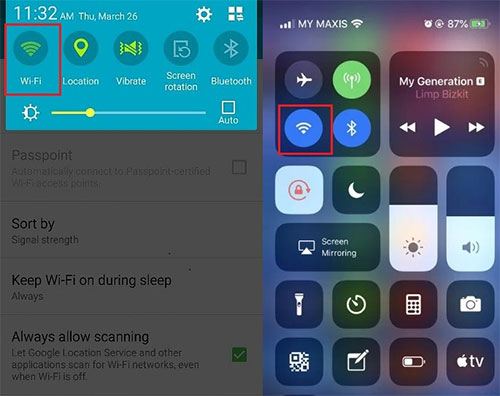 Scene 3: Phone Clone Not Enough Storage Space
The operation cannot be completed due to insufficient memory. In this case, you should clear the phone cache from Settings > App (Management) > (Storage Management) > Clear Cash. If the free space is not enough to support the transfer task, you can use an available USB cable to connect to PC. And after the computer recognizes the USB, click "set USB to transfer files" on the phone.
After that, you can temporarily copy important photos, videos or other multimedia files to the computer, and then delete the copies on the phone. When the transfer is completed, you can copy these files from the computer to the corresponding folder(s) of the mobile.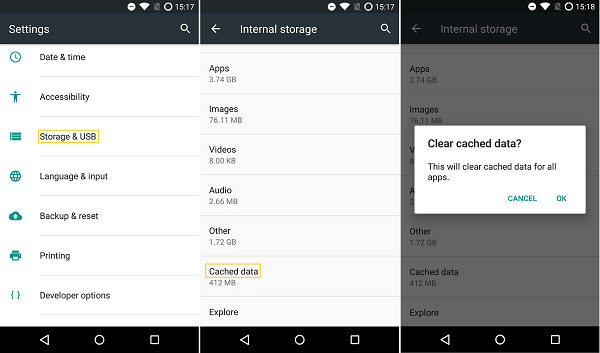 Scene 4: Phone Clone Not Transferring All Files At a Time
When you transfer more files all at once, it may take a long time accordingly. During this process, if the connection is disconnected inadvertently or the WiFi is unstable, not all the data can be moved. To fix it, you need to make sure that the two devices are nearby, that is, keep them where they are when connecting, and then check whether the phones are conducting download task or work with VPN (interrupt or uninstall it if any). In addition, do not exit the Phone Clone interface while performing file transfer.
If these are OK, turn the flight mode on and off, restart your router, and later, try with Phone Clone again.
Other People are Reading:
Part 3: An Unexceptionable Alternative to Huawei Phone Clone - Transfer for Mobile
Is there any product that is more stable and technologically advanced than Huawei Phone Clone? Sure, it is recommended that you use MobiKin Transfer for Mobile (Window/Mac version), which can not only transfer all types of data between two mobile phones (Android or iOS devices), but also remove the saved files on your target Android mobile before transferring the data, which will save the precious storage of your mobile. Let's take a quick look at its features and simple usage.
Some awesome features of MobiKin Transfer for Mobile:
Move contacts, text messages, call records, photos, videos, music, documents and apps from other phones to Huawei mobile.
Transfer files from iOS to iOS, Android to Android, Android to iOS, and iOS to Android devices.
Perform safe connection, quick transfer, and circumspect after-sale services.
Work smoothly on both the Windows and Mac platforms.
Be available for various Android and iOS devices, including Huawei P40/ P40 Pro/P30/P30 Pro/P20/P10/P9, Huawei Mate 30/20/10, Huawei Nova 7/6/5/4/3/2, Huawei Y365/560/530, etc.
Therefore, it is no need to worry that your devices are not compatible with this impeccable program. Just download it to have a try.
Now, let's see how to use this Huawei Phone Clone replacement - MobiKin Transfer for Mobile to transfer data from one phone to another. For Windows users, you need download the Windows version and install it on PC. And for Mac users, you should go for the Mac version.
Step 1: Launch the tool and connect two devices to your computer
To start with, you need to open this tool on your computer and connect your two phones to this computer through USB cables. After the connection, your two devices are on the two sides of the window.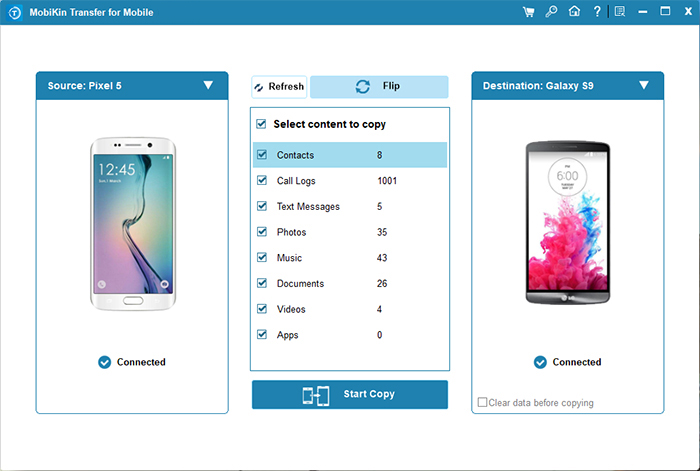 Note: Ensure that the left phone is the source device and the right one is the destination mobile. If not, please tap "Flip" button to change their positions.
Step 2: Transfer files from other phone to Huawei
Mark the file types that you need to transfer from the middle list (for instance, if you need to move contacts, you should tick on "Contacts" option ). Then, tap on "Start Copy" button to start migrating data from your source device to the target Huawei device. Finally, click on "OK" to finish the transfer when it is over.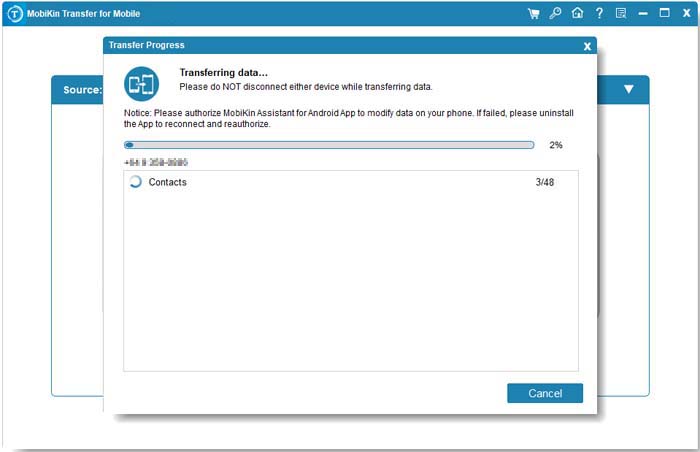 Closing Remarks
That's all for this article. Now, do you know more about how Huawei Phone Clone works and the exact Phone Clone troubleshooting? Personally, I hope these contents will be helpful whenever you need them. Yet, if you prefer a more professional and stable Phone Clone alternative, suggest you using MobiKin Transfer for Mobile, which can avoid almost all sorts of probable troubles brought by Phone Clone and finish the phone to phone transfer process flawlessly and safely. So, If you like this smart replacement, feel free to download and give it a go.
Related Articles:
Top 4 Methods to Transfer Data from Samsung to Huawei
Huawei to Mac Transfer - 5 Ways to Transfer Files from Huawei to Mac
Huawei to Android Transfer - Transfer Files from Huawei to Android
Huawei Contacts Recovery: Recover Deleted Contacts on Huawei
How to Permanently Delete Text Messages from My Android Phone?
[Solved!] How to Transfer Text Messages from iPhone to Android?