SHAREit Review: Features, How-tos, Price, and the Best Alternative
SHAREit is a very popular file sharing application designed to freely transfer various types of data between Android, iOS, macOS and Windows. If you plan to transfer important data from one device to another, then SHAREit is a good choice. However, this application also has some limitations that you already know or don't know. That's why I have summarized this complete SHAREit review to let you know more about this app.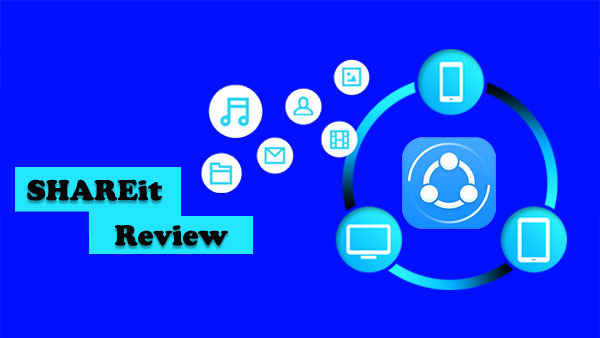 Part 1: What is SHAREit App?
1. Main Features
What does SHAREit app do? As we all know, SHAREit is mainly used to transfer data and files between different devices, but in fact, this application also provides a lot of other functions. So, let's explore the potential functions of this tool now.
SHAREit is suitable for Android, iOS, MacOS and Windows PC. You can transfer data between different platforms, such as transfer data between Android and iPhone. According to our test, it does not have any restrictions on the file size, and the transfer speed is relatively fast.
SHAREit currently supports the transfer of photos, videos, songs, documents and applications. However, it can only reinstall the application and cannot directly transfer application data.
SHAREit has built-in video and music playback functions, as well as galleries of GIFs, wallpaper download, and the ability to share popular online videos and music, etc. This means that developers are trying to offer some other things to make this application more convenient for user interaction.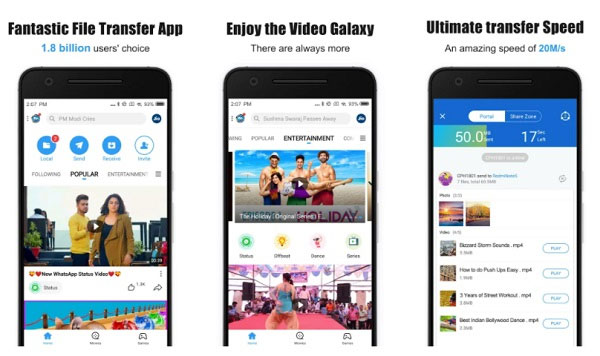 2. SHAREit Interface
SHAREit supports running on multiple platforms, but the interface on each platform is different. SHAREit on desktop and laptop computers, that is to say, the interface on PC and Mac is clearer. Only a QR code window is displayed. Once SHAREit recognizes the QR code, you can start the file sharing process between your laptop or desktop.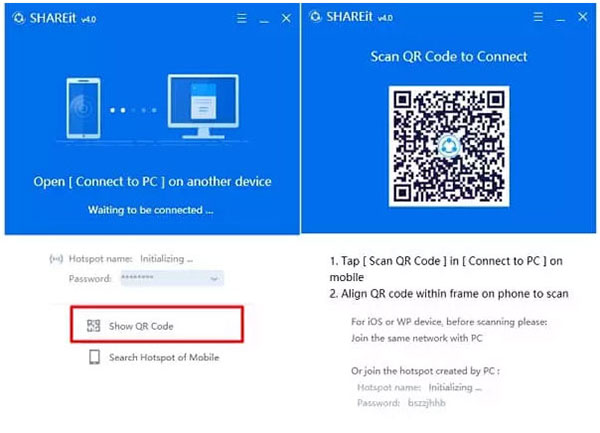 However, what makes us have to complain is that the interface of SHAREit on mobile devices is quite confusing. On Android devices, SHAREit looks like it's a a Google Play Store rather than a file-sharing application. Because once you open this app, you will see a lot of content that you may not want to see, such as some games, advertisements and other content. SHAREit on iOS devices is relatively simple, but there are still some ads.
I have to admit that SHAREit has done a great job in file sharing. Whether it is device connection or file transfer success rate, it is more prominent among the peers. But this still does not prevent users from complaining about those strange additional features.
Read Also:
Part 2: How SHAREit App Works?
The most commonly used and main function of SHAREit is to transfer data between different devices. How does the SHAREit app work? Now, let's talk about how to use SHAREit to transfer data from one phone to another.
Step 1: Install SHAREit app on these two phones
Find and download the SHAREit app in the Play Store or App Store on your Android or iOS device. Install it on both phones and grant it the required permissions. Bring the two devices close to each other and turn on their WiFi and Bluetooth options.
Step 2: Send data from the source device
Run SHAREit on the source device and click "Send" on the interface to enter the phone storage interface. Now you can choose what you want to transfer and start sending these items.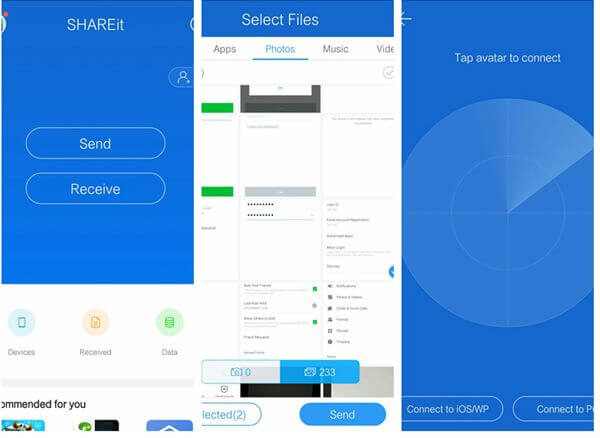 Step 3: Receive data on the target device
Run SHAREit on the target device and click "Receive" on the interface. Then it will automatically detect nearby devices. You only need to click on your source device to confirm the connection, and then the target device will automatically receive the files transferred from the source device.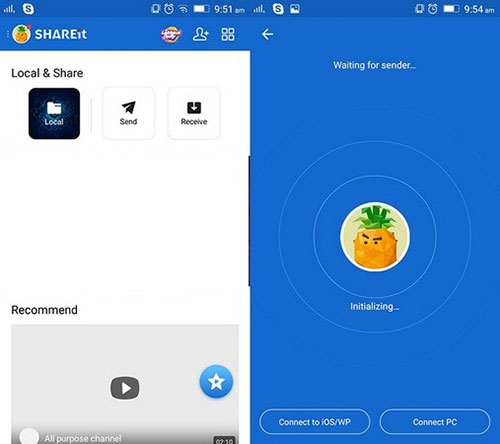 Part 3: Is SHAREit Safe to Use?
Is SHAREit app safe? SHAREit network is the only real security you've got for your data. That is, your device configuration determines the security when using SHAREit's file sharing function. If you make your phone or computer discoverable through the app, anyone can send and share files to you. However, although there is no encryption function such as password or PIN, it is very difficult to crack the system without physical access to the device.
In terms of mobile permissions, SHAREit needs access to:
Your camera (used to scan the QR code)
Your phone storage space
Your location
Your microphone
Your contacts
Of course, if you don't want to touch certain permissions, such as microphones, you can block them.
Know More:
Part 4: SHAREit Price
Android, macOS and Windows users should be thankful, because the SHAREit app is completely free on these platforms. Users of iOS devices can enjoy free and paid versions of SHAREit. The paid premium version removes all advertisements and costs $2.99 or £2.99. Except for no ads, the paid version and the free version have exactly the same functions.
Having said that, for ads that pop up every few seconds, many people would rather pay a little price to stay away from these annoying harassment.
Part 5: SHAREit Review: Pros, Cons, and Verdict
Although SHAREit has been widely used by people, it still has some limitations and pitfalls. Below, we have summarized the advantages and disadvantages of SHAREit to give you a more comprehensive and objective understanding of this application.
Pros:
It is provided for free on most platforms.
Transfer data across platforms.
There is no limit to the size of the transferred file.
Complete data transmission at a faster speed.
It also provides other entertainment features, such as enjoying movies and music.
Cons:
The basic version contains a large number of advertisements and game pop-up windows.
The device connection process is cumbersome.
Not all features are available on all platforms.
The supported data types are relatively small.
You need to pay $9.99 to use its premium version.
Verdict
The device-to-device file sharing function is the core of SHAREit, and SHAREit does this. In terms of basic data transmission, the application runs quickly and has a high success rate. However, in terms of cross-platform device connection, the operation process is more complicated than imagined, and the proliferation of advertisements is also a slot that people cannot ignore. Therefore, if you want to transfer large amounts of data in a shorter period of time, and you don't want to see unwanted advertisements during the transfer, then please consider using other tools. And the following content is to introduce you to the best SHAREit alternative.
Part 6: Which App is Better than SHAREit?
Through the above SHAREit app review, we can see that this app has many flaws, so it's time to find an excellent SHAREit alternative to replace it. MobiKin Transfer for Mobile (Win and Mac) is reputed as the best alternative for SHAREit. It is able to transfer files from one device to another directly without any hassle.
Major features of MobiKin Transfer for Mobile:
Transfer data between overall Android and iOS devices. Cross-platform transfer is also supported.
You can move your contacts, text messages, call logs, music, photos, videos, documents, apps, and more directly.
Perform a 100% secure data transmission process, without any file leakage or other security issues.
It comes with a clean and friendly interface, without any advertising intrusion.
Work well 8000+ mobile phones, such as Samsung, Huawei, Sony, HTC, Motorola, OPPO, Vivo, Google, LG, and all generations of iPhones, iPod touch, iPads, etc.
How to use SHAREit app alternative - Transfer for Mobile, to transfer data between different devices? The following steps can be taken.
Step 1. Launch Transfer for Mobile
Once you have installed MobiKin Transfer for Mobile on your system, launch it and you'll get the initial interface of this software. It's time to connect the two devices to the computer now.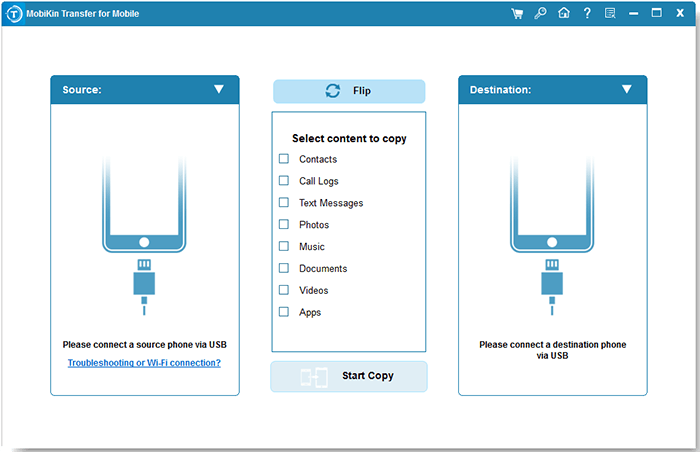 Step 2. Select the Source and Destination devices
Use two working USB cables to link both the devices to the computer. Transfer for Mobile will automatically detect them and place them as Source or Destination. If the randomly arranged positions are not what you want, you can click "Flip" to reverse their positions.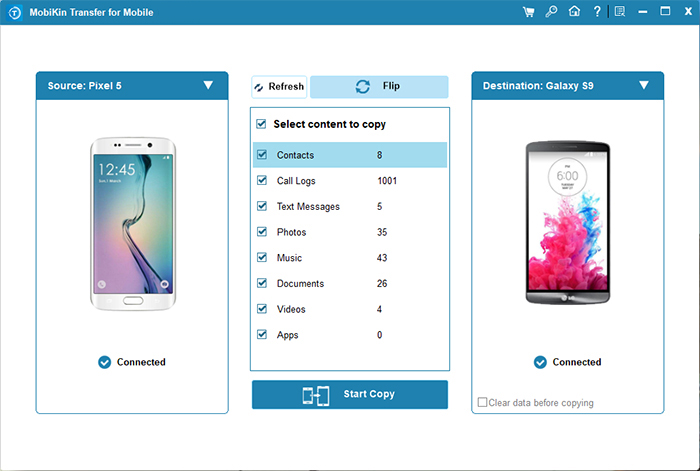 Step 3. Transfer data from one phone to another
From the list of the supported data types in the middle of the interface, select what you want to transfer and click "Start Copy". When the data transfer process is over, you can remove the two devices from the system securely.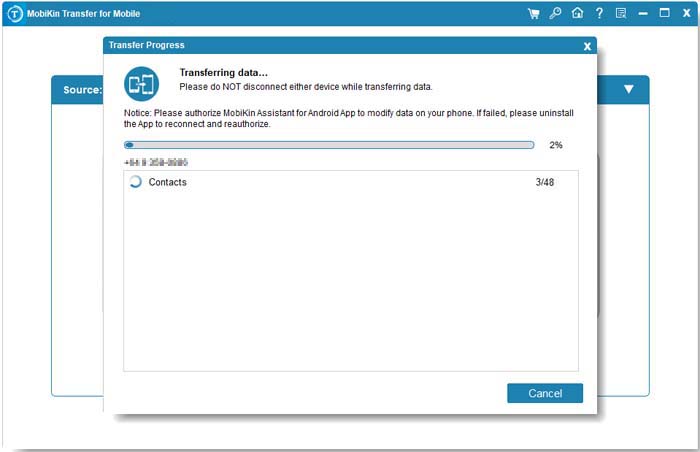 Words in the End
SHAREit provides a good solution for cross-platform file sharing. After reading this detailed SHAREit review, I believe you have a deeper understanding of its functions, advantages and disadvantages. And users' evaluations of this app are also mixed.
If you want to transfer a large amount of data from one device to another, and you want to complete the entire step easily without any advertising intrusion, please consider using MobiKin Transfer for Mobile. This is by far one of the most popular alternatives to SHAREit on the market.
Related Articles:
AirDrop vs. SHAREit: Which One is Better?
[Reviews] 10 Best AirDroid Alternatives You Can't Miss!
Definitive Guide: Top 11 Android to Android Data Transfer Apps & Software
Top 11 iExplorer Alternatives for Windows and Mac [Must-read]
Top 10 Titanium Backup Alternatives Help Back Up Android with Ease
[2021 Updated] How to Transfer Files from Android to iPhone?