Can't Miss: 6 High-rated Phone Cloning Apps/Software of 2023
Cloning is one of the easiest ways to access another phone's data. It is a process that allows one to make an exact replica of another phone thereby having access to all information, such as phone calls, messages, etc. And phone cloning Apps and software play important roles in such a process since they make it possible for more challenging phones to be cloned easily.
To get more tools to manage your mobile phone, you can turn to:
Top 6 Android Transfer Apps to Help You Transfer Data between Android and PC Easily
5 High-rated Android Recovery Apps to Help You Restore Lost Data

Now let's see what these cell phone cloning software/application are!
Top 3 Phone Cloning Apps
The followings are 3 phone cloning applications that are well-received and high-rated in Google Play Store/App Store:
#1 SHAREit
This App is one of the commonly used sharing tools when it comes to android devices. Most users choose it since they can download and install the application on both phones with simple steps and begin the phone cloning process right away.
Android Version: https://play.google.com/store/apps/details?id=com.lenovo.anyshare.gps&hl=en
iOS Version: https://itunes.apple.com/us/app/shareit-connect-transfer/id725215120?mt=8
Advantages:
- Its wizard easy to understand.
- Its straightforward steps can be followed by people from all walks of life since it doesn't need one to be educated to understand them.
- It only takes a few seconds to clone all your phone data.
Disadvantages:
- The App has been reported to have some bugs which is a major concern to most users.
- For those with low phone memories, this app is unsuitable since its smooth running requires a large storage space.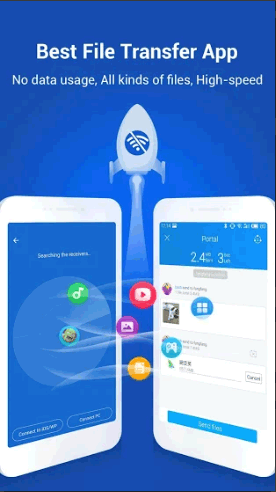 #2 T-Mobile Content Transfer App
T-Mobile Content Transfer App is a user-friendly phone cloning application - it will give you prompts during use, which will help you complete the cloning of phone much easier. With it, you can accomplish the phone cloning within 3 steps: connect both phones via Wi-Fi > choose files > transfer.
Android Version: https://apkpure.com/t-mobile-content-transfer/com.tmobile.tct
Advantages:
- The App has prompts that act as a guide to new users thereby making the use easier.
- Other than cloning, you can use the App for other purposes, such as paying bills and running diagnostic metrics on your phone.
- You can use the phone anywhere in the world by using the App's account.
Disadvantages:
- This application needs a Wi-Fi connection to work - those unable to establish such a connection can therefore not use it. This creates some level of inconvenience.
- The iOS Version of this app has been removed from the app store.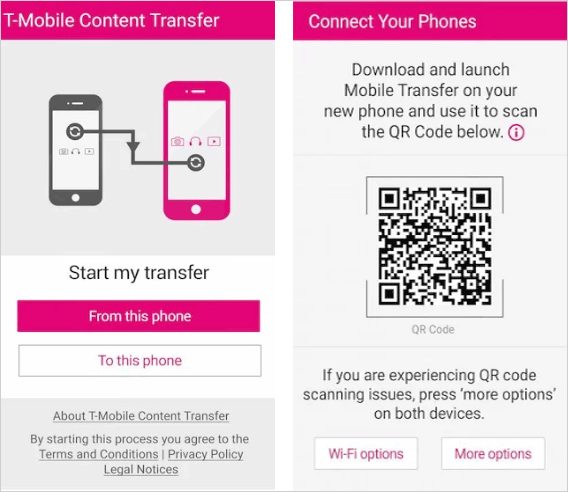 #3 AT&T Mobile Transfer
This phone cloning App can help with file transfers between Android and iPhone phones and it can be easily downloaded from Google store, App store and Windows store. Its supported file types include contacts, pictures, videos, music and so on.
Android Version: https://play.google.com/store/apps/details?id=com.att.mobiletransfer&hl=en
iOS Version: https://itunes.apple.com/us/app/at-t-mobile-transfer/id884023735?mt=8
Advantages:
- Transfer is easy once you begin and you get a chance to pause and complete remaining transfers later.
- This App can be used even when the old phone from which data is to be transferred has been deactivated. It only requires you to download the App.
Disadvantages:
- Establishing a connection between two phones is a bit complicated since it requires you to send a text message before you get the pairing link.
- Several factors can affect how fast the transfer is, including storage space and Wi-Fi connection.
- Although all types of files can be cloned, some music and video formats are not compatible with some phones. They may not be displayed on the new phone.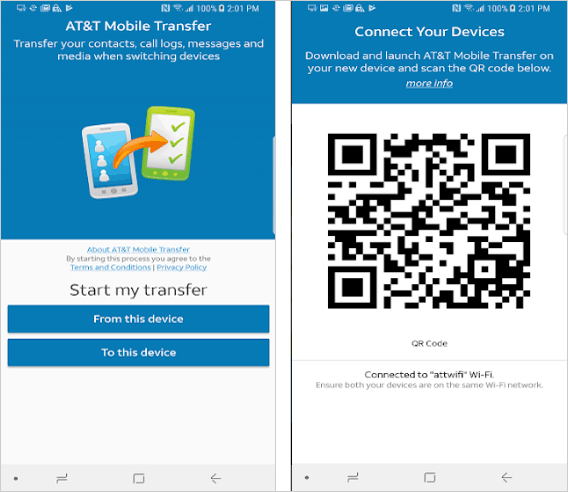 3 High-rated Cell Phone Cloning Software
Some users may tend to clone their phone data using desktop software. So here are 3 cell phone cloning software for your reference:
#1 MobiKin Transfer for Mobile
MobiKin Transfer for Mobile is a phone cloning software that allows you to transfer everything you want between two mobile phones with one click. Once you tap on the "Start Copy" button, it does the remaining work for you. It can be used to transfer files between different types of phones running on different operating systems.
If you are interested in it, you can download its free trial to have a try first!
Advantages:
- The software enables you to transfer data from Android to Android, Android to iDevice, iDevice to Android, iDevice to iDevice easily.
- Different file types are supported, including contacts, text messages, call logs, videos, photos, music, etc.
- It is compatible with many brands of phones and their operating systems.
- The software works fast and gives you an opportunity to clear the data on the destination Android phone easily.
Disadvantages:
- Although it has a free trial version, you may have to buy the full version to enjoy all its features.
To get the tutorial about how to use this software, you can refer to the page:
Detailed How-to Tutorial: Transfer to New iPhone XS/XS Max/XR from Old iPhone/Android/PC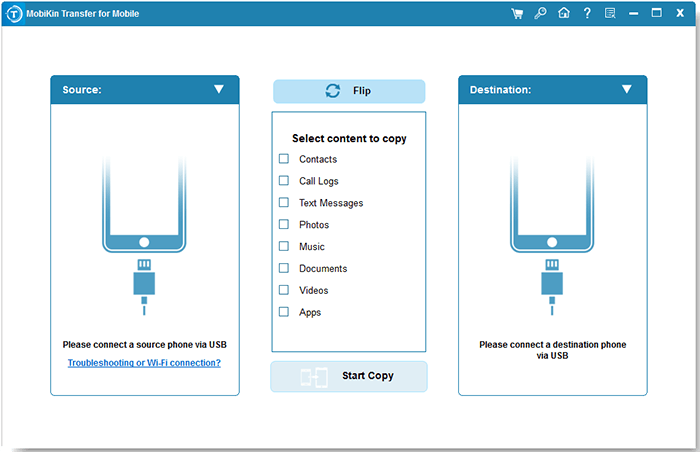 #2 SIM Cloning Tool - MOBILedit
Many uses of this software are what make it one of the best phone cloning software. It can not only be used as a cloning program, but also a phone manager and a forensic tool for investigation purposes. And also, it can be used by both Android and iPhone users.
Advantages:
- It has malware detection ability that makes it great for phone protection.
- It can support many other applications. You therefore don't have to worry about interference with other installed Apps in your device.
Disadvantages:
- You have to buy a license before using the software.
- File transfer can be easily interrupted which leads to inconclusive results that can be annoying.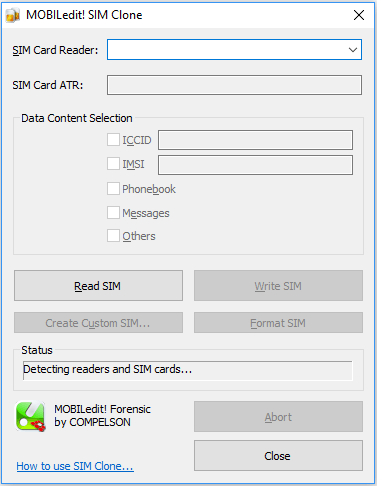 #3 Syncios Mobile Data Transfer
This is a phone cloning software for both Android and iPhone users. It empowers you to transfer data between two smartphones (Android and iOS devices) without any hassle. Apart from that, backing up and restoring phone data are also available on this tool.
Advantages:
- It's easy to use and doesn't allow any data loss during transfer.
- It's available for free and its interface is well structured for easy use.
Disadvantage:
- The software relies on iTunes for successful operations. Without iTunes you cannot install it.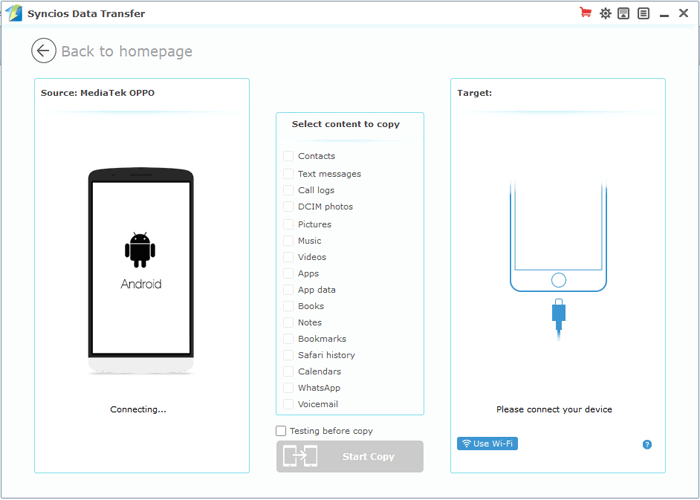 Final Thoughts
With a professional phone cloning tool, you will be able to switch to a new phone or copy data from someone else's phone effortlessly. And the applications and software mentioned above are all safe and powerful and they can be a good helper for you. So now just don't hesitate to choose the one you like to start the phone cloning.
Related Articles:
Five Easy Ways toTransfer Data from Old Samsung to New Samsung
Ultimate Guide on How to Transfer Contacts from Android to Android
How to Transfer Contacts from Android to iPhone (4 Quick & Safe Ways)
How to Transfer Contacts from iPhone to Android Easily?
How to Transfer Contacts from Samsung to iPhone - 5 Methods You'd Better Know