How to Transfer Data from Huawei to iPhone (#1 Is Excellent)
Recently, it has been reported that iPhone 11 will be sold at a huge discount. On hearing this news, many Huawei users may be ready to take actions. For them, it may be the best time to experience an Apple's product. But after they get an iPhone 11, they may want to know how to transfer data from Huawei to iPhone at first. On the occasion, this review will help remove the barrier from 4 reliable solutions. If you are in the same situation, hope this post would certainly be the last direction that you might check.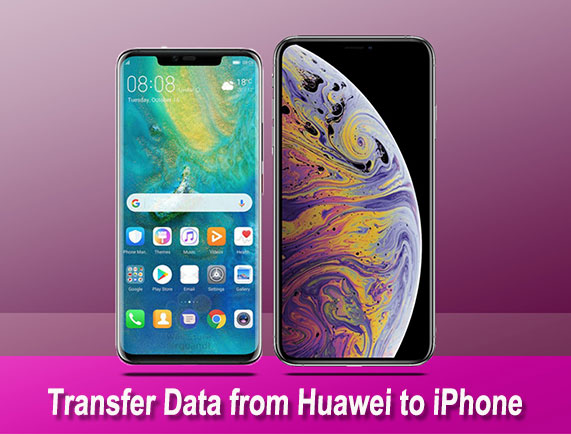 #1 How to Transfer Data from Huawei to iPhone via Transfer for Mobile
Are you still fretting over the question on data transfer from Huawei and iPhone? If you search "Huawei transfer to iPhone" on Google, there are not many matching results. But it is easy to choose a suitable tool here. This program is MobiKin Transfer for Mobile (Windows and Mac version). It works with thousands of mobile phones, providing reliable guarantee for data transfer. Because it supports cross-platform file migration between Android and iPhone. You can switch from Huawei to iPhone immediately after the connection is made.
Let's see some details about its main characteristics:
* One click to transfer data and files from Huawei to iPhone without any hassle.
* Move data from Android to iOS, iOS to Android and iDevice to iDevice, Android to Android, supporting data like contacts, SMS, call logs, music, videos, photos, books, etc.
* Perform quick transfer and get the data on targeted device with no data loss.
* Totally safe and easy to use with easy clicks.
* Get along well with practically all devices with the latest models, including Huawei P40/P40 Pro (Plus)/P30/P20, Nova lite 3/2, Mate 30/20, and iPhone SE/11/11 Pro (Max)/X/XR/XS/8/7/6S/6/5, etc.
If you think it's great, you can download its trial version of Windows or Mac as required, and then follow the steps below to perform data transfer from Huawei to iPhone with MobiKin Transfer for Mobile:
Step 1. Launch the program
After downloading and installing this Huawei to iPhone transfer software on your computer, pick up 2 suitable USB cables to connect both the Huawei and iPhone to the computer. Then start this program directly.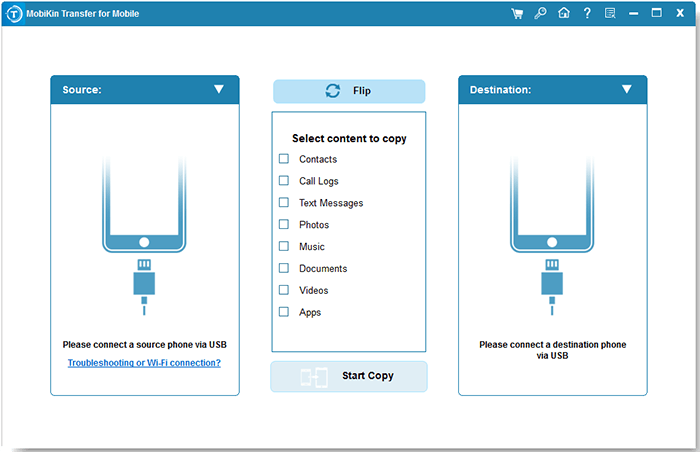 Step 2. Choose your wanted data
Once the your devices are recognized by this utility, they and their supported file types will be displayed on the main interface. Just tick off the files that you need to transfer from the middle of the menu.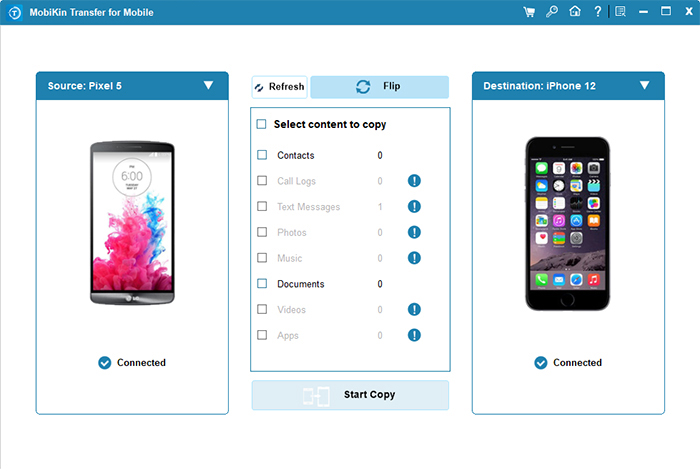 Note: Ensure that the destination device is your iPhone. Otherwise, press "Flip" to correct its position.
Step 3. Switch Huawei files to iPhone
After that, hit the "Start Copy" button to get the task started. This progress can be tracked via a dialogue box that displays the info. Later, you can check the transferred data on your iPhone. Done!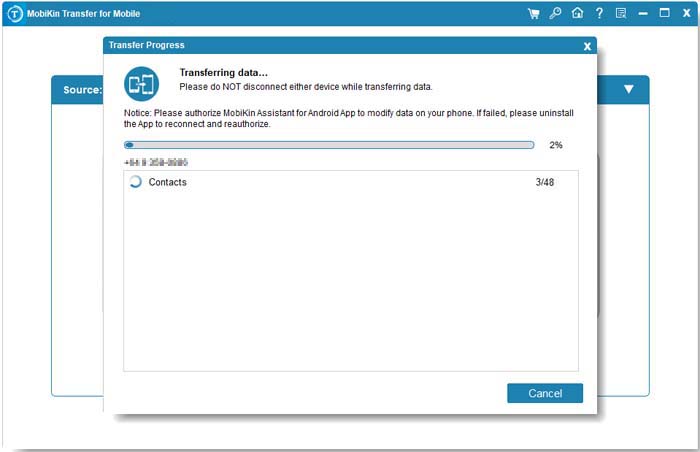 By the way, here's a question from the "Quroa" - how do I AirDrop from Huawei to iPhone? To emphasize here, AirDrop is a unique function for Apple devices, but MobiKin Transfer for Mobile is compatible with various devices running on either Android or iOS OS. Hence, it's suggested that you try the latter to complete the operation.
You May Need:
#2 How to Switch from Huawei to iPhone Using Move to iOS App
Move to iOS app, designed by Apple Inc, can transfer Android data to your new iDevice, during the initial setup of the phones. You need to turn on WiFi, and then you can choose to move data from your Android like Huawei. However, it only supports text messages, camera photos and videos, contacts, mail accounts, and bookmarks. Besides, this Huawei to iPhone transfer app runs on iOS 9.0 or later and Android 4.0 or higher.
Now, how do I transfer messages from Huawei to iPhone X/SE using Move to iOS app?
Step 1. Download and install the Move to iOS app on the Huawei mobile. Then, ensure your Huawei and iPhone are connected to the stable WiFi network and both of them have plenty of battery life. Then launch the app.
Step 2. After that, your iPhone will create a private WiFi network as a security code, and it will brightly detect the Huawei phone going with the Move to iOS app. When you enter the code, the virtual connection will be made soon.
Step 3. Choose the SMS you wish to transfer on your Huawei phone and tap "Next". Then confirm this operation to transfer messages from Huawei to iPhone.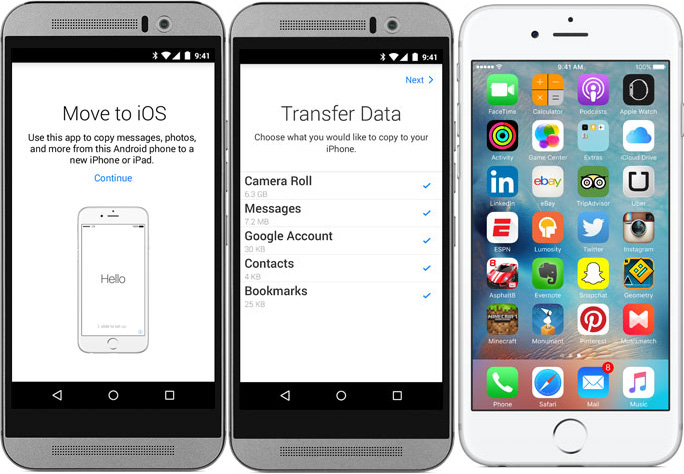 If you want to know how to transfer photos from Huawei to iPhone, you can select "Camera Roll" as the picture showing above to accomplish this task.
#3 How Do I Transfer Data from Huawei to iPhone 11 with Google Account
To take advantage of the great platform - Google service, you can directly add your Google account to your current iPhone, and there is no need to worry about the compatibility between the account and apple devices. Thus, it opens up possibilities for your to transfer contacts from Huawei to iPhone.
To round things off, you should register a Google account first if you haven't got it yet. Then sync Huawei contacts with Google account, and make simple settings on iPhone to get ready for the contact transfer.
Learn how to transfer data from Huawei to iPhone XR/XS with Google Account, please read on:
Step 1. On your Huawei phone, navigate to "Settings" > "Accounts & Sync" > "Google" and log in with your Google account to add it to this device. Then turn on the button nearby the "Sync Contacts", and tap "Sync now" to sync your Huawei contacts to Gmail account.
Step 2. Switch on your iPhone and go to "Settings" > "Mail, Contacts or Calendars"/"Accounts & Passwords" > "Add Account" > "Google" and sign in with the same Google account.
Step 3. Turn on the "Contacts" and tap on the "Save" button to start to sync all your Huawei contacts from your Google account to your iPhone.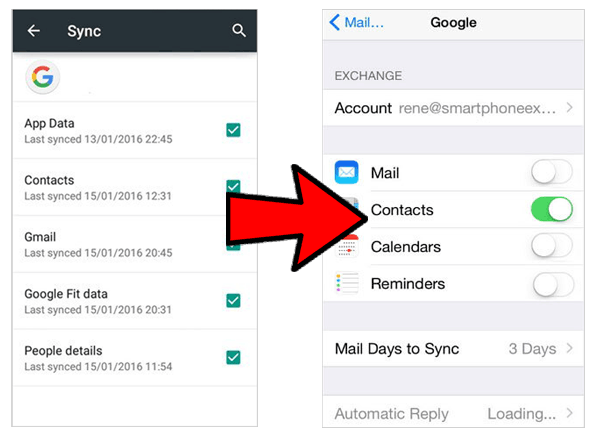 You May Want to Know:
#4 How to Transfer Files from Huawei to iPhone with Huawei Share
Many Huawei users know that Huawei Share can share data between Huawei and other Android phones, but they may not know how to use it to transfer data from Huawei phones to iPhones. Indeed, that's not easy.
You need to download the "File Manager" app (trial version) from the App Store, and then set it to connect with computer within the same WiFi network from your Huawei. Namely, this is equivalent to a "joint working group" formed by the 3 electronic products, and the "File Manager" app is the "bridge" among them. After the wireless connection is created, you can get a start now.
How do I transfer data from Huawei to iPhone 11 by using Huawei Share?
Step 1. On your Huawei phone, open "Settings" > "Device connection" > "Huawei Share" to enable the "Share" feature, and then switch on "Computer Share" as well.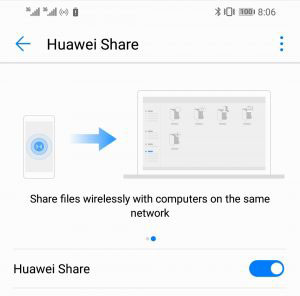 Step 2. On your iPhone, find and download the trial version of "File Manager" app from App Store. Then install and open it, and click "+ Add" to create new connections.
Step 3. Select "NAS" from the pop-up list on iPhone and scroll down to the bottom of its window. Then the "file Manager" app will find your Huawei automatically and present it under the "Network Neighborhood" section.
Step 4. Tap on the name of your Huawei phone on your iPhone screen, and choose the "Registered User" from the "Connect as dialog". You need to log in with Huawei Share ID and passkey as prompted.
Step 5. After the authentication, you'll be allowed to preview files saved on the Huawei mobile from your iPhone. Later, open folders of the Huawei from your iPhone and select the desired data to get them on your iPhone.
Final Thoughts
Performing data transfer from Huawei to iPhone shouldn't be a difficult task, though they run on different OSes. This guide provides you with 4 proven solutions. And to be honest, MobiKin Transfer for Mobile, an open-and-shut program with distinctive traits, is your priority. As you can see in the first part, this is an ideal software to deal with various issues about phone data transfer.
Welcome to share this post with your friends. And I'm glad you tell me your preference in the comment section.
Related Articles:
[5 Ways] How to Transfer Data from Huawei Phone to Mac
[4 Ways] How to Back Up & Restore Huawei Phones Easily?
7 Ways to Transfer Photos/Pictures from Computer to Phone
How to Recover Lost Data from iPhone 11/11 Pro/SE/X/8/7/6
How to Transfer Large Videos from iPhone to PC? (5 Ways)