Switching SIM Cards between iPhones: All Tips about iPhone SIM Card Swap
It has become a common practice among iPhone users to switch SIM cards in iPhones, which offers flexibility and convenience in managing their mobile networks and services. There are various circumstances where you may find yourself needing to perform this task. For instance, when switching from one iPhone to another, changing carriers, traveling internationally, or simply wanting to use a different SIM card for any reason. Well, here are some practical tips for switching SIM cards between iPhones. Just read this article for more details.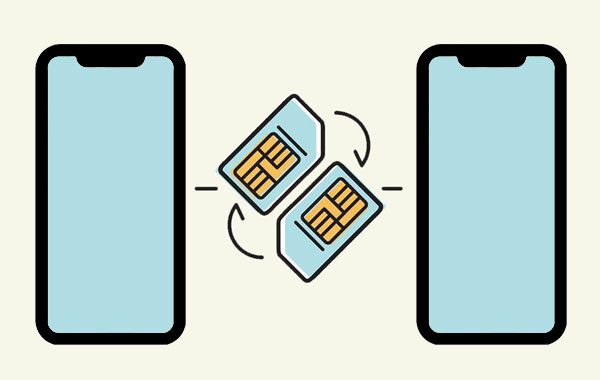 Part 1: Can You Switch SIM Cards between iPhones?
Yes, it is generally possible for iPhone SIM card swap. iPhones generally use nano-SIM cards, and if both iPhones are unlocked or locked to the same carrier, you can remove the card from one phone and insert it into another without any issues. (But some older models may use different sizes like micro-SIM or standard SIM.) This allows you to transfer your mobile service and phone number to the new device, including your phone numbers.
Top Picks for Reading:
Part 2: What Happens If You Switch SIM Cards in iPhones?
We have just answered, "Can I swap SIM cards between phones". Next, when swapping SIM cards between iPhones, several things can happen depending on the specific circumstances:
Ensure that your iPhone is compatible with the SIM card to ensure proper network functionality. All current iPhones utilize nano-SIM cards.
If the iPhones are locked to different carriers, the SIM card may not be compatible with the new iPhone.
The cellular network and associated packages will be activated on the new iPhone.
You can transfer contacts and other data stored on the SIM card to the target device. (How long to transfer iPhone to iPhone?)
Changing the SIM card will not affect your Apple ID or iPhone settings, but please note that iMessage and FaceTime will be deleted. Reactivation with the new SIM card is required.
WhatsApp usage will remain unaffected, and your messages will not be deleted.
Activation or adjustments to the new iPhone's settings may be necessary to establish connectivity with the carrier's network.
There may be a temporary interruption in service during the SIM card switch.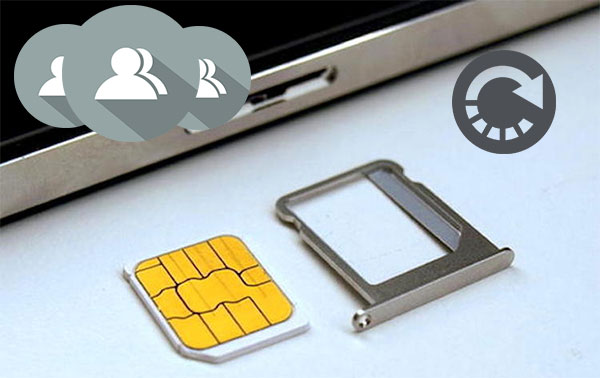 Part 3: Preparations before Switching SIM Cards between iPhones
"Can I put my SIM card in another iPhone without causing any inconvenience?" Definitely! But before switching SIM cards between iPhones, it's a good idea to make some preparations to ensure a smooth transition. Here are some recommended steps:
1. Check compatibility of SIM card
Please remember that iPhones produced since 2012 utilize nano-SIM cards, which are currently the smallest available SIM cards. This distinction is noteworthy as there are still smartphones in use that require micro-SIM cards. When purchasing a SIM card abroad, exercise caution to avoid acquiring the incorrect type for your iPhone.
2. Make sure your new iPhone is not locked
Before attempting to use a SIM card from a different provider, please ensure that your device is not locked to a specific carrier. To check if your iPhone is unlocked, go to the "Settings" app on your iPhone, navigate to "General", then select "About". Look for the "Network Provider Lock" option to determine whether your device is carrier locked or unlocked.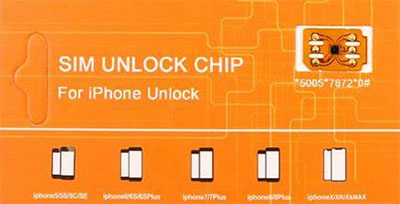 3. Back up valuable iOS files
While changing SIM cards does not directly involve iPhone data, it is highly recommended to back up your iPhone to a computer or cloud storage as a precautionary measure. This includes important contacts and media files that could potentially be subject to physical damage during the SIM card swapping process. To make it easier, you can get the professional product - MobiKin Assistant for iOS.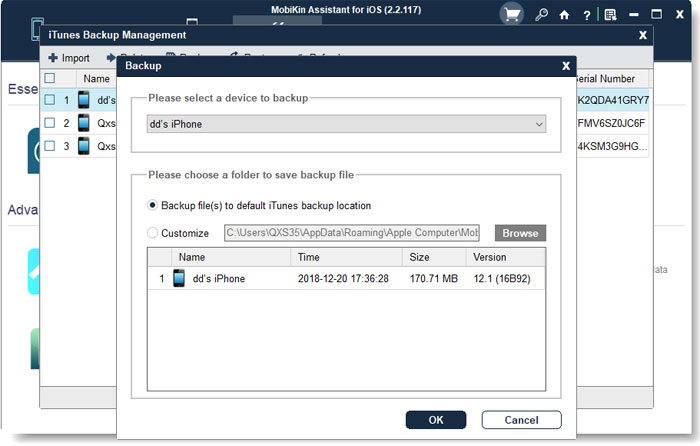 4. Transfer contacts as required
It is not feasible to save iPhone contacts directly to a SIM card. If your contacts are not stored on the SIM card, and you want to utilize them on another iPhone, you will need to transfer the contacts in advance.
5. Power off iPhone while switching SIM cards
To ensure a smooth operation and prevent any potential software issues when moving SIM card to new iPhone, you're recommended to power off your iOS device during the switch. By turning off the device, you can avoid unnecessary complications and streamline the overall procedure.
You Might Also Enjoy:
Part 4: How to Switch SIM Cards between iPhones Securely
To remove the SIM card tray, you need to have a SIM card ejection tool. Typically, this tool is included in the initial packaging of your device. In case you are unable to locate the tool, an alternative option is to use a paper clip or any similar item to perform the task. Learn how to safely switch iPhones with a SIM card:
Begin by powering off your iPhone to safely remove the current SIM card.
Access the "Settings" app and navigate to the "General" section.
Scroll down until you locate and tap the "Shut Down" option.
With the device turned off, locate the SIM tray on your iPhone using a suitable pin or tool.

Gently open the SIM tray and remove the existing SIM card.
Insert the new SIM card into the designated slot based on the correct orientation.
Once done, carefully re-insert the SIM tray back into the device.
Power on your iOS device by pressing the "Power" button.
As the device starts up, you will observe that the cellular operations are functioning with the new SIM card.
Part 5: How to Switch Data between iPhones [1-click Solution]
Do you need to switch SIM cards when changing iPhones without losing any contacts? Consider using MobiKin Transfer for Mobile (Win and Mac). This user-friendly phone-to-phone transfer product allows you to seamlessly transfer data between almost any two mobile phones after switching SIM cards. It simplifies the process and delivers satisfactory results. When it comes to iPhone data copy, it is your top pick, ensuring a smooth transfer experience.
Why pick MobiKin Transfer for Mobile?
Transfer contacts and other files from iPhone to iPhone in a quick manner.
Effortlessly transfer data across different platforms, such as moving from Android to iPhone, iPhone to Android, Android to Android, and iPhone to iPhone.
Accommodate a wide range of file types, including contacts, text messages, call history, music, notes, books, bookmarks, documents, videos, pictures, apps, and more.
Ensure a smooth migration process while preserving the integrity and quality of the original data.
Work well with virtually all iOS devices, covering iPhone 14/14 Plus/14 Pro (Max), iPhone 13/13 Pro (Max)/13 mini/12/12 Pro (Max)/12 mini, iPhone 11/11 Pro/11 Pro Max, iPhone X/XR/Xs/Xs Max, iPhone 8/8 Plus, iPhone 7/7 Plus, iPhone 6/6S/6 Plus, iPod touch, iPad, etc.
It won't let out your privacy.
How to transfer files between iPhones via Transfer for Mobile?
Step 1. Run Transfer for Mobile and link iPhones
After installing and launching the software on your computer, connect both iPhones to your computer using USB cables. If prompted with a message to trust the computer, click on "Trust" to establish the connection.
Step 2. Confirm the sender and receiver
The program will automatically detect and display your devices as "Source iPhone" and "Destination iPhone". Ensure that they are correctly placed. If needed, click on "Flip" to swap their positions.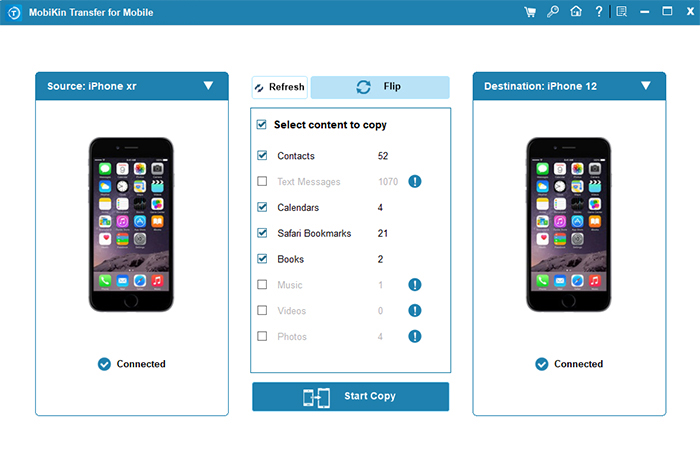 Step 3. Switch data from iPhone to iPhone
Select the data types you'd like to transfer by checking the corresponding boxes in the middle of the screen. At last, click "Start Copy" to instantly transfer the data from the sender to the receiver.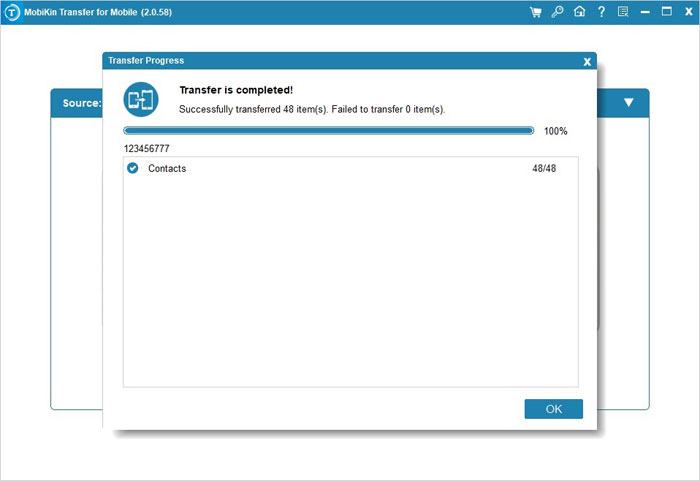 People Also Ask about iPhone SIM Card Switch:
Q1: How to switch between eSIMs on an iPhone
Please bear in mind that not all iPhones support eSIM functionality, so ensure your iPhone model is compatible before attempting to switch between eSIMs. Then adhere to the steps below:
Open the "Settings" app on your iPhone.
Scroll down and tap on "Cellular" or "Mobile Data", depending on your iOS version.
Select "Cellular Plans" or "Add Cellular Plan".
You'll see a list of your current eSIM plans and an option to add a new plan.
Tap the eSIM plan you want to switch to.
Follow the prompts to activate the new eSIM plan. (This may involve scanning a QR code provided by your carrier or entering activation details manually.)
Once the new eSIM plan is activated, you can select it as the active line for your iPhone.
Q2: What does it mean when your iPhone is carrier-locked
When an iPhone is carrier-locked, it means it can only be used with a specific network provider. Contact your carrier to confirm if your iPhone is carrier-locked and for instructions on unlocking it if eligible.
Final Words
All things considered, switching SIM cards between iPhones offers flexibility and freedom to adapt to changing circumstances. However, it is vital to follow the recommended tips to avoid any complications or data loss during the process. After that, for a seamless transfer of data between iPhones, including contacts, we would highly recommend picking MobiKin Transfer for Mobile. With the assistance of this tool, you can confidently switch data between iPhones and enjoy a pleasant transmission without doubts.
Related Articles:
Change SIM Card on iPhone: Here's Everything You Want to Know.
SIM Unlock: 4 Hot Tips to Unlock SIM Cards on Android Mobile Phones
11 Workable Methods to Get "iPhone SIM Not Supported" Bypassed [Must-read]
4 Methods to Tell You How to Activate iPhone without SIM Easily
[Full Guide] 5 Ways to Unlock SIM Card on iPhone 14/13/12/11/X/8
How to Transfer SIM Card Data to Computer? [Easy & Quick Guide]