How to Transfer Ringtones from One iPhone to Another (3 Easy Ways)
When it comes to how to transfer ringtones from iPhone to iPhone, some of us may first think about doing this using iTunes. In fact, however, the latest version of this tool no longer supports managing ringtones. With the development of S&T, sending these contents to iPhone from old one shouldn't be hassles for us.
OK, in today's post, we'll illustrate some step-by-step ways to transfer ringtones between two iPhones. And at the end of the page, we will also present 5 FAQs related to this topic.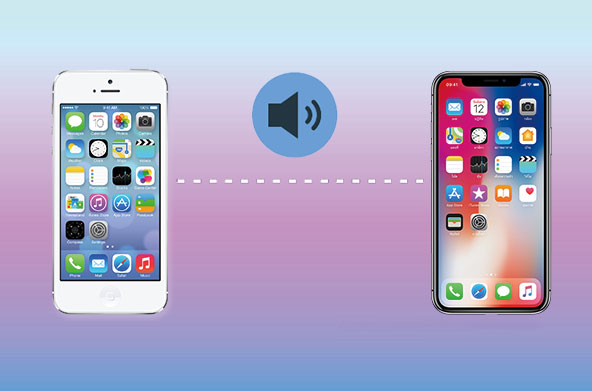 Method 1: How to Transfer Ringtones from iPhone to iPhone via iOS Transfer
Imagine having an all-around tool, do you get excited? You can utilize it to transfer massive files between mobiles running on either Android or iOS. It helps delete data from your old phone, which is a humanized design for those who don't want to pass their cellphones on to others. It even allows you to back up the data from dead phone to another one. Alright, this tool is iOS Transfer.
Before transferring ringtones to iPhone from old one in batches with it, you only need one computer and two USB cables.
Some Other Features of iOS Transfer:
It enables you to move data between any two smartphones in a quick and efficient manner.
Move ringtones, music, movies, videos, photos, contacts, messages, applications, etc. from one iPhone to another without data loss.
Move stuff from Android to Android, Android to iDevices, iDevices to Android, as well as iDevices to iDevices.
Back up dead or smashed phone to another device securely.
It won't track privacy from anyone.
Support various iDevices, covering iPhone 12/11/11 Pro (Max), iPhone X/XR/XS/XS Max, iPhone 8/8 Plus, iPhone 7/7 Plus, iPhone 6/6S/6 Plus, iPad Pro, the new iPad, iPad Air, iPad mini, etc.
To transfer ringtones from iPhone to iPhone via iOS Transfer, you should download and install in on computer firstly. Then follow the stepwise instructions below to get the task done smoothly.
Step 1. Connect iPhones to computer
After starting iOS Transfer, just connect iPhones to computer via USB cables. Then, go with the on-screen hints to get devices detected by the tool.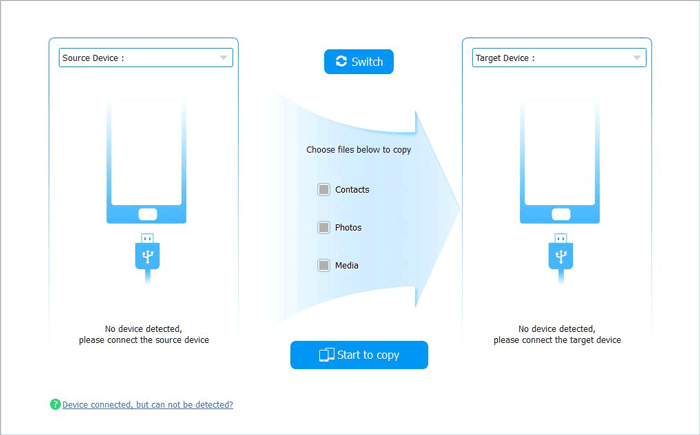 Step 2. Check the phones' positions
Once your phones are detected, you'll get the main interface. Ensure that the target iPhone is put on the right of the screen. If not, simply tap Switch to correct its position.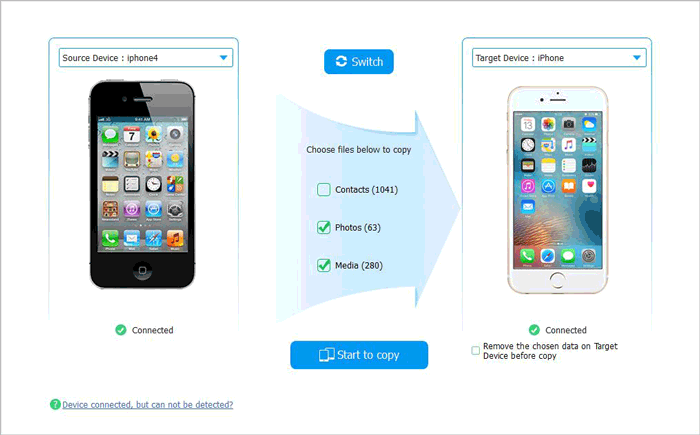 Step 3. Transfer Ringtones from iPhone to iPhone
After ensuring both phones are in place, please check the Media box (containing the ringtones) to do ringtones transfer to new iPhone. Click on the Start to Copy button to initiate the process, and wait for it to accomplish.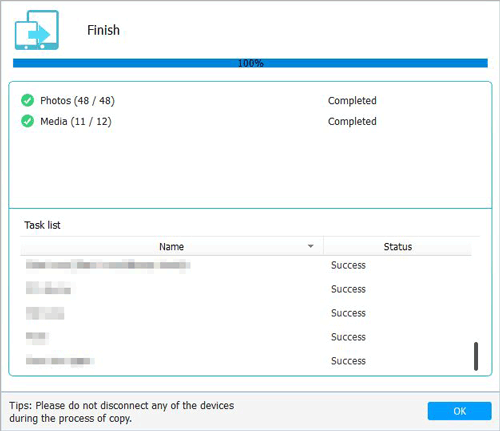 You May Need:
Method 2: How to Transfer Ringtones from One iPhone to Another Using iTunes
First, check if you have an old version of iTunes (12.6 and earlier) installed on computer. If so, then congratulations! You can try this means. You're supposed to sync ringtones from source iPhone to iTunes library, and copy stuff to the destination device. Again, iTunes allows you to put ringtones on iPhone from computer as well.
It's worth mentioning that only purchased ringtones can be processed by iTunes. So if you intend to transfer other ringtones, just turn to Method 1 for the fix.
How to do ringtones transfer to new iPhone using iTunes:
Launch iTunes and head to Edit > Preference > Devices. Then set iTunes by ticking on Prevent iPods, iPhones, and iPads from syncing automatically.
Plug source iPhone to computer via a USB cable. Go to iTunes to tap File > Devices > Transfer Purchases from iPhone > Apply. This will let iTunes sync purchased ringtones to iTunes library automatically.

After that, disconnect this iPhone from computer, and attach the target iPhone to computer via a USB cord.
Click the name of this iPhone > tap Tones > check Sync Tones > mark All tones, or Selected tones to choose any items > Apply.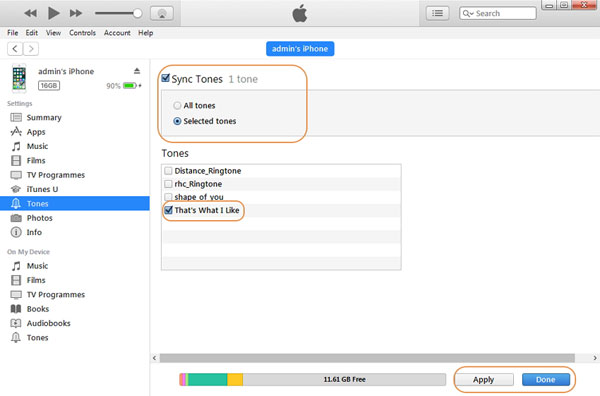 Attention: By this way, such existing media files as music, videos, ringtones, etc. on your iPhone will be overwritten by the new content.
Method 3: How to Do Ringtones Transfer to New iPhone with OneDrive
We introduced 2 ways to share ringtones between iPhones using physical connection just now. Now, is there any way to copy them wirelessly? Can I AirDrop ringtones to iPhone? Here, one thing we need to be clear that iPhone doesn't support sharing ringtones via AirDrop.
Yet some cloud space storage like OneDrive, can fulfill this. In order to ensure the smooth procedure, it is better to have your two iPhones connected to a stable WiFi network.
How can I send a ringtone from my iPhone 11/XR/XS/X to other's with OneDrive.
1. Download and install OneDrive on both the iDevices from App Store. Then run the app on old iPhone and sign in the credential.
2. Click + to locate and choose the ringtones you'd like to move. Next, tap Upload to copy the selected items to the Drive.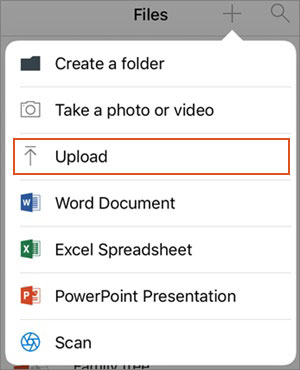 3. Open OneDrive on the destination iPhone, and log in with the same authentication.
4. Find the stuff you've just uploaded to OneDrive. Then choose what you want to download them to the target iPhone.
More Related:
Bonus: Some Practical Tips for iPhone Ringtones
1. Where Are the Ringtones Stored on My iPhone?
Apple operating system stores ringtones in SandBox. It is a mechanism for running programs securely. And even if a hacker breaks in, only limited damage can be done to the content within.
2. How to Change Ringtones for My iPhone?
Open your iPhone and head to Settings > Sounds/Sounds & Haptics, tap the sound that you want to change from the Ringtone list or under Sounds and Vibrations Patterns.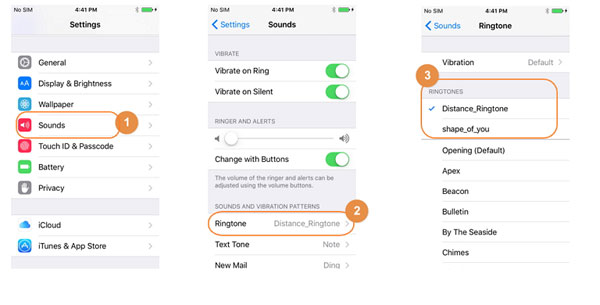 3. Where Can I Download Ringtons for Free?
Here are 5 most popular websites to download ringtones for free: prokerala.com, listentoyoutube.com, zedge.net, audiko.net, phonezoo.com. You can also click the page of free ringtones for iPhone for more options.
4. How to Set Ringtones or Text Tones for Contacts
Open Contacts app on your iPhone and touch a person's name. Then tap Edit from the upper-right corner of the person's contact card. Next, tap Ringtone/Text Tone to select a new sound.
5. How to Redownload Ringtones Purchased with Apple ID
If you have purchased ringtones before, just try to redownload them by going to Settings > Sounds & Haptics > choose any sound > Download All Purchased Tones. (P.S. This approach does not work on some downloaded tones.)
Words in the End
Among the 3 solutions mentioned above, iOS Transfer is the most ideal one. It is especially suitable for these scenarios. For example, you want to keep the data intact on your target iPhone/Android; you are to delete all the stuff from old phone in one click before reselling; you don't need to bear the tedious data transfer task with some software/app....All of these are beyond the reach of iTunes and OneDrive.
Okay, if you're looking for a full-featured tool, just take the assistance of iOS Transfer to make life easier.
Related Articles:
Top 5 Ways on How to Transfer Contacts from iPhone to Android
How to Transfer Music from iPhone to iPhone? [6 Proven Tips]
How to Delete Ringtone from iPhone [2 Solutions]
How to Change Ringtones on iPhone 12/11/XR/XS/X
How to Transfer Contacts from iPhone to iPad (4 Methods)