How to Use Root Explorer - Full Guide of Root Explorer
Nowadays, most new stock Android devices do not come with an inbuilt file management application. This forces people using such Android devices to install reputable third party applications to access their favorite personal files. A typical Android file management program will allow you to access your videos, images, audio files and documents. This, however, does not necessarily help, particularly when using a rooted Android tablet or smart phone.
Android rooting provides you with the incredible ability to customize your handheld gadget. Gaining administrator privileges also provides you with the unique ability to access internal system files that cannot be accessed by just any local file manager. That is why this guide is going to introduce you to an amazing file explorer that has been shown to work flawlessly on most rooted (unlocked) devices.
Can't Miss:
How to Root Android Devices in Different Ways
Top 7 Tools to Help You Root Android Online
What is Root Explorer?
Root Explorer is a paid (costs about $4) Android application that can be used to view and even edit various system files. Rooting alone helps you to unlock the Android entire file system. It is, however, important to note that you are still required to install a special program if you wish to access this unlocked file system. That's why Root Explorer is released.
With this program, you can:
- Extract RAR archives or compressed ZIP, GZIP and TAR files.
- Create reliable backups of crucial files and folders.
- View and edit Android system files at your will.
- Allocate application defaults (selecting which type of application can be used to open a specific type of file).
- Store personal files on cloud servers (cloud storage services).
Root Explorer basically aids in improving the managing power of Android as it provides you with total control over your smart phone or tablet. The Android app which has been downloaded over a million times is for those who are heavily interested in hacking and modding their devices. This application can also be used as a typical file manager due to its ability to help you create new folders, search for files and transfer various files to multiple destinations.
The ultimate file manager is quite easy to use thanks to its polished user interface. You should be very cautious while trying to use the Root Explorer program to edit Android system files. This is because any wrong step is likely to soft brick your device and can be quite difficult to undo.
You should also ensure that you have installed a super-effective antivirus on your smart phone or tablet once you have unlocked it. This is because gaining root access also exposes you to countless security risks.
How to Use Root Explorer?
Step 1. Backup any important information on your phone will help you prevent any loss of substantial data during the file system editing process. You can also make a full backup of your device that you can later use to restore your gadget if disaster strikes.
Step 2. Visit Google Play and search "Root Explorer" in the searching bar. Find the app that you need and click on "Install" button to get this app on your Android device.
Step 3. Grant root privileges once you are prompted by the Superuser application that was installed on your Android smartphone or tablet when it was installed. Launching the Root Explorer program will automatically provide you with a detailed folder list. Kindly note that you can navigate the Android app by choosing the "Back" icon to return to the main directory and tapping the "..." folder to go to the next directory.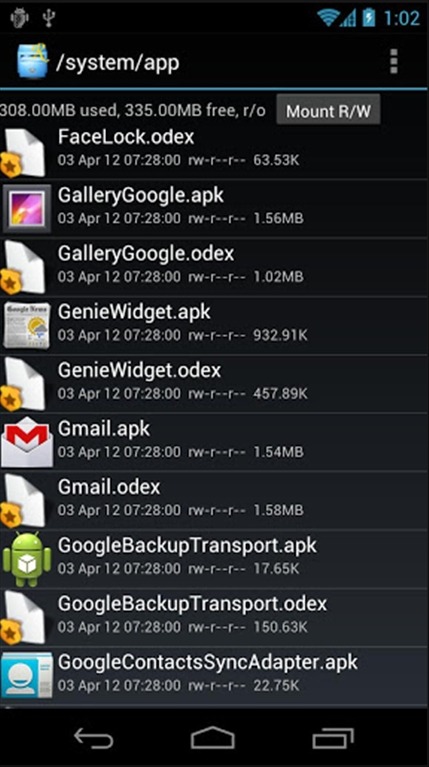 Step 4. Press and hold any system folder of your choice, then you'll get a contact menu asking you whether you want to rename, edit, delete, move, copy, send, view properties or adjust file permissions of that specific file or folder.
Related Articles:
Alternative Software to ES File Manager