Ultimate Root Uninstaller Guide with Detailed Steps
It is no secret that the Android rooting (unlocking) process can be used to provide rooted Android device users with special administrator rights or privileges. Such people can then use these newly acquired privileges to boost device performance, uninstall the bloatware that came with their device, install custom ROMs and customize their gadget appropriately among amazing other functions.
Rooting your Android tablet or smart phone is just the first step towards customizing your device. There are various Android applications and Xposed Framework modules that can be used to tweak rooted Android devices even further. That is why this unique guide is going to introduce you to one such must-have Android program that can be used to improve device performance and customize almost any Android device.
See Also: How to Root Android Devices
Something You Need to Know about Root Uninstaller
Root Uninstaller is a leading Android tool that can be used on both rooted and non-rooted Android devices. This popular program, which comes in both paid and free versions, can be used to manage regular (third-party) and system (stock) applications.
You can use the Root Uninstaller program to uninstall the stock system apps that came preinstalled on your device, backup and restore your Android device data, freeze stubborn applications, improve device performance, reset applications to their fresh install state and increase battery life among other important functions.
The tool also comes with an inbuilt file management program called "AntTek File Explorer." AntTek File Explorer is a great app and file manager for rooted Android devices. As explained in the introductory section, the Root Uninstaller program can be used both on rooted and non-rooted Android devices.
However, It is important to note that the application can only be used to perform basic functions including clearing cache data, restoring default factory settings, uninstalling applications in batch and installing or deleting APKs on rooted and non-rooted devices. The free version of the Root Uninstaller program is basically limited in terms of its features. That is why it is considered wise that you instead purchase the pro version which is guaranteed to provide you with even more possibilities.
How to Uninstall Stock Android Apps with Root Uninstaller?
The Root Uninstaller program can be used to uninstall stock Android apps (those that came preinstalled on your device). It is, however, worth noting that this can only be done on rooted Android devices. Thus, you will be required to root your device before proceeding if you are using a non-rooted smartphone or tablet.
Provided below is an easy-to-follow tutorial guide that will show you exactly how to use the Root Uninstaller program to uninstall any stock Android applications. Please exercise great caution while trying to uninstall an essential system app. This is because uninstalling some specific system applications has been shown to cause various undesirable issues.
Step 1. Make sure your phone is connected to a reliable WiFi network, then go to Google Play and tap on the Search bar, enter the words "Root Uninstaller Pro" if you want to download the paid version that costs $2.58 or "Root Uninstaller" if you are trying to download the free version.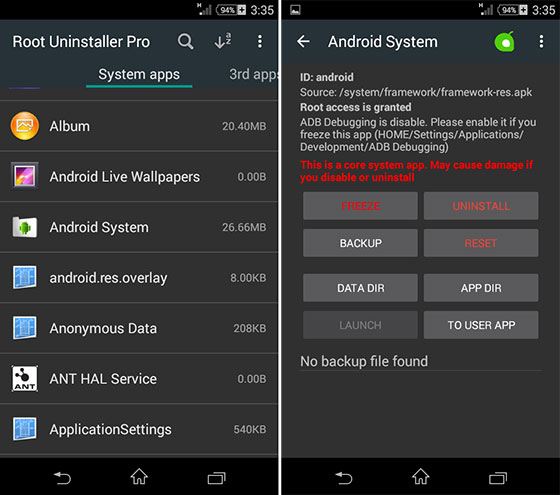 Step 2. Click "Install" button to wait for the end of installation, then launch the program on your Android phone. Now, you will be provided with two distinct sections dividing the regular apps from the stock Android apps.
Step 3. Tap the "Systems Apps" menu button to locate the system application that you wish to uninstall. Here, you can also tap on the "Re-scan Apps" button to manually locate the application you are looking for if it is not immediately displayed at the first try.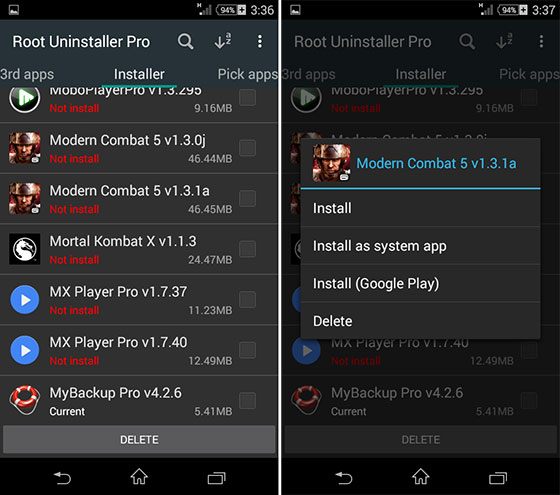 Step 4. Tap on the app you wish to uninstall and you will then be asked to choose whether you want to freeze the app, uninstall it or even take its backup.
Step 5. Simply select the "Uninstall" application option and confirm. Kindly reboot your Android smartphone or tablet once the uninstallation process has been completed.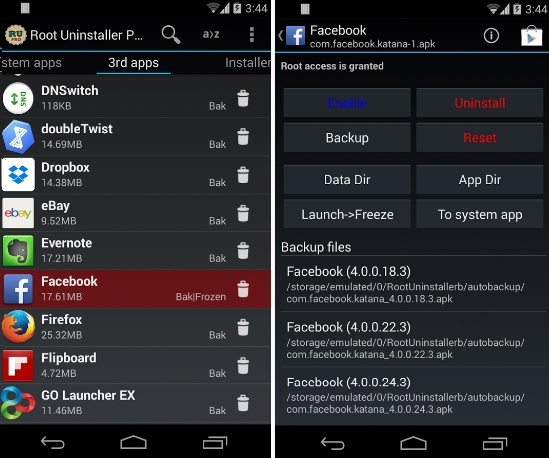 Please note that you also have the ability to use the Root Uninstaller software to convert system (stock) Android apps to regular applications and vice-versa. It is also possible for you to uninstall system and regular Android apps in batch while using this amazing program.
Related Articles:
How to Manage Rooted Android System Files with Root Explorer
How to Remove Root from Android
[Solved!] How to Transfer Videos from Android to PC/Computer?
How to Back Up and Restore Android Devices in 6 Ways [Easy & Quick]