Download Information
How Can I Re-download the Software?
A: You can use the download link from your confirmation email to re-download. If you downloaded the trial version of the software before registering, you will need to download the trial version again. Please visite the download page:
https://www.mobikin.com/download.html
Why the Website Said I had Reached the Downloads Limitation?
1. Why the Website said I had Reached the Limit of 3 Downloads?
A: That's mainly because that the download link is sent by the payment processor (Mycommerce), and they only provide 3 downloads from their server.
2. Where Can I Download the Software after I reached the 3 Downloaded limitation from Mycommerce?
A: You can download the software from our website at any time in the future. And all software on our site is the latest version and it will never be expired. We provide the free trial version for downloading forever, but when you register it, you can register the software with your registration code (license code or regcode), then the free trial version will become full version automatically.
Why Do I Need to Register the Free Download Software?
A: Free downloads are provided by us for you to try a product before you purchase. These products will have limiting features, such as limited days, times, etc. of free use, allowing you to evaluate the software prior to purchasing it.
These are marketing techniques that are widely used in software companies that utilize online distribution, and provide you as a consumer, an advantage. This allows you to know exactly what you are buying, when you purchase the registered version of the program.
How to Uninstall Applications on Your Windows or Mac Computer?
Q: I want to uninstall your program that I have installed, what can I do?
A: To uninstall our program on your computer, you can directly remove the whole installation folder to Trash. After that, the program will be removed from your computer completely. No harm to the files on your computer and no additional fees required also. Below is the detailed steps to help you remove MobiKin program on your PC or Mac:
For Windows:
1) You can find the app and remove it from the Local Disk by clicking "uninst.exe" on your Windows computer: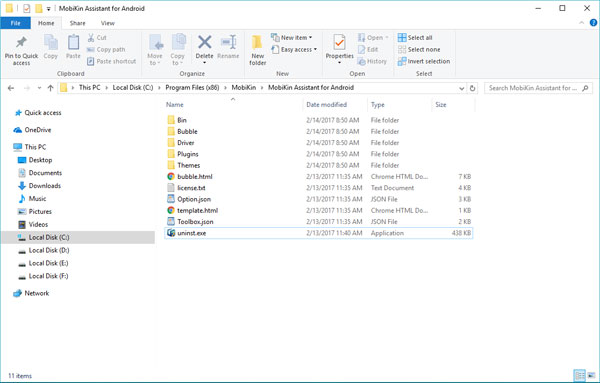 2) Uninstall program from the control panel:

For Mac:
You can remove the program by right clicking the desktop icon and then selecting "Move to Trash" as below:
Attention: If you can't find your desired answers in this page, or you want to know more information about sales, payments or delivery, please visit the webiste of our order parter Mycommerce here: https://www.mycommerce.com/faq. After checking the details in this MyCommerce page and you still have problem, please feel free to contact us via the online feedback function or via email: support#mobikin.com (replace # with @) as you like.