Payments
Why was I charged more than the price stated on the website?
A: As developer of the software, we only charge the price stated on our website. There are several situations that you might be additionally charged.
1) Registration Backup Service which are offered by the payment processor (SWREG or MyCommerce), in case customers forget or loss their registration information when they want to re-install the program.
2) VAT. The payment platform charges applicable sales tax for orders in Colorado, Georgia, Iowa, Illinois, Minnesota, Nebraska, and Utah. Sales tax is automatically computed on both product(s) and shipping costs.
Pursuant to the European Union Digital VAT Directive, as of July 1, 2003, European customers will be charged VAT (Tax) on all downloadable digital products and services, including software at 15%.
And you can find more useful information here: https://www.mycommerce.com/shopper-support.
Examples:
1. While ordering MobiKind Asssitant for Android, could you explain to me why we go from $35,95 to 43,19€ in fine?
A: Thanks for choosing our software. It must be that you live in some countries with the consumption tax or customs fee. It is processed by our order partner Mycommerce. Thanks.
2. I live outside of the United States. Do I have to pay customs fees?
A: If you live outside of the United States, custom and tariff fees may apply according to your country's import laws. These fees are not collected by MyCommerce, and MyCommerce does not have control of these fees.
How Can I Know My Purchase is Completed?
A:
Generally speaking, once the order is processed successfully, you will receive a confirmation e-mail from the payment platform. After this e-mail, you will receive a registration e-mail from us within an hour.
If you didn't receive the order confirmed by email and not sure whether your purchase is completed, you can check your order stats here: https://www.mycommerce.com/order-search.
All our order are processed by these platform.
Why My Credit Card is not being Accepted?
A:
There are many possible reasons for a credit card not being accepted:
1. The card is expired;
2. You have reached or exceeded your credit limit;
3. You have exceeded your daily charge limit;
4. A computer at either end of the transaction is having technical problems.
If you have problems submitting your credit card payment you can go to the following website:https://www.mycommerce.com/shopper-support/ to contact Customer Service for assistance. When you contact Customer Service you may be asked for any error message numbers you received, as well as the reference number seen in the shopping cart.
What is my order status?
A: Here, you can go to the payment processor (Mycommerce) to check your order status with your own email address, order number or other personal information. Just go to the page via the below links: https://www.mycommerce.com/order-search
How to move the software I purchased to the new computer?
Q: I get a new computer, what should I do to move the software I purchased to the new computer?
A: First please uninstall the software from your old computer. And then download the version you purchased from our website at https://www.mobikin.com/download.html or use the CD you purchased to install it on your new one. Use the registration information you got before to register the full version.
How to Buy the CD Version?
1. If I want a CD-ROM of the software, what should I do?
A: You have to place your order via Regnow platform. When you order our product, you can Add BackUp CD of your Order. You need to pay extra fee for each CD-ROM. Regnow staff will make and ship the CD for you.
2. Do I have to wait for the CD to begin using the software?
A: You don't have to wait for the CD. You order the downloadable version of the software at the same time you order the CD. You can download the software from our website to use it at once. Please use the registration information you get from the confirmation letter to register the full version of the software.
3. If I don't need the CD but purchased it by accident, what should I do?
A: If you don't need the CD, please don't Add BackUp CD of your Order. If you purchased the CD by accident and you have no need of it, please contact us. We will contact Regnow staff and ask them to refund the CD for you.
Why it's Still Free Trail Version After I bought the Full Version?
Q: I have paid for the full version but when I download and install the software, it still gives the message that it is a trial version, how do I fix it?
A: All the software that we provide for downloading are trial version, you still need to register it even you bought it. Just copy and paste the registeration code you've received after the purchasing. And then the software will become full version after your register it.
Do I have other means to purchase your product?
Q: I am worried about my private information and I dislike paying online. Do I have other means to purchase your product?
A: You don't need to worry about that. Our payment platform is secure. If you don't like to pay online, you can choose Regnow platform to purchase. They allow you to use Credit Card by Fax or Phone.
How to Use MobiKin Discount Coupon Code?
MobiKin sometimes will present coupon codes to enable users to enjoy MobiKin software with more cheaper prices. So if you have a discount code now but don't know how to use it, you can follow below steps:

Step 1. Select and add your target item into cart, then you'll be taken into a new page.
Step 2. Find the sentence like "Have a coupon or promotional code? Enter code here" in the left corner, then you can see a interface like below: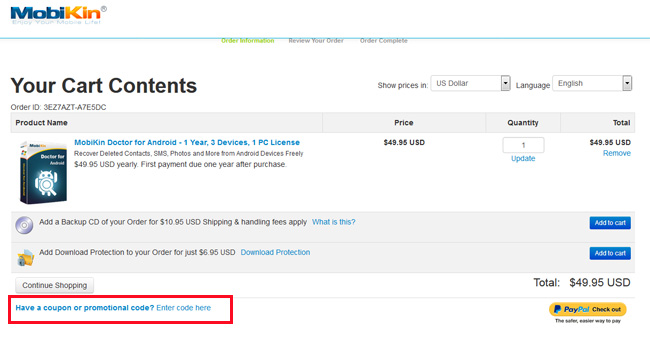 Step 3. Type the discount code you have in the blank box, and click "Update" button. Now, you only need to wait for a few seconds, the discount off will be available on the original price.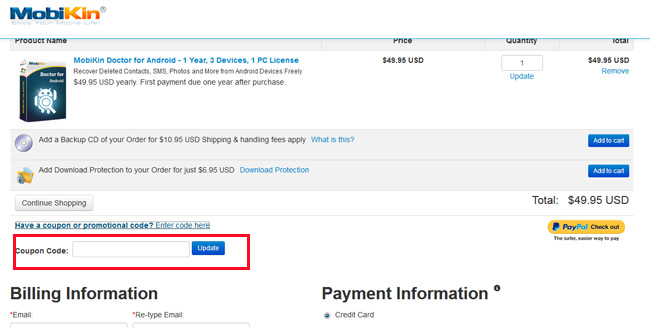 Step 4. Enter your address and payment information, then review the order and complete the payment process.