4 Effective Ways to Backup Android Apps [100% Secure]
Android backup is an important feature to all users - it helps you save your files and prevent unnecessary loss. And while performing the backup process, the topic of how to backup Android Apps is often discussed among many people with most not knowing the correct processes to follow. But actually, the Android Apps backup is an easy task and you even are able to accomplish it with 3 simple steps.
Simply Backup Android Apps to Google Drive/Google Account
For those who have a Google account, backing up Android Apps to Google Drive/Gmail would be a good option here. This way allows users to easily sync the applications downloaded from Google Play Store with Google. Most people choose this method since it is easy to follow - you just need to sign into your Google account on your Android phone and then choose your wanted Apps.
Now let's learn how to backup Android applications to Google Drive/Gmail together:
Step 1. Unlock your Android phone and tap on the "Settings" icon on the home screen.
Step 2. Scroll down the page to find out and tap on the "Accounts" option.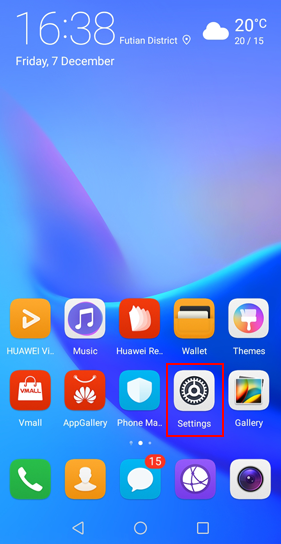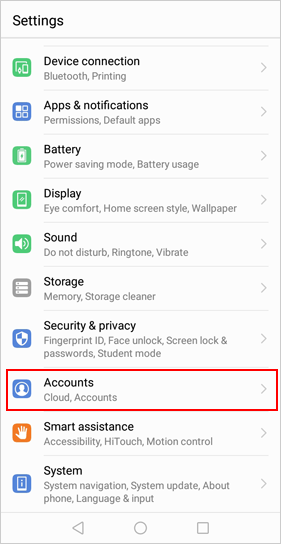 Step 3. After that, a list of emails will be displayed. Here just choose "Google". If you have not signed into your Google account, just choose "Add Account" to add your account into your device.
Step 4. When you enter the next page, you will see that different kinds of data that you can backup to Google account are listed. Just mark the data that you want to sync, such as App data.
Step 5. Click the "..." icon located at the top right corner and choose "Sync now" to begin the syncing process.
See, the applications on your Android phone are synced to Google Drive now! And except for Apps, you can also backup your contacts to Google/Gmail as well.
Also click to learn:
How to Backup Android Data to Google Drive? [Solved]
Google Backup Not Working, How to Fix It?
Backup Android Apps by Using Android Backup and Restore
Other than backing up in cloud, you can also back up the data easily using third party programs. There are many such tools available in the market so you have to pick the one that's perfect for what you want to do. MobiKin Backup Manager for Android is the most reliable Android backup and restore utility to help you back up all applications from Android to computer with a simple tap on your mouse.
Apart from apps, Android Backup and Restore can also back up contacts, text messages, photos, videos, music, call logs, etc. from Android to PC, and restore lost data from backup to your Android device with one click.
You can click the download button as below to give it a try:

Detailed Guide: How to Back Up Android Apps by Using Android Backup and Restore?
Step 1: Launch the program after finishing the download and installation on your PC. Then, plug your Android phone into the same PC via USB cable and wait until it is detected by the program.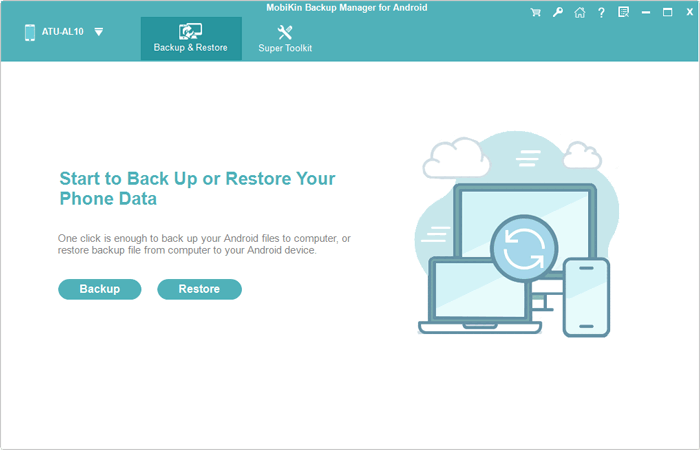 Step 2: Choose "Backup" option from the main interface and the file types choosing window will pop up. For this topic, you should tick off the "Apps" option.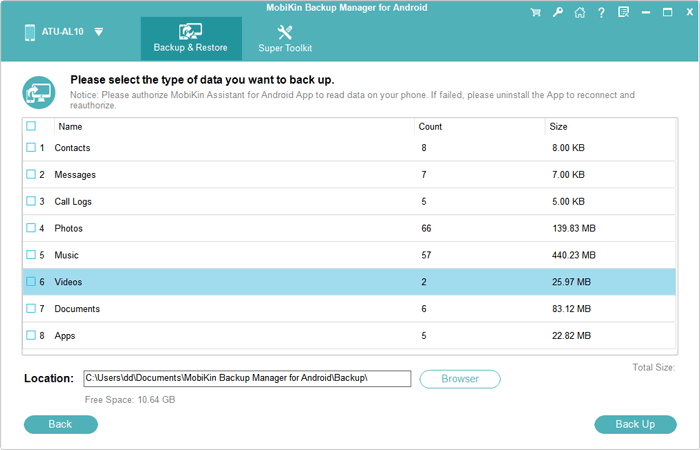 Step 3: Choose an output folder on your PC as the location to save the exported apps, and then click on "Back Up" button to start off the backup process.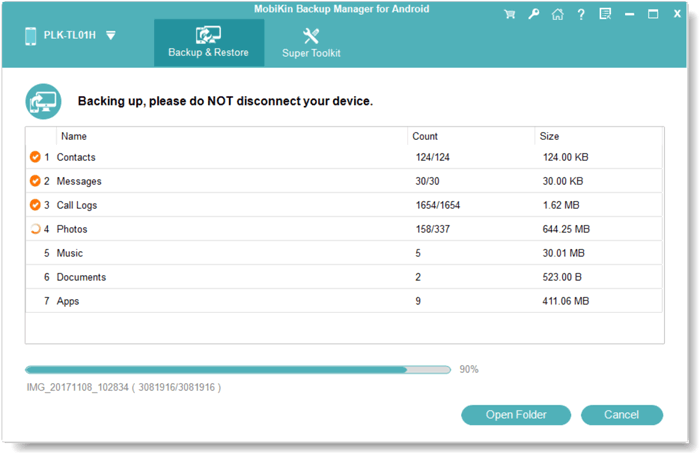 Export Apps from Android to Computer for Backup Using Android Manager
MobiKin Assistant for Android is another professional program empowers you to transfer different file types from/to Android, including Apps, contacts, call logs, messages, videos, photos, music and so on. Meanwhile, you can also use it to manage your phone data, such as editing your contacts info, sending messages on computer, deleting unwanted files, etc.
You can download and install it by clicking the icon below and try to backup your Android Apps with simple clicks.
Here is how:
Step 1. Connect your phone to your computer using a USB cable or via Wi-Fi. Then the program will detect the connected device automatically.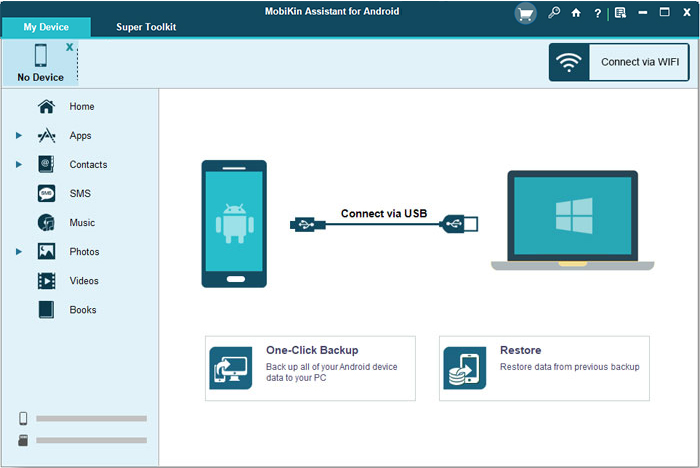 Step 2. When your Android phone is successfully detected, the parameter and supported file types of your device will be displayed on the primary interface. Here, please tap on the "Apps" > "User Apps" in the left panel.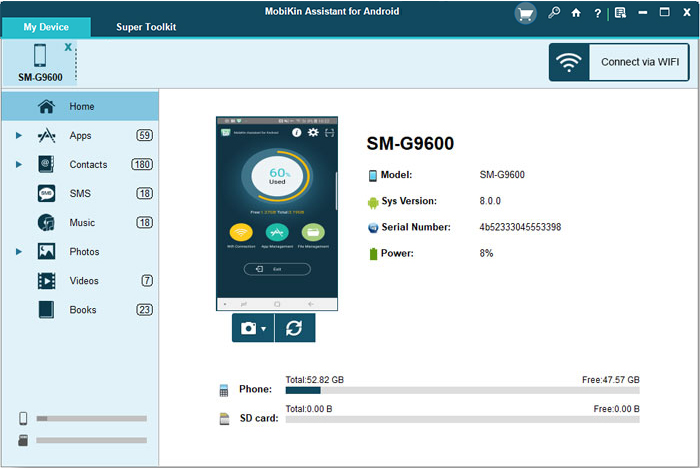 Step 3. After that, all the applications installed on your mobile phone will be showed in the right column. Just tick off the Apps that you want to backup and then tap on "Export" to transfer the selected Apps to computer for backup.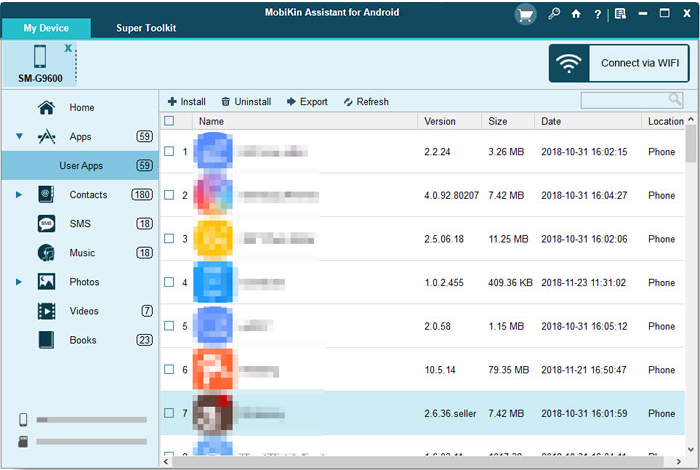 This program also allows you to:
How Can I Back Up and Restore Android Phone?
Android Device Manager - How to Manage Android Devices on PC/Mac?
Backup Apps on Android by Using Application
The last suggested method to save your Android applications is to turn to some Android data backup Apps. Here are 3 high-rated Apps for your reference:
#1 Helium - App Sync and Backup
This is one of the best Apps for Android data backup. You can use it to back up files of different types, such as videos, photos and Apps among others. The only disadvantage of this application is that it has to be rooted to your device before you can backup. So if you have not rooted or do not want to root your Android phone, you need to use other Apps or software.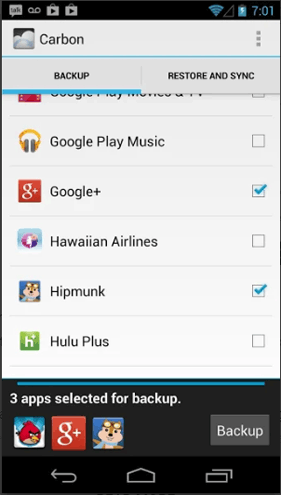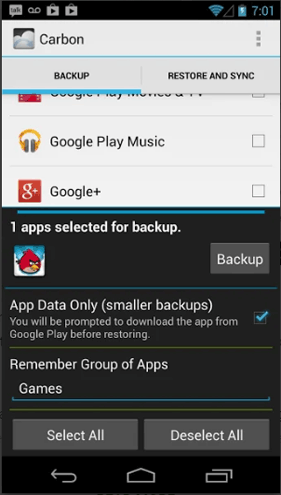 #2 Titanium Backup
This is one of the most reliable Apps even though it also requires rooting your device. It is available in free and paid versions. The free version is just as great as the paid version with only a few features missing. With this Android backup App, you can copy your SMS, videos, contacts, Apps and many more. You can also customize your device to perform specific actions randomly and even restore your copied files. Additional features found in the premium version which goes for under $10, are cloud backup, restoration and App hibernation. You can choose the suitable one according to your need.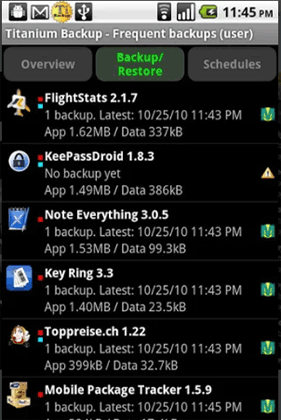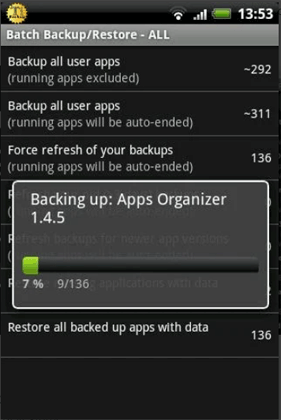 #3 My Backup
My Backup App is both a backup and management tool for all Android devices. You can use it on both rooted devices and the ones which are not rooted. Although, with the rooted gadgets you will maximize the App's potential. When you use it on a rooted device, it can back up all the Apps together with their data and settings. You can also get additional uses like market links with the paid version. With basic features such as cloud backup and automatic scheduling among others, this App will fulfill all your backup needs. You can easily access it on Google Play and has a free trial period to test it.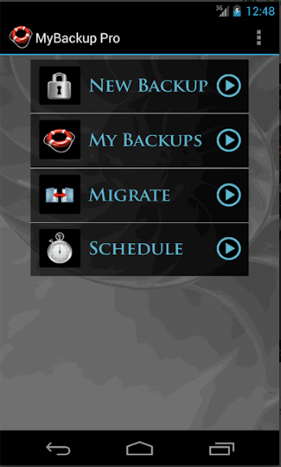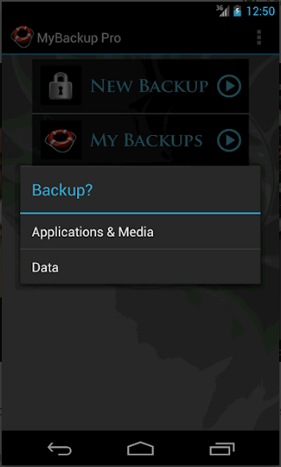 Words in the End
That's all for backing up Android Apps. The methods introduced above are multipurpose, accessible and easy to understand. No matter you choose which one of them, you can complete the backup process without any hassle.
Now just choose the way you like to backup your applications. And if you have any problem or new idea about this tutorial, please feel free to contact us.
Related Articles:
[5 Ways] How to Backup Android Contacts?
[Solved] How to Backup Call Logs on Android Phone?
Android Music Backup: Different Ways to Back Up Android Songs
Android Photos Backup - Simple & Effective Ways to Backup Android Photos
Android Cloud Backup - Tutorial to Back Up Android Phone to Different Cloud