Want to Know How to Back Up Android Contacts to Mac? Now You Can!
Have you ever had any experience of contacts loss from Android due to broken screen, water damage, or factory settings, etc? Many users who have suffered from this situation had undergone the bitterness and helplessness. Instead of spending much time trying to regain and organize contacts. It's better to take precautions and back up Android contacts to computer in advance. Well, if you have a MacBook, MacBook Air or MacBook Pro, do you know how to back up Android contacts to Mac?
OK, this review focuses on 5 tested solutions, being aimed at making the answer to this question known to more Mac users.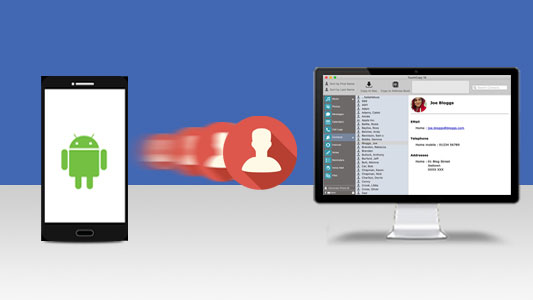 Solution 1: How to Back Up Android Contacts to Mac Using Assistant for Android
Contacts enable us to keep in close touch with other people in our lives. But, you might lose important contacts from Android phone inadvertently for unpredictable reasons. In order to keep your Android contacts safe and simplify your life a lot, you absolutely can't miss MobiKin Assistant for Android (Mac) (Windows version is also available).
As an expert Android manager, it's actually really easy to operate, managing Android files including but not limited to contacts. To avert your contacts from being forced to disappear, it's nice to pick this applied program, making Android management a breeze.
Core Highlights of MobiKin Assistant for Android:
* Back up Android contacts and save them as CSV, VCF, HTML, XML, and BAK files.
* Add new contacts, edit/modify existing contacts, or delete unwanted phone numbers from your phone on Mac/PC in an easy manner.
* One-tap to back up and restore Android data selectively or in batches, covering contacts, text messages, images, music, videos, books, user apps, etc.
* Can be used to preview and make a comprehensive management for various Android data on Mac/PC.
* Easy to connect via a USB cable or Wi-Fi.
* Compatible with overall Android devices, containing Samsung, Huawei, Sony, LG, Xiaomi, Motorola, HTC, Google, OnePlus, Vivo, ZTE, etc.
It's exceedingly simple to back up Android contacts to Mac with this tool. To be brief, it enables you to take a backup in bulk or selectively. And you can choose either of them as per your needs.
- Back Up Android Contacts to Mac in Bulk
Step 1. Get Android device attached to MacBook
Click the above Mac version of this program for a download, and then mount and open it on Mac. Now link Android to Mac using a USB cable. Soon, you'll see the main screen of this software as the following screenshot.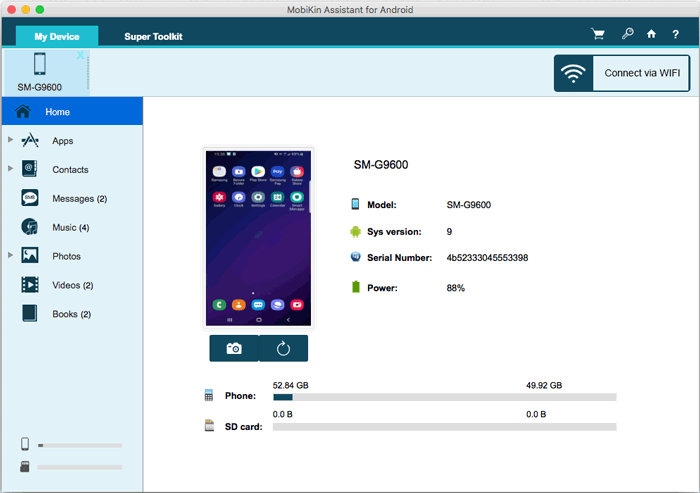 Note: You many need to enable USB debugging on Android, if you haven't done it yet.
Step 2. Select contacts for backup
Hit "Super Toolkit" tab from the top menu to get into the next page. Here, press the "Backup" button and all the file types will be on the coming list. You are now allowed to click the "Contacts" and find a location on Mac to save the exported contacts.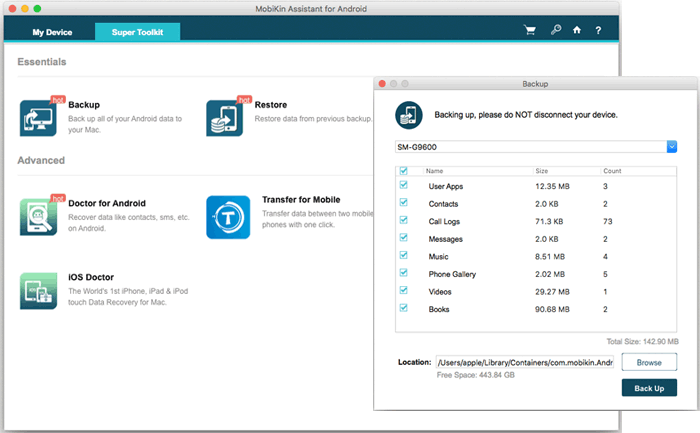 Step 3. Trigger the backup task
After that, simply press the "Back Up" button from the lower right page to trigger the backup procedure. Soon, your contacts will be copied to Mac as a backup.
Suppose you need to know how to restore Android contacts from MacBook with this utility. Just tap the "Restore" button from "Super Toolkit" tab, and choose "Contacts" by ticking the corresponding box. Then, press "Restore" again to get the backup back on the linked Android device.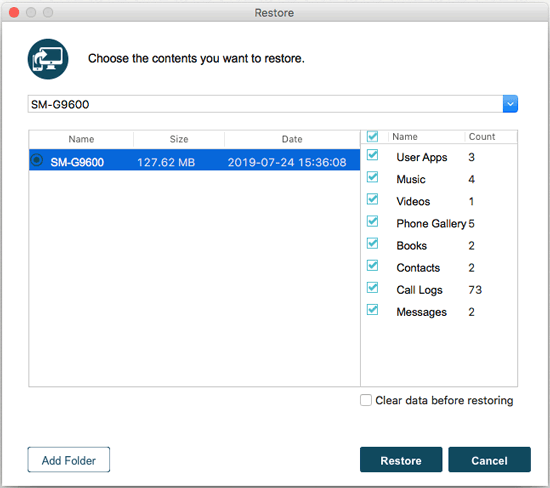 - Back Up Android Contacts to Mac Selectively
Step 1. After the connection between Android and Mac is generated. Just tick on the "Contacts" > "All Contacts" from the left sidebar.
Step 2. Preview the specific contacts, which is shown on the right column of the screen. Then handpick the contacts, and tap "Export" button from the top menu to put them to Mac. (You can locate a local folder on Mac to store them.)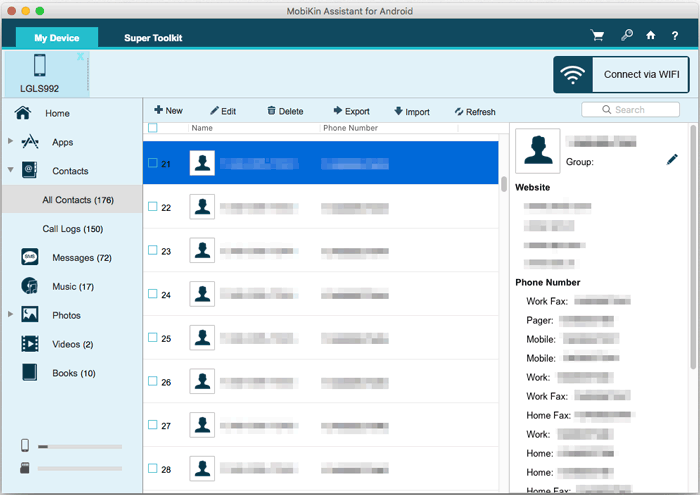 More Related:
Solution 2: How to Back Up Android Phone Contacts to Mac with Android Backup & Restore
Backup Manager for Android (Mac Version) is a powerful Android backup and restore program that can quickly resolve your problem of how to back up contacts from Android phone to Mac with one click. It is reliable in transferring contacts within a few minutes, and also has the capability to restore contacts from the backup file to your Android device. The program can transfer not only contacts, but also messages, call logs, photos, videos, music, documents, apps and other types of data.
This tool is 100% secure and easy to use. Let's start to back up Android contacts to Mac by using this Android Backup & Restore tool now.
Step 1: Connect your Android device to Mac
Simply you download and install MobiKin Backup Manager for Android on your Mac computer. Run it and connect your Android phone to the Mac via USB cable. Once connected, you can see the main interface of the program like below: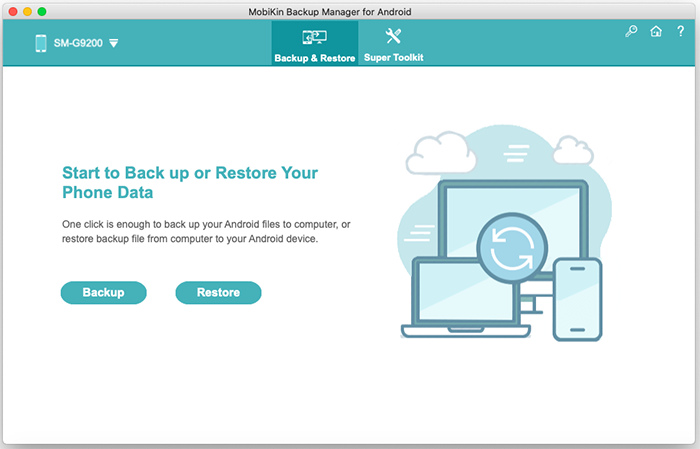 Step 2: Select the contacts for backup
On the main interface, choose the "Backup" option to enter the Android data backup window. Tick off the "Contacts" option from the data list if you only need to back up contacts from your Android phone.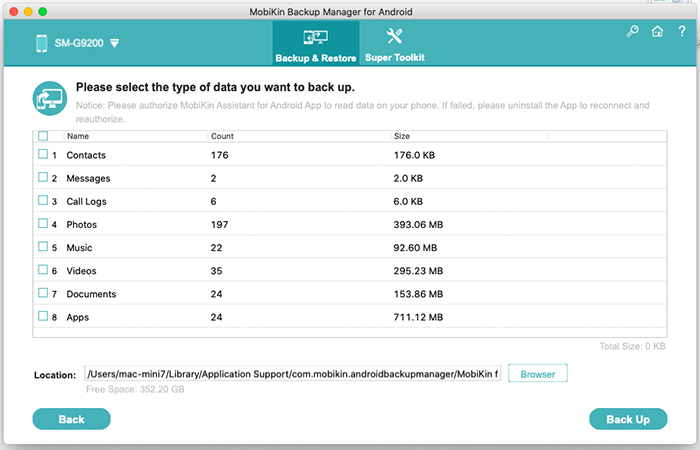 Step 3: Back up Android contacts to Mac
Finally, you can click "Browser" to choose an output location and then click the "Back Up" button to begin saving the Android phone contacts on your Mac computer.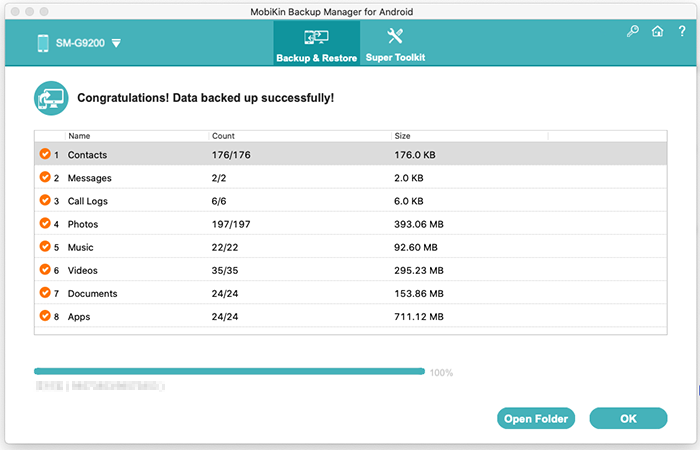 Do not remove the connected Android device before the transfer is finished. You can see Android backup and restore utility really can finish Android backup task with easy and simple steps.
Solution 3: How to Transfer Contacts from Android to Mac via Google Account
By using the built-in Google account of Android phone, you can easily back up Android contact to Mac. First, If you don't have automatic sync button switched on before performing contact backup, you have to sync your phone (including contacts) with Google account manually. And log in to the same account on Mac to find and download the phone numbers on Mac subsequently.
Here's how to transfer contacts from Android to Mac using Google account:
Step 1. Navigate to "Settings" (with a gear icon) from Android device. Then choose "Account"/"Clouds & accounts" > "Google" to sign in your google account.
Step 2. Touch "more (3 vertical dots)" from the top right corner of the screen. After that, choose "Sync now" to back up your Android to with Google account.
Step 3. Visit google.com on Chrome or other browser from Mac. Next, log in the same Google account you've just used. Tap "Google" icon from the top right and select "Contacts" > "More" > "Export" > choose "Go to old version" > "More" > "Export".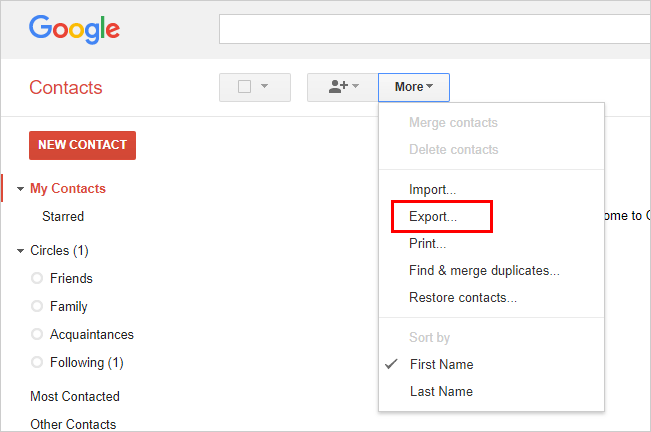 Step 4. Select the group of the contacts, choose a format like .csv file, and tap "Export" to save the contacts to Mac.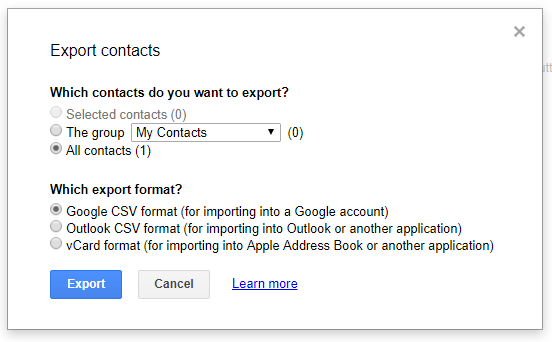 Solution 4: How to Back Up Android Contacts to Mac via an SD Card
"Contacts" app on most Android devices (like Samsung, Huawei, LG, Google, etc) offers such a feature, which can be used to directly import contacts into Android SD card. And afterwards, to back up those phone numbers on the card to your Mac. After locating the storage directory of SD card on Mac, just drag the drop the contacts to Mac for a reliable backup.
How do I back up my Android contacts to my Mac via an SD card?
Step 1. Activate "Contacts" app from your Android and go for "More" > "Settings" > "Import/Export" > "Export to SD Card". This series of clicks will cause your Android contacts to be saved on your Android SD card.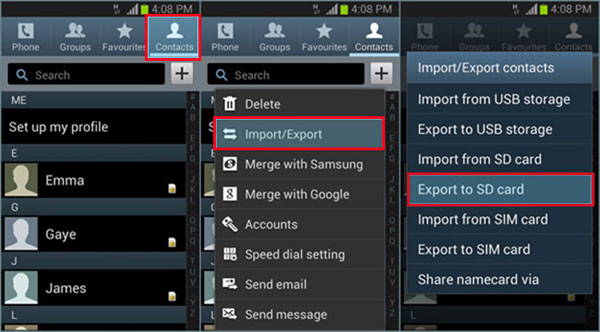 Step 2. After that, get your Android connected to Mac with a suitable USB cable. You should tap the notification tray after sliding down the screen from Android. Now the screen will prompt you with "Use USB for", and just select "MTP" please.
Step 3. The connection will be created soon, you'll then should go to "My Computer" > "Android device" to find the vCard file on Android SD card. And finally, drag and drop the file to any location on Mac for backup.
See Also:
Solution 5: How Do I Transfer My Android Contacts to My Mac with Smart Switch (Samsung Only)
Smart Switch enables you to transfer data from an old mobile to a new Samsung phone. Yet, it also can be used to back up and restore Samsung data. After connecting the device with Mac via USB, the files can be synced to the Mac in one click. However, this method is only applicable to Samsung devices.
How do I back up my Samsung contacts to my Mac computer with Smart Switch:
Step 1. Visit the official website of Smart Switch to download this tool on your Mac computer. Then complete the setup and launch it on Mac.
Step 2. Now, Plug your Samsung into Mac via a USB cable. The automatic detection will be done soon by your Mac, and after that, the main interface will show you as below.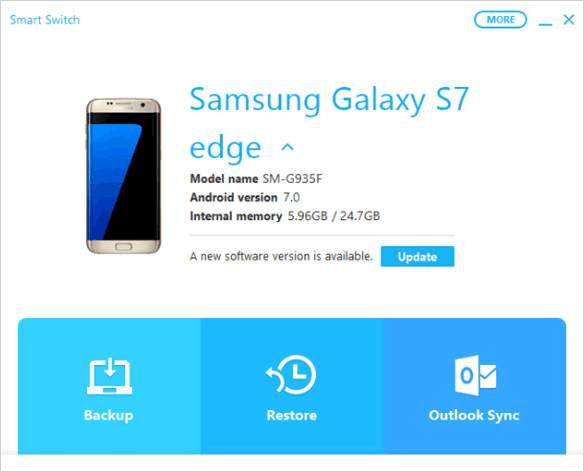 Step 3. Just click the "Backup" button at the bottom left. This will give a full backup for your Samsung device, including contacts, messages, images, music, settings, email, etc.
Summary
After reading these methods on how to back up Android contacts to Mac. Well, which one impresses you the most? Sometimes, aside from making a safe backup for Android phone numbers, you may also need to add, edit, delete contacts, or even select some or both on Mac to print for further use (such as making paper contact lists of the responsible staff for your company, or perhaps for residential property, etc). In these cases, it is of utmost importance to have a trustworthy utility like MobiKin Assistant for Android (Mac).
If you have other better ways to share with everyone, you can tell us in the comment area below.
Related Articles:
3 Ways to Recover Deleted Contacts from Android (#1 is Awesome)
How to Sync Contacts from iPhone to iPad? 4 Ways for You!
3 Ways to Backup Android Contacts to Google/Gmail Easily
How to Delete SIM Card Contacts on Android Permanently?
Best Android File Transfer Alternatives for Mac in 2020
5 Fast & Easy Ways on How to Transfer Photos from Samsung to Mac