Find the Top 10 Android File Transfer Alternatives Here [Updated]
Amid the fast-paced digital era, smartphones have become an indispensable part of our daily lives, empowering us with unprecedented convenience and functionality. With our Android devices serving as powerful repositories of precious memories, important documents, and media files, the need for seamless and efficient file transfer between our phones and other devices like Macs becomes paramount.
However, the native file transfer tool - Android File Transfer, doesn't always provide the smooth experience we desire. (Android File Transfer not working?) This is where the quest for an Android file transfer alternative comes into play. OK, this passage will gather ten remarkable Android file transfer alternatives for Mac that are sure to revolutionize the way you manage your data.
No.1 Best Android File Transfer Alternative - Assistant for Android
Are you seeking a hassle-free solution for smooth Android file transfer? Consider the best practicer - MobiKin Assistant for Android (Mac and Windows). As one of the best Android file transfer alternatives, it serves as an excellent Android to Mac file transfer tool, enabling seamless content copy in both directions. Besides its flexible data transfer capabilities, the software also offers features for backup, restoration, and direct management of Android files from any Mac or PC.
A brief overview of MobiKin Assistant for Android:
Best Android file transfer app for Mac to facilitate seamless file transfer between Android and Mac.
Effortlessly back up and restores Android devices with a single click.
Offer versatile functions for managing contacts, text messages, call logs, apps, photos, music, videos, and more.
Enable direct management of Android data on a computer.
Work well with a whole range of Android devices, including Samsung, HTC, Xiaomi, Motorola, Huawei, LG, Sony, Google, and more.
It prioritizes data safety.
How to transfer files from Android to Mac and vice versa via MobiKin Assistant for Android?
Step 1. Install and open this tool on your computer after the free download. Then connect your Android phone to the Mac using a USB cable and enable USB debugging if prompted.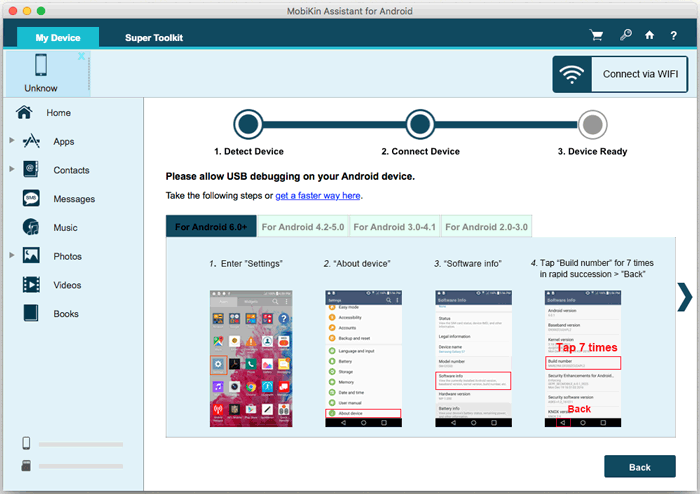 Step 2. Follow the on-screen prompts to let the program detect your Android phone. You'll see the main interface displaying all your Android device files on the left panel.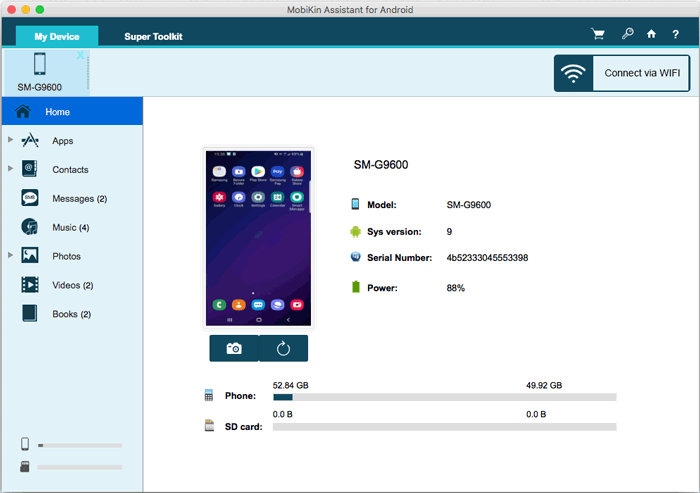 Step 3. Click on your desired data types from the left file list. Preview the detailed information and select the items by checking them.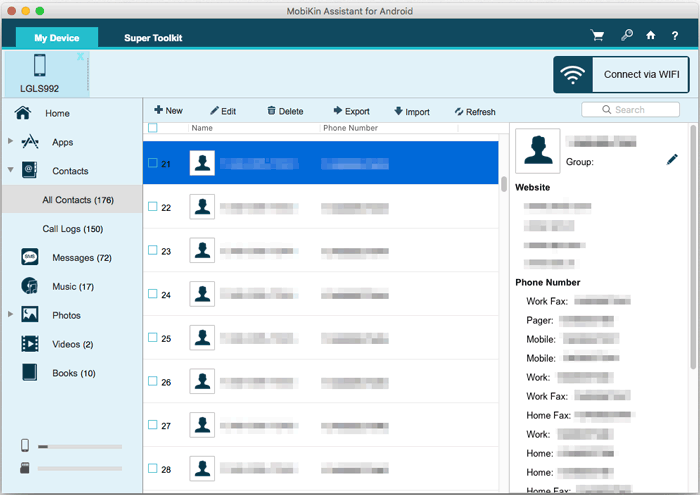 Step 4. Once selected, click on "Export" from the menu bar, and choose a local folder on your Mac to save the files. Within a few minutes, your selected files will be transferred to Mac from Android. Similarly, you can leverage its "Import" button to copy data from your Mac to Android.
What's more, you have the option to back up all Android files or specific folders from your Android phone to your Mac with just one click. Quick Guide: On the program's main interface, navigate to "Super Toolkit" then click "Backup". Select a location and hit "Back Up" to initiate the process. Additionally, if you ever need to restore your Android files, this software allows you to recover them from these backups.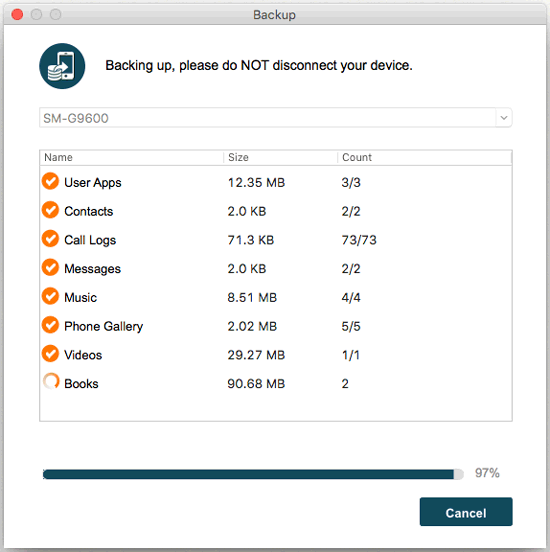 Pros:
Affordable fees and superior performance.
Comprehensive data management for various data types.
Efficient data transfer between Android devices and computers.
Reliable backup and restore functionality.
Ninety days Money Back Guarantee.
Easy to operate, quick processing, no data loss.
Cons:
Limited features in its free trial.
Supported OS:
Android, iOS, macOS, and Windows.
Click to Explore:
No.2 AirDroid
AirDroid presents a robust suite for managing mobile devices, granting you the ability to wirelessly access, control, and transfer your Android device to a Mac computer. This alternative to Android file transfer supports various file types for seamless transfers, encompassing photos, documents, music, and APKs. Additionally, it serves as a great Android file transfer for Windows/Mac, and enables direct folder transfers with its user-oriented tool.
Pros:
Wireless device management.
Convenient file transfer, including folders.
Decent rate of data transfer. ()
Cons:
Potential performance issues.
Limited features in the free version.
Security concerns on public networks.
The capability to transfer folders is exclusive to the paid version.
Supported OS:
Android, iOS, macOS, and Windows.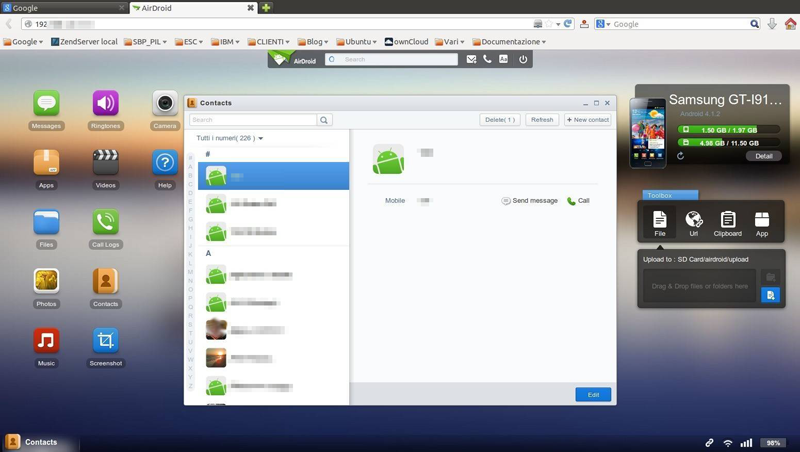 No.3 Syncios
Syncios, an outstanding iTunes alternative for Android, stands out as the top alternative to Android File Transfer for Mac. This Android file transfer Mac alternative acts as a free backup and file transfer tool for Mac users with Android phones. Offering one-click backup and seamless data transfer features, users can effortlessly copy and back up data between Mac, Android, and iOS devices with one-click simplicity. It simplifies safeguarding your valuable data while offering cross-platform support.
Pros:
Efficient data transfer and backup.
Support phone-to-phone transfer
Extract iTunes backup to Android.
App management capabilities.
Cons:
Advanced features are only available in the paid version.
It doesn't support transferring extremely large files.
Pop-up ads in the free version.
Security considerations with data management software.
Free software may have less frequent updates.
Supported OS:
Android, iOS, macOS, and Windows.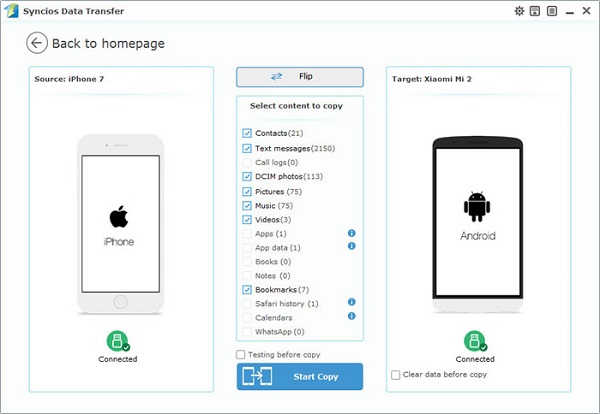 Check If It Is Necessary:
No.4 HandShaker
HandShaker empowers you to handle both Android's internal storage and external SD card with ease. (How to recover data from SD card on Android?) As the name implies, HandShaker facilitates seamless file sharing between Android and Mac devices. You can establish a connection between your Mac and Android device via USB or wirelessly, making file transfer and management more convenient.
Pros:
A great Android file transfer app that offers fast wireless data copy.
Support multiple Android devices.
Offer file preview and organization.
Multi-file import and export.
Cons:
Limited features compared to other tools.
Exclusive to Mac computers.
Require a desktop application.
Potential security risks with third-party software.
Supported OS: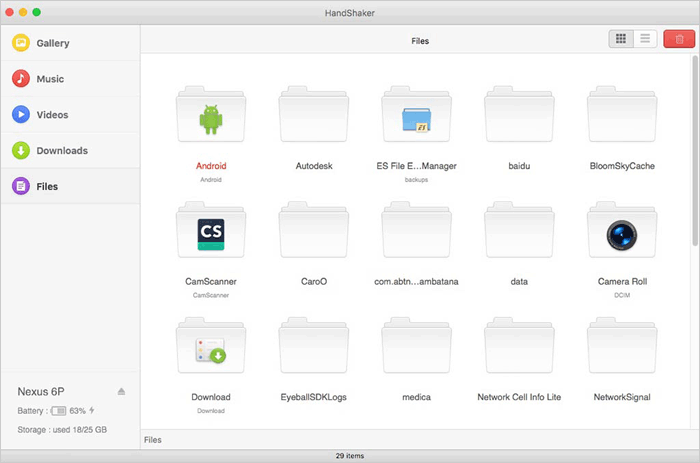 No.5 SyncMate
Being a versatile sync software for Mac, SyncMate serves as a great alternative to Android File Transfer. It enables seamless synchronization between iOS or Android devices and your Mac, including contacts, calendars, photos, and more. You can choose automated or on-demand syncing on this best Android file transfer for Mac, and it also supports syncing with cloud storage and Microsoft services.
Pros:
Versatile support for various data types.
Mounting devices as Mac disks for easy access.
Ability to enable automatic synchronization.
Establish continuous data sync across devices and cloud storage platforms.
Cons:
iOS functionality limitations due to Apple's restrictions.
Potential delay in updates for new macOS versions and device changes.
Limited to syncing calendars and contacts with the free version.
Supported OS: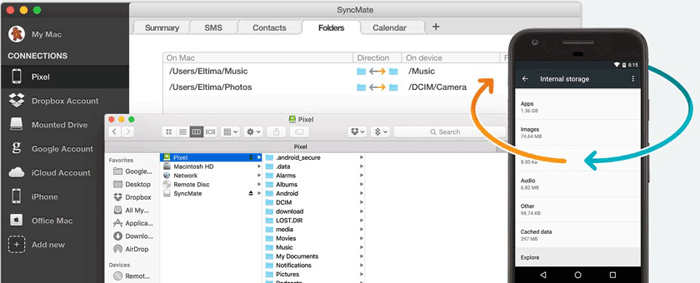 No.6 Dr.Fone - Transfer
Supporting iTunes to Android transfer for easy data synchronization, Dr.Fone - Transfer is a compact and effective alternative to Android File Transfer for Mac. This tool empowers you to seamlessly transfer various data types between Android devices and Mac computers, working for SMS messages, contacts, music, and more. Plus, it provides convenient media management for your Android device, enabling you to export, delete, and add files and folders in batches.
Pros:
Offer a reliable backup recovery tool for data security.
Users benefit from fast email support for prompt assistance.
Include a HEIC to JPG converter for seamless file format conversion.
Cons:
Users should exercise caution regarding security.
Potential compatibility issues with new OS versions.
New users may experience a learning curve.
Complaints about its functionality issues.
Data recovery may not retrieve all files successfully.
Supported OS:
Android, iOS, macOS, and Windows.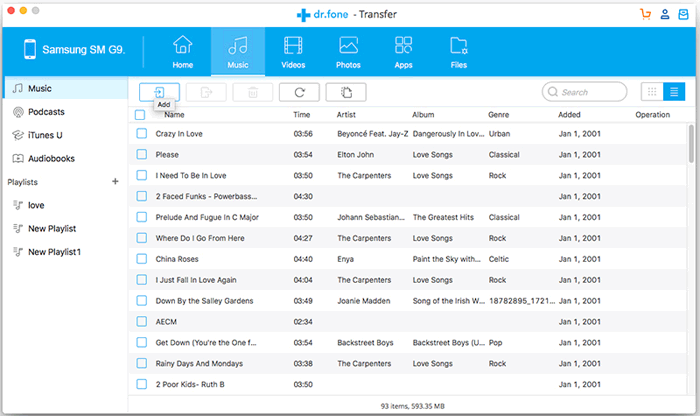 No.7 TunesGo
TunesGo is a phone manager for iOS and Android devices. It offers features like a GIF maker, Disk Mode for mobile data access, and efficient app management. With this Android file transfer Mac alternative, you'll enjoy seamless transfer of music, videos, photos, contacts, and various data types between your device and computer. Moreover, it offers backup and restore functionality, ensuring data protection and recovery.
Pros:
Transfer data from Android to Android seamlessly.
Free lifetime upgrades for continuous improvements.
Flexible subscription options: annual, lifetime, or family license.
Offers GIF maker, Disk Mode, and app management features.
Provide backup and restore functionality for data protection.
Cons:
Requires suite version purchase for iOS and Android device compatibility.
The annual subscription covers installation on one PC only.
No direct option for a free trial on the website.
Software updates' frequency and consistency may fluctuate.
Supported OS:
Android, iOS, macOS, and Windows.

No.8 MacDroid
MacDroid is a versatile transfer app connecting Android phones to Macs. It offers seamless data transfer for contacts, calendars, documents, music, videos, and photos. With a free seven-day trial of Pro features, it supports one-way transfer from Android to Mac. The Pro version allows two-way transfer on up to five Macs and unlimited Android devices. Choose between Single-Operation Mode or Multi-Operation Mode for convenience.
Pros:
Seamless data transfer between Android and Mac.
Bidirectional transfer with the Pro version.
Easy access to Android devices as Mac disks.
Usable on multiple Mac computers.
Cons:
Limited functionality in the free version.
Specific to macOS 10.10 and newer.
Compatibility may vary with future macOS updates.
The pro version requires an annual subscription.
Regular software updates are recommended for smooth performance.
Supported OS: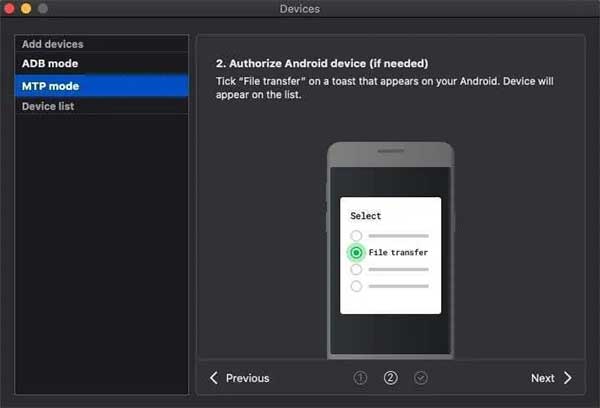 No.9 Commander One
Commander One offers dual-panel data copy, cloud storage integration, iOS file access, archive management, and more. With this Android to Mac file transfer app, you can easily connect your Android device to Mac, access files via Finder, and manage data like any other local drive. Overall, it's a convenient and no-brainer solution for seamless Android file transfer on Mac.
Pros:
Dual-pane interface for enhanced productivity.
Advanced file management options for efficient organization.
FTP and cloud integration for seamless remote file access.
Archive support for easy compression and decompression.
Offer various customization choices to modify the interface.
Cons:
Its free version is limited to few features.
Complexity for novice users.
Exclusive to macOS only.
Potential compatibility issues with future macOS updates.
Supported OS: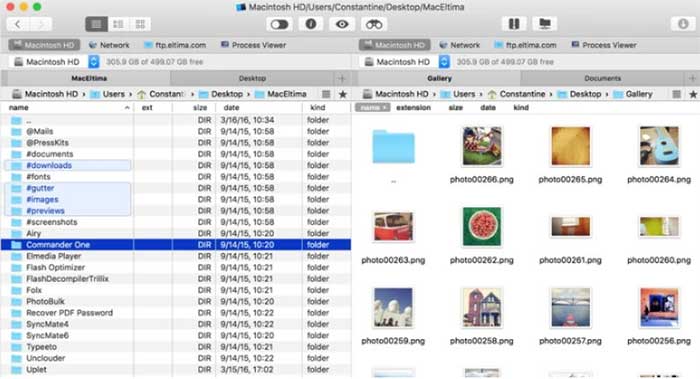 No.10 OpenMTP
OpenMTP resolves the common issue of transferring data from Android phones to Mac with five times faster file copy speed. It's a free Android file transfer for Mac with a dark mode option and supports both grid and list file views. As an open-source Android file transfer alternative, OpenMTP prioritizes data safety. The latest version now includes support for Samsung smartphones and can handle multiple file transfers simultaneously, even for files larger than 4GB.
Pros:
Open-source for transparency and potential improvements.
Designed for seamless Android file transfer on macOS.
Regular updates may address bugs and add features.
Available for free, making it cost-effective.
Cons:
Limited compatibility, specifically for macOS.
Rely on a USB connection for file transfer.
The frequency of updates and future macOS compatibility may vary.
Some advanced features found in other applications might be lacking.
Limited official support and documentation.
Supported OS: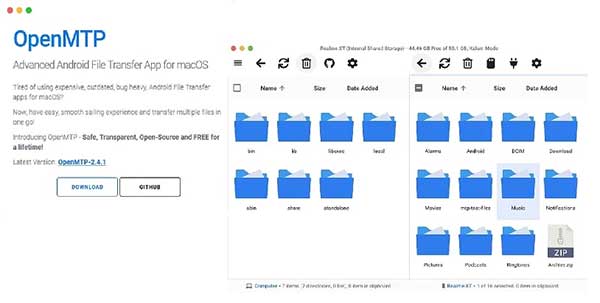 Concluding Remarks
In general terms, whether you are a tech-savvy enthusiast or someone who simply wants to copy data effortlessly, this comprehensive exploration of Android file transfer alternatives is sure to cater to your needs and elevate your file management experience.
At the conclusion of this post, we unreservedly endorse the solution that stands out among the replacements - MobiKin Assistant for Android. With this tool, you can seamlessly transfer and manage Android phones without encountering any errors or frustrations. So, get ready to unlock the true potential of your device and bid farewell to data-sharing woes!
Related Articles:
5 Best Methods to Open/View HEIC Files on Mac [Easy As Pie]
How to Recover Deleted Phone Numbers from Android? 6 Methods You'd Better Know
How to Transfer Files from iPhone to Android via Bluetooth? 6 Alternative Ways
How to Fix Android Crash? 12 Common Solutions You Must Know
Top 10 Android Screen/SIM Unlock Apps You'd Better Know [Free & Paid]
Can I Use MobiKin Backup Manager for Android Crack Version? [Answered]